Kim Kardashian and Kanye West stunned the internet after announcing they filed a divorce in February after nearly seven years of marriage, but what do you think is happening right now?
Kanye West's third listening party for his upcoming album "Donda," prepare a bunch of surprises for his fans including special guests like the controversial rapper DaBaby and sexual abuser Marilyn Manson.
The event was held on Thursday night, August 26, at Soldier Field in Chicago. The stage pulled inspiration from the front porch of the 44-year-old rapper's childhood home.
What a way to end the night as Kim Kardashian walked out in a white Balenciaga Couture gown when West appeared to light himself ablaze.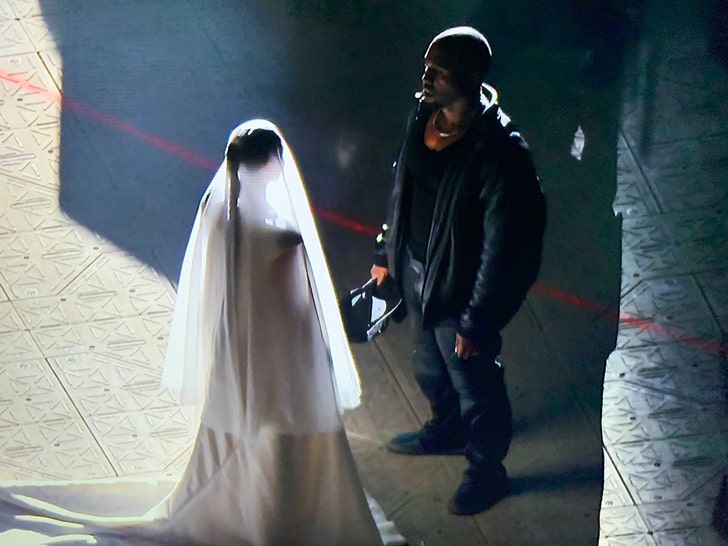 They weren't back together nor got remarried however Kim who sought legal separation in February said she will consistently uphold him and as the dad of her four kids. Fundamentally, what happened is all only for a show.
Khloé Kardashian and Kylie Jenner showed their support for the unique performance on Thursday by sharing clips and photos of the wedding moment through their Instagram Stories and even tweeted.
"Damn…… I've never seen anything this sick!!!!!
," Khloe composed, and added, "
insanely beautiful!!!"
The former couple began dating in 2012 and tied the knot at the Forte di Belvedere in Florence, Italy. The media personality wore a Givenchy dress for the 2014 pre-marriage ceremony and the wedding cost an expected $12 million. They also shared kids named, North, Saint, Chicago, Psalm.
Reactions to Kanye West's Public Stunt With Kim Kardashian
@KimKardashian @kanyewest are you guys back together???? No judgement! I'm seriously just wondering but kinda hope you are. Let me know! I'm just curious…Love you guys !

— gwen (@gwenncoco) August 28, 2021
she's as bad him tbh, like complaining about the relationship not working and that she was sick of him but then continues to support his weird fucked up "performances" strange https://t.co/s3d1J8BuEA

— emma ❀ (@emmagws) August 27, 2021
Sign up for our Newsletter
Get news summaries sent to your email to start your day.