He's heard the clamor and is now prepared to meet.
Dave Chappelle has stated that he is willing to meet with transgender Netflix workers and other members of the transgender community as he rejects the accusations that he refused to do so over contentious statements he made in The Closer.
"It's been said in the press that I was invited to speak with transgender employees at Netflix and I refused," Chappelle remarked at the start of the five-minute video posted on Instagram.
"That is not true. If they had invited me I would've accepted, although I am confused about what we're speaking about… You said you want a safe working environment at Netflix. Well it seems like I'm the only one that can't go to the office anymore," he revealed.
"To the transgender community, I am more than willing to give you an audience, but you will not summon me. I am not bending to anybody's demands."
The entertainer went on to make a satirical list of prerequisites for meeting with the community, saying, "If you want to meet with me, I'd be more than willing to, but I have some conditions. First of all, you cannot come if you have not watched my special from beginning to end. You must come to a place of my choosing at a time of my choosing, and thirdly, you must admit that Hannah Gadsby is not funny."
Chappelle
said that the uproar stemmed from business interests and that he has received support from some members of the LGBTQ+ community.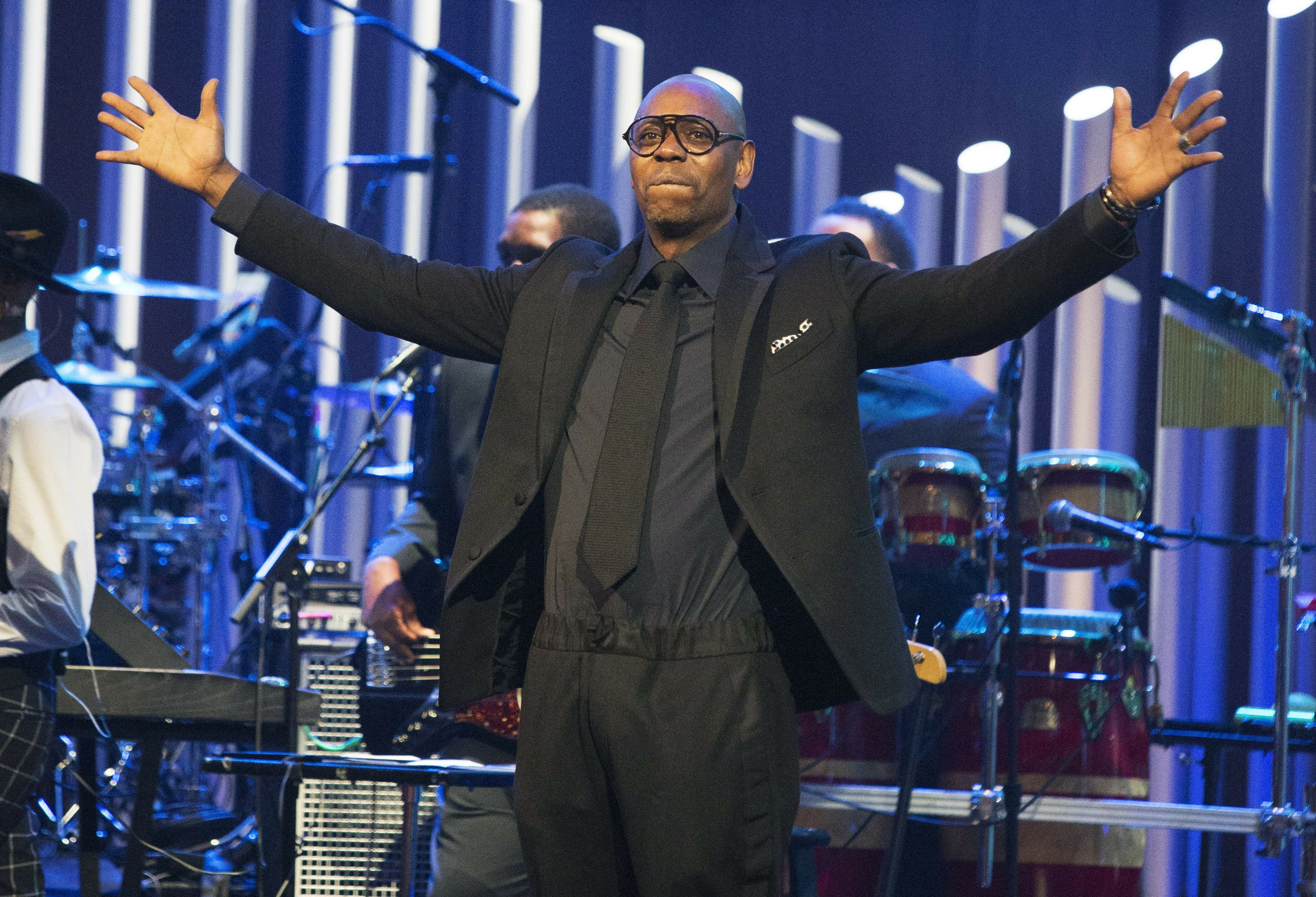 "I want everyone in this audience to know that even though the media frames it that it's me versus that community, that is not what it is. Do not blame the LBGTQ community for any of this shit. This has nothing to do with them."
"It's about corporate interests and what I can say and what I cannot say. For the record, and I need you to know this, everyone I know from that community has been loving and supporting, so I don't know what all this nonsense is about."
The video ended with Chappelle proclaiming that his film would be distributed in 10 cities and then questioned the audience, "Am I canceled or not?"
Reactions to Dave Chappelle Speaks Out After Netflix Special Backlash
I haven't weighed in on this Chapelle shit because I didn't watch the special, but this tells me all I need to know. Very Trumpish. Not a good look. https://t.co/DXIr2IwsAX

— Charles Bickford (he/him) (@charlesofidaho) October 26, 2021
I don't think netflix has been making him say transphobic "jokes" the last few years but hey what do i know. Also fuck the crowd for cheering when he said he said he refused to meet with the netflix employees. https://t.co/hy9FOKF6T0

— 🎃Brandon Lantz🎃 (@Brandon__Lantz) October 26, 2021
I'm shocked Dave Chappelle doesn't think the #LGBT community is against him and it's some corporate interest. To be sure, most of us are against his bigoted work. https://t.co/iIOxBEWy9P

— Thought of the Gay (@ThoughtOfGay) October 26, 2021
If you can watch this and not being offended for our LGBTQ+ friends then you aren't an ally. He just sounded like a whiney "rich bitch". Don't be hateful and people won't be mad. It's so easy 🤷🏻‍♀️I try to give people the benefit of the doubt but unfortunately he didn't deserve it. https://t.co/0BNwGwQInt

— Regina_phalange_wears_a_mask😷🌊🌈💃 (@rp603) October 26, 2021
trying to grasp the minds of people whose idea of entertainment is paying premium ticket prices (plus surcharge) to go listen to a rich guy complain https://t.co/TpK25oLRmA

— Jess Harvell (@cheaptrickrules) October 26, 2021
If this is meant to be funny, it fails due to the lack of jokes. And if it's meant to be a serious plea for understanding, it fails because he feels the need to insult another comedian during it https://t.co/UJCDheOQiv

— Ace Paederot (@farcialities) October 25, 2021