Former colleagues congratulated him on his achievement.
In the 30th season of ABC's "Dancing with the Stars," the former NBA player who won a championship with the Cleveland Cavaliers in 2016 led the league, becoming the first ex-NBA player to win the competition alongside his partner Daniella Karagach.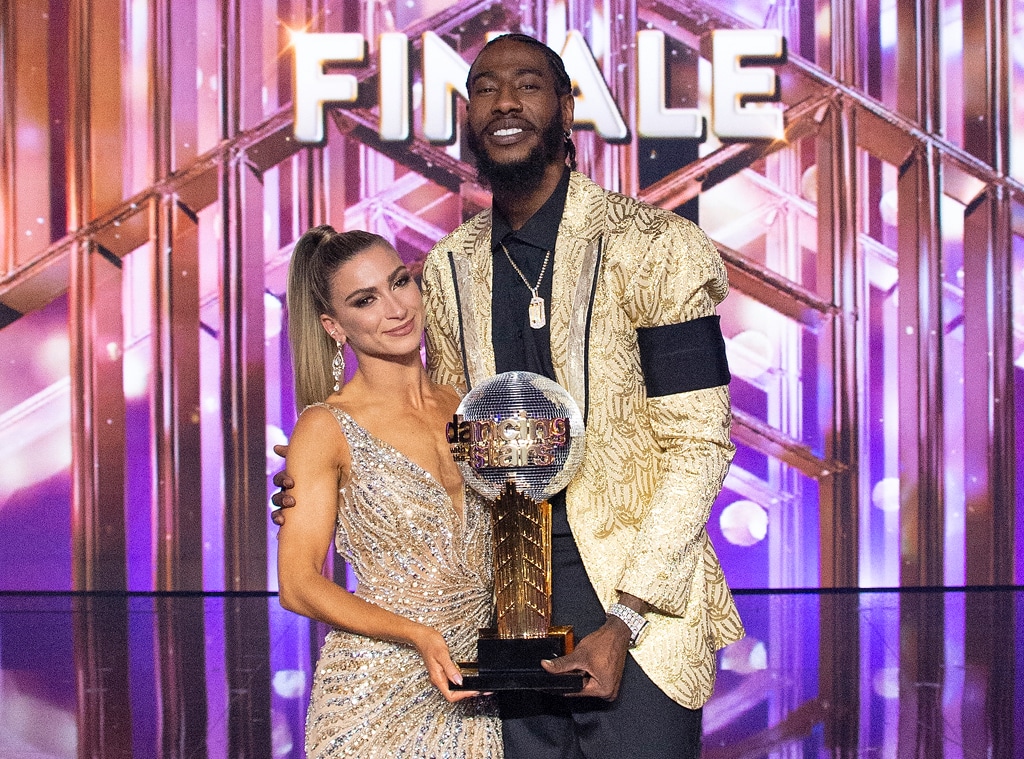 Even though the tandem had only earned one 40 all season before to Monday, the duo then received two flawless 40s for two dances in the finals: a cha cha and foxtrot fusion dance to "September" by Earth, Wind & Fire and a freestyle to a medley of "Lose Control" by Missy Elliott featuring Ciara and Fat Man Scoop and "Bounce" by DJ Client.
He delivered the good news about their triumph to E! News, saying that it means a lot. "I think with the NBA, we're a family, a fraternity at the end of the day. And any time I got to put that hat on to represent them, I try and do it the right way. I hope they was watching, supporting," and later added, "I hope we did it justice. I love my NBA family." 
The show's first same-sex duo, JoJo Siwa and partner Jenna Johnson, also received a perfect 40 for each of their two dances: a tango, cha cha to "I Love It" and a freestyle dance to "Born this Way." For their two performances, the judges awarded fitness guru Cody Rigsby and partner Cheryl Burke a total score of 76, while Amanda Kloots and expert Alan Bersten scored a total score of 78.
When the spectator votes were tallied, Kloots ended in fourth, followed by Rigsby in third. Siwa, who had been a contender for the whole of the season, placed second.
Reactions to Iman Shumpert, A Former NBA Guard, Made History As He Won The 30th Season Of "Dancing with the Stars"
Iman Shumpert

Cut his baby's umbilical cord with headphones during emergency birth

Won an NBA championship for Cleveland

Just won dancing with the stars

My guy has one of the most interesting lives! @imanshumpert congrats on another W dude! pic.twitter.com/ComrEYaGbV

— DynastyCLE (@DynastyCLE) November 23, 2021
Bruh the fact that Iman Shumpert was the underdog and came out on top and took this whole competition! Bruh I'm so proud of my guy!!! Congrats Iman and Daniella, y'all did THAT! #DWTS pic.twitter.com/5DsBpnDPz5

— This is a Tabria Majors Stan Account (@PhenomenallyME3) November 23, 2021
First time I have EVER watched DWTS let alone the #DWTSfinale…congrats to Iman Shumpert. He's the only reason I watched 😁

— Chocolate GiddyUp (@sweet_cheri_pie) November 23, 2021
Nobody deserved to win as much as Iman. He embodied the true spirit of why this show was created. For him to have no prior dance experience, but come out and entertain and amaze ppl every week with his growth and talent!! He did that shit! Congrats @imanshumpert ‼️🙌🏿🎉 #DWTS pic.twitter.com/9avDpUBRhi

— Beautifully Built Bae 💋 (@MaeonyaRoelona) November 23, 2021