Just before Christmas, the singer makes a statement piece with an edgy haircut.
Demi Lovato revealed a new hairstyle for the new year on Christmas Day (Dec. 25), taking to social media to flaunt their edgy buzzcut in a short FaceTime video by photographer Angelo Kritikos.
They captioned the shot, "🖤 #freshstart." At the same time, the Disney Channel alum shared additional images showing off their new look, smiling and pursing their lips.
The two-time Grammy Award nominee's new look follows a successful year for them. They came out as gender non-binary in May, changing their pronouns to they/them, after the release of their seventh studio album "Dancing with the Devil… the Art of Starting Over," their first record in four years, in April.
In December, the Camp Rock alum made a significant news about them being California sober. They did clarify, however, that they would only remove "life-threatening" substances and will continue to consume marijuana on occasion.
"I've learned that it doesn't work for me to say that I'm never going to do this again," the Heart Attack hit maker said in an interview with CBS Sunday Morning earlier this year.
"Recovery isn't a one-size-fits-all solution. You shouldn't be forced to get sober if you're not ready. You shouldn't get sober for other people. You have to do it for yourself," they explained.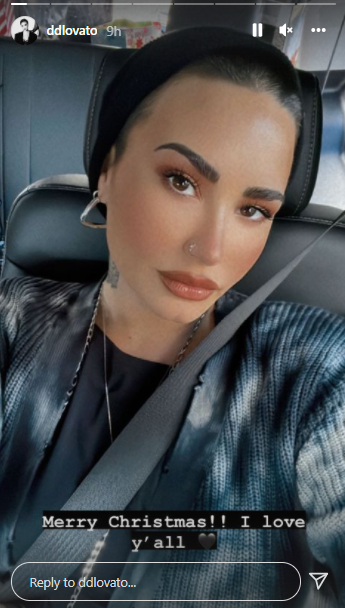 Earlier this year, Lovato announced their wish to shave their head, telling Glamour that their recent hair choices have been an effort to break out from the heteronormative cage to which they've been trapped.
"What I'm encouraging people to do is just make choices for themselves," they remarked at the time. "Autonomy, for me, is what changed my life."
Reactions to "Fresh Start" For Demi Lovato's Newly Shaved Head
also before i go off on a mad tangent later demi lovato's buzz cut slaps. idc if you don't like them that cut is a SERVE.

— Nicole. (@tayl0rsversi0n) December 27, 2021