The kneeling act became a point of contention among the public.
By kneeling at the Pepsi Super Bowl LVI Halftime Show on Sunday, Eminem seemed to be continuing the movement that Colin Kaepernick began years ago.
After performing his 2002 song "Lose Yourself," the rapper kneeled in protest of police violence and racial injustice. PEOPLE first reported this news.
During the national anthem before a 2016 preseason game, Kaepernick, a former quarterback for the San Francisco 49ers, was widely chastised for launching this kind of protest. Athletes from many levels of sports have knelt in sympathy with Kaepernick and his message since then during the national anthem.
Eminem has always backed Kaepernick's efforts throughout his career. At the 2017 BET Hip Hop Awards, he performed a blistering 4.5-minute freestyle rap in which he slammed former President Donald Trump while praising his anti-racism and anti-police brutality stances, among other things.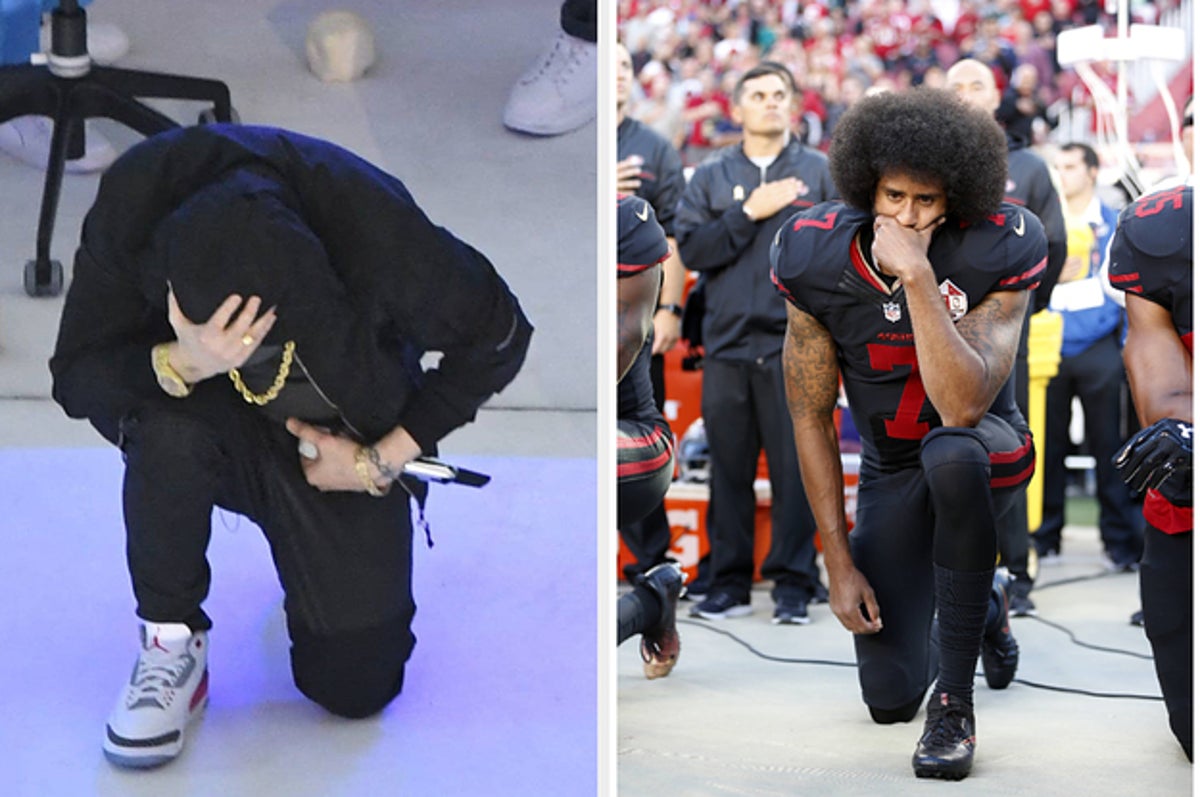 Kaepernick opted out of his contract with the San Francisco 49ers a year after his contentious demonstrations. He hasn't been able to sign with any NFL organization ever since.
In October 2017, Kaepernick and Eric Reid, a fellow protester, filed a complaint with the NFL alleging that owners conspired to keep him off of a team. A settlement was reached in February 2019, with Kaepernick receiving only about $10 million — $2 million less than his basic pay in 2016 — according to ESPN's report acquired by the publication.
When it came to the NFL's handling of Kaepernick's protest in 2020, commissioner Roger Goodell issued an apology. "I wish we had listened earlier, Kaep, to what you were kneeling about and what you were trying to bring attention to," he stated at the time.
Dr. Dre, Mary J. Blige, Kendrick Lamar, Snoop Dogg, and surprise guest 50 Cent also performed throughout the concert.
Reactions to Eminem Kneels During His Super Bowl Halftime Performance
NFL told Eminem not to kneel and he did it anyways. Fuck the NFL. Props to Eminem.

— Fifty Shades of Whey (@davenewworld_2) February 14, 2022
So the NFL is telling Eminem that he isn't allowed to kneel in solidarity during the show! Do they seriously think he gives a shit what they want him not to do? 😂😂

— 👣Jarett & 🐾Lilly vs EVERYTHING (@JLVsTW1) February 13, 2022
Being a Black woman and watching Eminem kneel during the Super Bowl Halftime Show, going against everything the NFL told him not to do. Yeah that's why he'll always be my 🐐

— vidα 🧘🏽 (@renegadevee) February 14, 2022