Cameras were permitted in the courtroom for the first time during the sentence.
A Chicago judge sentenced Jussie Smollett to 30 months of felony probation, during which time he will be permitted to travel, pa $25,000 fine to the city of Chicago, as well as more than $120,000 in punishment, for masterminding a "disgraceful" hate crime plot and submitting a fake police complaint, bringing his hate crime case to a dramatic end.
As we previously reported, Smollett was found guilty of staging a hate crime against himself in order to generate sympathy and improve his career, according to prosecutors back in December.
Following evidence from 13 witnesses and more than nine hours of deliberation, a jury in Chicago criminal court found the openly gay Black actor guilty of five of six charges of felony disorderly conduct for making a fake police complaint.
"I am not suicidal. I am innocent and I'm not suicidal. If I did this, then it means that I shoved my fist in the fears of black Americans in this country for over 400 years and the fears of the LGBTQ community," the 'Empire' actor declared as Judge James Linn imposed the sentence.
"Your honor, I respect you and I respect your decision, but I did not do this and I am not suicidal. If anything happens to me when I go in there, I did not do it to myself, and you must all know that."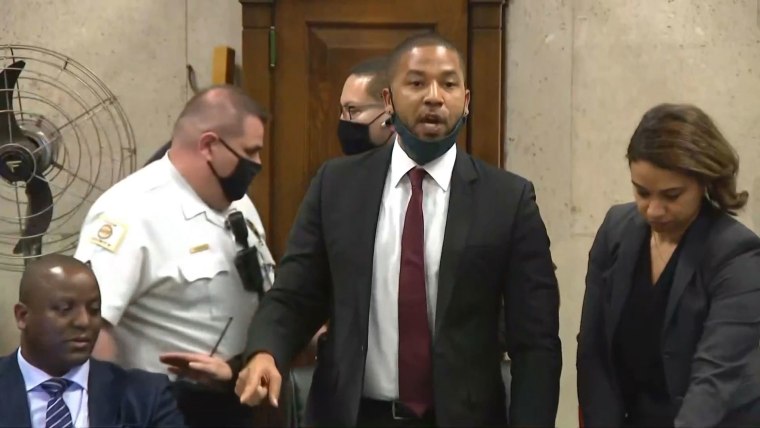 According to TMZ, the judge said that he was not punishing Smollett to appease the public, but rather to punish him for his actions.
His attorneys, on the other hand, argue that the singer has already endured enough with the collapse of his film career and should not be sentenced to imprisonment. They additionally said that they want to file an appeal.
Smollett was initially charged with 16 counts of disorderly behavior in March 2019 after reportedly filed a fake complaint alleging that two men assaulted him late at night while he was walking home from a Subway sandwich restaurant.
However, later that month, the indictments were dismissed, only to be revived by a special prosecutor, Dan Webb. In early 2020, he was charged with disorderly conduct once again.
Reactions to Jussie Smollett Receives A Prison Sentence For Staging Hate Crime
Jussie Smollett gets 150 days in jail for a hate crime conspiracy while Trump supporters remain political prisoners for tresspassing.

Incredible.

— thebradfordfile (@thebradfordfile) March 11, 2022
Remember that Jussie Smollett got more legal representation, more favorable media coverage and a more lenient sentence than 99.9% of all Jan 6 protesters in prison.

— Rising serpent 🇺🇸 (@rising_serpent) March 11, 2022
If Jussie Smollett was a Trump voter he would have gotten years in prison.

— thebradfordfile (@thebradfordfile) March 11, 2022
Jussie Smollett would have received atleast 12 months in jail had he been a white Trump Supporter.

— ReaI_iTamara (@ReaI_iTamara) March 11, 2022
Raise your hand if you're glad Jussie Smollett was sent to jail.🙋🏻‍♂️

— Ben Owen (@hrkbenowen) March 11, 2022
Jussie Smollett may not be suicidal, but he is dumb as a big box of rocks and he just lost his mind in court…hilarious!🤣

— 🇺🇸 The FJC 🇺🇸 (Same on GETTR) (@The_FJC) March 11, 2022
Jussie Smollett 🤝 Amber Heard

What they did hurts REAL victims, they didn't and still don't care about real victims, they only care about themselves and they did it because they're both greedy attention seekers.

— Arwen sparrow (@An_elf_pirate) March 10, 2022
Jussie Smollett thought it made sense for two racist rednecks to recognize him from Empire.

Now he thinks he is important enough to be Epsteined! He's nuts.

— Gia Acker (@AckerGia) March 11, 2022
Jussie Smollett sentenced to 150 days in county jail, ordered to pay $120K restitution for lying to police…and a ruined career.

— Old Man Lefty (@OldManLefty1) March 11, 2022