He has hosted the Grammys for the second year in a row.
In his opening monologue at the 64th Annual Grammy Awards, which was held at the MGM Grand Garden Arena in Las Vegas on Sunday, Trevor Noah addressed Will Smith's contentious Oscars smack at Chris Rock.
"Don't even think of this as an award show," Noah's statement began "It's a concert where we are giving out awards, we will be listening to music, dancing, sing, keeping people's names out of our mouths and we are going to give people awards all throughout the night. So let's get straight into it."
Comedian Nate Bargatze also made light at the Oscars event during the pre-show premiere ceremony, causing the audience to roar in laughter when he walked onto the stage wearing a large black helmet.
"They said comedians have to wear these now at awards shows during the joke parts," he quipped. "It doesn't even cover your face, I think it just focuses where you would hit me."
As we previously reported, Smith struck Rock in the face with an open palm and yelled a profanity at him for making a joke about his wife's looks at the Oscars event. Producer Will Packer then, alleges that police alerted Rock that they were going to take Smith out of the crowd and arrest him for battery, but the comedian dismissed the authorities.
Smith has since apologized for his actions on the night of the awards. Chris, on the other hand, indicated during his act on Wednesday night that he's still digesting what happened and that he'll address it later on his comedy tour.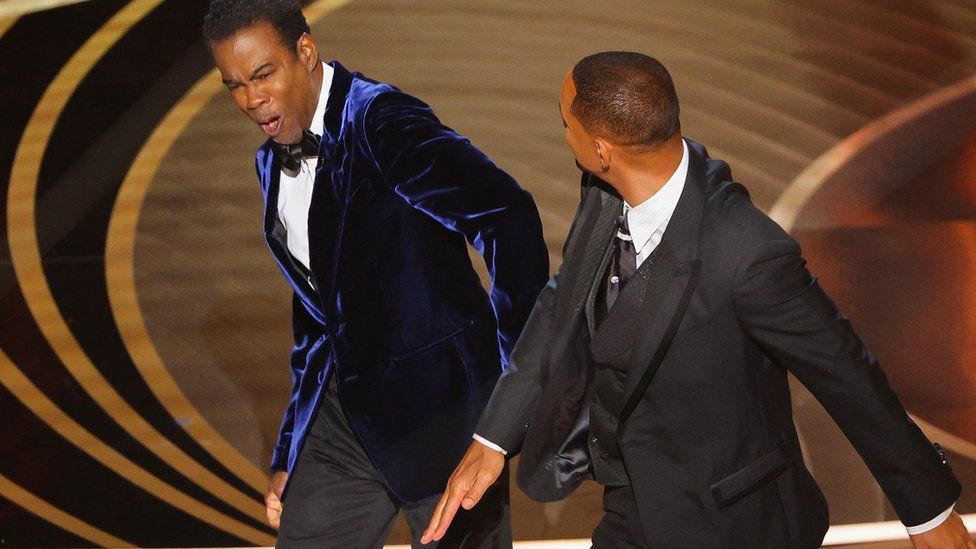 Before Olivia Rodrigo took the stage to sing her chart-topping "Driver's License," Noah cracked jabs at the music industry's elite as well, especially Justin Bieber when he said, "The best thing to happen to peaches since that Timothée Chalamet movie."
The comedian recently got into an online spat with Kanye West after supporting the rapper's ex-wife Kim Kardashian, which reportedly led the Grammys to yank 'Ye from the show's schedule at the last minute, despite his five nominations.
Reactions to Trevor Noah Kicks Off The Grammy Awards With A Will Smith Slap Joke