She was experimenting with filters and having a good time, while fans are terrified.
Madonna's TikTok video, which she uploaded before the Grammy Awards on Sunday, has caused worry among supporters who are dissatisfied with her look.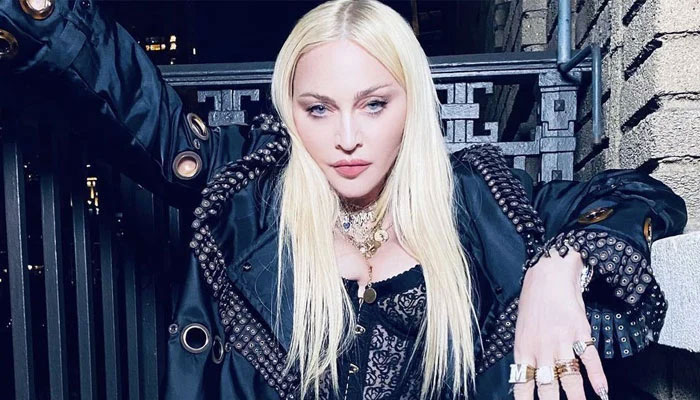 In the video, the singer seems to be leaning back and forth to the camera, with close-ups of her face and large pink pouty lips, while wearing a sheer top with no bra, chains and with her hair tied in braids.
Her unusually puffy lips and bulging cheek bones, which looked to be the result of a video filter, prompted a flurry of inquiries in the comments section. Others called her "Macey," while others compared her to the Silva twins and debated over which one she resembled most.
"This honestly scared me I'm not gonna lie," one fan remarked in response to the video, acquired by different news outlets. "Great! How am I supposed to close my eyes and fall asleep now!" another user added.
"I've loved Madonna since I was little … huge fan… love her … but this is a hard pass… what has she done to herself?" said another fan. "This can't b Madonna, please say this isn't so," another wrote.
Although the pop star's video has been seen over 8 million times on the social media site, not everyone is pleased with it. However, she seems unconcerned by the bad feedback as she came back on TikTok Monday morning, this time with a new luminous filter and a video set to her new remix, Frozen (feat. 070 Shake).
Madonna has been concentrating on her biography in recent months. She's apparently nearing the end of the casting process for the actress who will portray her in the future film. Julia Garner, Florence Pugh, Alexa Demie, Odessa Young, Bebe Rexha, Sky Ferreira, and Emma Laird are among the remaining ladies in the running, according to The Hollywood Reporter.
Reactions to Madonna's 'Unsettling' Pre-Grammys Video Raises Eyebrows
This is Madonna doing a TikTok video to encourage people not to get plastic surgery and instead to age gracefully. Reverse psychology works!pic.twitter.com/lHPO5O0GVn

— The Matthew Principle (@MattPrinciple) April 4, 2022
I don't need to see the Madonna TikTok again.
Thank you.

— Foul-mouthed Reply Otter (@jbhonos) April 4, 2022
I'm blocking Madonna on tiktok, it's like a jump scare every time I come across her videos

— paulette 🦋✨ (@andrianipenaa) April 3, 2022
I have enough self control NOT to comment on that Madonna TikTok.

Ok fine. Fine!

— Midwest Mom🐯🖤💛 (@midwestmomts) April 4, 2022
Madonna should retire… love her to death but look at her tiktok comments… also something is clearly going on w her no normal with braincells would post those videos. It's okay to grow old and cherish who you were instead of "keeping up". That creates false sense of confidence.

— Gargoyle 😻😹🥺⭐️ (@gagascrime) April 5, 2022