What a cruel thing to say to your husband in front of everyone.
Jada Pinkett Smith stated in a recently discovered video from her Red Table Talk podcast back in 2018 that she "really didn't want to get married" to husband Will Smith, who also appeared as a guest and can be seen in the footage.
"I was under so much pressure, you know, being a young actress, being young and pregnant and I was just like, I didn't know what to do. But I just knew, I was like I never wanted to be married," Jada said on her talk show, co-hosted by her mother Adrienne 'Gammy' Banfield-Norris and daughter Willow Smith.
She continued, "I didn't want a wedding either. I didn't want to get married. And now Gammy done gone to Will, crying about 'I don't want a wedding,' and now I'm being forced to have a wedding."
"It was horrible. I was so upset that I had to have a wedding," she added. "I was so pissed I went crying down the freaking aisle getting married. I cried the whole way down the aisle."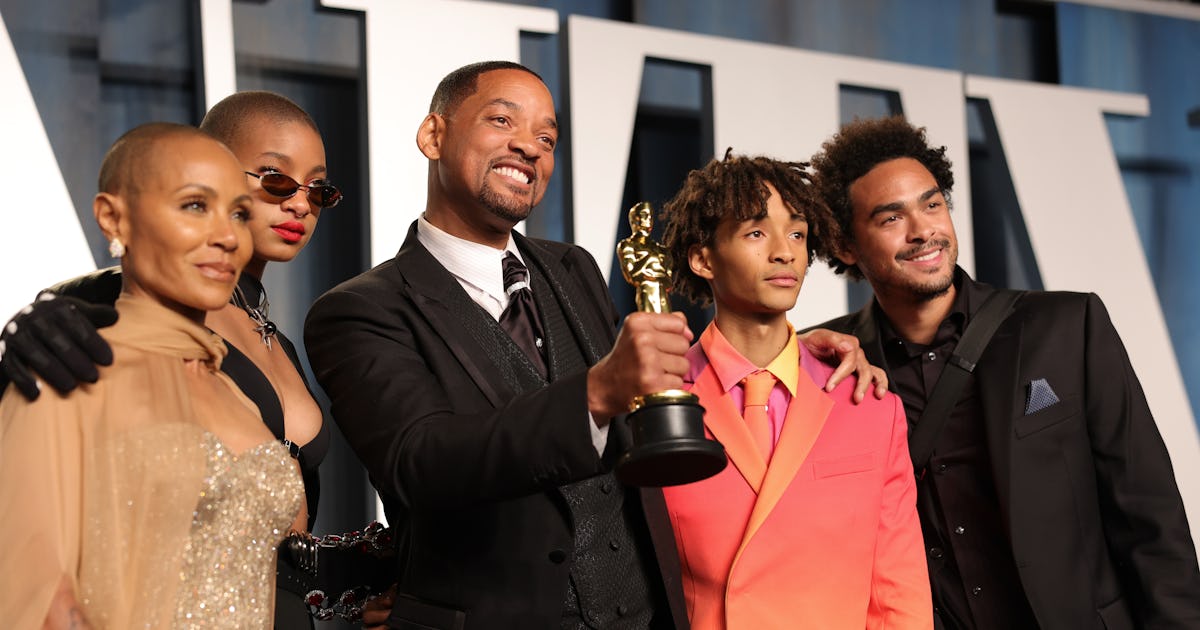 "We only got married because Gammy was crying," she chuckled as she told her daughter. "It was almost as if Gammy was like, 'You have to get married, so let's talk about the wedding.'"
"I remember feeling very strongly and wanting you guys to be married," Banfield-Norris explained in response to her comment, adding, "I do remember but I don't remember your rejection of the idea of marriage. I remember the rejection of the idea of a wedding but not of a marriage."
On the other hand, Will felt the opposite as he was genuinely happy on their wedding day, saying, "There wasn't a day in my life that I wanted anything other than being married and having a family."
Speaking of, as we previously reported, Will struck Chris Rock in the face with an open palm and yelled a profanity at him for making a joke about his wife's looks at the Oscars event.
He was banned from the Academy of Motion Picture Arts and Sciences, just after he resigned, and Netflix has put his films on hold. Will's behavior also alarmed Jada, who said that the incident was both embarrassing for the actress and typical of her husband's proclivity for overreacting.
"I never said he needed to protect me," she stated at that time. "It was in the heat of the action and he was the one who overreacted. I didn't and wouldn't do it in any way."
Furthermore, Jada admitted to being unfaithful to her spouse at a period of their separation a few months back, stating, "We decided we were going to separate for a period of time and you go figure out how to make yourself happy and I will go figure out how to make myself happy."
"From there, as time went on, I got into a different kind of entanglement with August," she claimed, but the couple insists they still have "unconditional love" despite the predicament. The news was initially reported by the New York Post.
Reactions to Jada Pinkett Smith 'Never Wanted' To Marry Will Smith
Jada Pinkett saying she never wanted to marry Will Smith after all these years is a clear example of 'marriage is a man's loss'.

— Albert Nat Hyde (@BongoIdeas) April 9, 2022
Jada said she never wanted to marry Will Smith? Dang Imma say it over and over again, will would've been better off w/o her

— NZT✞• (@terrificprodig1) April 9, 2022
Wait, Jada Pinkett-Smith JUST said PUBLICLY that she never wanted to marry Will? I dunno, given their history I think they have some weird humiliation kink thing between them b/c she STAYS clowning him in all facets and he STAYS… just stays. #WillSmith #JadaPinkettSmith pic.twitter.com/w7B12QVnQu

— @CorgeousGeorge (@corgeousgeorge) April 9, 2022
So Jada Pinkett Smith encouraged Will to react at the Oscars, which should've been his moment to celebrate a long career but instead destroyed it … and THEN less than a week later is reminding us about how she never wanted to marry him. WOW. Nice timing.

— ❤Susannah Murray❤ (@SusieQhatesYou) April 8, 2022
Jada smith acting like sb put a gun up to her head talkin bout she never wanted to marry Will Smith… so why did you? She had plenty of time come up with choices like not show up or simply just walk off but no

— $💘 (@MeanGyalMoniee) April 12, 2022
Jada smith has confessed she never wanted to marry Will Smith despite his tragic 10-year ban from the Oscars for defending her medical condition. Truth is, women marry who is ready this days and not because they love you. The person whom they love was just toiling with them.

— Dr Dave (@EL_monnah) April 12, 2022
Jada smith is trash asf. everything in her life is everyone else's fault but hers. She got married bc her mom cried not cos she wanted to, she cheated with august because of will not "giving her what she wanted" what next she had kids because her grandma said so???? L of a woman

— zen (@zenghibli) April 12, 2022
Folks really mad that jada pinket smith just cheated better than will did lol

— 💘♐️ (@vitamin_e_girl) April 13, 2022
I do not care for Jada Pinkett smith. We do not claim her in this Virgo community.

— dee breezy✨ (@xxdbreezyxx) April 10, 2022
I don't know why people are acting like @jadapsmith is a good person she cheated on will

— heatfleet (@nick18554581) April 15, 2022