His arrest follows a days-long Caribbean trip to Barbados with his pregnant girlfriend, Rihanna.
The Los Angeles Police Department, with the help of Immigration and Customs Enforcement's Homeland Security Investigations team, apprehended Rakim Mayers, alias A$AP Rocky, at Los Angeles International Airport, in connection with a shooting in November.
As stated by witnesses at the airport, the rapper arrived in Los Angeles on a private plane from Barbados, where he was greeted by officers and hauled away in handcuffs.
Rocky was charged with assault with a dangerous weapon (firearm) and documents obtained by NBC News stated that his bond was set at $550,000.
According to the LAPD, the rapper is the suspect in a gunshot that occurred about 10:20 p.m. on November 6 near Vista Del Mar and Selma Avenue. The alleged victim said Rocky fired at him numerous times, with at least one bullet grazing his left hand, as reported by TMZ at the time.
The publication further reports that cops entered his Los Angeles house with a battering hammer and left with one box of potential evidence after executing a search warrant. He was freed only about three hours after posting bond and has a court hearing set for Aug. 17.
His news arrest also came following infidelity claims about him circulating on social media involving shoe designer Amina Muaddi, which she addressed on her social media.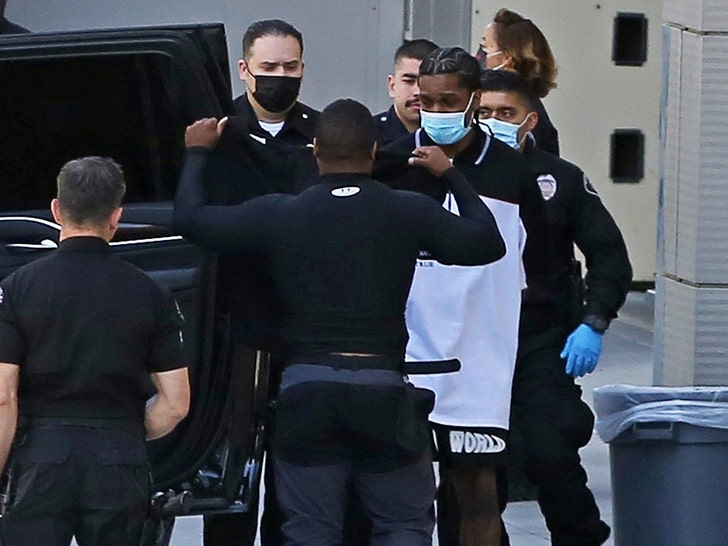 "I've always believed that an unfounded lie spread on social media doesn't deserve any response or clarification, especially one that is so vile," Muaddi wrote via her Instagram Story. "I initially assumed that this fake gossip — fabricated with such malicious intent — would not be taken seriously."
"However in the last 24h I've been reminded that we live in a society that is so quick to speak on topics regardless of factual basis and that nothing is off limits. Not even during what should be one of the most beautiful and celebrated times in one's life."
On the veracity of the rumor, a source close to the couple, who are expecting their first child together anytime soon, also stated that it is untrue, "100% false on both counts. 1 million percent not true. They're fine."
Reactions to A$AP Rocky Released On Bail After LAX Arrest In Connection With November 2021 Shooting
I know everyone laughing at ASAP Rocky getting arrested but Rihanna is about to give birth and now she gotta worry/stress about this like lets have some type of empathy here

— #yafavmilf (@Gawge0us) April 20, 2022
I'm praying for Rihanna and ASAP Rocky. First the rumors now ASAP has been arrested!!! I cancel every attack of the enemy against them right now in the name of Jesus!!! God cover them and their family! Rihanna doesn't need this stress while pregnant. 🙏🏽🙏🏽

— Angelique (@simply_angiee) April 20, 2022