Lanez is presently facing charges of shooting the rapper in 2020.
For the first time, Megan Thee Stallion is speaking up about Tory Lanez allegedly shooting her in both foot during a party in the Hollywood Hills, in a new teaser of a forthcoming interview with Gayle King, premiering Monday on CBS Mornings.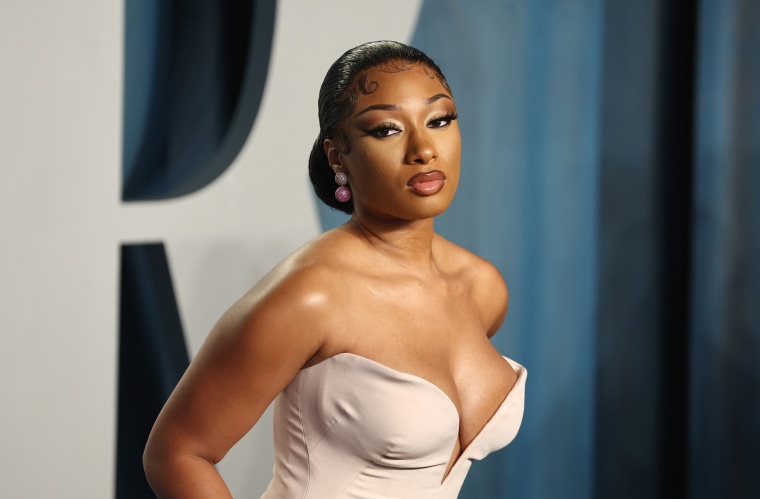 "It was an argument because I was ready to go and everybody else wasn't ready to go. But that's, like, normal friend stuff," she remarked in a footage from the sit-down posted on Sunday. "So I get out of the car and it's like everything happens so fast."
"And all I hear is this man screaming. And he said, 'Dance, bitch.' And he started shooting. And I'm just like, 'Oh, my God.' Like, he shot a couple of times. And I was so scared."
Stallion added tearfully: "I didn't want to move too quick cause I'm like, 'oh, my God. If I take the wrong step, I don't know if he's gonna shoot something that's, like, super important. I don't know if he could shoot me and kill me."
In response to King's query on if she was afraid for her life at that time, she answered, "I was really scared 'cause I had never been shot at before."
Lanez, on the other hand, was detained at the scene of the incident and charged with assault and weapons charges by the Los Angeles County District Attorney's Office in connection with the incident.
However, he was freed the same day on $35,000 bond and in September, the matter is set to go to trial. Lanez has pled not guilty to all accusations leveled against him.
He was most recently arrested earlier this month before being freed on bail after violating court orders forbidding him from contacting the "Savage" rapper or discussing any finding in the case with other parties, according to officials statement acquired by PEOPLE.
The news was initially reported by Deadline.
Reactions to Megan Thee Stallion Speaks Up For The First Time About The Tory Lanez Shooting In 2020
@theestallion THIS CBS SPEECH WAS SAD AND PATHETIC AND IT MAKES YOU LOOK SUPER GUILTY AND LOOK LIKE A HUGE LIAR. YOUR 4 YEARS TOO LATE MEG. YOU HAD ALL THIS TIME TO MAKE THIS SPEECH BUT YOU UNTIL Y'ALL IN THE MIDDLE OF A TRIAL. YOUR A JOKE AND YOUR CANCELLED IN MY EYES.

— I am M.A.R.L.E.N.EA (@TheRealest88_1) April 25, 2022
Tory Lanez is banned from speaking about this, while Megan Thee Stallion can give high profile interviews. Being that we're spose to be innocent until proven guilty, this is completely unfair. If one can talk, they both should be able to.

— Drink Water (@PromiscuousLadi) April 24, 2022
Megan thee stallion doing interviews now about the shooting but Tory is supposed to shut up and sit down about it? Wtf is the promo before his not guilty verdict? Or for an album 🙄

— De'ja🤑 (@DejaKey2) April 24, 2022
Megan Thee Stallion really said "I didn't want to move because he might hit an important part"

She definitely made this whole thing up 😂 Who let her do this interview? Tory Lanez most definitely innocent

— . (@kbenz15) April 24, 2022
I have nothing against Megan Thee Stallion, but it's not fair how she can talk about the case before trial and not get arrested like Tory Lanez. She did a whole interview, Vs Tory Lanez tweet. Is she being used to destroy a Black man, because I'm seeing a very familiar pattern. pic.twitter.com/z05KyNSQnX

— JDauntless  (@jdauntless85) April 24, 2022
The reactions I am seeing for Megan Thee Stallion's Gayle King interview about Tory Lanez is why the next level of code switching for BW includes not mating nor association with black men/males. There might be a few expectations to the rules but not that many 🙃 pic.twitter.com/gIb5obqKAV

— Adea (@adeasociety) April 24, 2022
You can tell who's mentally sound on Twitter by their reaction to that Megan Thee Stallion interview.

— the daily thumb (@boredowntw) April 24, 2022
this megan thee stallion interview got me calling all types of cap

— majin.jerome (@majinjerome1) April 24, 2022