She has walked the runway for several well-known designers, including Marc Jacobs, Alexandra Wang, and Moschino, as well as being a Victoria's Secret Angel.
Bella Hadid is a social media sensation, young model, and angel in the Victoria's Secret Fashion Show. She has been in the spotlight for some years, and her career has just reached new heights.
She's also constantly been in the news for flaunting her flawless physique. That was not the case until lately when she was seen on several red carpets with a slim waist and flat stomach.
While most people assumed Bella had gone under the knife to get her present physique, it turns out that she slimmed down mostly via food and exercise.
Bella Hadid's Weight Loss Tricks
The main keys to Bella's successful weight loss:
She slimmed down through dieting and exercising
Her go-to food is egg sandwich on a plain bagel
Her usual meal for lunch is fish, chicken, vegetables, or spaghetti
She begins her day with stretching
She runs non-stop for 20 minutes, followed by a boxing session, and the a series of weights for abs and glutes
She drinks smoothie, juice, or protein drink 30 minutes before her workout session
Related Weight-Loss Posts
Bella Hadid claims she "didn't mean" to shed that much weight.
"I have lost weight and gained weight," she told PEOPLE exclusively during her fitting for the Victoria's Secret Fashion Show at that time. "My weight fluctuates so much."
"I really didn't mean to [lose weight]. Like I want boobs. I want my ass back. But it's not my fault. My weight fluctuates, and so does everybody's, and I think that if people are gonna judge, that's the worst you can possibly do because everybody is different."
"I worked out so hard, and everybody is like, 'Oh, she looks so skinny blah, blah, blah,'" she explained her unintentional weight loss.
"But I think that if you just stick to something, you can really achieve so much. I've been eating hard protein every day and working out for three hours every day. It's crazy, but I think that you know if you set your mind to something, I think you can succeed."
Bella Hadid's Workout Routine.
In a separate interview, Bella even shared her workout routine with Vogue France, stating, "I train with my coach for intensive sessions. I run non-stop for 20 minutes, followed by a boxing session and finally a series of weights targeting the abs and glutes."
She consumes "a smoothie, a juice, or a protein drink 30 minutes before the session" to keep her energy up during her training.
What was Bella Hadid's diet like?
Considering her busy schedule due to the profession she works in, she still maintains her weight by sticking to her regimen. "I like to eat healthy and not eat crazy plane food," she continued.
"I like to still make sure my diet is good, and I stay hydrated and stuff. That's basically all I do." And when it comes to her cheat days, this is what she remarked: "If you want to have a piece of bread, go have a piece of bread."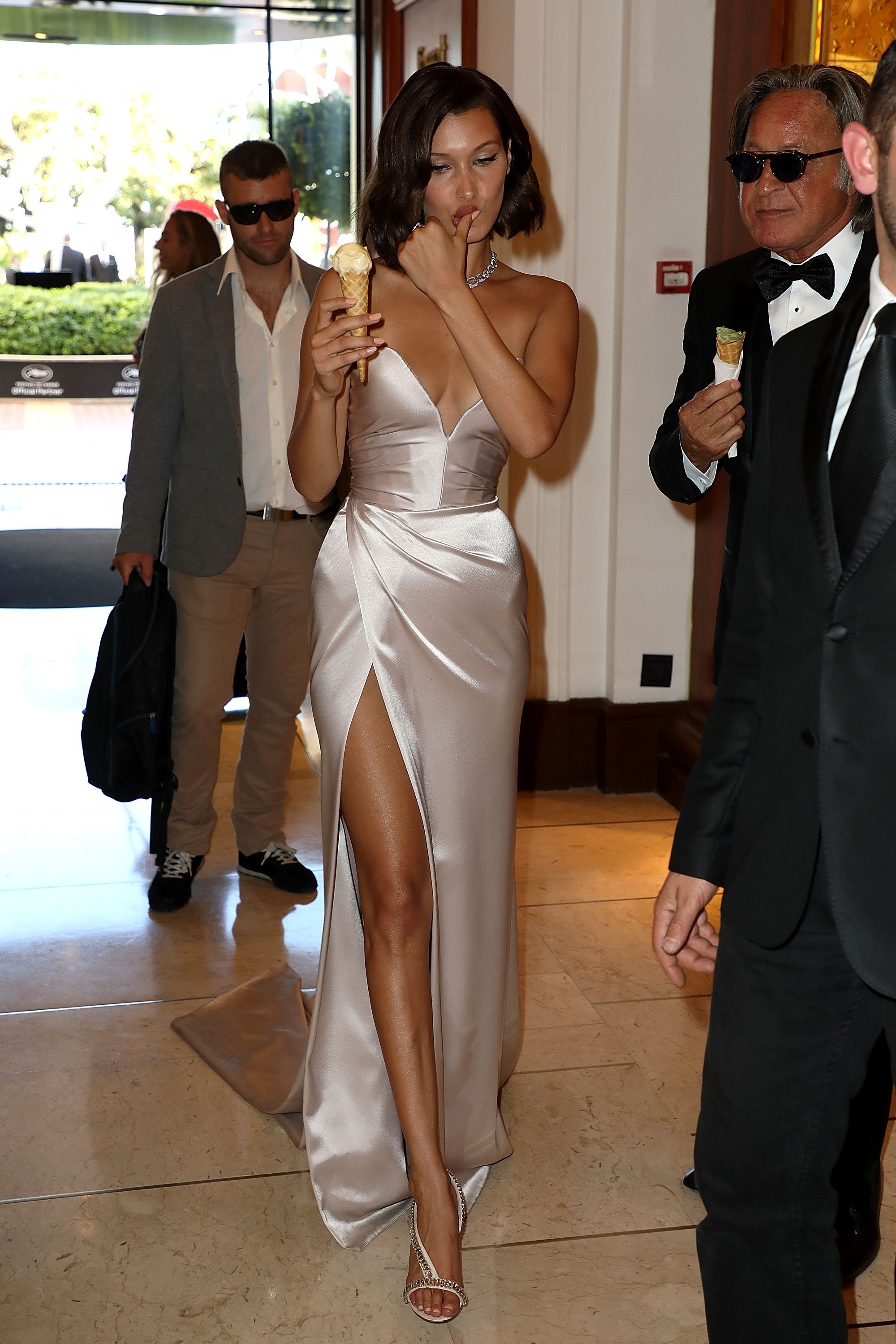 As for her morning routine, Bella begins her day with some stretching. She then either prepares eggs and sausage at home or goes to the bagel shop below her flat for breakfast.
She told Harper's Bazaar, "My go-to is an egg sandwich on a plain bagel. One time I wanted to be healthy and got a gluten-free bagel, but I promise you, they suck."
During shoots, they usually take a break at about 1 p.m. She often eats fish, chicken, vegetables, or spaghetti for lunch. "I like having a good protein meal because I get really tired if I eat too much, so I try to fill myself up with things that will make me feel good."
Green drinks and ginger shots are also kept in a cooler on set by the model, and she consumes three espressos before noon.
Confidence is indeed the key for Bella Hadid.
Furthermore, Bella concentrates on walking down Victoria's Secret catwalk with confidence, in addition to her diet and exercises, which is extremely important, especially if you want to work in the same industry as hers.
"I think every single person in the world has insecurities," she added. "It's crazy because I think that when other people look at all of the VS models or all of the girls [who] are walking, they're like, 'They're not human. They don't have any insecurities.' But I think every single girl [who's] going to be walking probably has an insecurity."
Bella Hadid has been battling Lyme disease for quite some time.
In 2012, the Victoria Secret's Angel was diagnosed with Lyme disease, a bacterial condition caused by a bite from an infected tick. It can produce significant symptoms such as heart palpitations, rashes, joint swelling and discomfort, shooting pains, dizziness, shortness of breath, and weight loss, making it a debilitating illness.
Unfortunately, she still has difficulties from the sickness and shared it on Instagram.
The disease also took her teenage years from her as she dealt with it when everyone else was having fun in their youth. The social media sensation reflected on her first illness, saying in a statement to Fabbon, "It was a dark time. I was exhausted all the time."
"It affected my memory, so I suddenly wouldn't remember how to drive to Santa Monica from Malibu, where I lived. I couldn't ride. I was just too sick. And I had to sell my horse because I couldn't take care of it. I couldn't get out of bed for six days. And my brain would get all foggy, and I couldn't see. That was the hardest time of my life."
Given her struggles with it, Bella persevered. She has spent years in hospitals, bedridden, and several IV infusions to manage her health. Modeling was challenging because she was frequently fatigued and needed medicine, but she persisted and now became her generation's most sought-after top model.