He appears to be in good shape and seems to be in good health.
Taking care of your body is a lifetime commitment that begins with good nutrition, frequent exercise, and knowledge of essential health maintenance. Drew Carey is a comedian, actor, and game show presenter well-known for his television appearances and weight loss journey.
Drew's career began in Cleveland and Los Angeles comedy clubs before gaining guest spots on shows such as "The Tonight Show with Johnny Carson" and "Late Night with David Letterman."
By 1995, he had secured his own comedy, "The Drew Carey Show," which ran on ABC from 1995 through 2004. He is also a former Marine who served in the Marine Corps Reserves from 1980 to 1986 and was determined to lose weight to better his health.
Drew has always been in fantastic shape, but he has gone through a transformation in recent years, demonstrating that it is never too late to make lifestyle adjustments. His weight-loss journey began in 2010, and he has shed over 100 pounds since starting a rigorous diet and fitness regimen.
Drew Carey was diabetic and tired of his weight, so he went on a diet.
"It sucks being fat, you know. I was diabetic with Type-2 diabetes," he began his statement. The good thing is that he is no longer diabetic and has lost 80 pounds since January at that time, after committing to a rigid schedule that included cutting carbs from his diet and going to the gym regularly.
"No carbs," the game show host continued. "I have cheated a couple times, but basically no carbs, not even a cracker. No bread at all. No pizza, nothing. No corn, no beans, no starches of any kind. Egg whites in the morning or like, Greek yogurt, cut some fruit."
On top of that, he also disclosed that he eats fruit for snacks and would have grilled chicken with steamed veggies and water for supper. He continued: "I don't drink anything but water. No coffee, no tea, no soda."
Drew Carey shares the workout routine that helped him shed more pounds
Drew has been open about his problems and triumphs in terms of his own fitness journey. While it's never too late, his story demonstrates that it won't be simple; long-term lifestyle adjustments may yield long-term outcomes.
As reported by Parade magazine, the former Marine made a goal to lose over 90 pounds by November. He went from 262 pounds at the start of the year to roughly 170 pounds by August, making him slip below the obese barrier he had previously reached.
Moreover, his waist had gone from a size 44 to a size 34, which was a significant transformation for the actor.
The comic said that a year-long dedication to nutrition and exercise was the key to his success. When it comes to hitting the gym, Drew shared his secret, and it involves cardio. "Lots of cardio. About 45 minutes of cardio, at least 45 minutes of cardio. I've been kind of lazy like lately, so I'm not doing it six days a week, but I will be for this next month."
"I like being skinny," he concluded his statement. "I was sick of being fat on the camera. Really, I just got sick of it. Once I started losing weight, again, like once I started dropping a couple pant sizes, then it was easy 'cause once you see the results, then you don't wanna stop."
Drew Carey's Weight Loss Tricks
The main keys to Drew's successful weight loss:
Followed rigorous diet and fitness regimen.
He cut down carbs from his diet
No coffee, tea, and soda
He eats fruits for snacks, while grilled chicken with veggies and water for dinner
He goes to the gym and does about 45 minutes of cardio
Related Weight-Loss Posts
Drew Carey's Medical Issues During His Weight Loss Journey
Drew has previously attempted to shed pounds but was admitted to the hospital in 2001, while still working on his sitcom "The Drew Carey Show" and the ABC improv comedy "Whose Line is it Anyway?" due to chest pains and underwent coronary angioplasty.
Unfortunately, one of his arteries was found to be obstructed at the hospital. The comedian had an angioplasty and attempted to control his appetite for a period.
By the time he took over as host of "The Price is Right" from Bob Barker in 2007, he had gained weight again; however, he was suffering shortness of breath once more.
His son was also the driving force behind his desire to reduce weight and improve health.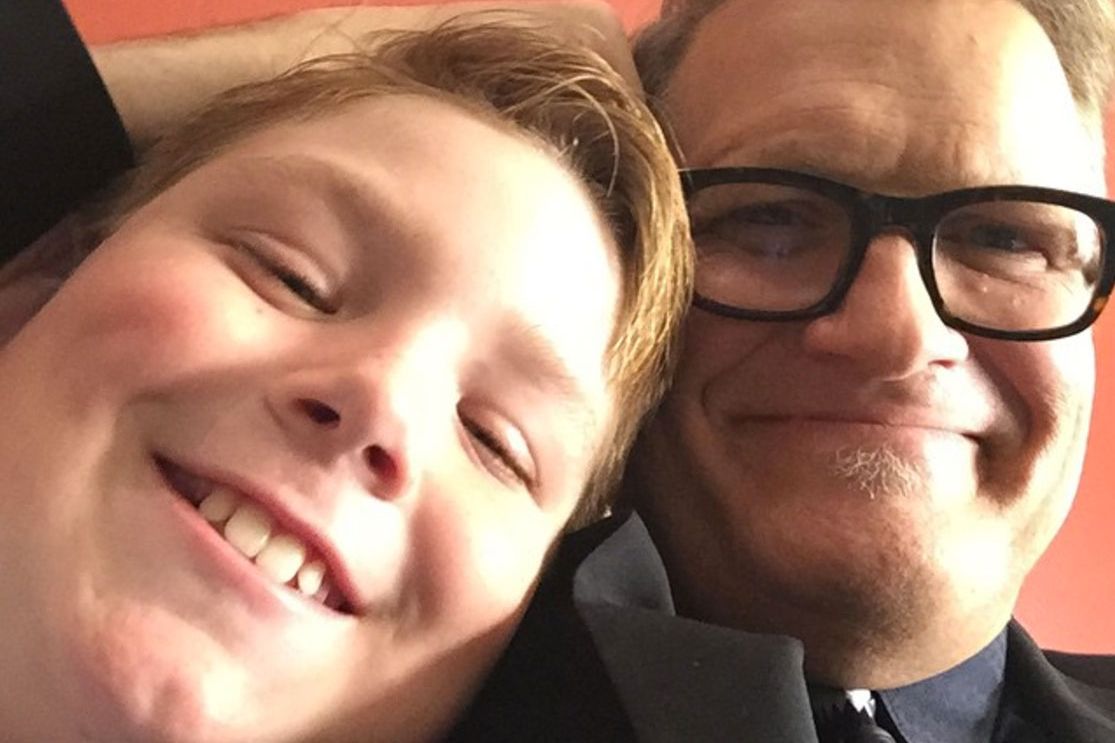 Drew additionally wanted to reduce weight and be healthier for another reason. When he realized he wanted to watch his stepson Connor grow up, he took serious steps to improve his health.
Even though he and his former fiancée, Nicole Jaracz, separated in 2012, the actor still believes her teenager kid to be his. Indeed, he has openly expressed his thanks to Nicole for bringing his son into his life.
"My kid made the difference," he remarked to Success in 2016. "I wanted to stay alive long enough to see him graduate from high school, and I was doing some math in my head, and I thought, If I don't stop what I'm doing, I'm not going to live long enough for that."
"I had to change my whole belief system [around dieting]," he added. "It wasn't like, 'Eat this for 90 days and lose 20 pounds.' It was: 'Eat like this for the rest of your life.' I'm not a maniac about it. I mean, I was at a wedding on Saturday, and I ate cake. But 95 percent of the time, I'm right on the money."
He then put himself to the test on a trip to Germany, which proved he was on the right track. "I'm not an alcoholic, but I used to drink a lot," he explained.
"So I decided to go to a beer hall in Berlin and get drunk for the first time in almost five years. And I didn't like it. I didn't like being drunk, didn't like the after-effects because I can't think. I didn't enjoy it, so I probably won't ever do it again."
Did Drew Carey Consider Having Weight Loss Surgery?
Weight loss surgery is a tool that helps thousands of patients lose weight through surgical procedures, but when asked if he had pondered weight loss surgery to get his current figure, Drew told Access Hollywood's Billy Mays, "I'm just going to have what I want. No, I don't like it. If it's what I want, then let it be. But no, I don't need to have weight loss surgery."