When it comes to fulfilling something that best depicts their roles, actors often go above and beyond.
Actors are well-known for honing their skills. Physical transformation, on the other hand, has its merits. It's difficult to lose weight, yet one actor lost 50 pounds in order to prepare for his role.
Matthew McConaughey is a highly respected actor, best known for his roles in such films as "The Wolf of Wall Street" and a movie where he worked hard to lose weight to represent his character accurately, "Dallas Buyers Club."
However, despite earning an Academy Award for Best Actor in his portrayal of an HIV patient Ron Woodroof in the film, Matthew confessed that he is still battling the long-term consequences of his enormous weight loss.
Matthew McConaughey's Weight Loss Tricks
The main keys to Matthew's successful weight loss:
He shed 50 pounds for his role in the movie
He lost weight by eating the same thing every day and drinking a lot of wine
His diet consists of tapioca pudding or three egg whites in the morning
Related Weight-Loss Posts
To give justice on his part on "Dallas Buyers Club," Matthew McConaughey went through an extraordinary physical transformation.
During an interview with Joe Rogan's "The Joe Rogan Experience," he explained the motivation for his bodily makeover. "… I was not torturing myself; I was militant," Matthew stated at that time.
"The hardest part was making the damn choice. It was my responsibility. If I looked like I do now, playing Ron Woodruff in Dallas Buyers Club, you are out of the movie the first frame. 'Oh bulls—he doesn't—he's not stage four HIV, I'm out.' What's my job? I had to lose the weight."
"Once I made my mind up, I did the smart thing," he continued. "I gave myself five months. I got on a diet where I'd have my tapioca pudding or whatever, three eggs—egg whites in the morning."
He followed this diet to drop 2.5 pounds a week without exercising.
In five months, Matthew was able to drop from 188 pounds to 135 pounds by eating the same thing every day and drinking a lot of wine, as much as he liked.
"Five ounces of fish, cup of vegetables for lunch, five ounces of fish, cup of vegetables for dinner," he disclosed. "As much wine as I wanted to drink, and I lost 2.5 pounds a week, like clockwork, no exercise."
"It didn't matter if I was going to the treadmill and burning 2,000 calories a day or not—2.5 pounds a week. Clockwork."
According to USA Today, financial funding for "Dallas Buyers Club" fell through in the months before filming, and executives urged the actor to stop dieting.
"I just kept losing," he said in a statement acquired by the publication. "I figured that was also a secret weapon to get it made. The train was kind of going on another level."
Despite this, the movie continued. The actor even enunciated he only needed three hours of sleep every night, implying that his brain was "on fire" since his vitality had been restored.
Negative effects of Matthew McConaughey dramatic weight reduction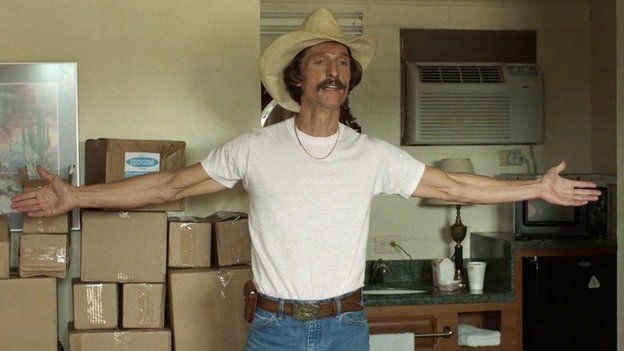 Unfortunately, losing weight for the movie took a toll on his body. He revealed he's still recovering from it in the same conversation with Rogan.
"Sure. I would say, you know, even, you know, neck and things like that," he added. "You know, neck and you know, bone structure's the same, but where—but then how much of this is just getting older too, and having less fat cells, I'm not sure. But yeah, it didn't hurt. Like I said, I think I stretched my body …."
He also described the assignment as one of his most challenging tasks yet in a separate interview with Mirror, saying, "It was tough going, I'm not going to lie. The dieting was pretty hardcore."
"I was losing 7lbs every week. I'd have a Diet Coke, two egg whites in the morning, a piece of chicken, then another Diet Coke. That was rough. I got down to 143lbs, and I was always hungry and irritable," he shared.
"My body resembled a baby bird with its mouth open, crying, 'Feed me, feed me,' and you realize momma bird ain't going to feed you. It's hard."
The fruit of Matthew McConaughey's perseverance.
Aside from his Oscar, Matthew has won a slew of industry awards for "Dallas Buyers Club," including the Golden Globe and Critics Choice Award for Best Actor and the Screen Actors Guild Award for Outstanding Male Actor in a Leading Role, as a result of his commitment and dedication to his work.