Another heartfelt congratulations to the married couple.
Kourtney Kardashian and Travis Barker have married for the second time, this time legally. It happened just weeks after they held a secret wedding ceremony in Las Vegas without a marriage license in April, right after the Grammys.
"Kourtney and Travis are now legally married, but plan to have a big wedding at another time," a source disclosed to Entertainment Tonight. "This was a smaller, low key event to make their wedding official. There was some family at this event and they took photos to have."
On Sunday, the pair staged a photo shoot outside the Santa Barbara courthouse with family in attendance, including her maternal grandmother Mary Jo 'MJ' Campbell and Barker's father Randy, according to the publication.
"Travis wore a black tuxedo and Kourtney was in a white dress. Kourtney's grandma MJ was there and so was Travis' dad," a separate eyewitness added.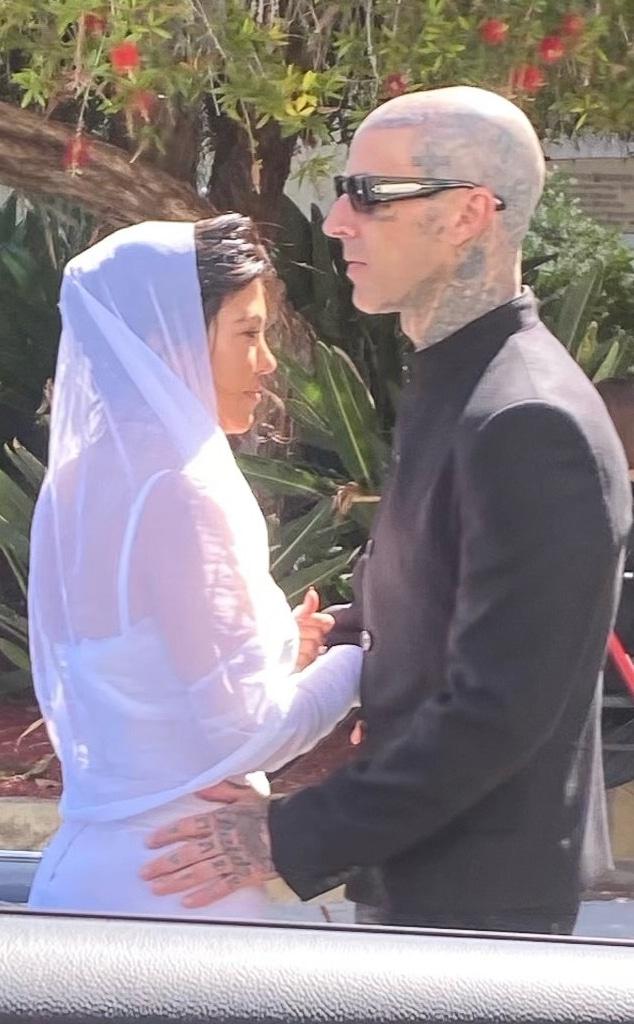 "They posed in a black convertible that had a 'just married' sign and cans rattling from it in the back. They then exited the car and walked towards the courthouse privately. It seemed very low key and not many people were around. They had their own set of cameras and crew with them."
Another eyewitness also stated, "Kourtney and Travis were taking pictures outside of the Superior Court of California in Santa Barbara this afternoon for over an hour on the Santa Barbara street of the court house."
"They posed in the car and walked along the sidewalk, on the steps of the courthouse and by the car. They seemed very in love and looked cute together. They were kissing in most of the photos, especially in the car."
It was also revealed that the reality star and Blink-182's drummer had to get legally married first, since they are reportedly arranging an actual wedding ceremony in Italy. "All the details are set and the whole family, including all the kids, are very excited," an insider disclosed to PEOPLE.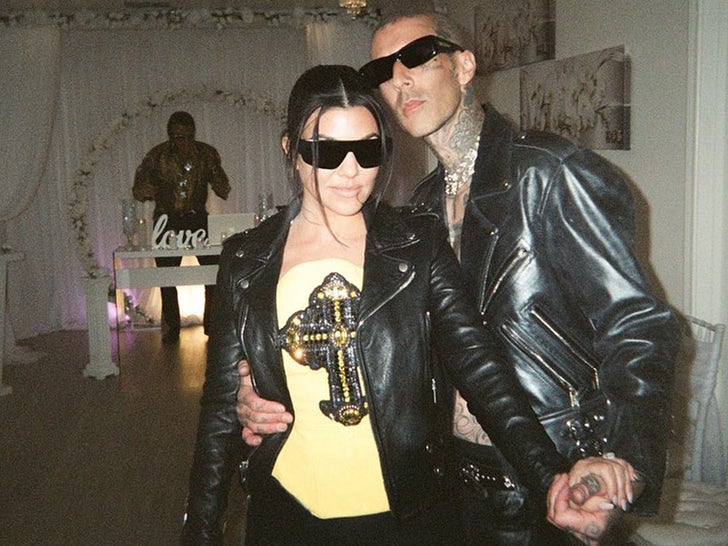 As we previously reported, the two married in a surprise wedding in Las Vegas on April 4th and their ceremony took place only hours after they attended the 2022 Grammy Awards, which were hosted on April 3 at the MGM Grand Garden Arena in Sin City.
Travis proposed to Kourtney in October 2021 at a beach side lodging in Montecito, California, encompassing them with a decorative layout of roses on the sand. The musician's children, both Landon and Alabama congratulated the couple for their engagement.
Reactions to Kourtney Kardashian And Travis Barker Have Remarried, This Time Legally
Kourtney Kardashian got married in downtown SB while we were at extravaganza 🫠

— suga plum (@_abcity) May 16, 2022
I feel bad for Scott Disick but at the same time his poor me attitude is utterly annoying.

Don't you have a 20 something year old gf to cheer you up with Kourtney getting married today?

— Sokhon (@sokhonnn) May 16, 2022
i cannot believe i'm finding out about kourtney & travis getting married while i'm in a chilis LMAOO

— KW (@nodoubtlikegwen) May 16, 2022
If you saw Kourtney and Travis get married at the courthouse, I'm jelly

— Angie 🦋 (@bbygirllina) May 16, 2022
Is it just me or have Kourtney and Travis gotten married at LEAST 4 times by now?

— E (@em_13k) May 16, 2022
My sister just drove past Kourtney and Travis in cali… and they just got married 😭

— Kayl (@Kayleeenarvaez) May 15, 2022