Her weight fluctuates as she gets older, and she strives to lose weight while sharing the majority of her journey on social media.
Drew Barrymore has been earning rave reviews across the world with her acting, producing, and writing skills for decades. She has an extensive array of trophies and nominations to her name, including an Oscar nomination, an Emmy nomination, and several Golden Globe and Screen Actors Guild Awards.
Drew hasn't always been a slim and lean figure. The actress began her career as a chubby child actress, but she overcame her weight and went on to play in films like Poison Ivy and Scream.
However, she admits that her weight loss hasn't been simple, just like every other person who has embarked on a weight loss journey. She once admitted that following the birth of her kids, Olive and Frankie, she "trained like a mother" to shed 20 pounds.
Drew Barrymore's Weight Loss Tricks
The main keys to Drew's successful weight loss:
She has been training with personal trainer Marnie Alton for 15 years
She's been practicing yoga for 25 years
She doesn't skip working out despite her busy schedule
Her breakfast consists a glass of lemon water with avocado toast with red pepper flakes, olive oil, and sea salt
Related Weight-Loss Posts
Drew Barrymore's weight loss strategy.
Drew has been training with Marnie Alton, a personal trainer in Los Angeles, for 15 years. The talk show presenter thanked her in an Instagram post for helping her alter her physique and mentality before shooting her Netflix series, Santa Clarita Diet.
"This woman is my long time teacher and dear important friend. She has helped me. Healed me. Encouraged me to keep going when I felt like being strong was an insurmountable task," she began her post.
"We have known each other for about 15 years and when I told her I wanted to transform my body for #SANTACLARITADIET she helped me." Drew's exercises are frequently shared on social media.
"Every spring, when I would start training to become #SHEILAHAMMOND, Marnie was the one who got me there," she added. "I lost 20 pounds and trained like a mother."
She also included a touching message to Marnie, thanking her for allowing her to go through such a remarkable physical change, calling her "poetry in a human being" with the best heart. "Her priorities are in the right place. She is humorous and so so so knowledgeable about our bodies. I love her. Inside and out."
In addition to working out with her trainer, there are times when she incorporates yoga and has been practicing it for more than 25 years.
"Stillness is as powerful and thought provoking and emotionally compelling as hurling yourself around, throwing yourself to music, working out your anger, working through things," she expressed.
"Being quiet and still can bring some of the most powerful things to our bodies…So I want to promote being a long, long, long-time yogie."
Drew Barrymore isn't one for making excuses when it comes to working out.
Drew shared many fitness-related videos on social media; one of these is being transparent about not having excuses to skip working out for the day, even in between busy schedules.
She defined herself as a "Willy-Lowman-business-girl" on the go because even when she's on the run, traveling, and constantly working, the producer claimed she has to shed some pounds due to being a mother of two, genetics, age, and body type.
Moreover, Drew strongly believes in fitness and told InStyle in August 2020 that she'd definitely be the size of a bus if she didn't work out.
"I have to work so hard at not being the size of a bus… And it's OK. That is just my journey. That is my karma. I don't know, maybe I was thin and mean in a past life," she remarked.
Was Drew Barrymore on a special diet?
Drew starts her day with a glass of lemon water and avocado toast topped with red pepper flakes, olive oil, and sea salt, according to a report published by Hello Magazine.
She will occasionally grab a quick lunch on the run, which generally consists of something light and healthful like a grain bowl, sushi, veggie burrito, or salad, and for dinner, she enjoys cooking and has mastered vegan meals.
However, she has acknowledged adding chicken to some of her meals for added protein. Salmon with vegetables or tacos are two examples of food.
Drew Barrymore's weight fluctuates throughout the year, just like everyone else's.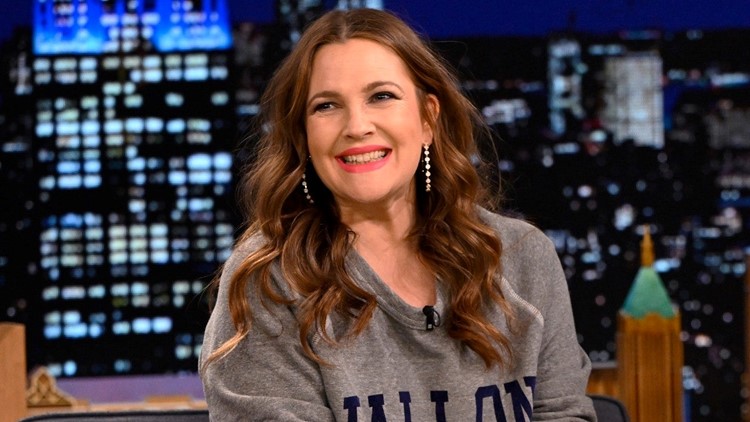 Drew revealed that her weight changed throughout the years in a separate Instagram post that included before-and-after pregnancy photographs.
She captioned the photo: "I go up and I go down. The rollercoaster of my body is a challenging, but beautiful ride. I made two kids. The single most important purpose for me being on this planet is for them! It is a true miracle I was able to have these two girls. So whatever the aftermath on my body, well bring it on!"
She went on to say that there have been occasions when she has just sobbed in her closet, loathed getting dressed, and didn't feel well. "It takes so much for me to look decent. I have to eat just right and Work my ass off! I cannot fight the fact that I have the propensity to be the Pillsbury dough boy!"
Drew Barrymore's advice to people who are just starting their weight loss journey.
Drew encouraged her Instagram followers in the same post not to be misled by what they see when individuals are slim shortly after giving birth and not to compare themselves to magazines and red carpets.
"If I looked decent on anything I have done since I had my two kids, I have clawed my way there. You can too! However, it is hard to sustain and can take a lot of the joy out of life with food," she continued.
"But not anymore. NOW I have found that elusive B called BALANCE. 45! It only took 45 years to find myself. Right where I am supposed to be. And it's not perfect. But it's me. And most importantly, I want to share it with you."