The long-awaited judicial fight between the couple has come to an end.
In a Fairfax, Virginia courtroom, a Virginia jury concluded Wednesday that Johnny Depp had won his defamation lawsuit against ex-wife Amber Heard, awarding $10 million in compensatory damages and $5 million in punitive damages.
A jury of five men and two women reached the conclusion after roughly 13 hours of deliberation over three days. The live broadcast of Depp's $50 million defamation lawsuit against his ex-wife over her article began on April 11 and lasted for six weeks.
According to The New York Post, the actor, who was unable to attend the trial owing to prior work obligations, won all three claims, while Heard was granted $2 million for winning one of three claims in the countersuit against her ex-spouse.
Following his win, Depp immediately issued the following statement: "False, very serious and criminal allegations were levied at me via the media, which triggered an endless barrage of hateful content, although no charges were ever brought against me."
"It had already traveled around the world twice within a nanosecond, and it had a seismic impact on my life and my career…And six years later, the jury gave me my life back. I am truly humbled."
On the other hand, the "Aquaman" actress also released a statement regarding the jury's verdict on social media, writing, "The disappointment I feel today is beyond words."
"I'm heartbroken that the mountain of evidence still was not enough to stand up to the disproportionate power, influence, and sway of my ex-husband. I'm even more disappointed with what this verdict means for other women. It is a setback."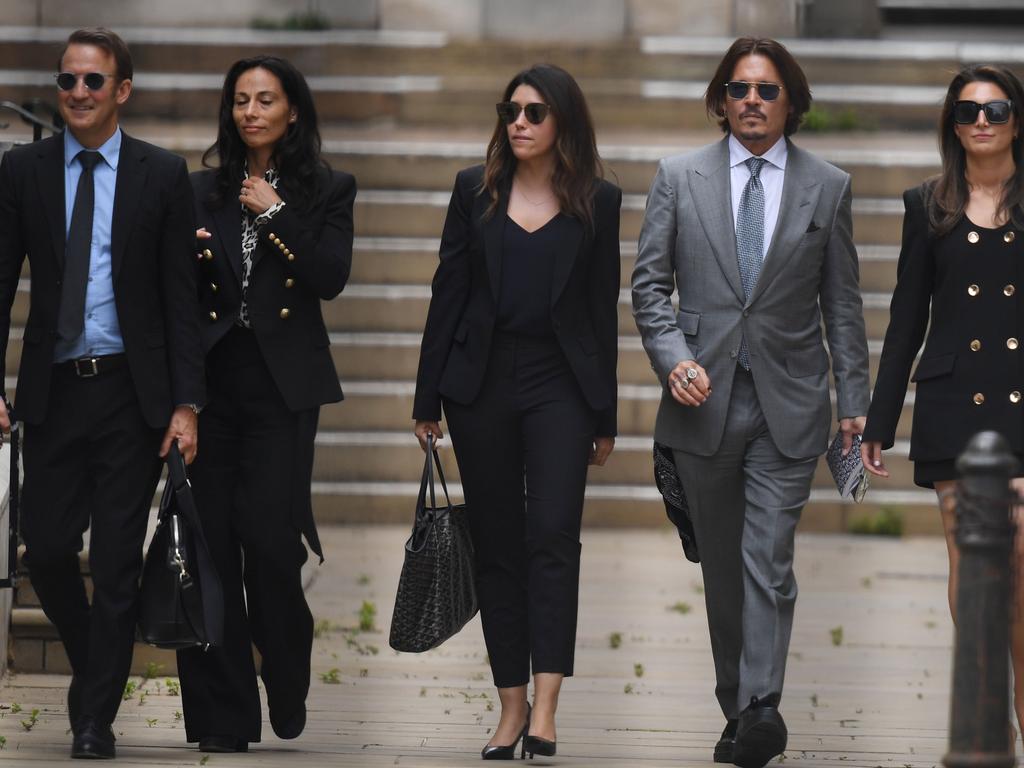 "It sets back the clock to a time when a woman who spoke up and spoke out could be publicly shamed and humiliated. It sets back the idea that violence against women is to be taken seriously," she continued.
"I believe Johnny's attorneys succeeded in getting the jury to overlook the key issue of Freedom of Speech and ignore evidence that was so conclusive that we won in the UK. I'm sad I lost this case," she concluded. "But I am sadder still that I seem to have lost a right I thought I had as an American – to speak freely and openly."
Despite the jury giving Depp a totality of $15 million, the court pointed out that Virginia law restricts punitive damages at $350,000, leaving Depp with a $10.35 million judgment less than the $2 million he must pay Heard.
Reactions to Johnny Depp Wins Defamation Case Against Amber Heard
#AmberHeardlsALiar "Tell the world Johnny, tell them I, Johnny Depp, a man, I'm a victim too of domestic violence. And see how many people believe or side with you."

Johnny 'Yes, I am,"

Through 6 weeks ..finally Johnny did tell the world ..and everyone believed him ♥️ pic.twitter.com/7QERAcVw6C

— ReemDepp – Johnny Depp Deserves Justice (@ReemDepp) May 28, 2022
Johnny Depp's legal team – Ben Chew, Camille Vasquez, Wayne Dennison, Stephanie Calnan, Rebecca MacDowell Lecaroz, Yarelyn Mena, Jessica Meyers and Samuel Moniz – thank you for standing beside Johnny and helping him get the truth out. This wouldn't have been possible without you.

— Strawberry Fields ミ☆ (@sunflxwervolsix) June 1, 2022
Shame on the people saying Johnny Depp's win is bad for women. This is one person's life, and it's good for any victim regardless of gender. If you want to be angry that women will have it harder now, be angry at Amber Heard for lying. That is NOT Johnny Depp's fault.

— epiphany (@jacxpearl) June 1, 2022
Johnny Depp really did win his defamation case against his narcissistic confessed abuser ON Narcissist Awareness Day and 8 days before his birthday.

What an absolute legend! 👑

— Sienna (@winonasrider) June 1, 2022
I'm glad Johnny Depp won, as someone who was in an abusive relationship in the past it's helped me feel a bit comforted knowing the world sees female to male domestic abuse as serious and not a joke

— Matt White (@Chalkie271) June 1, 2022
This is not just a victory for Johnny depp,but
a victory for male victims of domestic
abuse & false allegations.
Captain Jack Sparrow has gifted male
victims a voice against these gold diggers
Shayo for my man ❤️❤️

— smart wabara🇳🇬💔 (@Smartwabara) June 1, 2022
I'm enjoying my megapints at my local pub & I asked my server if she had heard about Johnny Depp & the trial & she had. She didn't know he had won. Two men beside me chimed in & said it was a huge win for all men who are victims of abuse.#TruthWins#JohnnyDeppGotJustice

— Brie – JOHNNY WON 🏴‍☠️ (@BIP45774476) June 1, 2022
I'm glad Johnny Depp won. Hopefully this will be a lesson to folks that the MeToo Movement isn't about speakin' up against actual harassment that Women face it's about control We shouldn't believe all Women in fact we shouldn't believe all of anybody cause anyone can lie

— Ogechi Aghaji🇳🇬🇺🇸🇭🇰 🇹🇼🔞18+🔞🌈 🏳️‍🌈 (@AghajiOgechi) June 1, 2022