At NCIS Season 18 finale, Agent Bishop resigned from her job after it was discovered that she leaked an NSA file10 years ago. Nick Torres (Wilmer Valderrama) found out that Bishop had purposely outed herself as the leaker of NSA intel to become a disgraced NCIS agent and take some sort of surreptitious assignment, with Ziva David (Cote de Pablo) as her handler of sorts.
Torres and Ellie (Emily Wickersham) had an intricate relationship that ended in a warm kiss in the season 18 finale. Agent Bishop being labeled as a disgraced NCIS Agent was a plan for her to leave Washington D.C. She was sent on an undercover mission and never returned.
NCIS fans fell in love with Special Agent Ellie Bishop's character over the years, even though she may not have been around since Season 1. Emily Wickersham joined the NCIS in Season 11, and Eight years later, her run on the CBS drama seemed to have finished off. During the Season 18 finale, Bishop was sent on an undercover mission and never seen back on screen.
Wickersham's abrupt exit left many fans in a state of shock. With how the exit of Agent Ellie was handled by CBS, the fans were really disappointed. Some even thought that her departure was rushed, as if it was never planned at all. 
Fans, however, can still hope that her absence was just temporary and she will eventually return after a few years, as Ziva returned after being presumed dead. There's always the possibility that she will be back one day.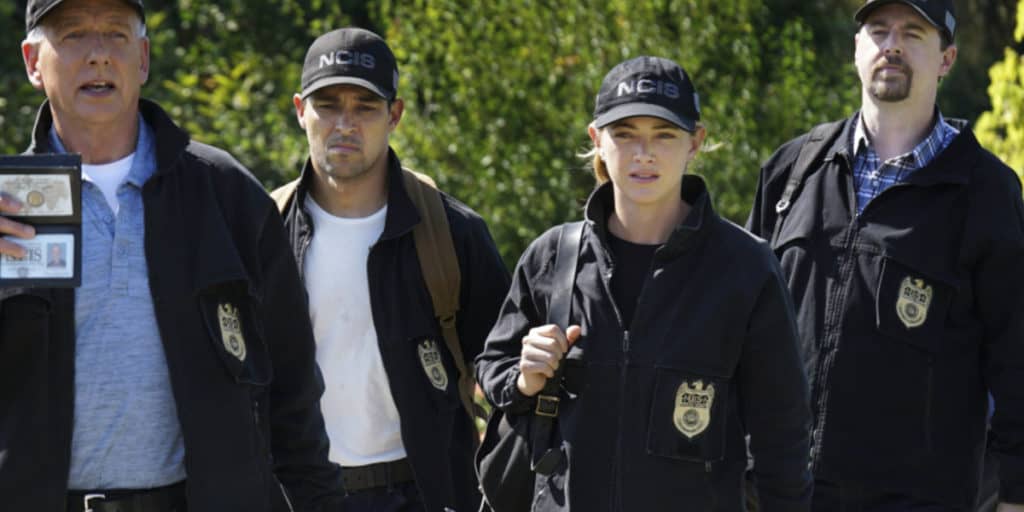 Emily Wickersham's Departure Explained
According to TV Line, "Wickersham, who joins the CBS drama in Season 11not long after series vet Cote de Pablo's final episodes as Ziva David, confirmed her exit via Instagram." (1)
The actress posted on her Instagram to clarify her departure from the series, writing, "Hangin' this hat and jacket up. What a great ride it's been, this cast, this crew, are top notch. I can't say enough kind words about this group that I've had the pleasure of working with for close to 8 years now and 172 episodes later. This business is finicky and weird and consistency is a rarity. I've been lucky enough to be a part of a show where I got to show up and act and laugh and learn with wonderful people. A moment in time I surely won't forget. Thank you, CBS and NCIS for including me in a part of television history. Time goes fast. Eat it up but chew slowly." (2)
The post drew storming responses from NCIS fans as well as co-star Brian Dietzen, who commented on her post that he is proud of her and he will be supporting her in whatever she does. CBS's official network on Instagram also commented on her post, thanking her for making history with them.
She seemed to have enjoyed her time on NCIS, and her post, as well as the response of her co-star and the network, do not show any resentment between her and the producers or with any other cast members. 
NCIS is an American police procedural television drama series that takes a military angle on the standard legal crime procedures. The story revolves around fictional agents from the Naval Criminal Investigative Service whose purpose is to investigate crimes involving personnel of the Navy and the Marine Corps. 
The team is composed of personalities with unmatched skills and brilliance. With prolific shots of humor, the action drama series focuses on the complexity and dynamics of a police unit enforced to work together in tough situations.
Leroy Jethro Gibbs (Mark Harmon) is an NCIS special agent who leads the team as a skilled investigator and sometimes bends the rules to get the job done. Working under him is Agent Anthony Dinozzo (Michael Weatherly), a street-smart who joined NCIS just a few years ago. Agent Abby Sciuto is also a member of the team, a forensic scientist, and Dr. Donald Mallard (David McCallum), a medical examiner. 
Special Agent Ellie Bishop also joined the NCIS team. The female agent specializes in international threat assessments. She is an expert in conjunction, processing crime scenes as well as arresting and interrogating possible suspects.
premiered on September 23, 2003, on CBS

was voted America's favorite TV show in an online Harris Poll in 2011

the creator Donald P. Bellisario, who served in US Marine Corps from 1955 to 1959, used his real-life experience in producing the show

a spin-off of the legal drama 

JAG

 (about a group of Navy lawyers)

the second-longest-running scripted U.S. primetime TV series on the air
Characters of the Drama Series
Mark Harmon as NCIS Supervisory Special Agent Leroy Jethro Gibbs
Sasha Alexander as NCIS Special Agent Caitlin Todd 
Michael Weatherly as NCIS Senior Field Agent Anthony DiNozzo 
Pauley Perrette as NCIS Forensic Specialist Abby Sciuto 
Sean Murray as NCIS Senior Field Agent Timothy McGee 
Cote de Pablo as NCIS Special Agent Ziva David 
Lauren Holly as NCIS Director Jenny Shepard 
Brian Dietzen as Dr. Jimmy Palmer 
Emily Wickersham as NCIS Special Agent Eleanor Bishop 
Wilmer Valderrama as NCIS Special Agent Nicholas Torres 
Jennifer Esposito as NCIS Special Agent Alexandra Quinn 
Maria Bello as NCIS Special Agent and Psychologist Dr. Jacqueline Sloane 
Diona Reasonover as NCIS Forensic Specialist Kasie Hines 
Katrina Law as NCIS Special Agent Jessica Knight 
Gary Cole as NCIS Supervisory Special Agent Alden Parker 
Ellie Bishop met her husband, Jake Malloy (Jamie Bamber), an NSA lawyer, while she served at the same agency as an analyst. They grew apart when she started working with NCIS. They got divorced when Jake betrayed her when he committed a mistake at NSA.
When Bishop worked in NCIS, she got into a romantic relationship with NCIS translator Qasim Naasir after her divorce from Jake Malloy. Their romance did not last long because in Season 14, Episode 11, Qasim was shot repeatedly in front of Bishop. He later died in his hospital room. Bishop later avenged his death, and in Season 14, Episode 16, she killed the man who killed him.
In Season 15, she developed a love interest with fellow NCIS agent Nick Torres. They started as friends since they were teammates and always looked out for each other. They worked as an undercover couple and were supportive of each other, and even appeared on NCIS: New Orleans. Before Ellie's apparent departure in the season 18 finale, they shared a farewell kiss.
Matt Webb Mitovich, NCIS' Emily Wickersham Confirms Exit: 'What a Great Ride It's Been', retrieved from  https://tvline.com/2021/05/26/ncis-bishop-leaving-emily-wickersham-season-18-finale-undercover-mission/
Emily Wickercham, Instagram Post, retrieved from https://www.instagram.com/p/CPUmgMOFWOX/