Trespassing, vandalism, and battery were other charges against him.
A restraining order has been issued against Jason Alexander by Britney Spears and Sam Asghari after he tried to ruin their big day on Thursday at the pop star's Thousand Oaks property.
As we previously reported, Jason went live on Instagram ahead of the couple's wedding, where he was seen conversing with the event security and informing them that Spears had invited him to their big day.
He then threatened to disrupt the ceremony after some protest, leading to a physical altercation until his phone stopped and shut out. The Ventura County Sheriff's Department reacted quickly to a trespassing report at Spears' residence.
He had, however, brought something with him in addition to gatecrashing the couple's wedding. According to a police report obtained by TMZ, the "Toxic" singer's ex-husband is armed with a knife.
This prompt Britney and Sam to file a restraining order against him. The order, acquired by the publication, states Jason must keep at least 100 yards away from both of them as well as her residence.
"Fortunately, Alexander is incarcerated and under an emergency protective order," Britney's lawyer Matthew Rosengart stated in a statement to Page Six.
"I want to thank Sergeant Cyrus Zadeh, Detective Ken Michaelson and the Ventura County Sheriff's Office for their prompt and good work and look forward to working with law enforcement to ensure Alexander is aggressively prosecuted and hopefully convicted, as he should be."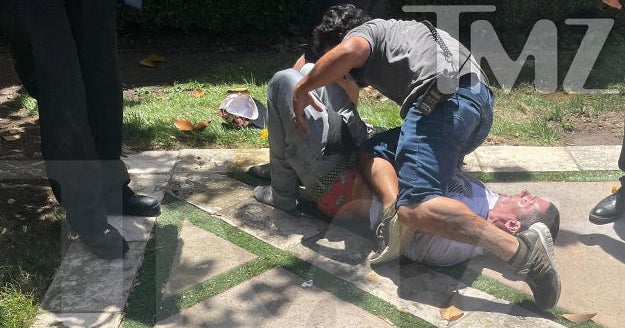 "This was an outrageous security breach, which I am livid about, but fortunately Britney is safe, and she was a stunning and happy bride," he added.
Britney and Sam tied the knot in the garden of her Thousand Oaks property on Thursday night, in front of a star-studded guest list that included Madonna, Paris Hilton, Selena Gomez, and Donatella Versace, the bride's dress designer.
Reactions to Jason Alexander Served With A Restraining Order By Britney Spears And Sam Asghari