He is determined to join the Navy and has begun improving his fitness in order to be admitted.
David Goggins is an endurance athlete, ultramarathoner, and world-class triathlete whose TED talk and business book have inspired millions as he pursues his personal journey toward self-mastery.
In 14 ultra-endurance events, he finished in the top five in nine of them. With a total distance traveled of 203.5 miles, he broke a course record at the 48-hour national championships, breaking the record mark by 20 miles.
In 2008, Runner's World named David a "Hero of Running," and in 2016, he won the Infinitus 88k in 12 hours, about 20 minutes ahead of the next finisher. He also topped the Music City Ultra 50k and the Strolling Jim 40 Miler in the same year.
These are only a few of his achievements that have awed and inspired people, but many are equally intrigued by his incredible body.
Given what he went through in terms of athletics, the former NAVY Seal's weight loss journey is no laughing matter since dropping 50 kg of extra weight in three months is as difficult for him as it is for you.
David Goggins' Weight Loss Tricks
The main keys to David's successful weight loss:
He shed pounds in order to join the Navy
He established his training plan 
He started riding his bike and swimming every day in the first 50 days of his weight loss journey
He had to undergo SEAL training that contributed to his weight loss
He followed high-fat ketogenic diet
He also drinks a lot of water and eat many vegetables
He prefers to fast every morning before he does weightlifting or bodyweight sessions
Related Weight-Loss Posts
David Goggins wished to join the Navy, but his weight prevented him from doing so.
Before any of the accomplishments mentioned above, David worked as an exterminator for $1,000 a month, lived paycheck, and was out of shape.
"I would go in and get a large chocolate milkshake," David told CNBC Make It. "And then I would go across the street to 7-Eleven, get a box of mini donuts."
He weighed around 300 pounds and stood 6'1″ tall when he was 24 and was motivated to join the Navy SEALs following a chance encounter with a television commercial one night.
"Here I am listening to the TV as I'm showering and, lo and behold, this particular day, I started hearing: 'Navy SEALs. Toughest training.' I was hearing it cut out between the water hitting my ears," he continued.
"I got sick of being haunted by being nobody. I didn't want to sit back and continually watch these shows about great people doing amazing things. I wanted that feeling in my head that I believed that they had: of true accomplishment."
On the other hand, his weight was a concern, as he could only weigh 191 pounds at his height if he wanted to be a SEAL, according to a recruiter at that time.
"I started calling recruiters up," says Goggins. For two weeks, they "laughed at me," he recalled. "I heard so many No's."
After hearing that, David has undergone tremendous efforts to join the Navy and become one, pushing himself so hard that he lost a massive amount of weight in just three months.
How did David Goggins shed some pounds so he could join the Navy?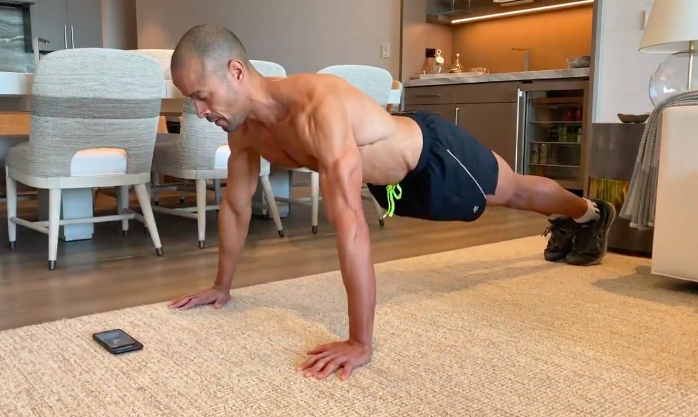 David immediately established his training plan and "went on this crazy, crazy, crazy routine, eating hardly nothing." He began riding his bike often and swimming every day in the first 50 days of his weight loss plan.
He also does a lot of repetitions to lose weight quickly and to tighten his skin; he did 100 to 500 repetitions of a single exercise at a time, according to HealHow.
"I had to lose 106 pounds in less than three months – that's really where it became challenging for me," he explained in a separate interview with DVIDS.
"I knew that if I stopped training or became stagnant, there were no calories being burned, so I just basically trained all day long."
Not only did he drop weight in less than three months, but he also had to undergo SEAL training, which may take up to 30 months and contributed significantly to his weight loss.
"When you go from 297lbs to 191lbs in that time period, and you're running, you're starting to break yourself. So I broke myself before I even got into Navy SEAL training."
Hell Week, which consists of 130 hours of continuous training, is the program's most challenging mental and physical test, according to him. After dropping out of the first two Hell Weeks due to some health complications, David must go through three Hell Weeks in a year.
On his third attempt, the ultramarathoner passed. On August 10th, 2001, he graduated training to receive his Navy SEAL trident after surviving Hell Week with BUD/s Class 235.
He attributes his success to his mentality, telling the same outlet, CNBC Make It, that the most successful people are obsessive and dedicated, "They're driven on whatever it is that they want to accomplish in life."
"I invented this thing called the accountability mirror," he shared. "I would look in the mirror and call myself out: 'I'm afraid of this. I'm afraid of that.'"
As a matter of fact, he is the first military person to finish Navy Seal school, Army Ranger School, and Air Force Tactical Air Controller training. Don't be misled; David, like most others, despises working out, particularly running, swimming, and bicycling, yet he does it every day.
Even though he is no longer a Navy Seal, he continues to challenge himself and maintain a healthy lifestyle. He got up at 4 a.m. to run 10 to 15 miles and then cycle 25 miles to work by 6 a.m.
He would run during lunch around 11 a.m. and then ride his bike home after work. It didn't end there since he still had the stamina to run 3 to 6 miles when he got home.
For his weightlifting routine, which lasts approximately 90 minutes per day and focuses on endurance rather than big weights, he spends about 90 minutes every day. Cardio is by far his most comprehensive kind of workout.
What diet did David Goggins follow?
When David wanted to lose weight to join the Seals, he pushed things to the next level by including a healthy food plan into his weight loss journey and training.
According to Total Shape, he found success with a high-fat ketogenic diet, and he still cycles through Keto stages even if his weight isn't a problem, which might be a crucial component of his endurance and fitness.
The ketogenic diet, or keto diet for short, is a low-carb, high-fat diet with several health benefits, per Healthline. It entails substantially lowering carbohydrate consumption and substituting fat. This carbohydrate decrease causes your body to enter a metabolic condition known as ketosis.
Furthermore, his regular eating habits include drinking plenty of water and eating more vegetables. He eats a banana along with water first thing in the morning before starting working out and takes vitamins and protein smoothies as well.
David also noted that he prefers to fast in the morning before an intense weightlifting or bodyweight session, followed by carbohydrates and protein. He additionally claimed that breakfast is essential to him and that he likes to eat numerous small meals throughout the day. He prefers to get up early and immediately eat oatmeal and protein.
David Goggins detailed his weight loss and NAVY Seal journey in a book.
David Goggins is famous for being the only guy to finish Navy Seal training and for his remarkable feats of endurance, having gone from 300 pounds to a lean machine and from being homeless to becoming one of the world's most accomplished endurance athletes.
Given the number of individuals who are inspired by him and wish to have a body like his, David's book, "Can't Hurt Me," will motivate you to discover your inner power and overcome any challenge.
In one of the most popular highlights of his book, it reads: "The reason it's important to push hardest when you want to quit the most is because it helps you callous your mind."
"It's the same reason why you have to do your best work when you are the least motivated. That's why I loved PT in BUD/S and why I still love it today. Physical challenges strengthen my mind so I'm ready for whatever life throws at me, and it will do the same for you."
Aside from his book, he wrote on Facebook in 2017 about his total struggle, saying, "I had to lose a lot of weight to get into the Navy. I was 297lbs at my heaviest. I ONLY had to lose 106lbs in 2 months (I hope you hear the sarcasm in that)!"
"I don't have enough time to tell you the entire story but I will tell about my first day of working out to lose 106lbs. My first day I was fired up and ready to get after it!"
The author revealed that his original strategy was to eat very little, drink a lot of water, and exercise a lot. So his first day began with a three-mile run, his mind concentrated, and he was devoted to discovering the greatness within him.
"It's 0600 and I'm walking downstairs to begin my journey. I get to the starting line of my 1st run and started my watch and take off running. A 1/4 mile into it, I stopped and walked home."
When the public speaker began his weight loss journey, he knew the reality of daily failure was upon him, "To know I was going to feel like shit almost everyday of this journey was very humbling. My cardio fitness was horrible! I was so motivated while talking about losing weight and becoming a Navy SEAL but the true reality hit me at a 1/4 mile into day one."
"Everyday tested my commitment. My best lessons learned didn't come from a book. They came from me seeing things through to the end. I realized I would have so many bad days for that one day of victory! At the end of each journey, I would look back and realize that all those bad days were really my best days because I woke up the next day even hungrier to succeed!"
"All those bad days shaped, strengthened, refocused and taught me what was required to succeed! I asked myself everyday on this journey "What is required to be your best?"'
"You have to be willing to fail 1,000 times to succeed and be willing to repeat that the rest of your life. Don't overthink it! Just get after it! #embracethesuck," his post concluded.