She wore the iconic dress during the Met Gala 2022.
Kim Kardashian is making news once again in connection with the Marilyn Monroe gown, but this time for how she ruined it rather than how she looked wearing it.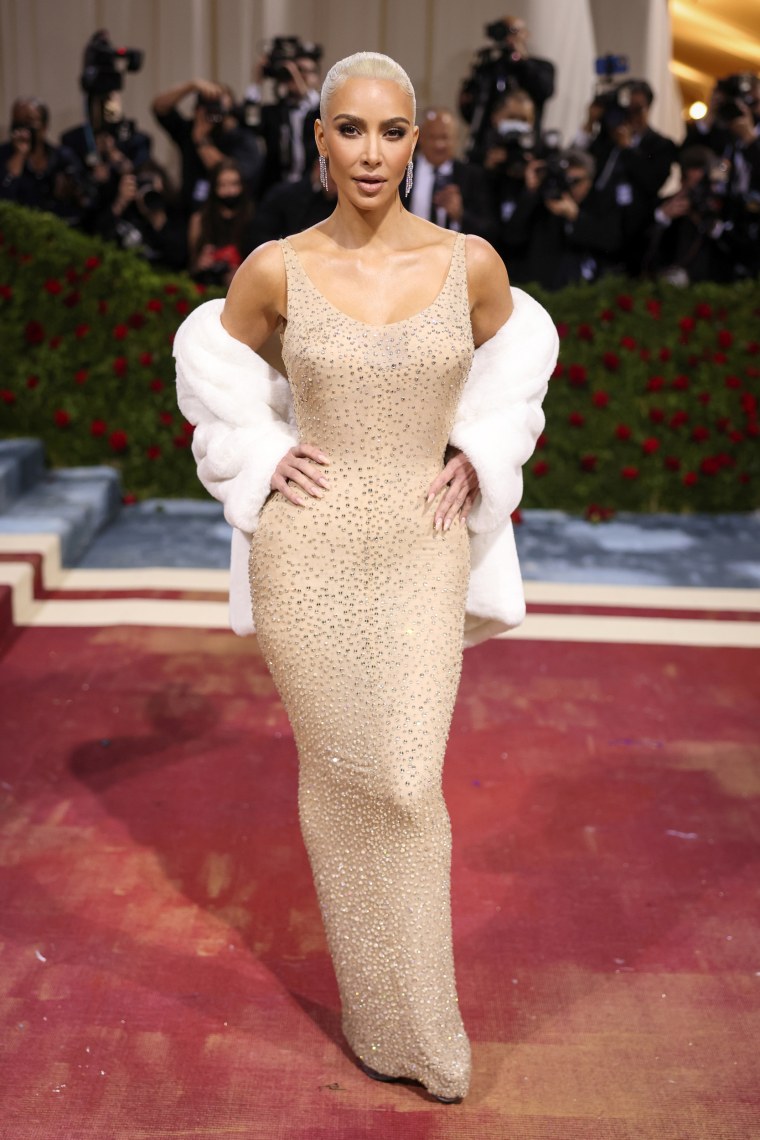 It may appear that everything is OK as she walks the red carpet, but the fact is that the gown did not fit her properly at the second fitting.
The founder of SKIMS claimed to have gone to great lengths in terms of diet, shedding 16 pounds in three weeks in order to fit into the gown and wear it on the big day.
"Great care was taken to preserve this piece of pop culture history," claims Ripley's Believe It or Not! in a news statement issued in May.
"With input from garment conservationists, appraisers, and archivists, the garment's condition was top priority. Believe It or Not! no alterations were to be made to the dress and Kim even changed into a replica after the red carpet!"
Moreover, in a post-gala statement acquired by Page Six, Ripley's added, "This was no easy decision for Ripley's, however, Kim Kardashian has continued to show the utmost respect for this opportunity and historic garment."
"From extensive research to following guidelines such as no body makeup, only wearing the dress for the short red-carpet appearance, and making absolutely no alterations, she has become a steward — and added to — its history."
Still, despite changing into a replica of the garment after climbing the steps, she may have damaged the "world's most expensive dress," which is now worth more than $10 million.
"Just in case you missed it…Missing crystals, and some left hanging by a thread," the Marilyn Monroe Collection captioned the before and after photographs of the gown. The fabric also appeared to have stretched.
This sparked outraged especially to Monroe's fans, who quickly expressed their disappointment on social media, claiming that she should not have worn the famous and historically significant piece knowing how delicate it is. Check their reactions below.
A spokesperson from Ripley's as well as Kim Kardashian have yet to reply to requests for comment from different news outlets.
Reactions to Kim Kardashian Accused Of Causing Damage To A Marilyn Monroe Gown
If you're wondering how Marilyn Monroe's dress got damaged. Rubbing and stretching it onto Kim Kardashian probably didn't help.
This doesn't look gentle. pic.twitter.com/zRq7fI4Kla

— Christina (@murphystina) June 13, 2022
Pre and post Kim Kardashian. Marilyn Monroe's 4 million dollar president dress is destroyed forever. For what? We have no respect for anything anymore as long as it they get the gram. pic.twitter.com/KXEXepbdJx

— suzie kennedy (@suziekennedy) June 13, 2022
I am unreasonably mad at Kim Kardashian ruining Marilyn's dress. She had no business wearing that dress for a million and one reasons and she simply didn't have to and now it's ruined and for what. I didn't even look good on her. It didn't fit. Like what was the point.

— ✿ (@thenEDIEsaid) June 14, 2022
i cannot express how PISSED OFF i am about kim ruining the dress. marilyn monroe was exploited, abused and treated as unworthy of respect her whole life. she had *ONE* wish and they couldnt even do that for her. 60 years after her death, she's still being used. i hate it

— robin (@babywingg) June 14, 2022
Kim ruined Marilyn's dress. And this is why my mother always told me to not let anyone else borrow my nice clothes because they will ruin them.

Thanks for that valuable lesson mom.

— shakingbutnotstirred (@toughkittenKat) June 13, 2022
After seeing what the Marilyn Monroe dress looked like after Kim kardashian ruined it. Is so heartbreaking she ruined a piece of history

— 🍰Alainalovepink🍰 (@alainalovepink1) June 13, 2022