Greys Anatomy Season 18 Recap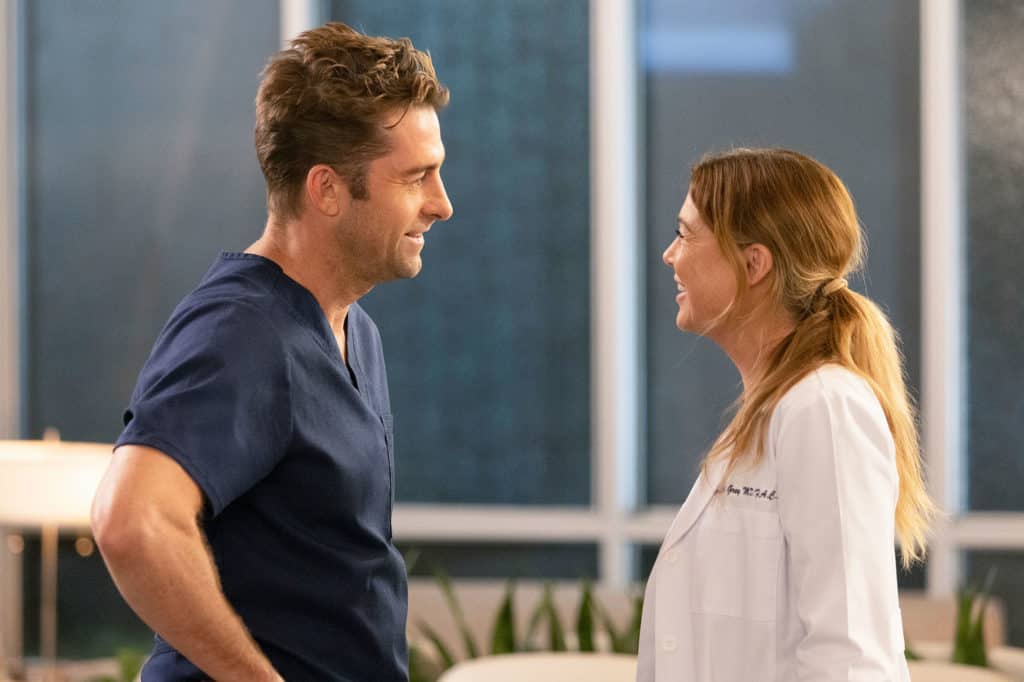 Episode 1: Here Comes the Sun
Dr Grey (Ellen Pompeo) ponders what to do with her life having survived COVID. She travels to the Mayo Clinic in Minnesota to attend the opening of a library dedicated to her mother. She reconnects with Dr. Nick Marsh (Scott Speedman) there, whom she treated years ago. Hayes (Richard Flood) connects with Bailey (Chandra Wilson) as they interview candidates to replace Jackson (Jesse Williams), Tom (Greg Germann), and Jo (Camilla Luddington).
Amelia (Caterina Scorsone) and Link (Chris Carmack) struggle to maintain their relationship while Maggie (Kelly McCreary) and Winston (Anthony Hill) enjoy their honeymoon phase. Owen (Kevin McKidd) and Teddy (Kim Raver) tie the knot in Joe's (Camilla Luddington) bar with a newly single Megan (Abigail Spencer) officiating after their planned ceremony in the park.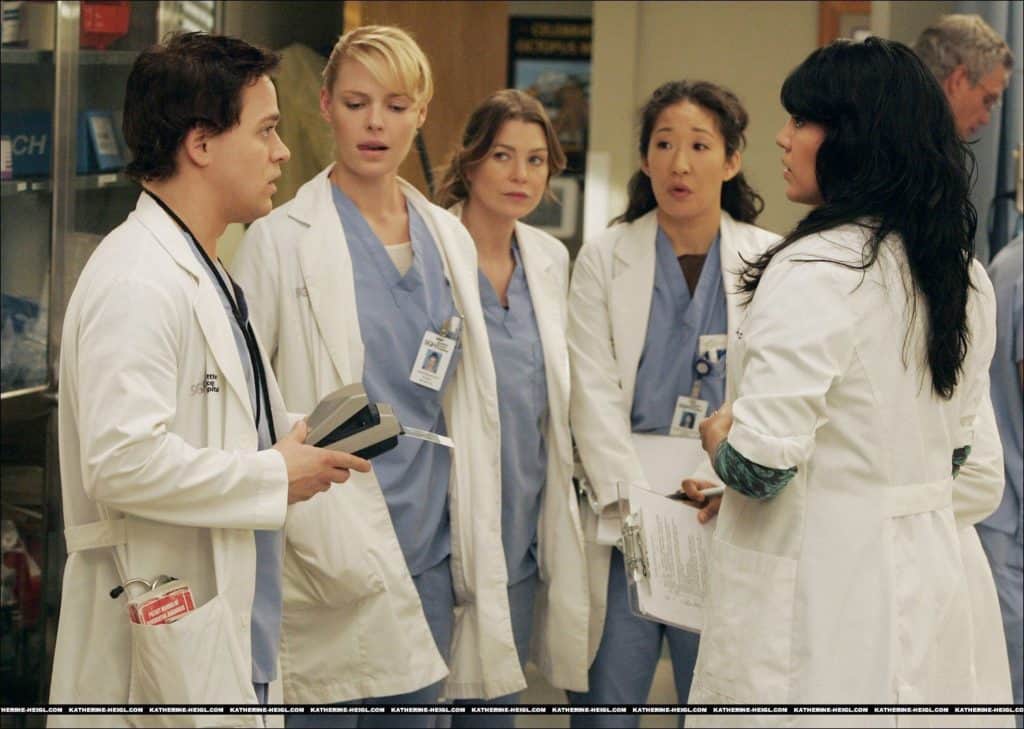 Episode 2: Some Kind of Tomorrow
Dr Grey cannot decide about Dr. Hamilton's Parkinson's (Peter Gallagher) research project proposal. She flies Amelia out to Minnesota to help her make a decision. Amelia immediately jumps on board, though Meredith later reveals to Nick on their first date that she's afraid the project will fail. Meredith agrees to join the project.
Winston treats a woman with kidney failure, whom Winston believes is not on the transplant list due to her race. Megan and Hayes work on a young boy involved in a car crash. Teddy and Owen treat the boy's father, who has pulmonary fibrosis but does not want treatment.
Episode 3: Hotter Than Hell
Addison Montgomery (Kate Walsh), who is going to perform a ground-breaking uterus transplant, with Levi Schmitt (Jake Borelli) assisting her is treated with a special guest mentor for the day. Meredith reluctantly tells Richard (James Pickens, Jr.) her plan to work in both Seattle and Minnesota, and he agrees to take her position as Residency Director.
Derek (Patrick Dempsey) died. She and Meredith both mourn him together. While Link and Teddy try to fix the AC, Link expresses his anger at Amelia, who wraps up in the Parkinson's project, and Teddy cheers him and the rest of the staff up with a party in the morgue.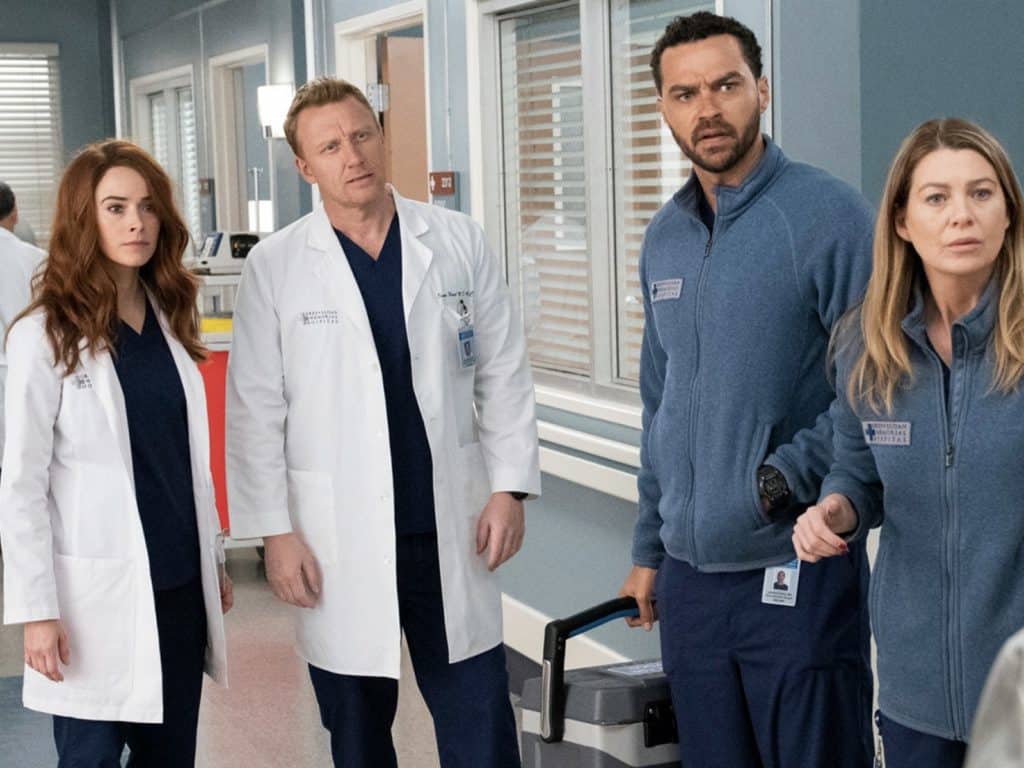 Episode 4: With a Little Help from my Friends
Meredith, Cristina (Sandra Oh), Izzie (Katherine Heigl), and Alex ( Justin Chambers) are new residents and have their own interns, including George (T. R. Knight), who fails his intern exam, and Lexie Grey (Chyler Leigh), Meredith's half-sister. Meredith and Derek break up but continue having breakup sex.
Callie (Sara Ramirez) develops romantic feelings toward Erica (Brooke Smith). Meredith took a risk and reunites with Derek. Derek goes to his trailer in search of Meredith, only to find her waiting on his land with candles dividing each room of their could-be home. They kiss, and Derek leaves her long enough to break up with Rose.
Episode 5: Bottle Up and Explode!
As the Chief announces to Dr. Bailey that he requests to promote her as an attending in General Surgery. One of Dr. Dixon's (Mary McDonnell) comments about the way she cares about kids makes her change her mind, choosing Pediatric Surgery as a specialty instead.
The romances between Mark Sloan (Eric Dane) and Lexie Grey and between Callie Torres and new pediatric surgeon Arizona Robbins (Jessica Capshaw) are newly founded. Mark and Lexie keeps their relationship secret for a moment. Lexie is even covered by Sadie ( Melissa George) after Mark's "injury", but Lexie asks him to go public with her.
Episode 6: Everyday is a Holiday (With You)
Amelia is exchanging texts with Kai while prepping to perform a complicated procedure on a turkey at Mer's. Nick is dropping Mer at the Minnesota airport and trying to convince her to spend Thanksgiving at his cabin instead of flying home to Seattle.
At Grey Sloan, Ashley (Marin Hinkle) checks out by Jo, Richard and Levie She doesn't want to worry her husband by calling and interrupting dinner, though. Soon enough, he wound up in the hospital, anyway. Ashley had to undergo surgery and might need an emergency C-section. Before being wheeled into the ER, the mother of several asked Jo to tie her tubes while she's in there.
Episode 7: Today Was a Fairytale
The staff tries to deal with physical and emotional trauma in the wake of the deadly rampage. The 4th year residents learn that the post for Chief Resident is open for the running. They all think of ways and means to get noticed. Cristina and Owen get married.
Meredith and Derek consider adoption, while Cristina finds out she's pregnant with Owen's baby. While Owen is delighted at the news, Cristina is not exactly all pleased with the fact that she's pregnant. When Derek finds out what Meredith did, he leaves and that same day. Meredith gets the baby all by herself.
Episode 8: It Came Upon a Midnight Clear
As Christmas draws near, Owen feels tormented by the recent passing of Noah (Steele Gagnon) while Cormac assesses that Megan is severely depressed. Cormac (Richard Flood), Teddy, and Owen retrieve a donor heart for Farouk (Bardia Seiri). En route back to Grey Sloan, their driver suffers a stroke and the car ends up on the edge of a ravine.
Owen reveals to Cormac that he gives Noah medication to die and made a promise to do the same for other terminal veterans. Seconds after Cormac gets out, the car with Owen still inside slides down the slope. Meanwhile, Meredith and Amelia fly out David (Peter Gallagher) and Kai (E.R. Fightmaster) to Seattle for David's big surgery which delays when David has a bowel perforation.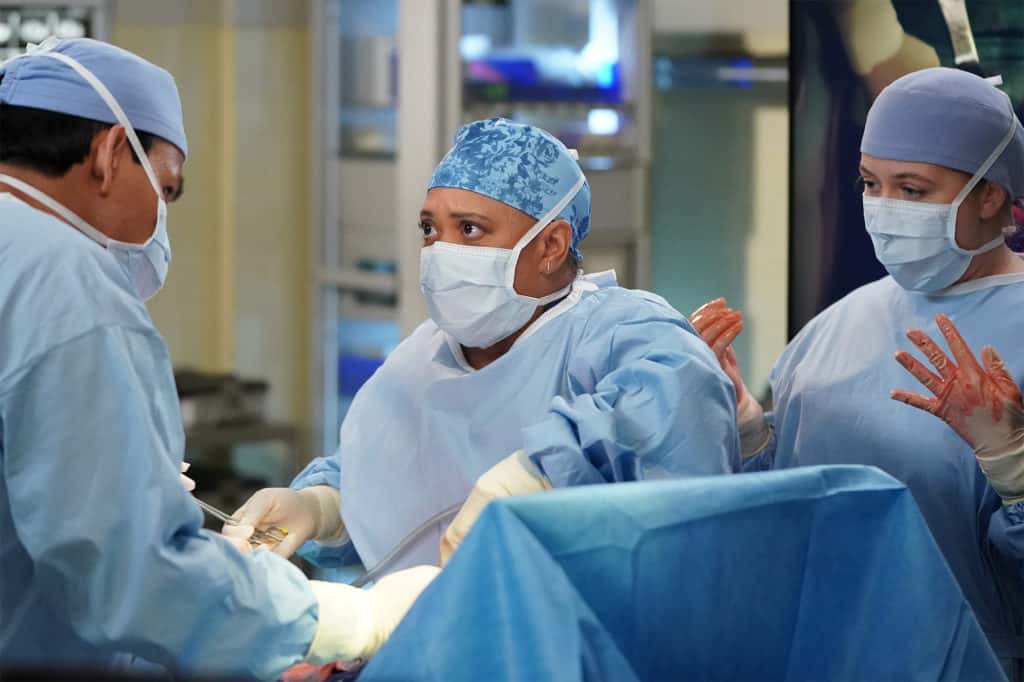 Episode 9: No Time to Die
The Grey Sloan Memorial doctors grapple with the aftermath of the car crash that involved some of their own. Meredith works to save Dr. Hamilton's life. After Levi impacts by his latest loss. Bailey once again rethinks the Webber Method.
Owen is rescued from the car by the Station 19 firefighters and taken to Grey Sloan. His leg shatters and requires surgery. Hayes gives the donor heart for Farouk to Winston, who notices a bruise on the heart. Winston calls Maggie for backup in the OR, and they successfully transplant the heart.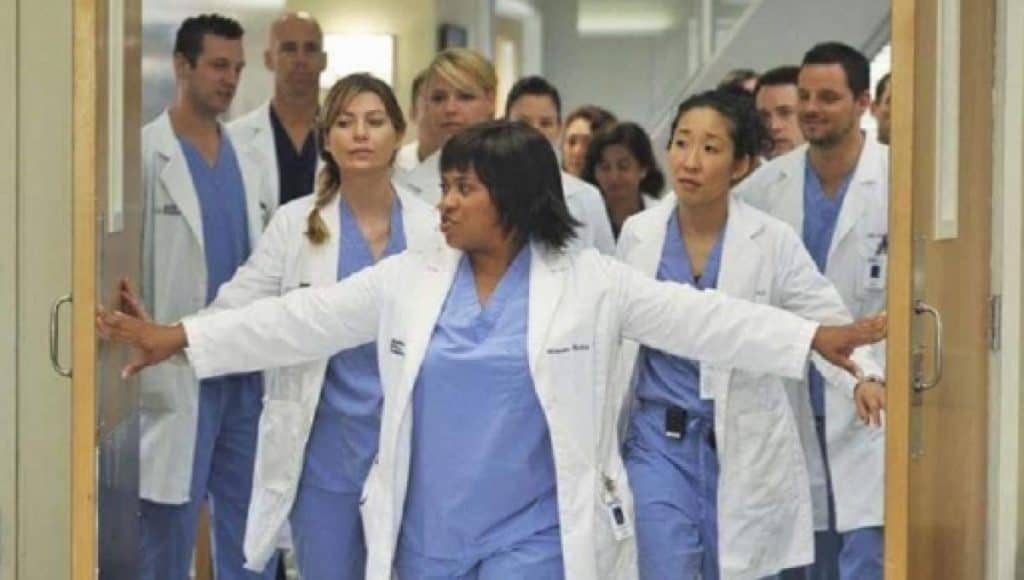 Episode 10: Living in a House Divided
The relationships and romance of Grey Sloan Memorial must survive in its wake. Bonds are tested, love is lost and the hospital bids farewell to Dr. Cristina Yang. Following a massive mudslide, the hospital becomes a madhouse, and the lives of two doctors hang in the balance.
Arizona tries desperately to mend her broken marriage, while Derek and Meredith juggle their roles as surgeons and new parents. Meanwhile, a stunning betrayal pits Cristina against Meredith. April prepares for her big day, a familiar face returns to town.
The doctors of Grey Sloan Memorial face stunning surprises, challenges, and life-changing decisions. Relationships are in turmoil as things between Callie and Arizona cool – and Owen and Amelia's romance ignites. April and Jackson face a heartbreaking tragedy.
Meanwhile, Meredith makes a stunning family discovery as opportunities pull Derek further away. Maggie's shocking announcement proves that blood is thicker than water.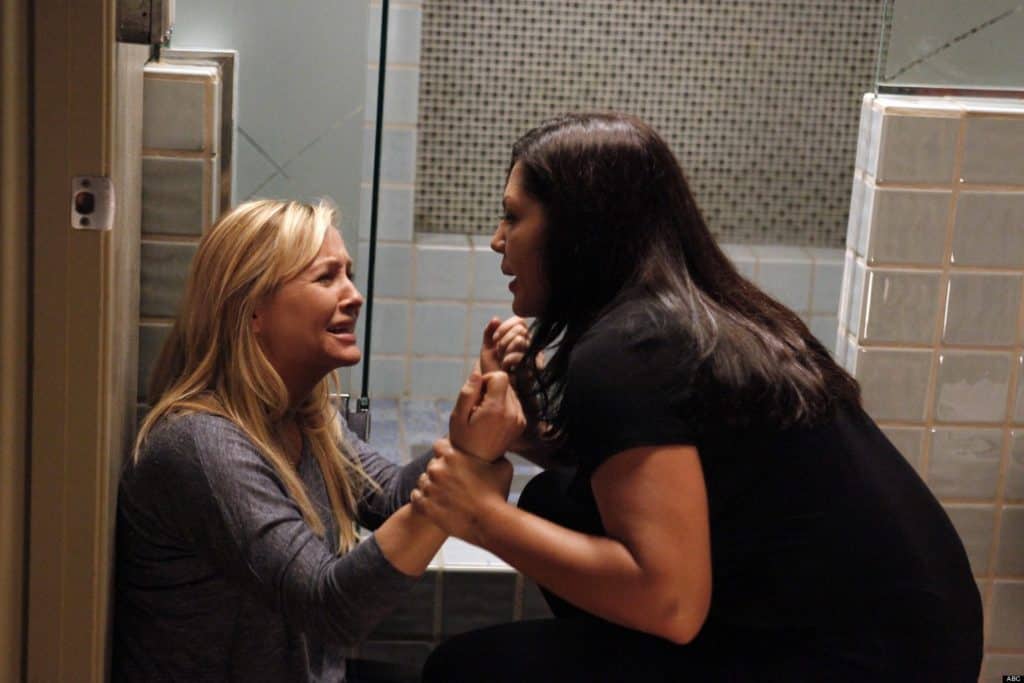 Episode 12: The Makings of You
The doctors find themselves simmering in a world of sexual politics. Bailey struggles with what it means to be a woman in charge of the hospital and her husband. Maggie faces the challenges of dating a younger man. Amelia battles her own demons.
Meanwhile, in the wake of a brutal attack, Meredith finds comfort and love in the most unexpected place, Callie and Arizona find themselves in a fight for their lives. Tensions run high when Amelia and Meredith come face to face with the doctor responsible for Derek's death.
Episode 13: Put the Squeeze on Me
After being on her own for some time, Meredith is beginning to explore the idea of a romance with Riggs (Martin Henderson). Unfortunately, Maggie desires him as well, which threatens to drive a bitter wedge between the sisters. At the same time, despite their differences,
Jackson and April (Sarah Drew) must come together when they are assigned a difficult case. Meanwhile, Alex faces the consequences of his vicious attack on DeLuca (Stefania Spampinato). Owen and Amelia's marriage implodes and a hospital-wide mutiny erupts when Bailey demotes Webber (Giacomo Gianniotti).
Episode 14: Road Trippin'
After the fire, Miranda Bailey starts renovations at the hospital. She discovers she'll need more than new walls and paint to repair broken trust, tainted reputations and broken relationships. Against the backdrop of a year full of love, loss and groundbreaking changes,
Meredith pioneers a revolutionary surgical technique that earns her a nomination for the coveted award named after its founder, Harper Avery. But when former legend Dr. Avery gets involved in a scandal. Meredith's efforts and the future of Grey Sloan are put in jeopardy.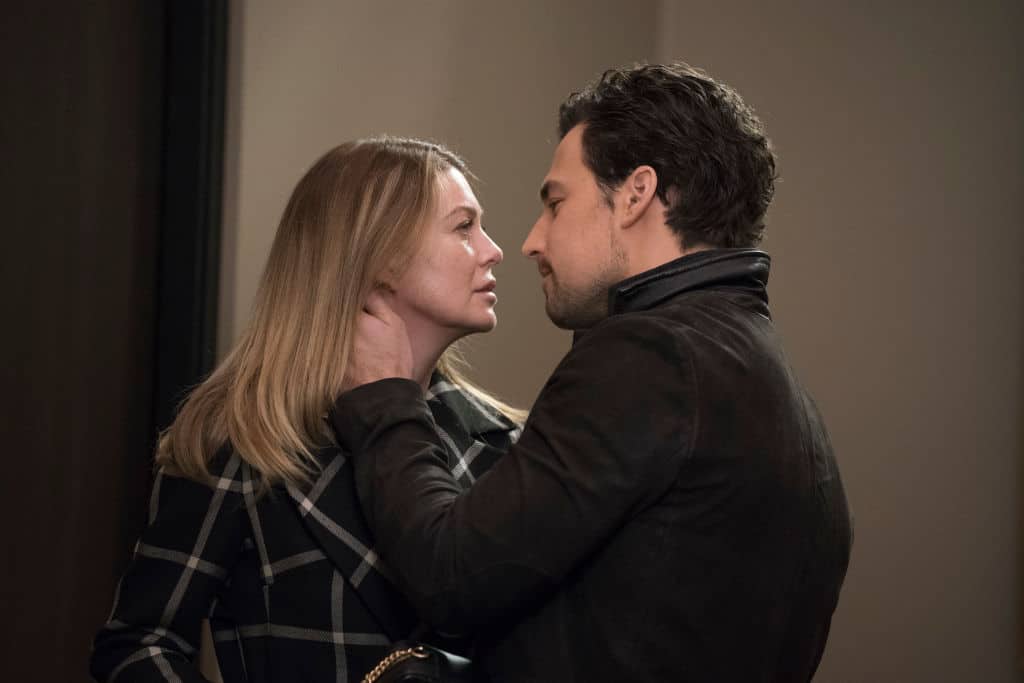 Episode 15: Put It to the Test
After finding herself desiring love and passion, Meredith turns to matchmaker Cece Colvin (Caroline Clay) to find her the perfect match. Cece sets up a string of dates, but eventually, Meredith finds herself wooed by Andrew DeLuca and new ortho Chief Atticus Lincoln (Chris Carmack).
Andrew develops a relationship with Meredith after wooing her for months. His father and Carina return from Italy when the former has an innovative proposition to create external gestational sacks. Andrew (Giacomo Gianniotti) initially supports him, ignoring Carina's warnings that their father is bipolar. A confrontation leads to the two of them going separate ways.
Pregnant Teddy begins a relationship with Tom Koracick (Greg Germann) as Owen chose Amelia. She convinces herself that she and Owen are meant to be just friends. Her relationship develops to the point of them living together and preparing for the birth. Teddy realizes she wants the passionate love she feels for Owen instead of the safe feeling Tom gives her.
Episode 16: Should I Stay or Should I Go?
Catherine (Debbie Allen) returns to Grey Sloan following its probationary status, furious that the Catherine Fox Foundation hospitals are all under scrutiny. Addison returns to Grey Sloan with her transplant uterus patient, Tovah, who is now experiencing pain, and mediates Meredith and Richard butting heads over her offer to go to Minnesota.
Bailey eventually takes a vacation day after recognizing symptoms of occupational burnout in herself. Nick shows up on Meredith's doorstep and offers to work locum at Grey Sloan so she can stay. Meredith becomes angry, but they resolve to stay long enough to save the program.
Episode 17: I'll Cover You
Nick begins to work locum at Grey Sloan under a begrudging Bailey, who lashes out at Nick, Meredith, and the other attendings about the program's state. Webber accidentally drinks a marijuana drink that Catherine had in their fridge, accidentally breaking his sobriety.
Nick give Schmidt (Debbie Allen) excellent teaching during surgery. Maggie (Kelly McCreary) and Winston (Anthony Hill) butt heads as their patient admit to lying to her wife about her symptoms. Winston to lash out because of his recent troubles with his brother. Maggie eventually kicks him out of surgery.
Meredith and Bailey connect and mend their relationship; Bailey apologizes for her recent anger and admits to Meredith that she doesn't know what to do about the program. Catherine eventually admits to Richard that her cancer has returned and progressed.
Episode 18: Stronger Than Hate
Nick's family hosted a welcoming supper. Nick's in Seattle briefly. Meredith's stay determined his. Meredith cannot stay long. She postpones her relocation to Minnesota since the hospital was at risk of losing its residency program and she wants to help.
Kai doesn't want children. They aren't interested in Amelia's past. Finish. Meredith is not around for supper. Meredith's relatives' questions Nick about himself. Meredith helps Alice. After Alice was safe, she walks away. The party ends when she is not around the hospital.
Episode 19: Out for Blood
Nick ropes Mer into a surgery that might be twenty hours and would be risky. Richard declines it, but Mer is going through with it anyway. The doctors are donating blood because of the shortage. Levi mentions how messed up it is that he's prohibited from donating because of his sexuality.
Webber and the other lady catch Mer doing the rogue surgery with Nick as she and he pull out their patients' entire insides to do surgery and put them back inside. Surgery works on Simon and he tells Kristen that he has a name for their baby. Jo breaks up with Todd (Skylar Astin).
Mer's patient starts bleeding out on the table and they have to come up with a plan. Mer imagines her mother criticizing her in surgery. Bailey freaks out because Ben calls her and all the blood that she had coming to the hospital is trashed and no good.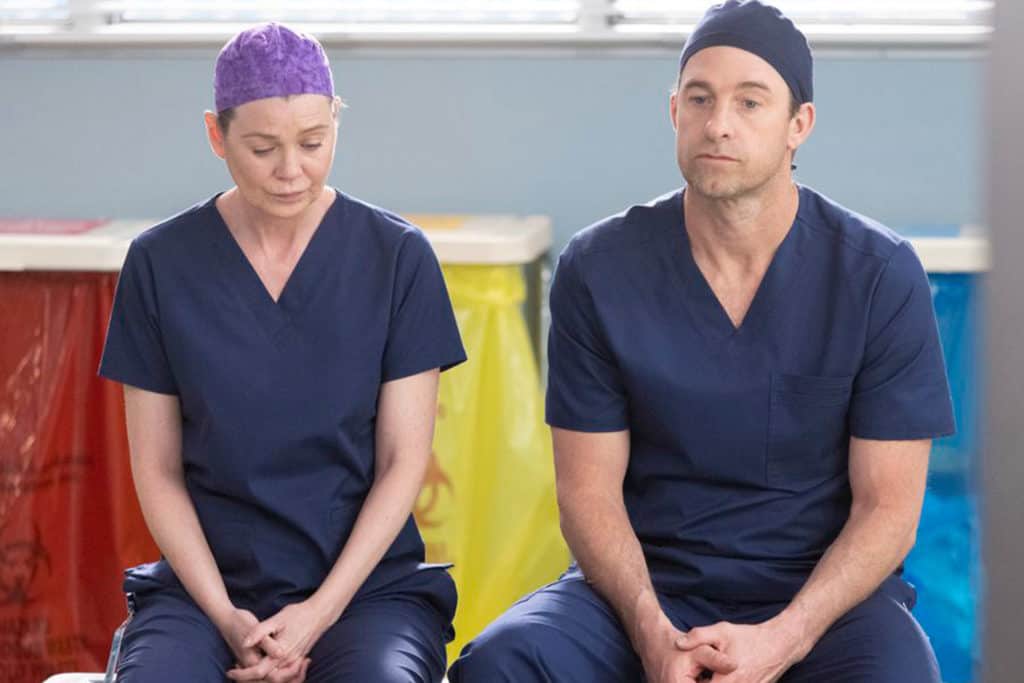 Episode 20: You are the Blood
As Out for Blood began, Ellis (Kate Burton) haunted Mer, telling her that Grey Sloan had really hit the skids and criticizing as only
Jackson urges Mer to take over as chief, even if only temporarily. Mer mulls about the possibility as Nick appears and admits that he was foolish to distrust her Cora decision. However, Mer is still hurt that he doubts her judgment. She advises him to return to Minnesota, especially because she has a lot of work to do at the hospital.
Mer has a plethora of flashbacks as Nick slinks away. Mer sees a vision of her younger self on the other side of the glass, right outside of Bailey's office. The younger Mer appears to be the most upset with her elder self. Mer rushes out of the office, calling Nick's name, but he is gone.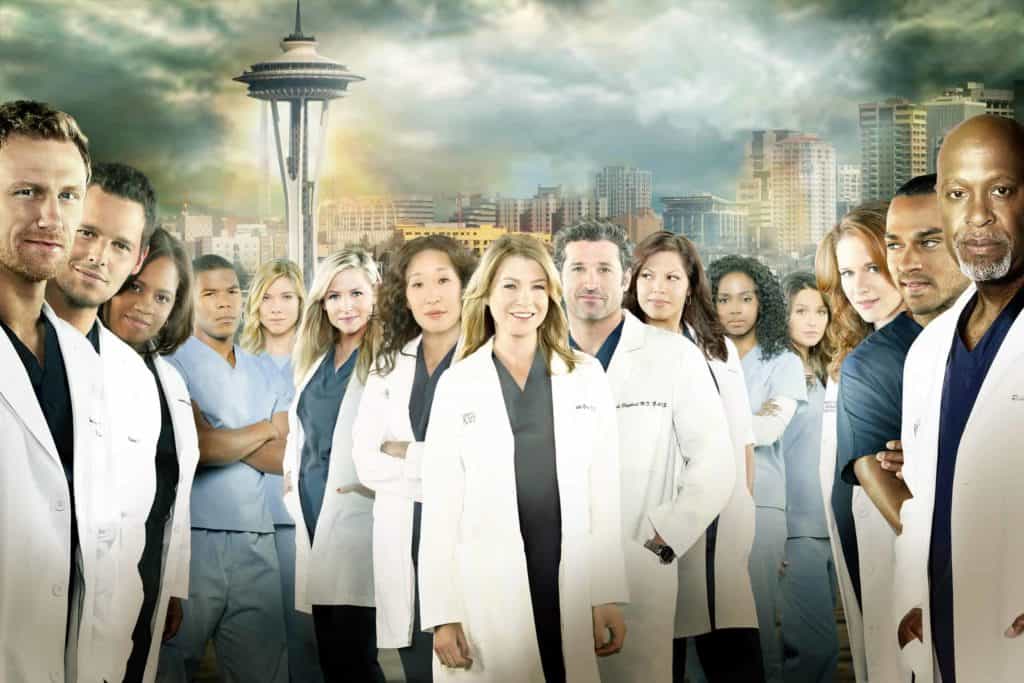 Grey's Anatomy Quick Facts
an American medical drama TV show
Originally aired as a mid-season replacement on the American Broadcasting Company (ABC) on March 27, 2005
Shonda Rhimes wrote the pilot episode and continued to write for the show until 2015
Krista Vernoff, who previously worked with Shonda Rhimes, is the showrunner
Betsy Beers, Mark Gordon, Krista Vernoff, Rob Corn, Mark Wilding, Allan Heinberg, and, most recently, Ellen Pompeo were among the executive producers
although the show is set in Seattle, Washington, it was mostly filmed in Los Angeles, California
the longest-running American primetime medical drama TV series