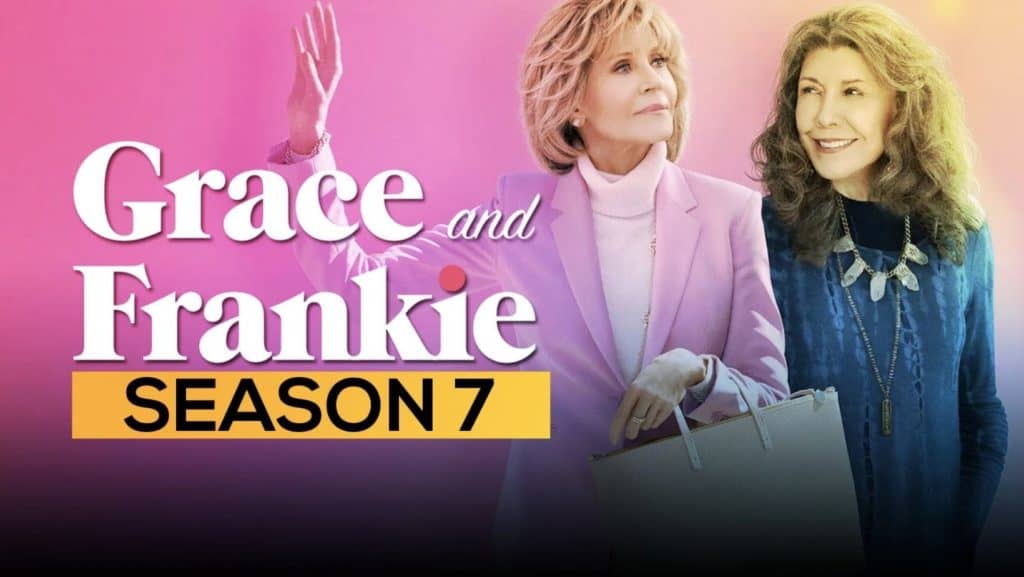 Grace and Frankie
Season 7 Recap
The Netflix TV show, Grace and Frankie, starring Jane Fonda and Lily Tomlin, ends with its seventh season. Many TV shows will complete their runs in 2022, including the Emmy-nominated series.
Here's everything you need to know about what happened on the last season of Grace and Frankie.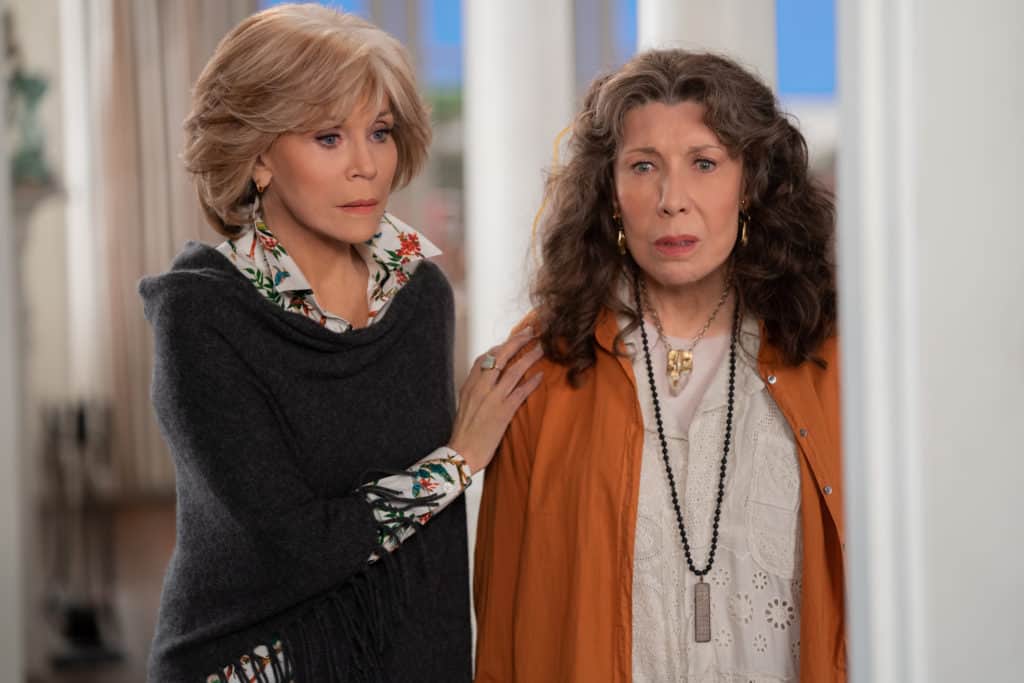 The two lead characters, Grace (Jane Fonda) and Frankie (Lily Tomlin) feverishly search for the money they hide, with their exes residing at the beach house and FBI officers who nabbed Nick (Peter Gallagher) prowling around.
Grace asks Frankie to recover the money after Nick's incarceration. Robert (Martin Sheen) and Sol (Sam Waterston )are now living with them at the beach house and the FBI prowling about. The only problem is that she has no idea where she put it. Brianna tries to adjust to her new work environment now that Mallory is her supervisor.
Episode 2: The Arraignment
As Frankie retrieves the cash, Grace and Nick discuss their marriage at his arraignment, thus, Joan-Margaret (Millicent Martin) devises a scheme to launder the funds.
While Grace hesitantly shows up at Nick's arraignment, the situation leads to a violent debate concerning their marital status. Robert is due for another payment to save the theater's snack bar so Joan-Margaret sees an opportunity to assist Grace and Frankie with Nick's money laundering.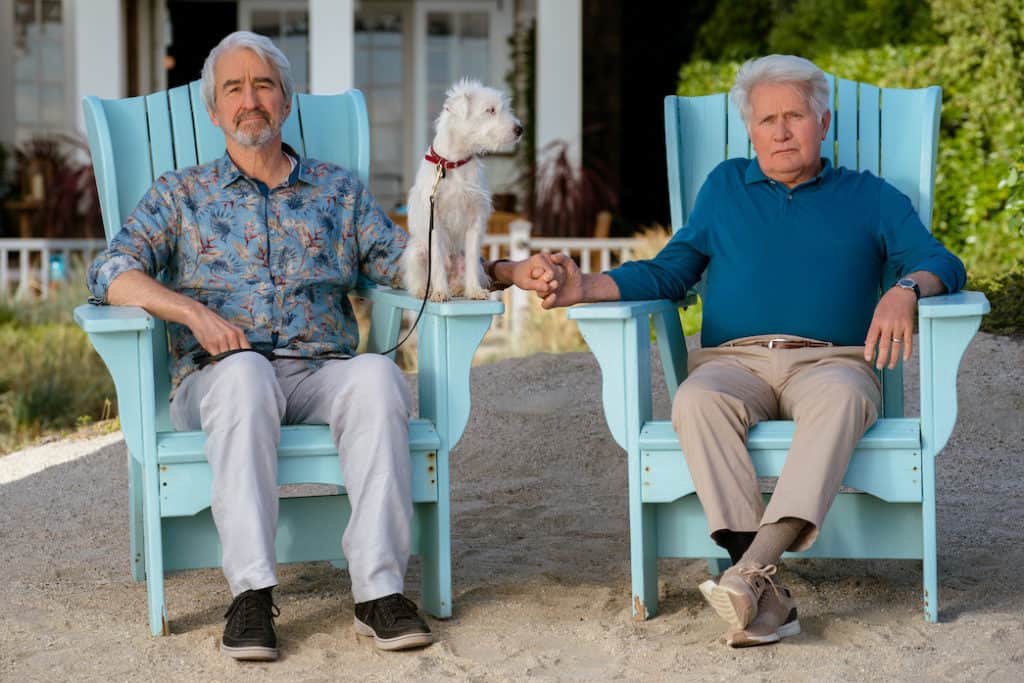 Bud (Baron Vaughn) tries to calm the tensions at the beach house and he is arranging a brunch for the two families. Past revelations cause even more resentment.
He decides to arrange a family brunch to calm things down because their parents are still squabbling like roommates. Things go haywire when long-held secrets are revealed when two families discover how they tried to avoid spending time with each other years ago.
Episode 4: The Circumcision
Nick wants to get out of jail and Grace prefers the status quo. in the meantime, an old acquaintance assists Frankie with money laundering.
Bud discovers that getting a circumcision can alleviate the pain he's been experiencing. Barry (Peter Cambor) is dubious about Coyote ( Ethan Embry) and Jessica's (Christine Woods) interest in a house that Brianna (June Diane Raphael) turns down. Grace believes her relationship with Nick is facing threats. He claims he has a chance to get out of prison. Frankie devises a new scheme to launder Nick's money, but it backfires.
Our favorite, Grace and Frankie gets familiar with their new roommate. Robert and Sol join the neighborhood watch. Brianna spills too much information when she meets Barry's parents.
The ladies attempt to decrease Nick's sentence by accusing his lover. Mallory (Brooklyn Decker) gains authority at work as Sol tries to apprehend a burglar.
Best of friends, Grace and Frankie race against the clock to prevent their friend Arlene (Marsha Mason) from being placed in a memory care facility. Coyote's love plans are thwarted by Nick. 
Episode 8: The Bonida Bandidas
Brianna and Mallory work with a conflict mediator who does not have a stellar reputation. Grace and Frankie attempt to flee Mexico with narcotics.
Episode 9: The Prediction
Grace is receiving a troubling phone call so it worries Frankie. Sol on the other hand is worried because Robert is losing his memory.
Episode 10: The Panic Attacks
Episode 10: The Panic Attacks
Frankie brings Grace to a therapist after a trip to the ER. Brianna plots her next move while Coyote's marriage plans strike a halt.
Episode 11: The Horrible Family
The independent artist, Frankie celebrates in fast succession at every annual holiday and special occasion. Grace discovers a startling link to a rising politician.
The ladies disguise themselves and go to a casino to see Coyote. To appease a potential investor, Brianna pretends to be someone she isn't.
Episode 13: The Last Hurrah
Allison's hunch that Bud is lying to her is confirmed by Coyote. Grace pursues Nick for his confessional book. Frankie is looking for her own happy ending.
Episode 14: The Paprikash
Sarcastic Grace misses a childhood favorite and her lost brother knows how to make it. Sol and Peter blackmails a theater reviewer.
Episode 15: The Fake Funeral
Meanwhile, Frankie organizes a funeral for herself so she leaves Grace alone to attend an important conference. Brianna's family rallies around Barry, much to her chagrin.
Episode 16: The Beginning
In the final episode, Robert accepts his memory loss for the first time. The main characters, Grace and Frankie face dying now or aging for a few more years.
Grace and Frankie Quick Facts
is an American comedy television series
a creation of Marta Kauffman and Howard J. Morris for Netflix
the TV show debuts on September 25, 2017
filmed in Los Angeles, California
a Golden Globe Award for Best Actress – Television Series Musical or Comedy
Grace and Frankie
Cast and Characters
Jane Fonda as Grace Hanson

(née Purcell)

, a no-nonsense cosmetics magnate who enjoys drinking martinis and making sarcastic comments and insults.

Lily Tomlin plays Frances "Frankie" Bergstein (née Mengela), Grace is an independent artist who frequently finds herself in situations where she requires Grace's assistance.
Sam Waterston as Sol Bergstein, a compassionate ex-divorce lawyer turns into gay rights activist, the ex-husband of Frankie
Martin Sheen as Robert Hanson, after retiring as a divorce lawyer, pours himself into the theater, Grace's ex-husband
Brooklyn Decker as Mallory Hanson, Grace and Robert's second child, Brianna's younger sister, and mother of Madison, Macklin, and the twins
Ethan Embry as Coyote Bergstein, Frankie and Sol's firstborn adoptive kid, Bud's older brother, Faith's uncle, and Jessica's husband
June Diane Raphael as Brianna Hanson, Robert and Grace's firstborn child, who is now the CEO of Say Grace, a thriving cosmetics company Grace gives her once she retires
Baron Vaughn as Nwabudike "Bud" Bergstein, Frankie and Sol's second-born adoptive child, Coyote's younger brother, Faith's father, and Allison's spouse
Grace and Frankie Plot Summary
Grace Hanson, a sharp-tongued cosmetics magnate, and Frankie Bergstein, a quirky artist, and hippie, are married to Robert and Sol. They are divorce attorneys in California.
When Grace and Frankie realize that their husbands are not merely business partners, their lives are flipped upside down. They are also lovers for the past two decades. Their husbands come out as gay and abandon them in favor of one other. Their ex-husbands are now a legal couple, and their families are closer than ever.
The women will now live together as they traverse family conflict, medical crises, business ventures, and romantic upheaval on their way to becoming best friends.
The comedy series, Grace and Frankie continue to struggle to make sense of their lives' brave new world. Frankie copes by getting into Brianna's business. Sparring partners and partners-in-crime, they form an unlikely bond. They face an uncertain future together and discover a new definition of "family," with laughter, tears, and plenty of mood enhancers along the way.
Grace and Frankie
Impact of to the Viewers
Despite the numerous options available inside the show, viewers of all ages and genders are tuning in. There hasn't been a meaningful TV program on this level since Golden Girls, which honors women over 45, and even beyond it, with Grace and Frankie's primary characters in their 70s.
On the other hand, the TV show surprises everyone by appealing to a far larger audience. Women in their forties and younger, as well as film buffs in general, tunes in to see the Tomlin and Fonda combo reprise their great onscreen dynamic.
Fonda's thirty-something daughters, played by June Diane Raphael and Brooklyn Decker, or Tomlin's seemingly hopeless, floundering son, are organically embraced by millennials.
As they grow older, Grace and Frankie's journey of self-discovery sparks many debates about the reality of aging. But openly discussing how to remain confident as a woman in her 70s who still wants to feel gorgeous is something that hasn't been discussed. Also discussed is coming out to your family in your 70s. As a result of how it speaks to an older generation, this show will not be forgotten long after it ends.
Will there Be Grace and Frankie Season 8?
There's some good and terrible news for Grace and Frankie fans. Fans must be anticipating the release of Grace and Frankie Season 8, but the series' streaming platform is not possible.
Back in 2019, the show receives it's renewal for a seventh and final season.
However, a series of Covid-19 production issues suspends the filming of Grace and Frankie's final season, delaying viewers' ability to say their final goodbyes to the pair.