Good Doctor Season 3 Episode 20
(I Love You) Recap
Dr Neil Melendez (Nicholas Gonzalez) is being carried to the hospital in an ambulance with Dr Claire Browne (Antonia Thomas). She warns him that when they arrive at the hospital, he will undergo a CT scan and will not be returning to patient care. He is confident that he is alright, but she claims that the doctor who is not injured will make the decision.
Neil is having his brain scanned and learns that everything is fine. He sits up, but his words are jumbled, causing her alarm. They see he has internal bleeding when he adjusts his gown. When Dr Marcus Andrews (Hill Harper) confronts Morgan about performing surgery against Dr Aaron Glassman's (Richard Schiff) orders.
Shaun (Freddie Highmore) continues to talk about "moving on" and if it genuinely can happen; they disagree about acknowledging failure and moving forward. Audrey meets with Melendez, revealing he is still bleeding, but if they open him up, there are serious risks.
He is aware of all the choices and has made his decision, but Claire disagrees, fearing that they may be looking in the wrong place if the bleed isn't from the pancreas. He dislikes surgery but recognizes Claire's point of view.
Neil (Nicholas Gonzalez) is on the operating table, telling Claire that she made the right decision. When Dr Audrey Lim (Christina Chang) shows Claire that there is anything above his little bowel, they work quickly on him. Shaun tries to stop the water from flowing by attempting to seal the leaky pipe. She is aware that he is capable of adapting to change.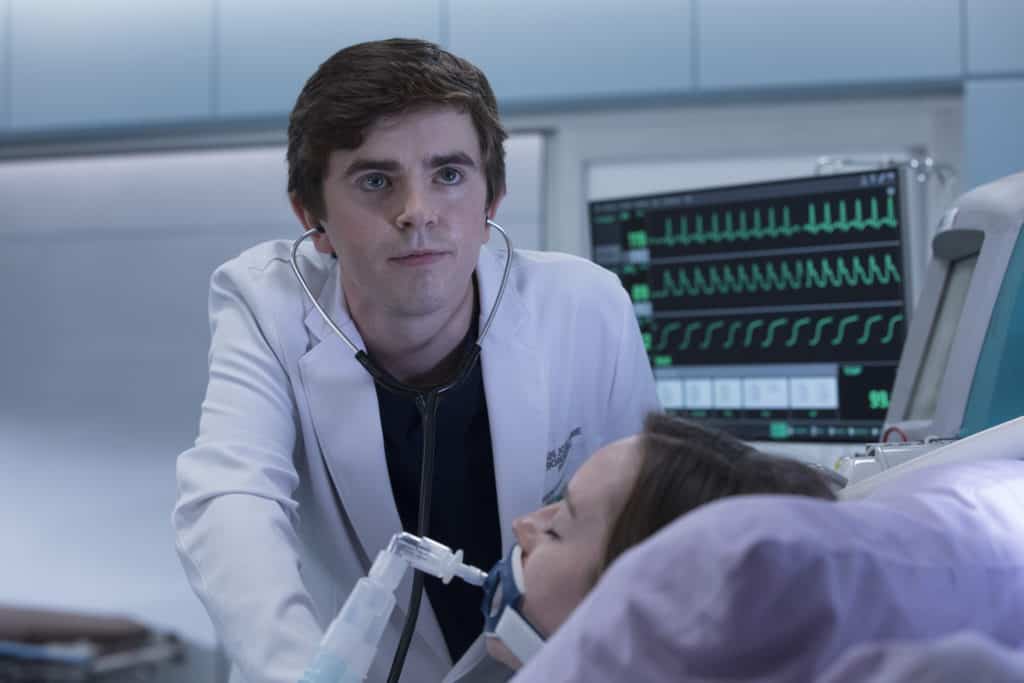 She tells him his objective is to save her, not stop the flood, just as his goal isn't Lea but love. The structure continues to tremble due to the aftershock, and the pipe has now totally parted; they exchange terrified looks.
Alex (Will Yun Lee) tries to communicate with Casey, who is simply exhausted. Alex wants to know why he is sorry because his father will not be angry with him for anything he has done. Alex reminds him that no matter how terrible things go, fathers will always love their children. Casey (Bentley Green) admits to killing his mother. Shaun tells Lea he can't leave because he can't stop looking at the pipe.
She tells him that the firefighter tells her he needs to move out of the way because they cannot move forward without him. While his patient urges him to go, he confronts her for lying. He claims that if he leaves her, she will die, but she counters that if he stays, they will both die because he will be unable to cut through. Shaun thinks before deciding to cut through her leg rather than the bar.
Casey claims the accident was little, but it was enough to damage his mother's neck and cause her significant discomfort. Park finds that one day after the accident, Casey searched through his mother's purse and discovered three medicine bottles. She'd become addicted to pain relievers.
He does nothing about it, doesn't say anything to anyone since he doesn't know what to say, and she overdoses in her sleep three weeks later. If he says something, Casey believes they would have received her assistance. He needs to tell his father the truth, and Park assures him he will. Marcus examines Morgan's hands now that she is the patient.
While inspecting her fingers for stitches, he talks about "ego." Likewise, how his supervisor got into problems for having such an ego, reminding her that when they are residents, they appear to know everything. She regrets not informing him of her diagnosis.
He claims that her failure to inform him demonstrated that she had no regard for protocol, supervisors, or patients and was just concerned with her career. He was wrong.
She said what she performed today for her patient was outstanding, making it evident that preserving patients' lives is her top priority. Unfortunately, she may have jeopardized her surgical career because she screwed up her hands. He apologizes and cleans her wounds.
Neil claims he is not afraid of death because he was reared as a devout Catholic and real believer until he entered college. Maybe it's because he's staring into the emptiness right now, but everything is returning to him like an old buddy with a warm cup.
Claire wipes away a tear and pauses before attempting to speak to him, but he interrupts her. He urges her to leave since the hospital is still experiencing a crisis. Claire gets out of her chair, and the two say their goodbyes.
Alex informs Casey that his body temperature is falling, but he feels much more relaxed. Alex urges him to remain a bit longer with him. Casey remains silent for a few moments before opening his eyes and calling Alex "Dad," who assures him that he is there.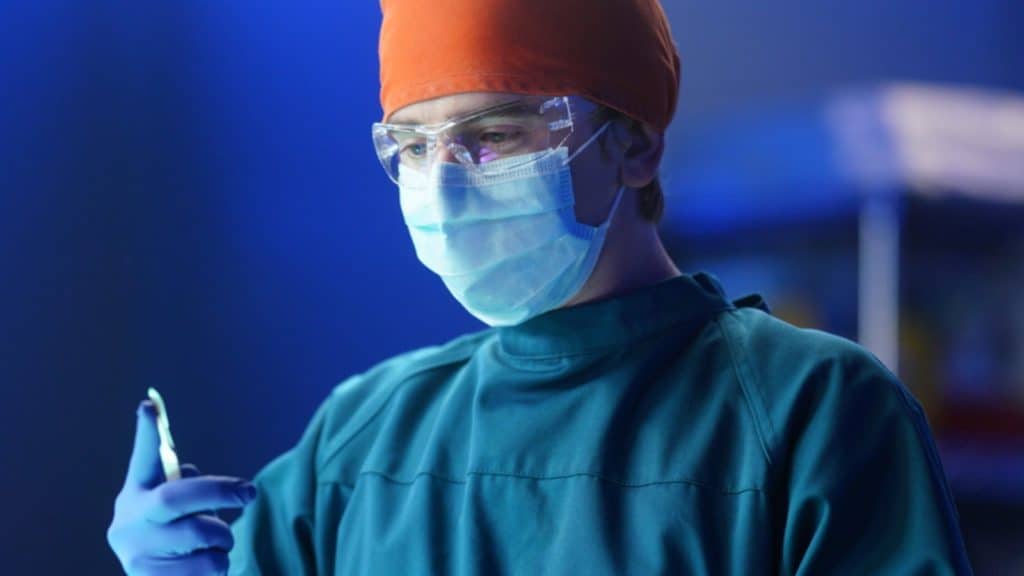 Shaun injects his patient with morphine and instructs Lea to count down the seconds, asking how long he has for 3 minutes to distract her from the screaming. Shaun dips his knife into the water and starts cutting; Lea starts counting through the screams.
Aaron (Richard Schiff) locates Lim, who wishes to return. She acknowledges that it is an effective procedure with no guarantees. Aaron comes to a halt because he recognizes Melendez and knows the numbers. He goes over everything and says that if Neil survives the procedure, he'll be tube-fed, diabetic, and in need of a liver transplant. He tells her to stop being a doctor and become a friend, and she remains silent.
Casey admits to Alex that he was aware of his mother's drug use and should have informed him. As she stares at him, Alex replies he knew as well. When you love someone, he claims, you can sense when anything is wrong. He claims he did the best he could since sometimes you can help people and sometimes you can't. He wants Casey to understand that this is not his responsibility and that it is never his fault.
Casey falls to pieces as Alex strokes his hair and kisses his forehead. Her father is in the squad car, and they have him on the line now, says the first responder. Alex wants to get the bar off, so he dials Mr. Taylor's number.
Lea (Paige Spara) is ordered to check out, but she cannot do so. She learns on the radio that they have discovered something and goes to the building.
Aaron approaches Melendez (Nicholas Gonzalez), both of them wondering what to say. They discuss Theresa Adams and how they mistook her gall bladder for a gall bladder, but Neil rescued her. He wants Neil to know that he was the best coworker Aaron has ever had.
As they laugh about a sucker bet, Neil begins to cry; Neil announces that it is his funeral as Claire enters. Aaron extends his hand, expressing his excitement for the scotch. Claire hands him his silver crucifix, and he grins at her without saying anything.
Lea notices that they've just brought up Vera, and Shaun is close behind her, and she's out of breath. Claire sits with Neil and thanks him for saving her. He believes he was in the right place at the right moment, but it was all because of her. He insists she will be fine since she thinks she must tell him something, but he wants to go first.
Neil tells her she is the worst bowler he has ever seen, and they both chuckle as he says it. She tells him she despises his tattoo, and they both smile through tears. She declares her love for him, and he reciprocates with a nod. As he softly strokes her face, she puts her head on his chest.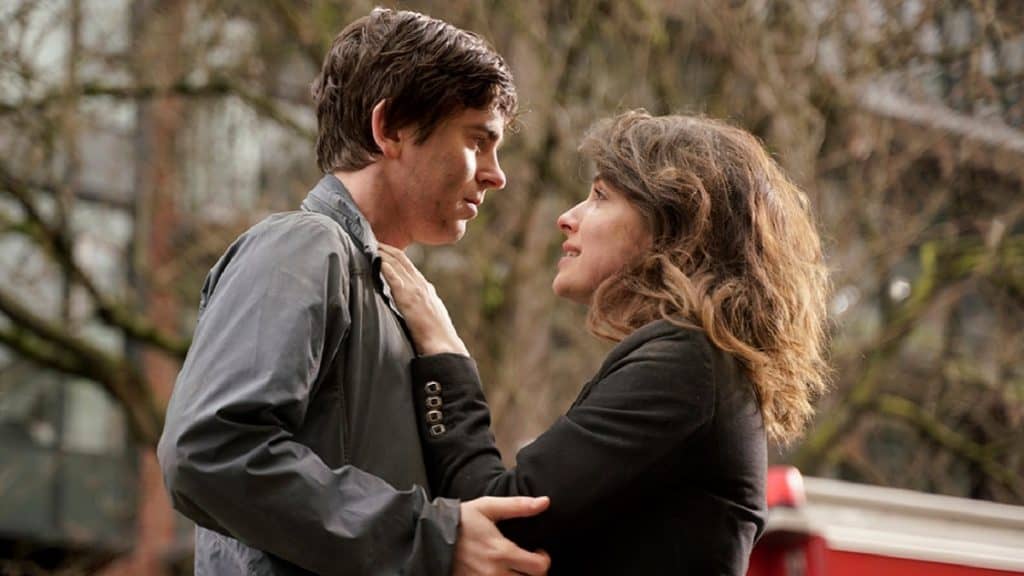 Shaun walks with Vera, who believes it is the beginning of a new day, both literally and metaphorically. Shaun notices Lea as Alex dials Mia's (Jennifer Birmingham Lee) number on his phone. He claims to be OK but only fatigued. He believes he needs to be closer to them and wishes to return. When Kellan ( Ricky He) answers the phone, he needs to hear his son's voice, which is crying.
Claire exits Neil's room, spotting Lim, and breaks into her arms; both ladies console each other; Melendez has passed away. Lim suggests that they go out for drinks, and Claire accepts. Meanwhile, Lea runs over to Shaun and kisses him.
He has no idea what that was, whether it was a practice, a pity, or a goodbye kiss. Lea kisses him again after exclaiming, "I am such a stupid idiot for not seeing it, but I love you." Shaun informs her that Vera did not die, and thus the pledge is invalid. He kisses her again and holds her tightly in his arms.
a medical drama

series

on American television

based on the same-named South Korean series from 2013

under the production of Sony Pictures Television and ABC Signature, in association with Shore Z Productions, 3AD, and Entermedia

David Shore

serves as showrunner

Daniel Dae Kim

is an executive producer for the show

primarily filmed in Vancouver, British Columbia

the series debuts on September 25, 2017
Dr Shaun Murphy (Freddie Highmore) is a young surgeon with autism and savant syndrome. He works tirelessly to prove to his colleagues that he has extraordinary medical gifts. He navigates more uncertainties as a significant change comes to St Bonaventure Hospital. 
As his friendships deepen, Shaun works harder than ever before as he starts dating. While navigating his environment and relationships, he wants to show his colleagues that his talents as a surgeon will save lives.
The rest of the team must also navigate the complexities of their changing relationships as they continue dealing with life and death situations.