Fans of the show have slammed her since she is new to the show and has made a negative impression.
"The Real Housewives of Beverly Hills" newcomer Diana Jenkins is currently facing a hot issue right now, not with fellow housewives but with a fan after she allegedly dropped a "racially insensitive" remark about Kristen Dionne, a black woman who manages @philly.diva, a Bravo fan account.
The before-and-after photo in the post where the real housewife managed to drop the contentious statement was captioned by Dionne, who said, "uhhhh I guess the first @sdjneuro was the one that shopped in stores and the 2nd is allergic to dust and doesn't know what an outlet is."
This have enraged the reality star, who immediately responded, "That picture was actually taken At UCLA law school talking about war crimes in my country and setting up human rights clinic that i financed Before war criminals were brought to justice."
"I was probably 20 or 30 Pounds skinner and having glam was last thing on my mind," she added. "Also looks like picture is manipulated. But shame on you!!!! You and your bulls–t shopping!!!"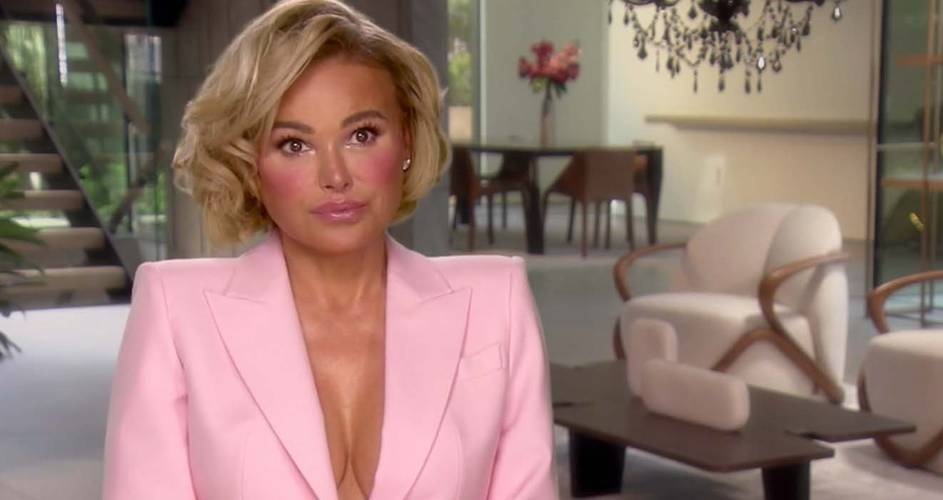 The former also responded, surprised that Jenkins had taken the time to react, "Holy 💩 you had time today!! But the fact is…. both pics are you. However neither of them look alike! Welcome to the bravo-sphere!"
This is where Jenkins made a bold move and said, "It can't feel good being a Black content creator," which she evidently regretted afterwards when she was chastised by online users who claimed she was obviously done for.
After an overnight barrage of criticisms, she admitted her mistake and apologized on Friday, also mentioning co-star Crystal Kung Minkoff, according to a screenshot acquired by Page Six, which broke the story first.
"@crystalkungminkoff woke me up screaming at me demanding to know what I meant by this comment. I assumed "Black content creator" was a title referring to a page that would be focused on snarky content," she began her apology.
"I copied the term because I thought that's what it meant. I didn't realize it was referencing to you as a Black woman and a content creator."
"Please understand i am not from this country @philly.diva so deeply sorry. I'm devastated that this was taken to mean something racially insensitive. I understand now why it was taken that way and that was never my intention. I am truly sorry," she concluded.
Despite issuing a public apology, Dionne claims she never got it since Jenkins reportedly blocked her, according to the publication.
Reactions to "RHOBH" Newcomer Diana Jenkins Expresses Regret For Her Problematic Remark
Diana Jenkins is one of the most unlikeable housewives of all time. Why is she even here? #RHOBH

— bd (@biancadanello) June 17, 2022
Diana Jenkins says "It can't feel good to be a Black content creator" after an Instagram page calls her out.

Idc if people think it's too soon, this woman needs to be a one season housewife. Her spirit is way off. #RHOBH pic.twitter.com/LNKDAWPe4Z

— The Bravo Life (@TheBravoLife_) June 17, 2022
Diana Jenkins? Haven't heard that name in YEARS… she's on housewives? Wasn't she an alleged Madame and sex trafficker? Now she's being openly racist? Well it's 2022, hope more truths come out…

— benny. (@bennylikesit) June 17, 2022
Diana Jenkins should have never been cast for #RHOBH.

— Anthony Dominic (@alloveranthony) June 17, 2022
Lisa Rinna spend months trying to convince us Kathy Hilton was racist when her friend Diana Jenkins who she brought on the show was proven to be a racist before Kathy ☠️ #rhobh pic.twitter.com/3kx0AK6ifF

— Mad Beefs (@MadBeefs) June 17, 2022
Is it so hard to believe now that we know Diana Jenkins is a racist that Lisa Rinna is a homophobic racist as well? Birds of a feather often flock together. Those who work hard at painting others in bad light are using hiding their self-hatred. We gots you Rinna! #RHOBH pic.twitter.com/kkK18n63Yk

— Derek (@totallydone4ver) June 17, 2022
Diana Jenkins just seems like a two bit phony hustler. She has zero personality. I am not surprised that she's a racist with her disgusting comment. And it's beyond grating watching women like Erika and Lisa Rinna licking her boots for some money and a ride on a PJ. #RHOBH

— A.J. (@Trust_Progress) June 18, 2022