Jared Fogle was first noticed by Subway when he claimed the fast food's sandwich helped him lose weight.
Jared Fogle was the former spokesperson for the American giant fast food chain Subway. He first came into media attention after claiming that the sandwiches and exercises helped him lose weight. He appeared in the company's advertising campaigns from 2000 to 2015 until his arrest.
In 1998, Jared was an ordinary Indiana University student who weighed 425 pounds. He was 20 years old at the time and began eating Subway sandwiches every day, plus exercising more. After 11 months, he reported dropping 245 pounds (111kg), which is more than half his body weight.
Many noticed Jared's weight loss. In 1999, his former dormmate published an article in the Indiana Daily Student about how he dropped pounds by eating Subway sandwiches and exercising. The same year, the story was featured in Men's Health, with the title: "Stupid Diets That Works."
Reportedly, Jared became obese due to a lack of exercise and eating junk foods. Eventually, he began changing his diet and switching to Subway sandwiches. He replaced his 10,000-calorie food intake with a small turkey sub, one large veggie sub, and some baked potato chips and diet soda.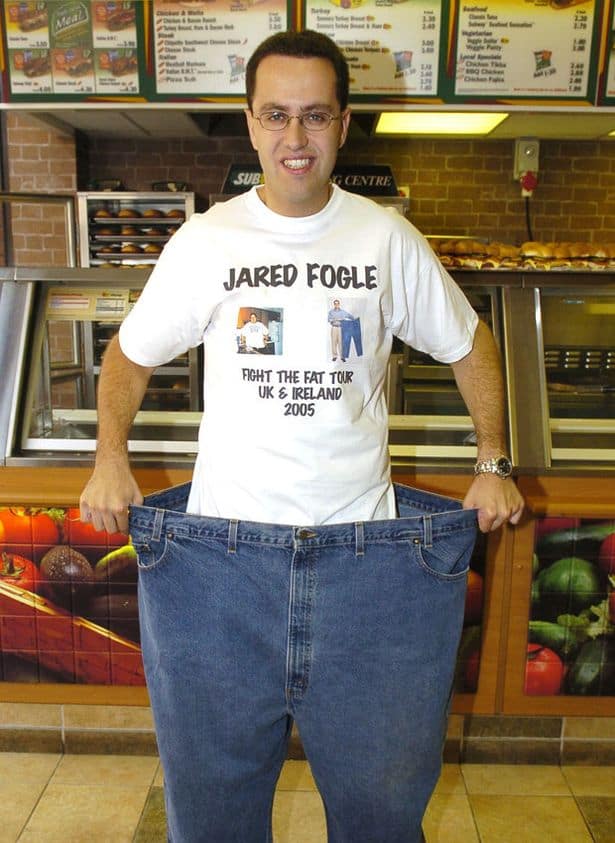 "I lived 10 steps away from a Subway restaurant," Jared told Men's Health when he was asked why he chose to buy a sandwich at the chain.
Subway franchisees noticed the article from the magazine and took the story to Subway's Chicago-based advertising agency. The fast-food chain had to run a regional television advertising campaign first, which would introduce Jared's story. The ad first aired on January 1, 2000.
"The Subway diet, combined with a lot of walking, worked for Jared. We're not saying this is for everyone. You should check with your doctor before starting any diet program. But it worked for Jared," the story disclaimer noted.
The test ads were successful, prompting Jared to appear in more TV commercials and sponsored in-store appearances throughout the United States in the following years. His weight loss success through only eating sandwiches from Subway became the center of the ad campaigns.
Jared Fogle's Weight Loss Tricks
The main keys to Jared's successful weight loss:
He claimed that Subway sandwiches helped him lose weight
He replaced his 10,000-calorie food intake with a small turkey sub, one large veggie sub, and some baked potato chips and diet soda
He created the "Subway diet"
He shed pounds by eating two low-fat sandwiches bought at the fast food
Related Weight-Loss Posts
So, what is the "Subway diet"?
The Subway diet is a weight loss plan created by Jared. He cut down pounds within 11 months by eating two low-fat sandwiches purchased at Subway. In addition to consuming healthy foods, he also credited his daily walking routine for his weight loss.
Jared revealed that his diet consisted of approximately 1,000 calories per day. In his past interviews, he said he "ate little or no breakfast." A Subway sandwich would be his first meal of the day. Then, he snacked on a piece of fruit and took daily multivitamins.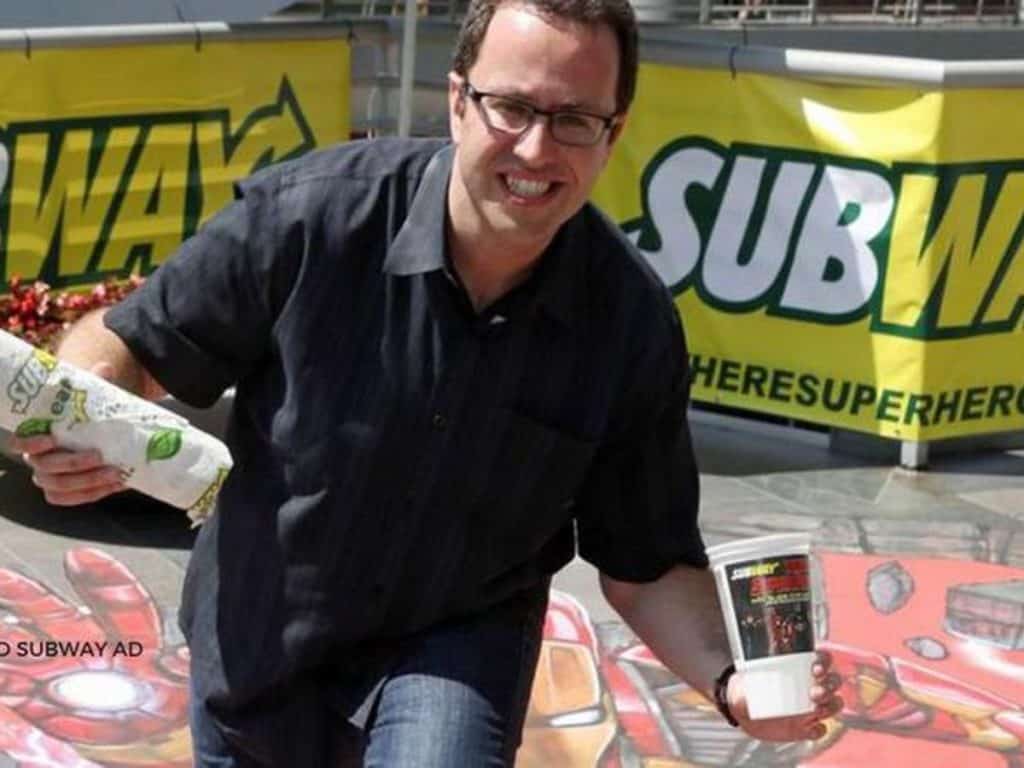 Jared described his weight loss journey in Subway ads, noting that the sandwiches helped him. While the commercials highlighted his success, the company didn't endorse the "Jared Diet." Instead, it emphasized its low-fat offerings and urged the public to exercise.
Many people became motivated and tried the diet of Jared. Reportedly, some even called the company asking for more details about the meal plan. Others also told the chain that they successfully lost weight by creating their own versions of Jared's diet.
The success of the campaign ads opened more doors for Jarred Fogle.
Following the ad campaign's success, Jared's weight loss story was often featured in TV shows and movies. In 2001, "Saturday Night Live" made a parody commercial, with Jimmy Fallon playing Jared. In 2002, "South Park" released an episode about Jared titled "Jared Has Aides."
"It was very flattering to see that they took a complete half hour talking about me," he said in an interview with The Washington Post. "You know you've made it when shows like 'South Park' start parodying you."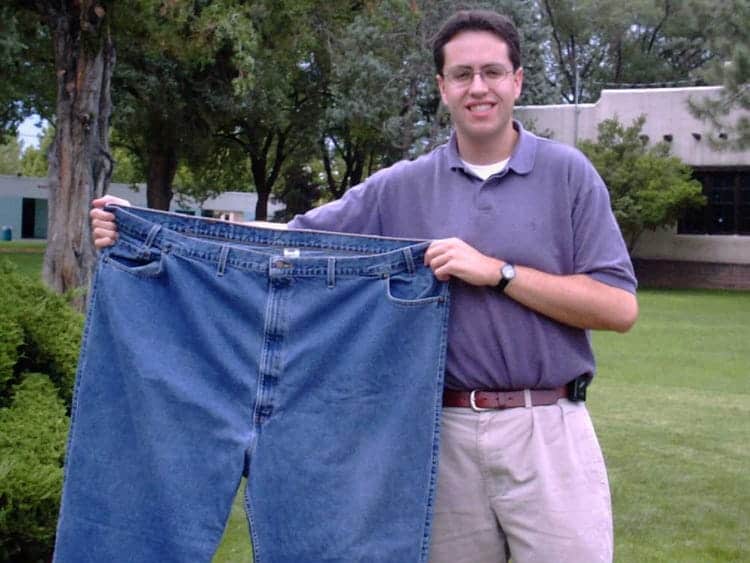 The Subway guy also appeared in a 2002 documentary, "Super Size Me." The program tackled several topics, including the health hazards of fast foods. The following years brought more success for Jared, with Subway making another "Tour de Pants" campaign in 2008.
The campaign celebrated how he maintained his weight loss for a decade. Jared also announced that he would "retire his pair of 62 in (160 cm) pants to a museum at the end of the advertising tour." By 2013, he had filmed over 300 commercials and continued making speeches for Subway.
What happened to Jared Fogle? The scandal and arrest.
Jared came to the attention of state and federal law enforcement agencies in 2007. At the time, journalist and radio host Rochelle Herman-Walrond claimed that he made lewd comments to her about girls in middle school. She recorded their conversations to prove that he's engaged in such acts.
When the truth was uncovered, it was revealed that Russell Taylor, the director of Jared Foundation, an organization tackling childhood obesity, had traded sexually explicit photos and videos of children with Jared. More evidence has started to surface as the investigation continues.
In July 2015, the FBI and Indiana State Police investigators raided Jared's house in Zionsville, Indiana. On the same day, a spokesperson for Subway announced that the fast-food chain and Jared agreed to suspend their business relationship. The company removed all references for him on their websites.
Jared was arrested and pleaded guilty to two counts: one of traveling to engage in illicit sexual conduct with a minor and distribution of receipt of child pornography. In 2015, he was sentenced to 15 years and 8 months in prison. He also agreed to pay $1.4 million in restitution-$100,000 to each victim.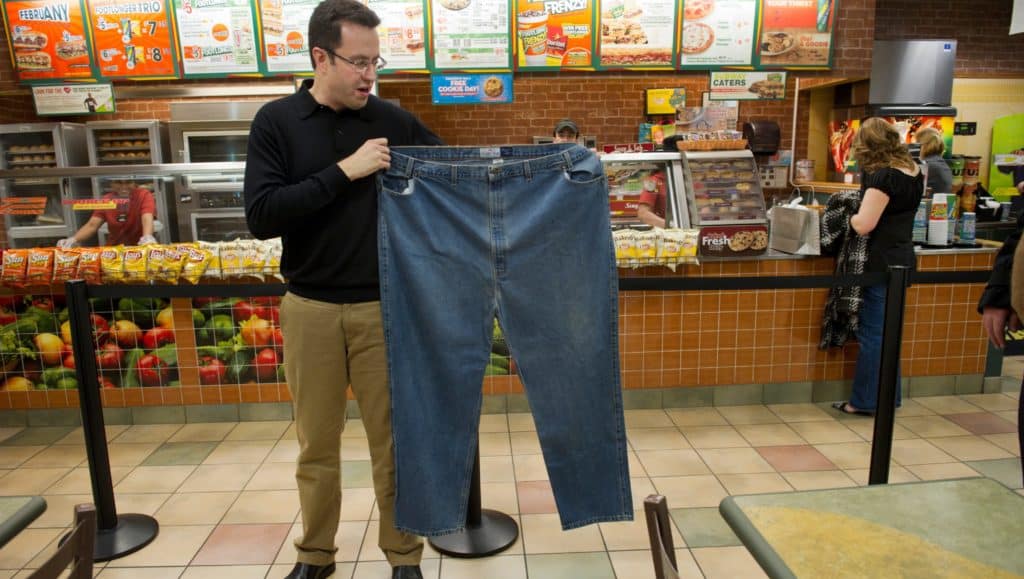 Jared must serve a minimum of 13 years before becoming eligible for time off with good behavior. Then, he'll be on supervised release for the rest of his life after serving his sentence. He was fined $175,000 and ordered to forfeit $50,000 in assets, in addition to the $1.4 million restitution.
Forensic psychiatrist John Bradford testified for Jared's defense team and claimed that Jared suffered from a compulsive eating disorder before losing weight. Reportedly, he replaced food with the "sense of hypersexuality," including "mild or weak pedophilia."
However, the diagnosis was not accepted by experts in the psychiatry field. Jared apologized for his crimes and asked for another chance to redeem his life and become a "good, honest person" after being ensnared in a life of "deception, lies and complete self-centeredness."
His ex-wife, Katie McLaughlin, divorced him after the arrest. The two shared two children. Supervised visits with his kids will only be allowed with their mother's approval. Upon his release, he would have to register as a sex offender for the rest of his life and undergo treatment for sexual disorders.
Jared Fogle maintained his weight in prison - but not through the Subway diet.
In early 2022, Jared shared a photo of himself looking skinny. But his weight loss was not because of the Subway diet – it's all because of prison food. He said that staying slim is all about conscious of what goes into your mouth.
"I try to avoid too much junk food. I snack on granola bars and protein bars. I feel really good physically and mentally," Jared wrote in a letter to the New York Post.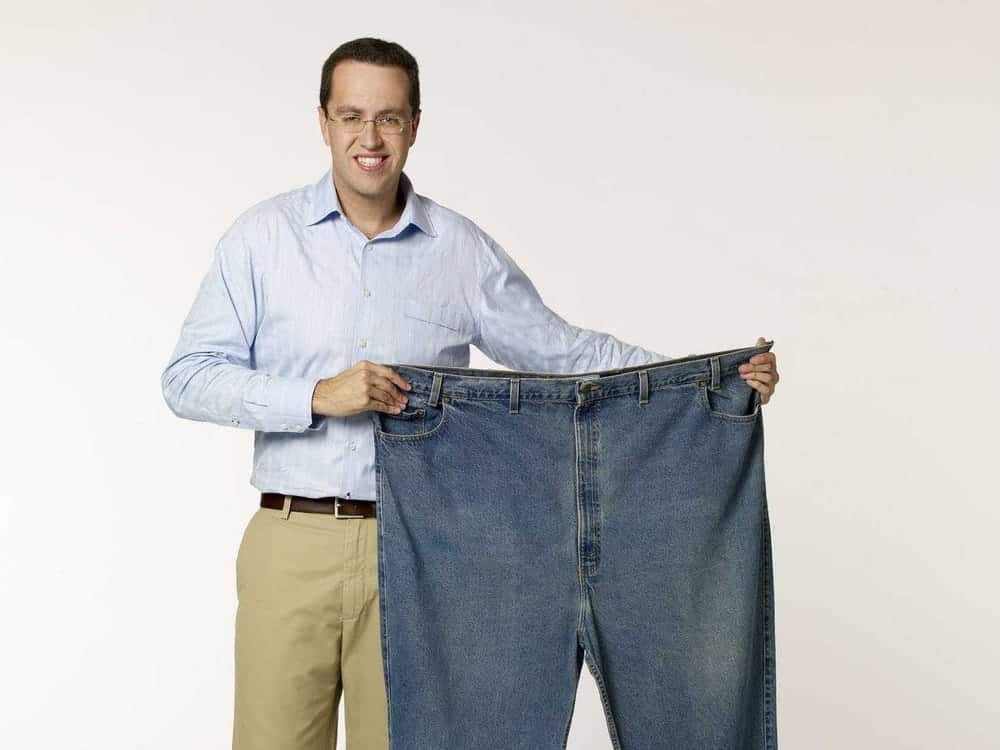 Apart from the food he eats, Jared said he runs four to five miles daily and feels "most health, and in shape, he's ever been." He added that working out was one of the things he could control during his time in prison, and he currently weighed 180 pounds.
Yet, the actual purpose of his letter was not because of his
weight. He wanted to express his "deep regret" for his actions. In the handwritten note from November 2021, Jared said he "really royally screwed up" to wind up where he is now.
"I was selfish and entitled," he added.
Jared also shared he's making the most of his life in prison, so he's doing everything he can to get busy living and "make the most of this unwanted experience." Additionally, his time behind bars had given him a lot of time to reflect and think about the people he let down, especially his family.