Kourtney Kardashian is richer than Travis Barker. Kourtney has a net worth of $65 million, while Travis Barker has a net worth of $50 million.
Travis Barker is mainly remembered as the drummer for pop-punk main stays blink-182. Still, he has worked with a variety of bands over the years, including the Suicide Machines, The Aquabats, Transplants, +44, Box Car Racer, Goldfinger, and others.
Kourtney Mary Kardashian is a model, social media personality, and media figure. In 2007, she and her family made their first appearance on the reality television show Keeping Up with the Kardashians. Its popularity spawned spin-offs like Kourtney and Khloé Take Miami and Kourtney and Kim Take New York.
How Kourtney Kardashian Got So Rich
Kourtney Kardashian is a reality television personality with a net worth of $65 million. (1) Kourtney Kardashian is best known for her role as Kim Kardashian on the hit reality show Keeping Up With The Kardashians. Kourtney, the eldest Kardashian, appeared on the reality show "Filthy Rich: Cattle Drive" in 2005, and a sex tape made by her sister Kim with her then-boyfriend Ray J in 2003 was made public in 2007. That sex tape, titled "Kim Kardashian Superstar," catapulted her and her family's celebrity. Later that year, Kourtney, her mother Kris, stepfather Bruce, now Caitlyn Jenner, and siblings Kim, Khloé, Rob, Kendall, and Kylie were all cast in the E! reality show. Their reality tv show was a smash hit and is still on the air. The reality show "Keeping Up with the Kardashians" has been a smash hit and will continue to air in 2020. It also generated a number of spin-off series.
Smooch, a clothing and accessories boutique in Los Angeles and New York City, was co-founded by Kourtney and her mother. Kourtney, Kim, and Khloé own and operate the D-A-S-H clothing boutiques in Los Angeles, New York City, and Miami. In 2010, Kourtney and her sisters started a clothing line for Bebe. Kourtney made her acting debut in late March 2011 on the ABC soap opera "One Life to Live." Kardashian grew up watching the show and has always wanted to appear on it. She acted as a lawyer. Her performance was panned by critics.
How Travis Barker Got So Rich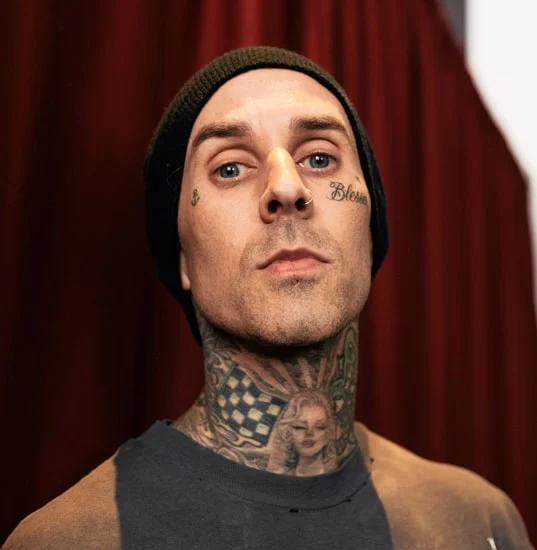 Travis Barker is a $50 million net worth drummer, musician, and reality television star. (2) Barker is best known for his work as the drummer for the band Blink-182. Still, he has also appeared on MTV's reality show "Meet the Barkers," written an autobiography, and established a fashion company and a record label. Blink-182's most successful album, "Enema of the State," has sold over 15 million copies, and Travis was given the name of "100 Greatest Drummers of All Time" by Rolling Stone magazine in 2016.
Barker started drumming at a young age. He joined The Aquabats in 1996 but left in 1998 to join Blink-182, who achieved enormous appeal with Enema of the State (1999). Barker formed himself as a versatile drummer, producing and appearing on projects in a variety of music genres such as hip hop, pop, country, and many more. Travis Baker also appeared in the MTV reality show Meet the Barkers. In 2008, he was in a plane crash, but he managed to recover and published his first solo album, Give the Drummer Some, in 2011. He is kept working with rap artists, generating extended plays with Yelawolf, Asher Roth, and Nottz, as well as Blink-182 and the Transplants.
Apart from drumming, he established Famous Stars and Straps in 1999, the record labeled LaSalle Records in 2004, and DTA Records in 2019. Companies like DC Shoes and Zildjian cymbals have created products in his honor. In 2015, Travis Barker published his memoir, Can I Say, Living Large, Cheating Death, and Drums, Drums.
Kourtney Kardashian Net Worth, retrieved from https://www.celebritynetworth.com/richest-celebrities/models/kourtney-kardashian-net-worth/
Travis Barker Net Worth, retrieved from https://www.celebritynetworth.com/richest-celebrities/rock-stars/travis-barker-net-worth/