Station 19 Season 5 Recap
Episode 1 - Phoenix from the Flame
Relationships at Station 19 are strained as a result of Sullivan's (Boris Kodjoe) behavior at Maya (Danielle Savre) and Carina's (Stefania Spampinato) wedding puts his marriage to Andy (Jaina Lee Ortiz ) to the test. Dean ( Okieriete Onaodowan) accepts his affections for Vic (Barrett Doss) as Travis (Jay Hayden) reignites an old passion.
Episode 2 - Can't Feel My Face
Sullivan and Andy's friendship is still being pushed to the test. While Emmett (Lachlan Buchanan) joins Dean and Vic on a mental health call, Maya engages in some introspection.
While locals are unaccustomed to the extreme heat that cause mayhem, Station 19 functions as a cooling center during Seattle's heat wave. Andy befriends Theo (Carlos Miranda) and acknowledges his errors.
Episode 4 - Everything or Nothing
Dr. Diane Lewis (Tracie Thoms) comes back to support the Crisis One intervention training of the firefighters from Station 19 and Station 23. While Andy and Sullivan continue to argue, Jack (Grey Damon) helps a young autistic man on a city bus.
Episode 5 - Things We Lost in the Fire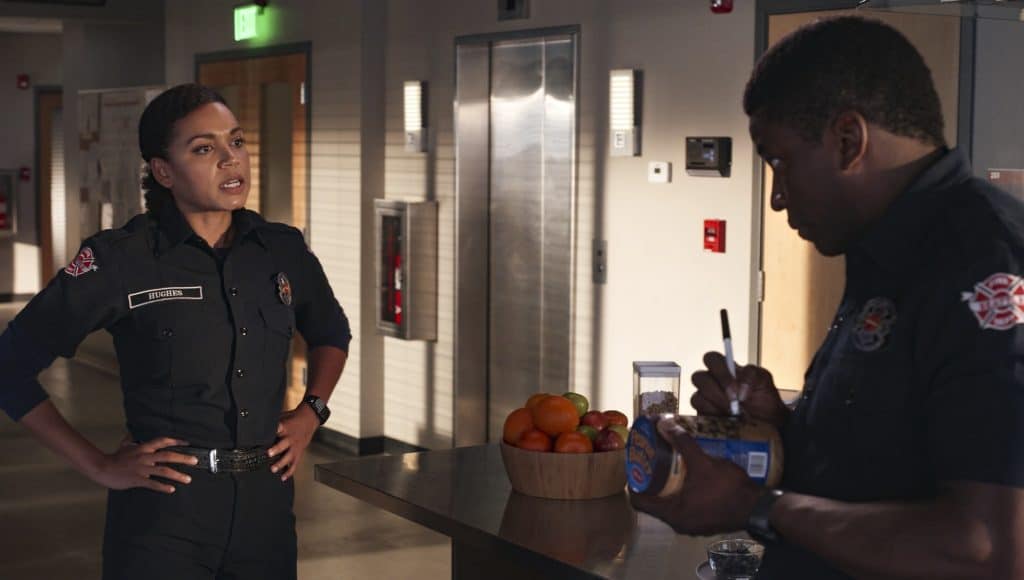 As Vic and Theo reach a crucial turning point in their relationship, she is pressured to confront her views about commitment. Andy seeks sanctuary at Dean's home and helps with the care of Pruitt (Miguel Sandoval). At the same time, Dean considers a new potential career opportunity.
Episode 6 - Little Girl Blue
In the wake of the neighborhood explosion, Station 19 and Station 23 attempt to celebrate Thanksgiving. The firefighters get together to cook, toast their deceased loved ones, and celebrate their growing familial bond.
Episode 7 - A House Is Not a Home
Vic and Jack provide one another with support as they lament Dean's passing. Bailey ( Chandra Wilson) and Ben (Jason Winston George) try to convince Dean's parents to allow them to raise Pru. Andy's role briefly shifts. Maya and Carina are thinking about growing their family.
Episode 8 - All I Want for Christmas Is You
With the upcoming holiday season, Seattle's firefighters are busier than ever, responding to numerous incidents. They come together to pull off a Christmas miracle, putting aside their differences and personal problems.
Episode 9 - Started from the Bottom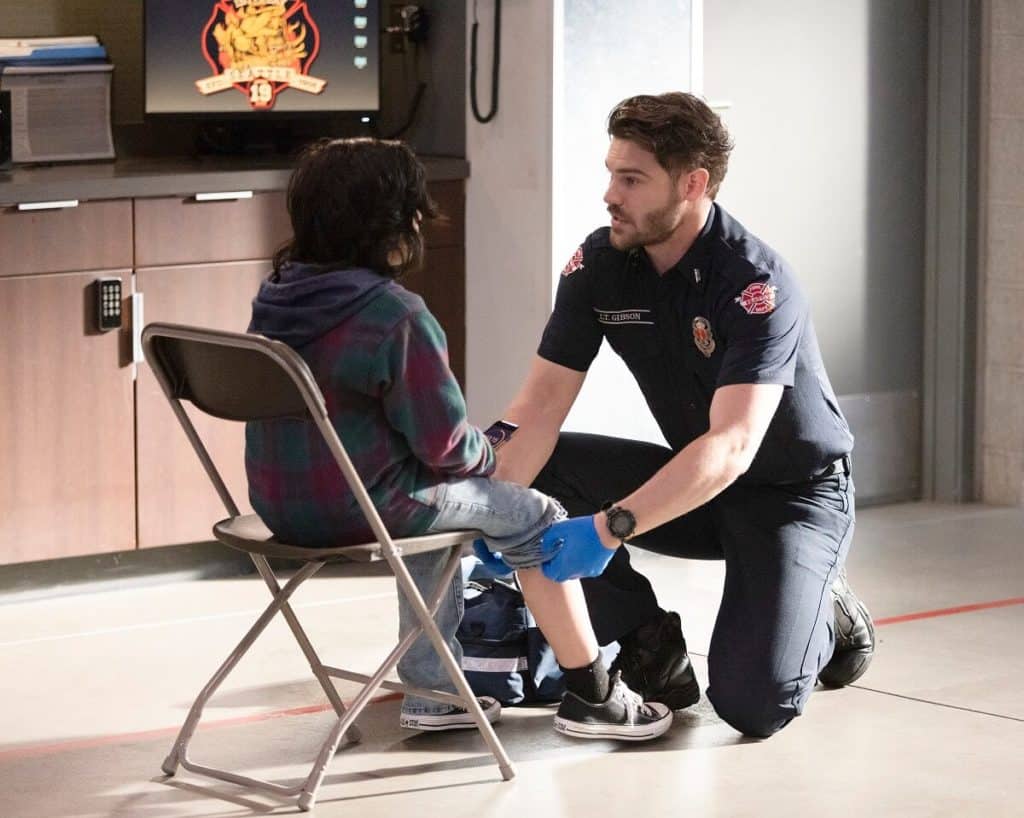 A new leader is installed at Station 19. The crew also responds to reports about a little child who needs help and an SUV that has fallen off a cliff.
Episode 10 - Searching for the Ghost
Travis and Theo are in peril as they respond to an emergency at a creepy mansion. Ben continues to struggle for Baby Pru. As Station 19 prepares to welcome guests to the Dean Miller Memorial Clinic. Andy listens to Vic's confessions.
Episode 11 - The Little Things You Do Together
While the Station 19 team helps a man who sets himself on fire, Theo declares his love for Vic. Sullivan seeks Dr. Webber's (James Pickens Jr.) advice. Travis has a discovery regarding his love life.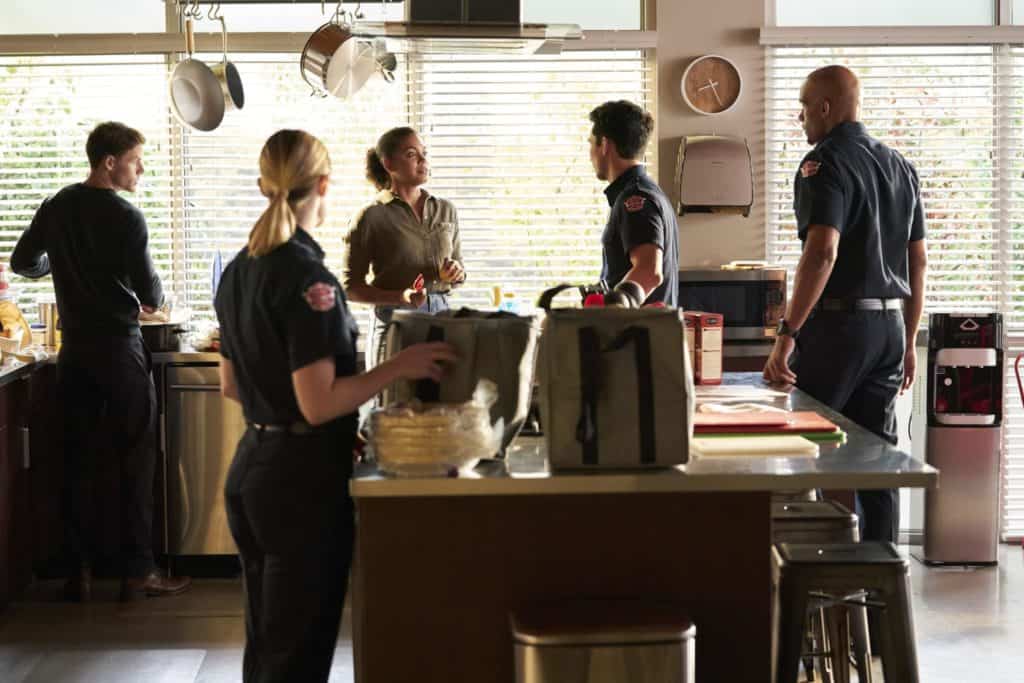 The Dean Miller Memorial Clinic has just opened. As Sullivan gives Beckett (Josh Randall) a request. The crew responds to a skydiving mishap.
Episode 13 - Cold Blue Steel and Sweet Fire
Past is revealed through series of flashbacks, Sullivan and Natasha's (Merle Dandridge). Ben and Bailey talk to Pru's grandparents as the crew attends to a fire at a candy factory.
Episode 14: Alone in the Dark
The Station 23 crew is in for a difficult goodbye. While Andy meets a charming firefighter, Emmett invites Travis to eat dinner with his folks.
Episode 15: When The Party's Over
Andy deals with the effects of a traumatic event.
Episode 16: Death and the Maiden
Andy's future is still up in the air as a trial date is set. While Vic and Sullivan are being approached by an unexpected visitor, the crew responds to a row of burning townhouses.
Episode 17: The Road You Didn't Take
After discovering that he has a long-lost sibling, Jack and Andy travel by car to meet him, where Jack receives some unexpected news. Vic and Theo respond to a domestic dispute involving the parents of a trans teenager. Tense situations and unusual patients are hallmarks of the clinic day.
Episode 18: Crawl Out Through the Fallout
The crew responds to a car accident, Carina and Maya tackle a difficult situation, and Andy finds a witness to testify at her trial.
an American action-drama television series that premieres

on American television 

in the middle of the season premiers on Broadcasting Company (ABC) on March 22, 2018

focuses on the four seasons of the fictional Station 19 firefighters' lives.

a sequel to the well-liked medical program Grey's Anatomy
Pruitt Herrera, the commanding chief of Seattle's Station 19, raised his daughter Andy Herrera there. Andy is a confident firefighter. Capt. Pruitt, who also serves as a mentor to Andy and Jack Gibson, the station's lieutenant, was Andy's primary source of inspiration for becoming a firefighter. Even though Jack is just as bold as Andy on paper, when
they're together, sparks fly, and opposites attract.
Ben Warren, the station's newest employee, is present, along with Victoria Hughes, Travis Montgomery, Dean Miller, and Maya Bishop. Because of how closely they collaborate with Seattle PD, the group frequently runs into Andy's ex-girlfriend Ryan Tanner (Alberto Frezza).
Jaina Lee Ortiz as Andrea "Andy" Herrera: Daughter of Captain Pruitt Herrera and a Lieutenant at Station 19. She serves as the station's co-acting Captain.
Jason George as Dr. Benjamin "Ben" Warren, MD: A former anesthesiologist who is now a surgical resident at Grey Sloan Memorial Hospital and a firefighter and PRT physician at Station 19. Miranda Bailey is his wife.
Grey Damon as Jack Gibson: Lieutenant at Station 19. He exudes passion, energy, and courage. Along with Herrera, he served as one of Station 19's co-acting captains.
Barrett Doss as Victoria "Vic" Hughes: an enthusiastic young firefighter at Station 19. Her fellow firefighters and Hughes are great friends.
Alberto Frezza as Ryan Tanner: He and Andy were longstanding friends and had a romantic relationship in high school. He works for the Seattle Police Department. He was shot in the third season's second episode and passed away in the third.
Jay Hayden as Travis Montgomery: a firefighter openly gay and the center of Station 19. Montgomery lost his husband, Michael, a fellow firefighter, and is now a widower.
Okieriete Onaodowan as Dean Miller: At Station 19, a charming firefighter.
Danielle Savre as Maya DeLuca-Bishop: a bisexual, Type-A Lieutenant at Station 19, who subsequently rose to the rank of Captain. She is Andy's closest friend and the wife of Carina.
Miguel Sandoval as Pruitt Herrera: Father of Andy, a captain at Station 19, and a mentor to her and her employees. He quits in the first episode of the show, he leaves, and in season three, he passes away while responding to a fire call.
Boris Kodjoe as Robert Sullivan: the newly returned to Seattle Captain at Station 19. He receives a Battalion Chief promotion in "Eulogy."
Stefania Spampinato as Dr. Carina DeLuca-Bishop: Maya's wife and an openly bisexual OB/GYN physician is working at Grey Sloan Memorial Hospital.
Carlos Miranda as Theodore "Theo" Ruiz: Michael Williams' former Captain and a lieutenant at Station 23.
Will there be Station 19 Season 6?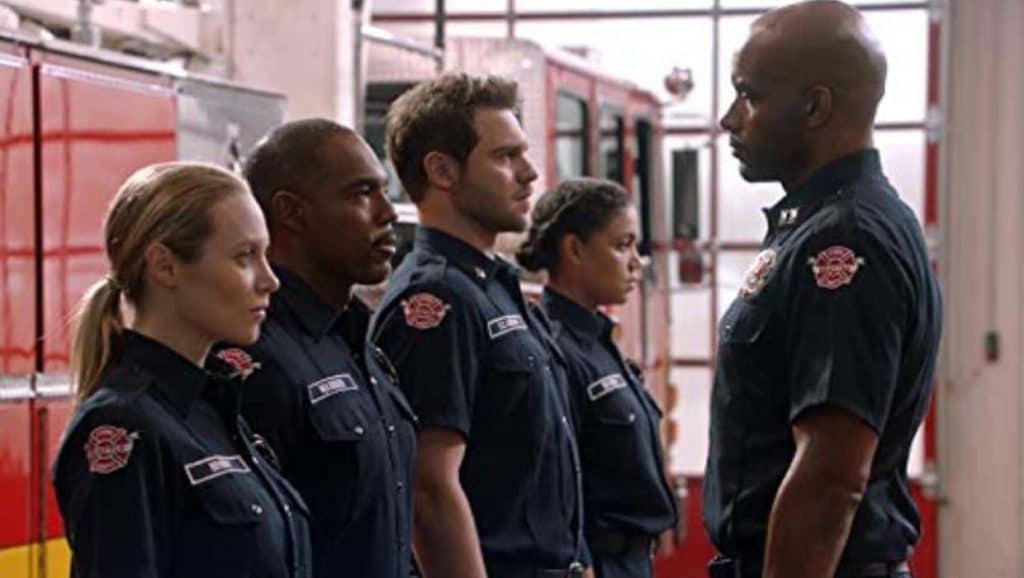 The sixth season of Station 19 will premiere in October 6, 2022, according to the official release date that has been made public. The dates were verified via a recently published article on Season 19's official Twitter account that was circulated among followers and included the following quote: "Looking for a reason to celebrate? We've got you covered! #Station19 is back on the scene on October 6 on ABC."
It's possible that the debut episode of a subsequent season will end on cliffhangers or have unresolved plot holes. The storyline and character arcs for the current season should be expanded as a major priority. All prior episodes have set the basic concept and tone of the upcoming chapter, and they will be developed and explored in ways that will keep viewers interested.
To continue the story regarding characters and plotlines, Station 19, Season 6, is anticipated to start where Season 5 ended.