Is it healthy to lose weight one week before the wedding day?
A wedding is one of the most anticipated events for couples. Grooms- and brides-to-be also make sure they are well-prepared for the occasion. Some even go on a weight loss journey to ensure that their suits and gowns fit them when the big day comes.
Getting in shape before tying the knot is an integral part of wedding planning for most couples. But since preparations for the event take too much time, they don't have enough time to diet or workout. Because of this, others tend to lose weight a week or few before the big day – hoping for a better result.
The rush and conflicting schedules lead some couples to resort to a quick weight loss before the big day. However, methods such as fad diets are not recommended and can be dangerous to the body. It's advisable to choose the proper and healthiest way to lose weight.
"It's not a good thing to stress the body at an already stressful time," says Nelda Mercer, RD, via WebMD. "It's best to plan ahead, join a health club, exercise, get a personal trainer if needed, and see a nutritionist or registered dietitian to set up not only a well-balanced diet but a lifestyle change."
How should brides-to-be prepare for their big day?
According to personal trainer Sue Fleming, women see their wedding as "one of the most important days" of their lives. Unlike the grooms, brides-to-be are more meticulous with their wedding diet plan. They always want to ensure that their gowns and dresses perfectly fit them when the big day arrives.
Sue suggests brides start a "boot camp" six months before the wedding. The exercises include a balance of cardiovascular and strength training for about an hour a day. These workouts should be done about three to four days a week.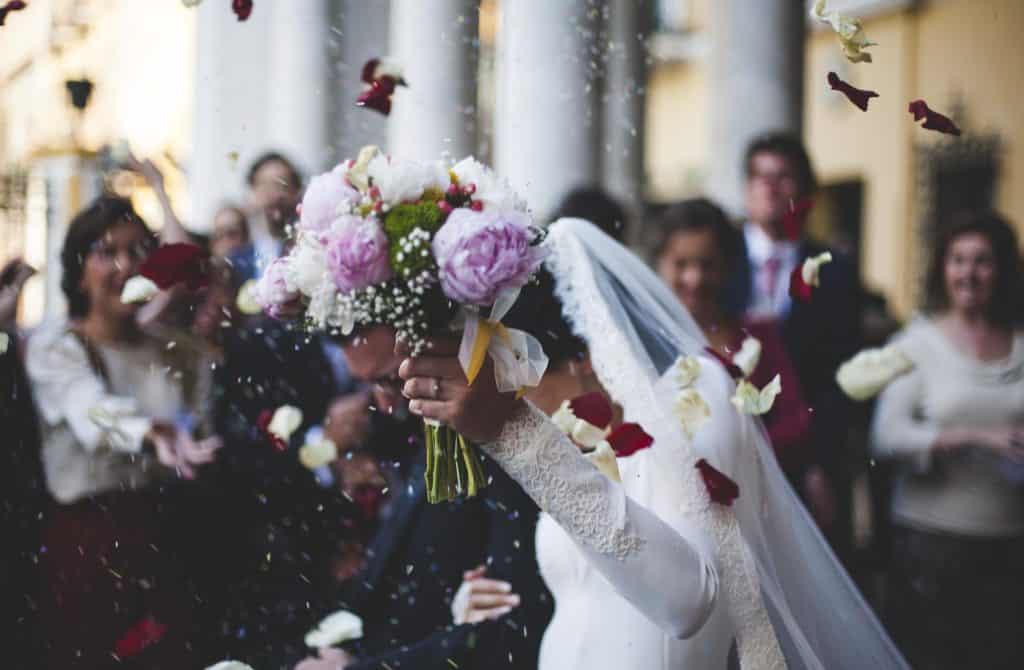 "The less time you have, the more time you have to dedicate to working out," the personal trainer noted.
Sue added that brides-to-be might experience a slight weight gain after starting the exercise program. She said that's normal because the body builds a lean muscle mass. It is the kind of muscle tone they want to show off on the wedding day.
Meanwhile, experts said that one pound weight loss every week is reasonable. If the wedding is still months away, Nelda advised brides – and grooms – to set a short-term goal. For instance, they should cut a few pounds per month rather than shed 20 pounds a week before the big event.
There are many healthy methods for losing weight for soon-to-be married couples
Cut down carbs
Reducing carbohydrates in your diet could help you effectively lose weight faster. People with a 2,000-calorie diet often consume 225 and 325 grams of carbohydrates daily. Try to reduce around 50 to 150 grams of carbs daily to help you achieve your goal. 
Up your protein consumption
Protein should generally account for 10 to 35 percent of your daily calorie intake. If it is below the dietary recommendations, increase it by incorporating high-protein foods into your diet. Consuming 25 to 30 percent of calories from lean protein could help you lose more body fat.
Getting enough fiber is important
Aside from preventing constipation, fiber is vital for absorbing vitamins, minerals, and other nutrients. It is effective for weight loss because it makes you less hungry and satisfied. Also, you should get fiber from food resources – not from supplements.
Avoid caffeine and alcohol 
It is said that a single alcoholic drink can add 100 calories to your daily intake. Always opt for healthier drinks over sugary or carb-rich beverages. Caffeinated drinks, such as coffee, should also be avoided before the big day as they increase anxiety and jitters.
Keep your body hydrated
While drinking at least eight 8-ounce glasses of water each day is recommended, the amount varies depending on the body's activity level and health conditions. Proper hydration does not only promote good digestion, it also promotes glowing skin.
Try eating smaller portions
Instead of eating three main meals each day, try to eat five or six smaller meals. This will stabilize your metabolism and makes you feel full. If you get hungry after every meal, consume healthy snacks like fruits. Also, remember to measure out the portions you eat.
Celebrities who lose weight before their wedding
Most celebrities often take extra measures when it comes to losing weight. This can also be said when it comes to their big day. Some TV stars and personalities underwent a series of preparations by dieting, working out, and hiring personal trainers to lose weight. Here are some of them.
Hilary Duff
Before her wedding to her now-ex-husband Mike Comrie in 2010, Hilary Duff enlisted the help of celebrity trainer Harley Pasternak. She worked out five times a week and followed an intense exercise plan, which included repeated targeting exercises and cardio at the beginning and end of each workout.
Nicole Richie
Nicole Richie went to celebrity trainer Tracy Anderson's gym to add more cardio dance exercises before her wedding to Joel Madden in 2010. When it comes to her diet plan, she went for a Pressed Juicery cleanse to prepare for her big day.
Jessica Simpson also enlisted Tracy Anderson to help her prepare for her wedding. She turned to the celebrity trainer to devise a sustainable fitness plan to follow well beyond her big day. The actress did aerobic dance moves, ab exercises, and strength training.
Reese Witherspoon
Reese Witherspoon was said to be a fan of running, but she added other exercise routines – including yoga – to look fit for her wedding day. Having different patterns is a great way to motivate yourself to live healthy, whether you're preparing for a wedding or not.
Kate Middleton
Kate Middleton tied the knot with Prince William in 2011, and she did a lot of preparation for the royal wedding. Per rumors, the Duchess of Cambridge went on the Dukan diet and enhanced her rowing practice to tone up her upper body muscles.
Jennifer Lopez
Jennifer Lopez started working out with her trainer, Dodd Romero, in 2018 to get fit for her supposed wedding with ex-fiancé Alex Rodriguez. In terms of her diet, the singer is very specific about what she consumes, and she "strictly sticks to whole food."
Katy Perry
Katy Perry worked with trainer Harley Pasternak, who has worked with her for years. The singer's bridal workout routine is usually focused on individual body parts. She also does indoor classes, such as yoga, and enjoys doing it with her friends like Nicole Richie.