The journey of the real housewives begins with more ups and downs in Season 4 of The Real Housewives of Beverly Hills. The women welcome the 100th anniversary of the city of Beverly Hills with total energy. The women struggle with rumors, procedures, witchcraft, and small-scale rivalries throughout the season.
Cast of The Real Housewives of Beverly Hills Season 4
Kyle Richards – is an American actress, socialite, and television personality who started her career as a child actress
Kim Richards – is a famous American actress, socialite, and television host who started out as a child actress 
Lisa Vanderpump – a philanthropist, author, television host, restaurant, and actress from England
Yolanda Foster, now Yolanda Hadid – is an American television personality and former model of Dutch descent
Brandi Glanville – an American television personality, author, fashion designer, and former model.
Carlton Gebbia – self-proclaimed "witch" from the United Kingdom and an actress
Joyce Giraud de Ohoven – a Puerto Rican actress and model
Episode 1. A Catered Affair To Remember
Kyle Richards hosts a cocktail party at her house for the Beverly Hills Chamber of Commerce to commemorate the city's 100th anniversary and meet other neighborhood business owners. She asks Lisa Vanderpump's upscale eatery SUR to cater the celebration.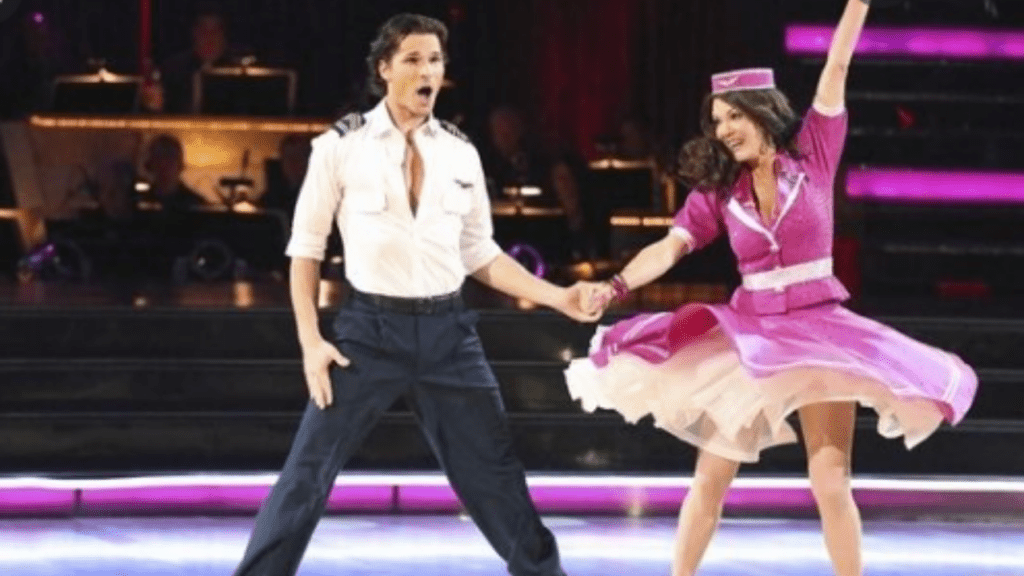 Brandi Glanville, Kim Richards, Kyle Richards, and Mauricio Umansky go to the Dance with the Stars competition to support Lisa and her gorgeous dancing partner Carlton Gleb. At the same time, Yolanda Foster has surgery to treat her Lyme disease. Kim and Kyle watch Lisa's next dancing performance. Kyle welcomes Joyce Giraud and Carlton for lunch.
Episode 3. Life's A Witch
In her lovely Gothic mansion, Carlton hosts the women for a luncheon. When Brandi urges the ladies to discuss the tabloid allegations about Mauricio's infidelity, Kyle finds herself on the defense after upsetting Carlton.
Episode 4. Irked At Cirque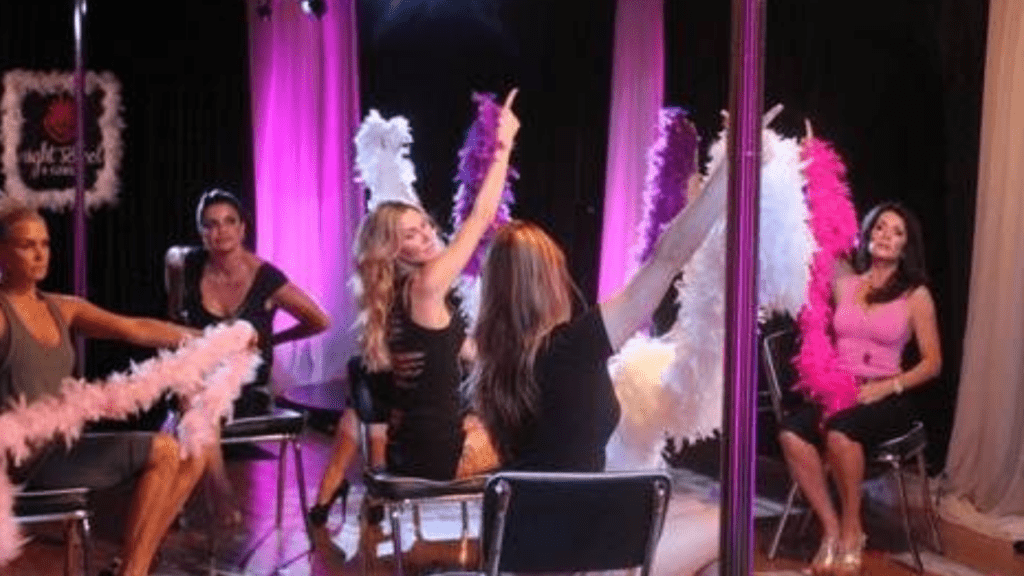 In the hopes that they will have fun, Kim takes the women to a quirky, vibrant circus school, but things get heated when Brandi believes Kyle labeled her a bully in front of the media. Joyce makes an accusation that entirely baffles both her and the other ladies.
Episode 5. Star Of The Family
Yolanda's husband, David Foster, receives his star on the Hollywood Walk of Fame. Yolanda's mother and brother arrive from Holland to witness. Kimberly, Kim's daughter, graduates from high school in front of Kim, Kyle, and Kathy Hilton. Lisa is speechless after Brandi shares a Carlton-related revelation with her.
Episode 6. Palm Springs Breakers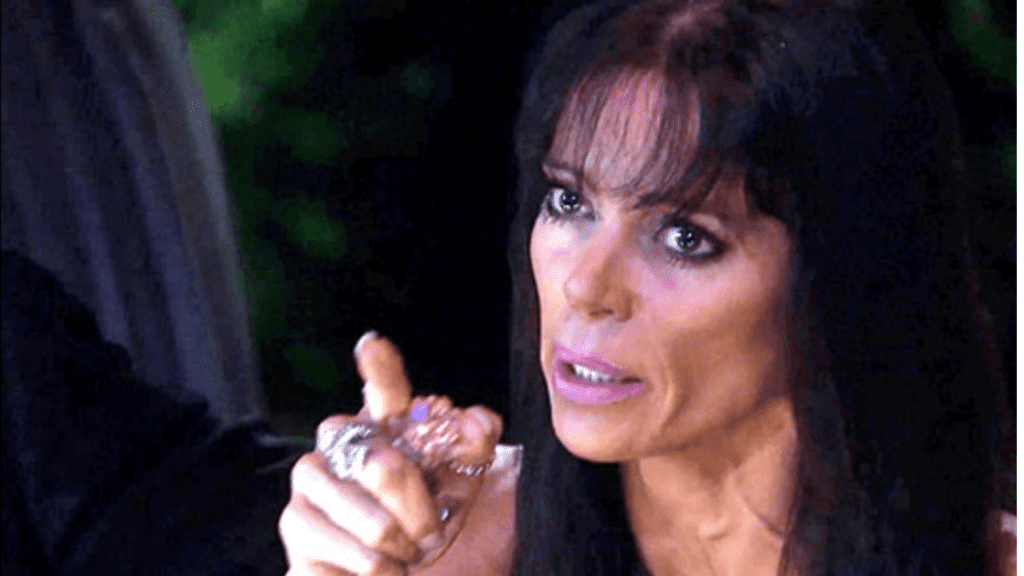 Cast member Kyle is shocked when Carlton confronts her about a long list of difficulties when the ladies are on a girls' getaway to Palm Springs. A drunk Brandi initiates a fight with Kyle during the group dinner.
Episode 7. Escape To Bitch Mountain
Brandi wants Kyle and Yolanda to settle their Paris issues as the Palm Springs trip progresses. Still, when Kyle leaves the table in tears, Yolanda unexpectedly consoles her. After a fun-filled day and drama, Brandi finds her cherished dog.
Episode 8. She Hearts You, She Hearts You Not
Yolanda organizes a night of excellent dining and entertainment at her stunning Malibu house. In the privacy of their limo journey home, Joyce and her husband Michael express their rage and disdain for tipsy Brandi.
Episode 9. Guess Who's Coming to Dinner?
Some of the women are having a good time. As Yolanda and David celebrate their anniversary, Kim enjoys an exhilarating racecar ride, and Carlton buys racy underwear with her mother-in-law.
Episode 10. Catfight On The Catwalk
After the contentious and nasty meal at Sur, Brandi receives a reprimand from Yolanda for her treatment of Joyce. While raising money for charity and encountering Jamie Lee Curtis, Kyle has shared the runway with Joyce and Brandi for her fashion show. 
Episode 11. Luaus And Lies
Kim hosts a luau for her daughter Kimberly, who will be departing for college at the end of the summer. Before taking a pole dancing class with Brandi, Carlton was "over-served," so he turned up drunk while Brandi arrived queasily. Later, Joyce and Brandi try to converse politely about their issues.
Yolanda travels with Brandi to Sacramento, where Brandi will read aloud from her book. Though she has been alienated from her father for months, Brandi is more anxious to meet him.
Episode 13. The Curse Of Carlton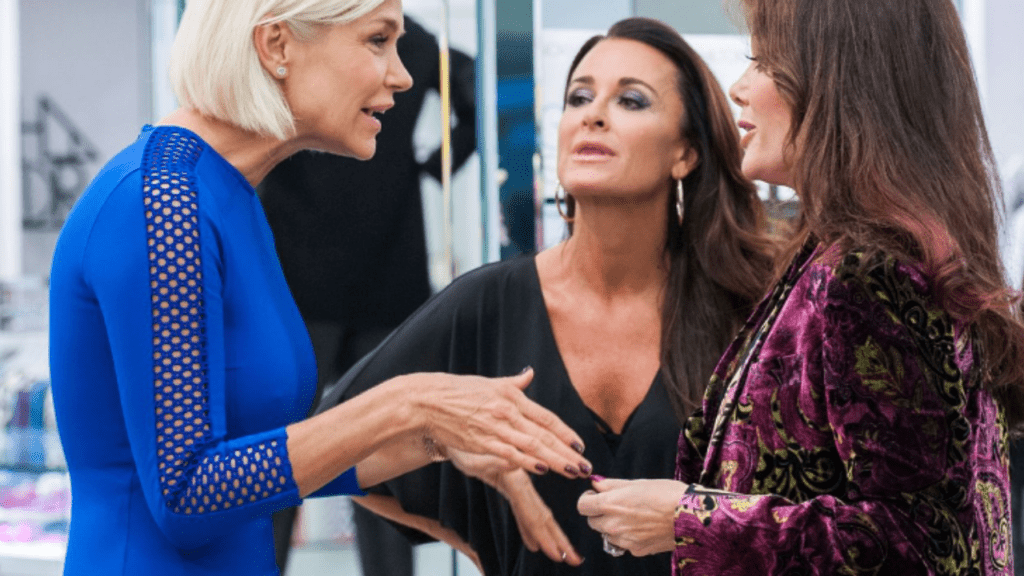 The women are welcomed by Carlton to her yearly pool party, a massive blowout with nude women and sleazy goody bags. Later, Yolanda extends an invitation to the woman to her house. When Lisa abruptly cancels, Yolanda begins to doubt their friendship. 
Episode 14. The Birthday Witch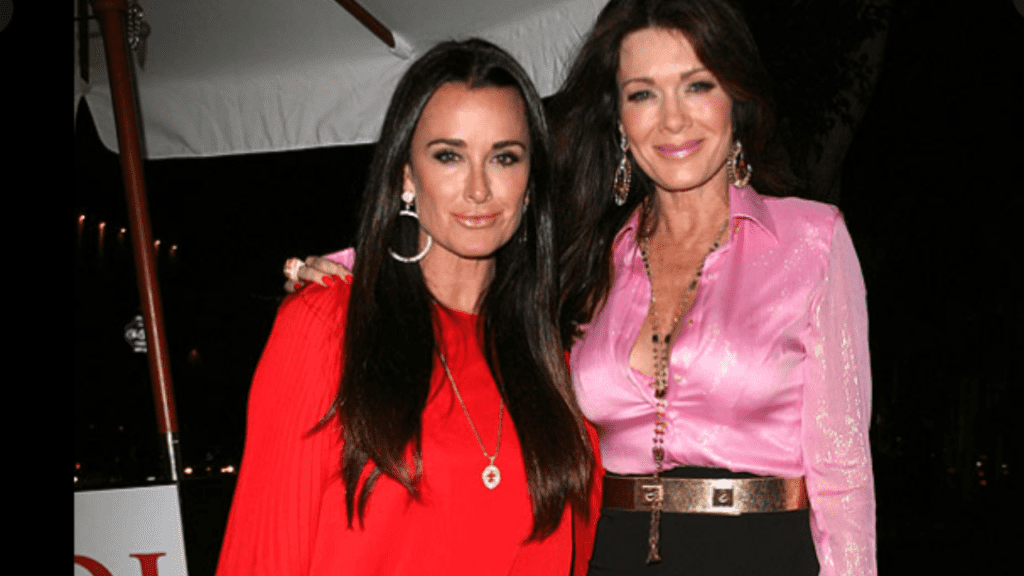 Carlton is vehemently denied when Joyce questions him about maybe casting a spell on Joyce's husband. During the combined birthday celebration that Lisa and Kyle turn sour when Carlton brings up how Kyle has upset her.
Episode 15. Trail Of Doubts
Carlton manages a celebration for her husband's company. Kyle is no longer permitted to attend. Kim confronts Lisa and Ken once more for skipping her daughter's luau. Carlton tells Lisa how upset and offended she was by Kyle's actions.
Episode 16. Turning Down The Crown
Real housewife Kyle discusses how she received unusual, ominous words on her computer screen saver. Joyce and Kyle decide not to invite Carlton along on their trip to Puerto Rico. At Gigi's opulent farewell party, Brandi tries to avoid Lisa. 
Episode 17. Lines In The Sand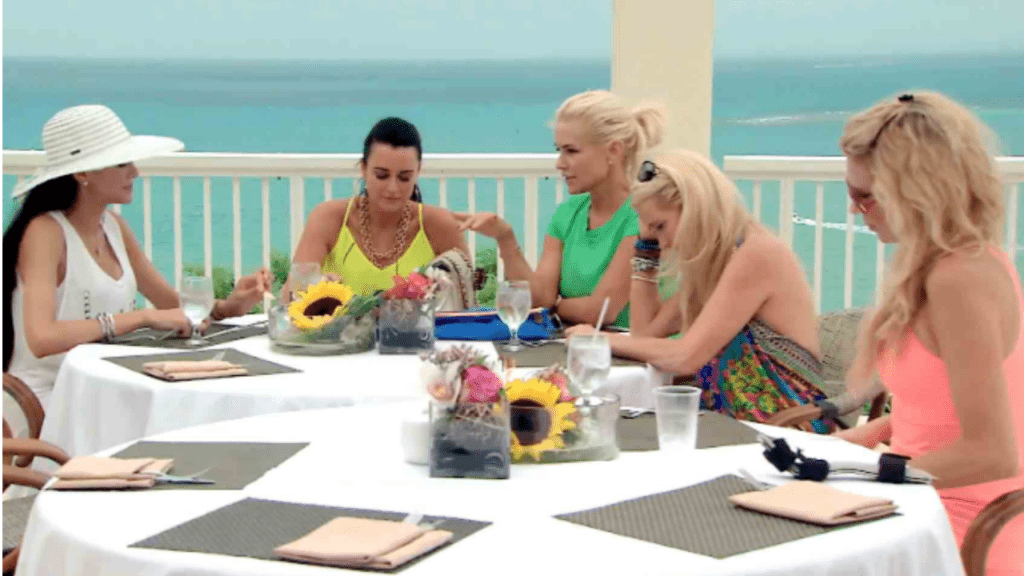 Except for Carlton, all the ladies leave for a vacation in Puerto Rico. Yolanda and Brandi approach Lisa about their concerns about Lisa's friendship. Over dinner, a brawl breaks out, and Lisa and Ken get up and accuse the other guests of sabotage.
Episode 18. The Kids Are All Right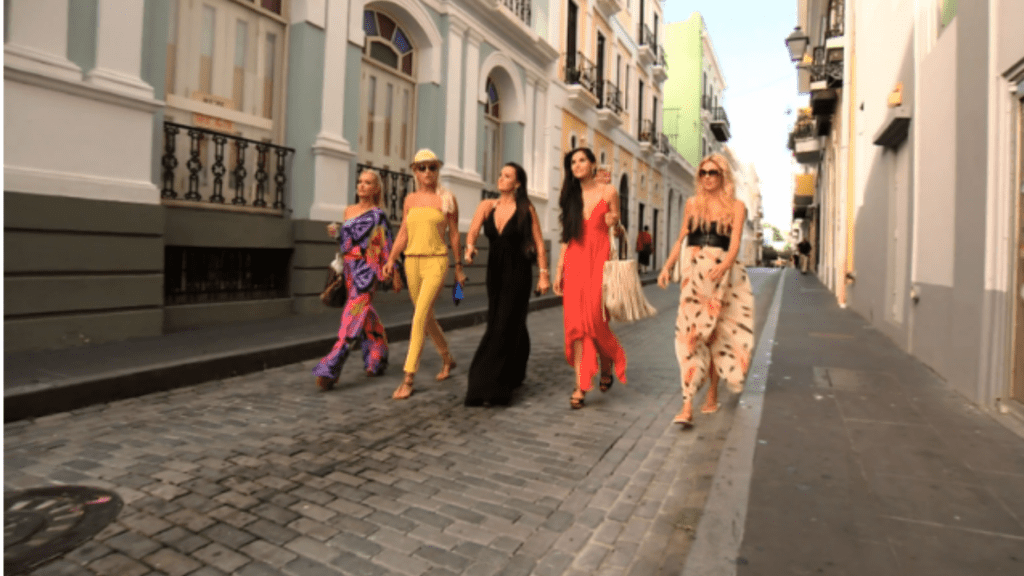 After the ladies discover Lisa and Ken's startling and enigmatic departure in the middle of the night, the trip to Puerto Rico ends with a day of golf, shopping, and the danger of jail. Lisa explains to Carlton why she fled Puerto Rico in the middle of the night when they are back in Beverly Hills.
Episode 19. Are You My Friend?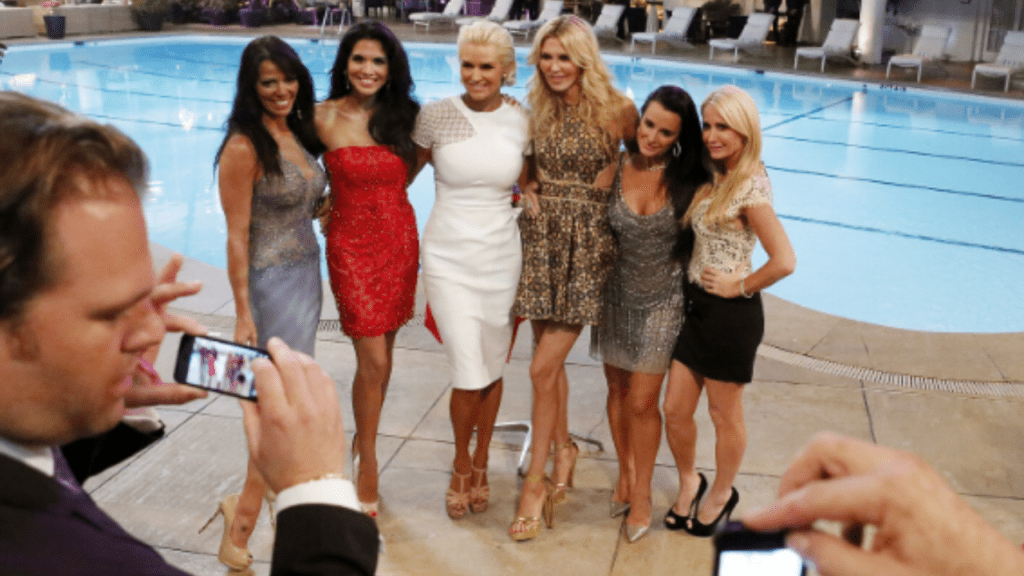 The women haven't seen one another since the spectacular fireworks in Puerto Rico. Still, a glitzy celebration for Beverly Hills' 100th anniversary at the illustrious Beverly Hilton hotel brings them together. While Kyle, Brandi, and Yolanda attempt to have a heart-to-heart with Lisa, Kim tries to apologize to Ken.
Episode 20. Reunion Part One
In RHOBH Season 3 Reunion, the suspenseful three-part Beverly Hills reunion begins as Andy Cohen grills the women about season four's shocking turns. The women analyze what transpired when the "dream team" of Yolanda, Lisa, and Brandi started to show its flaws and demonstrate that Joyce and Brandi still have a strong romantic bond. 
Episode 21. Reunion Part Two
The Beverly Hills housewives joke about their fitness and beauty routines and cry when they chat about their aging and departing children. Brandi discusses her challenging year, while Kim is open about her conflicting emotions about Lisa. Kyle and Carlton decide they will probably never be buddies after exchanging some harsh remarks.
Episode 22. Reunion Part Three
In the final episode of the Beverly Hills reunion, Lisa finds herself in the hot seat as Kyle, Yolanda, and Brandi. They all express their issues with her hoping to find a solution. Ken warns a crying Brandi that he might never be able to let her back into his life as the spouses enter the conflict.
Episode 23. Secrets Revealed
Unseen scenes from season four are released. Brandi learns from Kim how to perform in a TV show. Over a genuine supper with their husbands, Lisa and Joyce grew closer, Kim received lip-plumping advice from an old friend, and Kyle learned how to speak on television. Oh, and Lisa nearly weds Ken off to an imposing construction worker.
The Real Housewives of Beverly Hills Quick Facts
an American reality TV show
developed as the sixth series in The Real Housewives franchise
aired on Bravo from November 4, 2013, to April 7, 2014
primarily filmed in Beverly Hills, California
season 3 consisted of 23 episodes
executive producers are Barrie Bernstein, Lisa Shannon, Andrew Hoegl, Pam Healy, and Andy Cohen
Taylor Armstrong left the show after Season 3, while Adrienne Maloof was let go from the series during Season 3 Reunion.