In 2011, Lucifer Morningstar decided to relocate to Los Angeles, California, in search of a better life after being compelled to rule Hell for millennia and then held responsible for generations for humanity's misdeeds. He discovered justice for the innocent and fell in love with Chloe Decker, and his life turned for the better. 
Tom Ellis as Lucifer Morningstar / Michael
Lauren German as Chloe Decker
Kevin Alejandro as Dan Espinoza
D.B. Woodside as Amenadiel
Lesley-Ann Brandt as Mazikeen "Maze"
Aimee Garcia as Ella Lopez

Brianna Hildebrand as Rory
Episode 1 - Nothing Ever Changes Around Here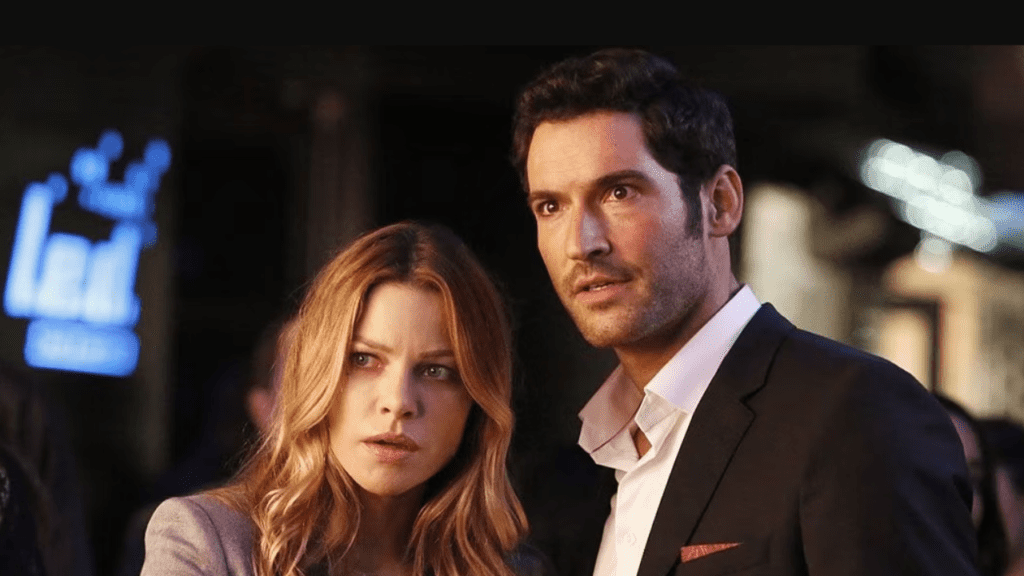 When Magnar the Magician (Bjorn Johnson), Jared's mentor, inexplicably commits suicide during his final performance, Lucifer and Chloe are called upon to witness the murder of Jared Holbrook. To examine the incident, the LAPD, Ella Lopez (Aimee Garcia), and Dan Espinoza's (Kevin Alejandro) successor Carol (Scott Porter), who has feelings for Ella arrive. Magnar's son Alan (Michael Welch) is the murderer, just as Lucifer and Chloe's inquiry ended. He sought his father's heritage, but Magnar gave it to Jared.
He leads Chloe to a hidden corridor while holding her at knifepoint. With the super-strength she gained from Amenadiel's (D.B. Woodside) necklace component, Chloe knocks him out. Eve (Inbar Lavi) and Maze (Lesley-Ann Brandt) are getting ready to go to Hell in the meantime, but after a fight, Maze says she doesn't want to go back, and Eve agrees. As a result, the two become engaged.
Episode 2 - Buckets of Baggage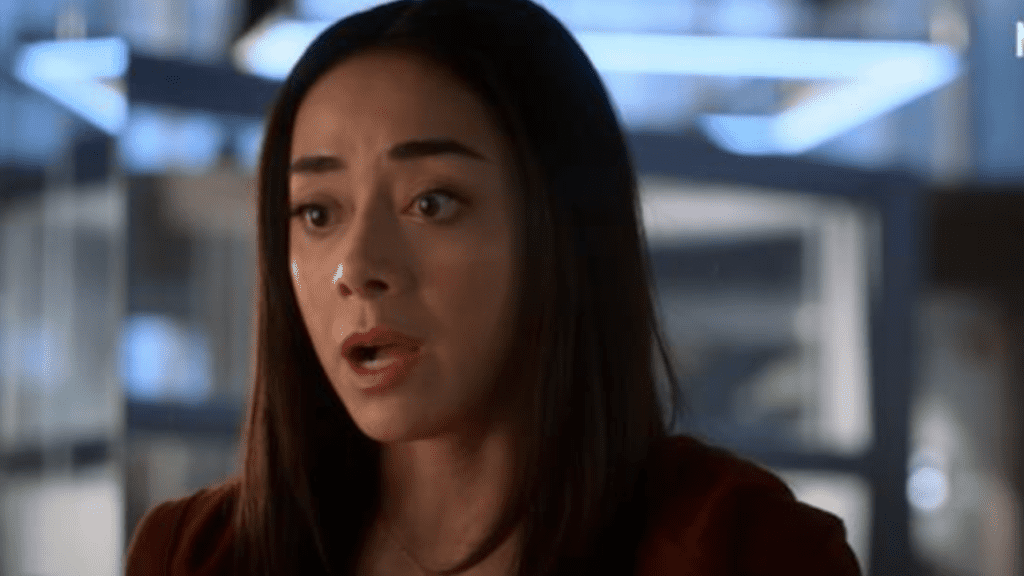 Ella and Carol fall in love while they work on the murder case of Bob (Busty Bazoongas), the drag queen, but Ella lacks trust in people due to her relationship with Pete. She obtains Carol's personnel file with Chloe and finds out about Carol's one-year hiatus from the police. She and Lucifer, who is still delaying his emergence as God, break into Carol's house to learn more and discover that he is a sober alcoholic.
Ella discovers Niles (John Griffin), the murderer, chained to a table alongside Carol. Niles claims that he killed Bob because he was having an affair with his partner, who was also Bob's partner. After escaping her handcuffs, Carol arrests Niles.
Ella then tells Carol about her research, and they go on a date. The unidentified female angel approaches Dan and offers to fly him back to Earth if he tells her how he came close to killing Lucifer. After her date with Carol, Ella watches a frog drop from the sky and settle on her car.
Episode 3 - Yabba Dabba Do Me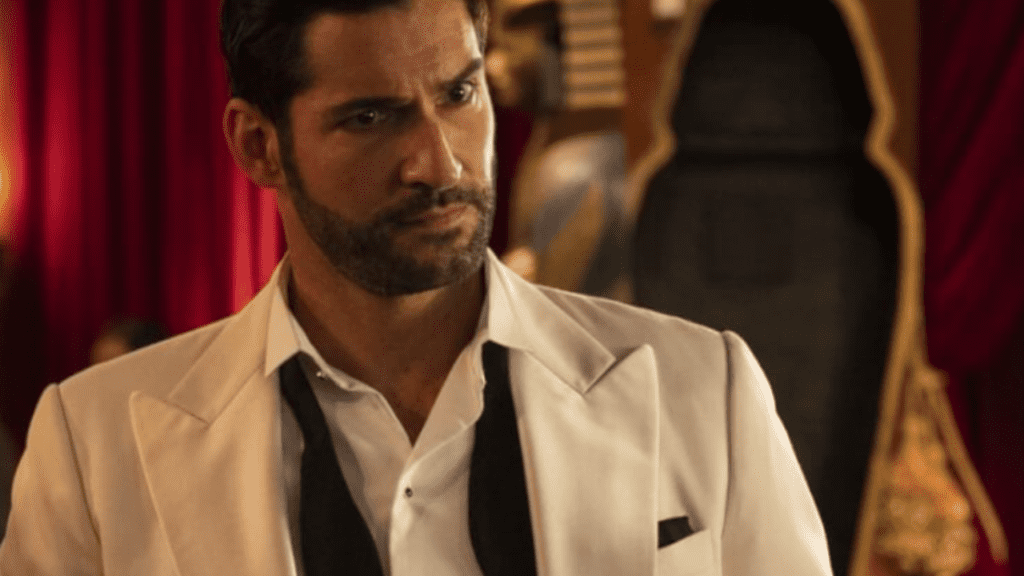 To become God, Lucifer decides to aid those he despises. He then decides to start by offering Jimmy Barnes (John Pankow), the murderer from the pilot, assistance. When Lucifer sees Lucifer's devil visage, he learns that Jimmy passed away at a mental hospital a year prior. Chloe travels to Hell with Lucifer.
When Dan and the angel arrive, the angel informs Dan that he is a ghost and that no one can see or touch him. Jimmy's hell loop, an animated account of the time Lucifer ruined Jimmy's wedding, is located by Lucifer and Chloe. Jimmy's mother left him when he was a child so that she could pursue a singing career, and her lover told her that Jimmy would only hold her back. Lucifer and Chloe learn as they delve further into the cause of Jimmy's remorse.
Lucifer understands the suffering behind Jimmy's errors because Jimmy thought he was to fault for her leaving him. For Amenadiel to succeed in his police officer training with his FTO Sonya Harris (Merrin Dungey), Maze poses as a criminal. Dan warns Lucifer to leave when he returns to Earth, but the angel holds him to the wall and reveals to him that she is his daughter.
Episode 4 - Pin the Tail on the Daddy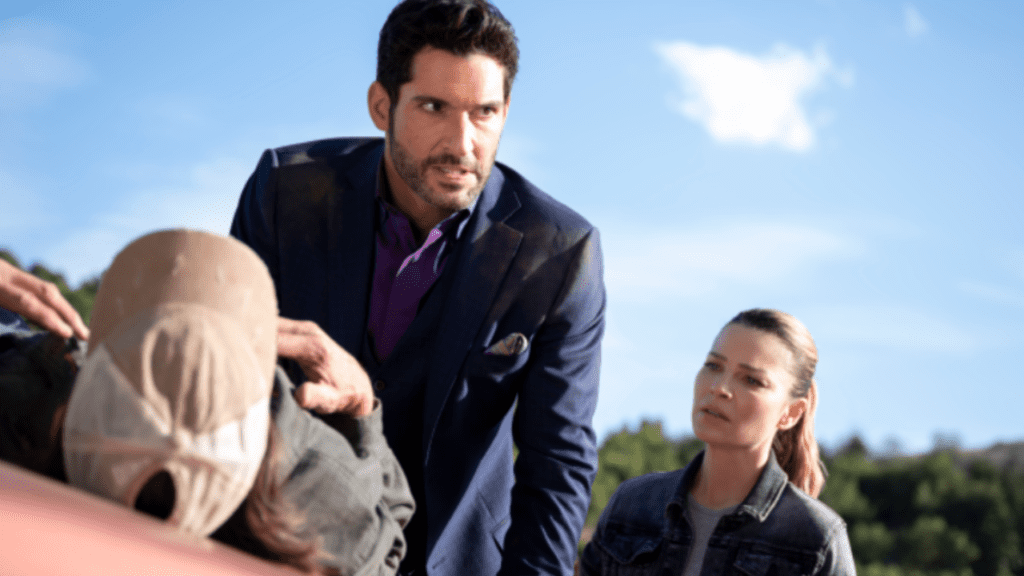 The angel flees in rage because Lucifer dismisses her and refuses to acknowledge that she is his daughter. He then sets out to track out every woman he had sex with in the past, but none of them claim parental rights to the child. Dan tries unsuccessfully to convince Ella to visit him but is successful in persuading Amenadiel and Maze to do so.
After Lucifer tells Chloe about the angel, Chloe comes across him and decides to go along with him on his quest. Then, Lucifer and Chloe come across Rabbi Esther (Alina Phelan), whose daughter Mira (Mikaela Hoover) vanished five years prior. Lucifer believes Mira to be the angel. Mira is revealed not to be the angel when Lucifer and Chloe learn that she was held captive at a camp but managed to flee and find her biological father.
After this, Lucifer is relieved but then concerned since he believes the angel to be his real daughter. The angel then comes across Chloe, gives her a joyful hug, and addresses Chloe as her mother.
Episode 5 - The Murder of Lucifer Morningstar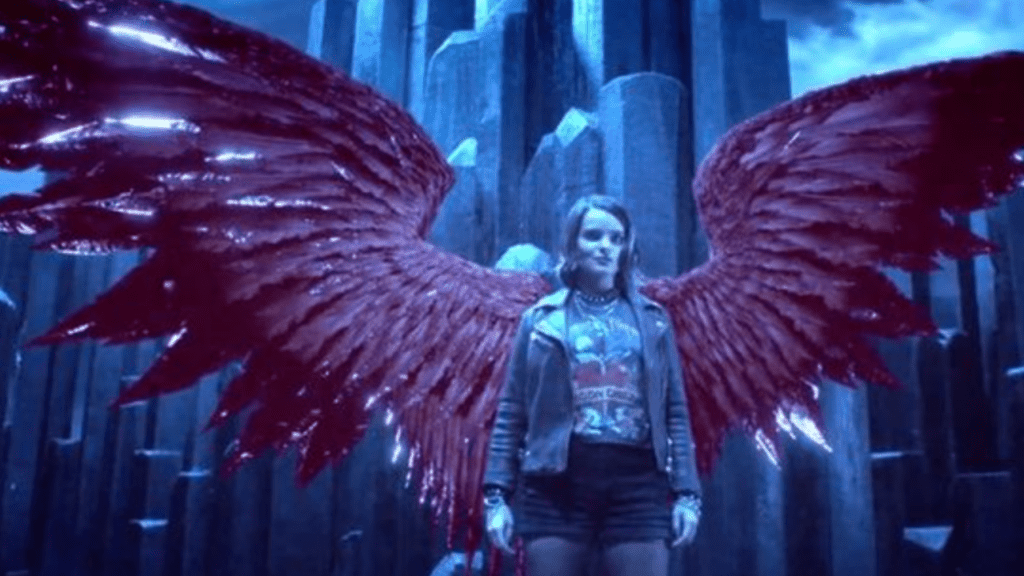 Rory (Brianna Hildebrand), an abbreviation for Aurora, is her name, the angel says. Rory confesses that she is the future-born child of Lucifer and Chloe. Rory informs Lucifer that he will vanish on August 4 at Swanson and 10th in the future.
Since Lucifer won't accept that he abandoned his daughter, he assumes he must have been killed. Lucifer makes the decision to look for hints to solve this puzzle. After Rory refers to Eve as her aunt rather than Maze, which turns out to be a joke, Maze begins to get frightened of Rory.
Amenadiel also escapes Rory's recognition. Ella then posts her concerns about Lucifer, Amenadiel, and Maze on a board. Lucifer assumes that Azrael's (Charlyne Yi as Ray-Ray) blade must have killed him.
He keeps it secure, but later it gets taken. This infuriates Rory, who feels blamed by Lucifer. Chloe admits that she did indeed steal the blade to protect Lucifer.
Chloe challenges Lucifer for the edge and the two clash. Chloe regains her composure and offers Lucifer the blade. After a while of exhibiting angelic traits, Chloe talks to Dan and informs him that she has been helpless since he died and that she misses him terribly.
Episode 6 - A Lot Dirtier Than That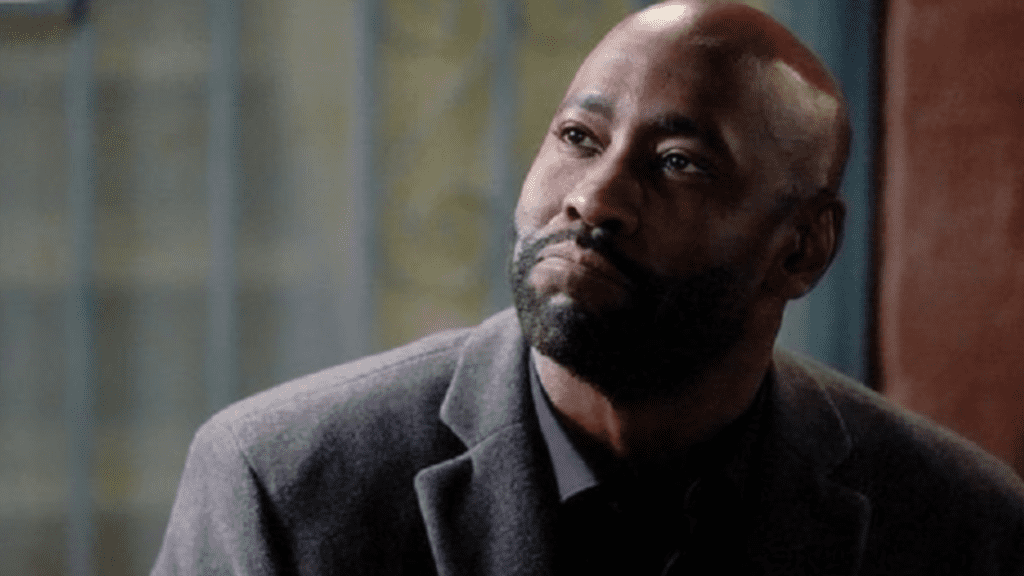 Officer Harris and Amenadiel look into the killing of Kevin, a Black guy. Amenadiel is furious to learn that the investigator working this case is Reiben, the policeman who previously beat up Caleb Mayfield (Denny Love). Amenadiel is a rookie, so Harris warns him not to upset the apple cart.
He then requests assistance from Ella and Chloe regarding the Reiben knowledge. Officer James Reiben (Brian Oblak) admits to having changed and tells Amenadiel that his girlfriend, Michaela Williams (Jasmine Ashanti), might have killed Kevin. In the meantime, Lucifer surprises Rory with gifts for every Christmas he has missed for her and even sings a song, but Rory is still unimpressed.
Michaela and the natural killer are discovered by Amenadiel and Harris. Still, Reiben shows up and turns his weapons on Michaela. He is talked out of it by Amenadiel. Michaela and the murderer are both taken into custody by Reiben.
Amenadiel begins to doubt his desire to work as a police officer. Before returning home, Amenadiel and Harris bring Michaela to take one more look at Kevin's residence. Chloe learns some terrible information regarding the precinct.
Episode 7 - My Best Fiend's Wedding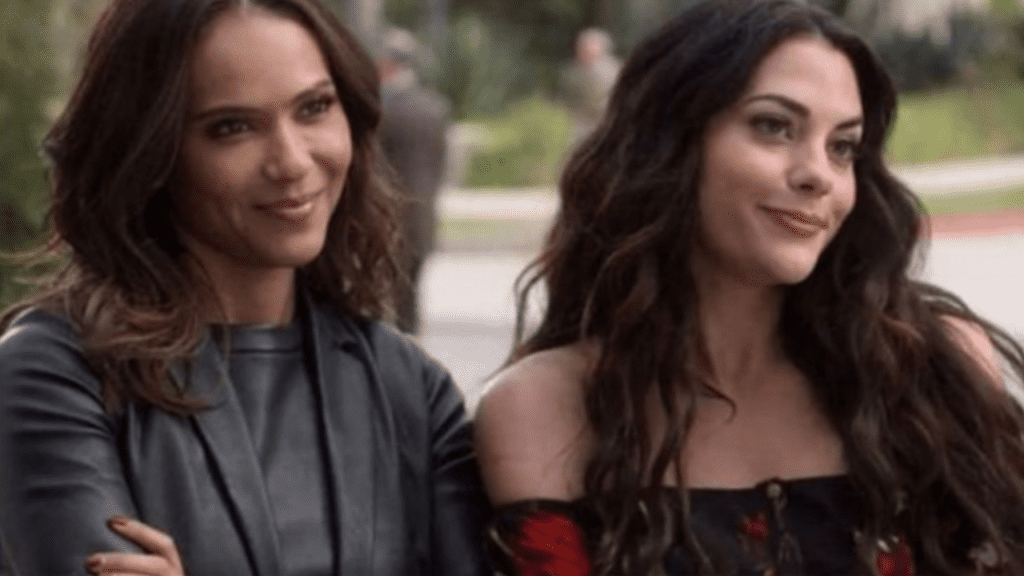 When Adam shows up and meets Maze and Eve at Lux, Maze and Eve begin making wedding preparations. Eve replies that she has moved on when Adam says he wants to make amends with her. Then, Adam kidnaps Linda Martin (Rachael Harris).
Then Eve seizes Adam after luring him to Lux. Adam is seduced by Maze, upsetting Eve. Eve storms out in rage after Maze acknowledges that she informed Adam about the wedding because she doesn't want to have children.
Amenadiel decides to leave the LAPD after Chloe informs him that complaints have been made against every officer in the precinct. Linda is released by Adam, and Lucifer helps Maze. Then, with the aid of Lucifer, Maze reconciles with Eve.
That is after bringing all of her demon siblings inside in their corpses. Maze and Eve get married, and Adam accepts moving on. Rory informs Chloe that she passes away at the after-party when she travels through time.
Episode 8 - Save the Devil, Save the World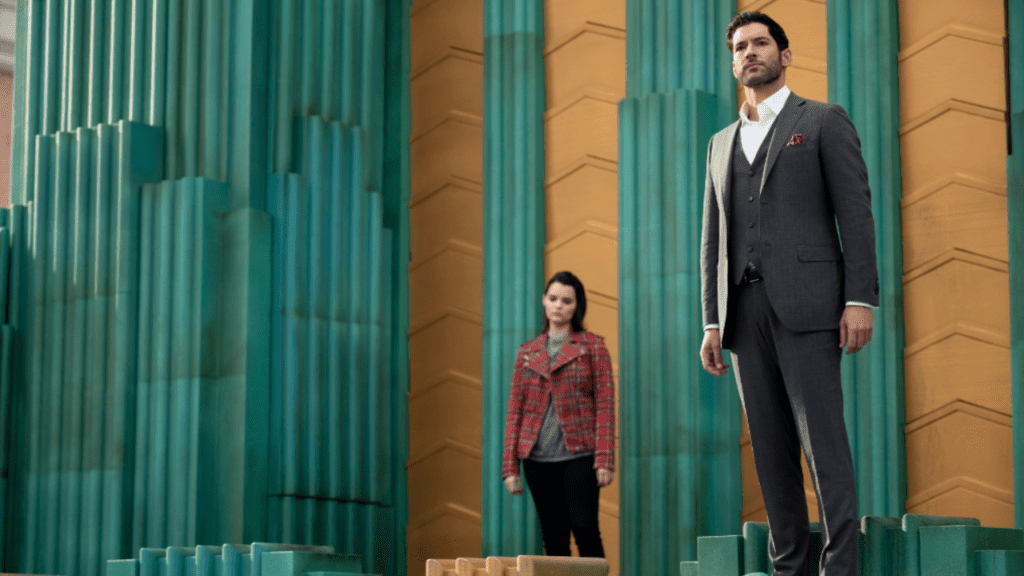 Ella describes a string of incidents she has noted. It has led her to think that the world's end is near. As a result, Lucifer tries to go back to Heaven to ultimately take on God's role, but he cannot conjure his wings.
Maze tries to help Dan confront his guilt and go into Heaven but is unsuccessful until he relives his death and knows what he must do. Lucifer and his friends learn that Linda has been working on a book based on her sessions with him, and they read it to grasp the situation. After reading Linda's manuscript, Rory eventually comprehends the love that her parents share.
Lucifer displays his love for his daughter during a conflict with Rory by exposing himself so she can shoot him in the thigh. Even though Lucifer knows he is now prepared to take on the role of God, he decides he doesn't want to because it isn't his true purpose. Amenadiel stops by to say that he knows why the world is ending, and Lucifer consoles Linda for what he perceives as her failure to assist him.
Episode 9 - Goodbye, Lucifer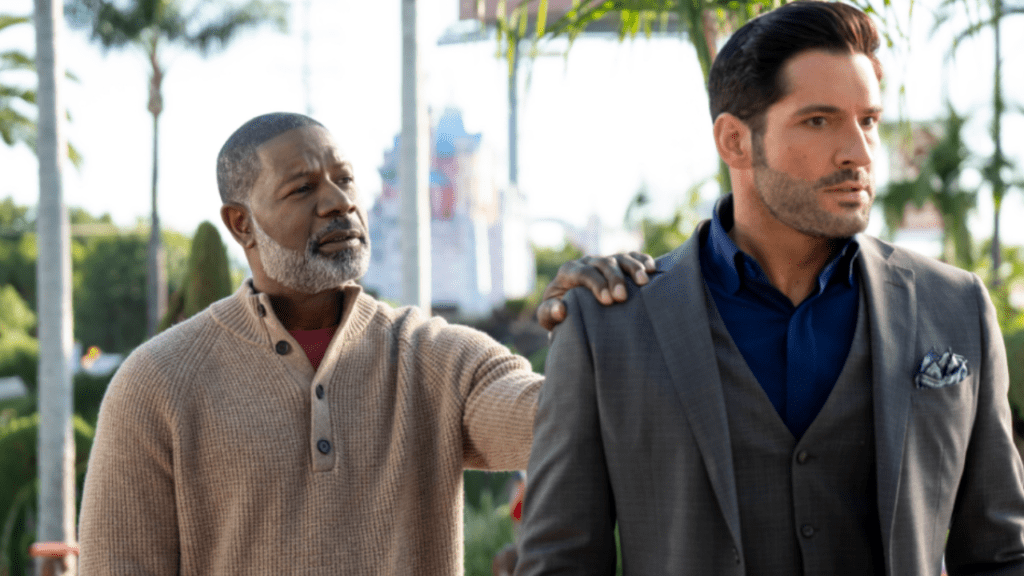 Amenadiel informs Lucifer that the world is ending because their siblings are interfering with prayers. Amenadiel is shocked when Lucifer tells him he will no longer be God. Dan's killer, Vincent Le Mec (Rob Benedict), breaks out of jail.
Chloe tells Lucifer that it is the day Rory claims Lucifer vanishes. To keep himself locked up until midnight, Lucifer constructs a panic room. At a grocery shop, Dan encounters Le Mec and enters his body. Now in control of Le Mec's body, Dan approaches Lucifer and convinces him to recognize him.
Dan is informed by Lucifer of his impending disappearance and advised to spend their final days with their loved ones. Trixie (Scarlett Estevez) tells Dan, who is still disguised as Le Mec that she is proud of her father. Then Trixie goes.
Dan then notices a light in the sky and departs Le Mec's body for Heaven. Amenadiel, whom Lucifer suggests be made God, and Maze, who is leaving for her wedding with Eve, share a tearful farewell with Lucifer. Before Rory leaves, Lucifer, Chloe, and the family take one more trip together.
When Chloe and Lucifer return, they sequester themselves in the panic room until after midnight. Lucifer survives the day, but Le Mec phones to inform him that Rory has been abducted at 10th and Swanson. On this street, Rory claimed Lucifer vanishes.
Episode 10 - Partners Til the End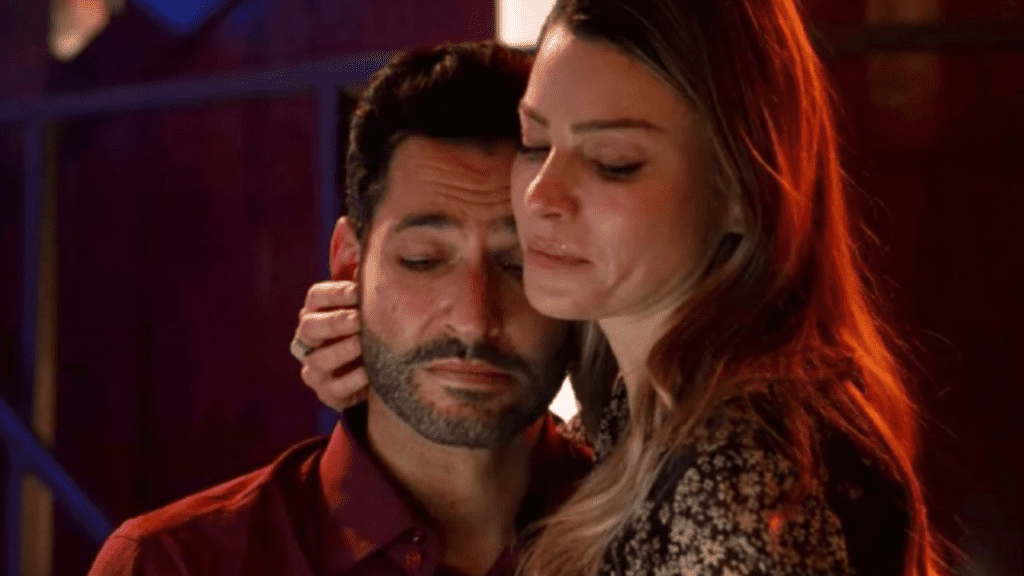 Lucifer resolves to go and rescue Rory after learning that Le Mec has taken her hostage, and Chloe follows him. When she and Lucifer arrive at Swanson and 10th Street, Chloe is stabbed but survives. Le Mec is instructed to shoot Lucifer.
When Rory escapes, she nearly murders him while wearing her devil face, but Lucifer convinces her not to. Le Mec is shot by Chloe as she enters. Le Mec tells Lucifer that Dan made it to Heaven just before he died. After hearing this from Lucifer, Rory learns that Lucifer left his family to save all of the lost souls in Hell, much as he did with Dan and Lee Garner (Jeremiah Birkett).
Rory demands a commitment from Lucifer to maintain the current situation. Before leaving for Hell, Lucifer and Chloe share a heartfelt farewell. After some time, it becomes evident that everyone is content and that Charlotte (Tricia Helfer) and Dan have reconciled in Heaven.
Before Chloe passes away and enters Heaven, Rory says a tearful goodbye to her before returning to her own time. Chloe is taken to Hell by Amenadiel, the new God, who also reunites her with Lucifer, who is now a therapist helping wayward souls in Hell.
Lucifer is a Tom Kapinos-created urban fantasy television show in the United States
Warner Bros., DC Entertainment, and Jerry Bruckheimer Television produced a television program
based on the Neil Gaiman, Sam Kieth, and Mike Dringenberg-created DC Comics character
Lucifer first appeared in the comic book series The Sandman, and he eventually took the lead in a separate series
published by DC Comics' Vertigo imprint
premiered on January 25, 2016
concluded on September 10, 2021
before production moved entirely to Los Angeles with the start of the third season, filming took place mainly in Vancouver