The sixth season of The Real Housewives of Beverly Hills is jam-packed with entertainment, thrills, and rumors. While Kyle purchases $75,000 worth of sunglasses for her company, the ceremonial first pitch at Dodger Stadium will be made by Lisa Vanderpump. 
Real housewife Kyle is unsure how to handle her troublesome sister Kim, who is now receiving treatment, while Eileen loses a relative. Yolanda attends Lisa Rinna's birthday dinner despite her Lyme disease struggles, but her presence is met with mixed reviews.
Cast of The Real Housewives of Beverly Hills Season 6
Kyle Richards – is an American actress, socialite, and television personality who started her career as a child actress
Lisa Vanderpump – a philanthropist, author, television host, restaurant, and actress from England
Yolanda Foster, now Yolanda Hadid – is an American television personality and former model of Dutch descent
Eileen Davidson – an American actress, author, television personality and former model
Lisa Rinna – established American actress, talk-show host, writer, and a successful model
Kathryn Edwards – an American Model and a philanthropist
Erika Girardi – an American singer and actress
Episode 1 - Life's a Pitch
In the first episode of Season 6, Kyle Richards deals with his problematic sister Kim Richards. In addition, Yolanda Foster deals with a health issue, and Eileen Davidson has a tragedy in her family. Lisa Vanderpump is scheduled to throw out the first pitch at Dodger Stadium.
Episode 2 - Ciao, Tuscany!
When family issues arise, Kyle and Lisa V enjoy their time traveling across Italy and taking in the serene landscape. Yolanda makes significant changes to her lifestyle in Beverly Hills, where Eileen and Lisa Rinna are astounded by her state of health.
Episode 3 - Horsing Around
More terrible news regarding Kyle's sister Kim is delivered when she returns from her European vacation. In a private plane, Lisa R and Lisa V set out to find the ideal miniature horse for Ken's birthday. Vince finds it challenging to assist Eileen in juggling parenting and her job. 
Yolanda is pleasant for a new housewife, but she also leads an incredibly intriguing double life. At Ken Todd's 70th birthday party back at Villa Rosa, everyone gets soaked.
When Portia, her 7-year-old daughter, says she wants to pursue a career in acting, Kyle considers her own acting career. Before the Foster family departs for a lovely vacation, Erika and her husband pay a visit to Yolanda and David in Malibu across the street. Eileen and Vincent disagree about when it is appropriate to dispute in another scene. 
Lisa R has a disturbing proposal about Yolanda's health. She shares with the ladies when Lisa V invites them over to show them the mini-horses she gave Ken as a surprise. 
The women are intrigued by Erika, a friend of Yolanda, and she makes an impression. Lisa V rushes to her veterinarian's office. Eileen brings up Lisa R's comment about Yolanda's condition in front of the other women, including Yolanda. 
In the moments before her breast implants are removed, Yolanda makes an astonishing revelation.
Episode 6 - Hampton's, 90210
To celebrate Lisa V's appearance on the cover of Bella Magazine, the girls travel to The Hamptons. Lisa becomes upset when she perceives that her pals have betrayed her. Yolanda is in Cleveland and undergoing surgery as part of her long struggle with Lyme disease. 
The information about Kim has saddened Kyle. 
In the Hamptons, the women carry on their journey. Eileen is still unhappy that Lisa V questioned her about her alleged "affair" with Vince. The women all experience Erika Jayne's altered identity when Kyle's close friend Bethenny Frankel invites them to dinner. 
Lisa R becomes overly conservative while watching Erika Jayne's videos. Yolanda misses all the fun as she heals in Cleveland from her surgery.
For her friend Bethenny Frankel, Kyle holds a book signing at her new pop-up shop in the Hamptons. The ladies later eat their last meal together in the Hamptons when Eileen reveals a startling previous secret. Kyle meets with her confidante Faye Resnick for guidance on handling her sister Kim. 
Erika takes her plane to pick up Yolanda, who is still recovering from surgery. Lisa meets an intriguing old friend at a charity event that Lisa V is hosting.
When Ken shows Lisa V around the location he wants for a new restaurant, she discovers that it is actually a sex business. To scatter her sister's ashes, Eileen takes a plane to Italy. Kyle and Lisa V challenge Yolanda's assertion that her children have Lyme disease. 
Kathryn finally confronts Faye Resnick about a 20-year-old grudge.
Episode 10 - Backwards in Heels
She is not pleased when Lisa Vanderpump learns that Faye Resnick will attend Kyle's burlesque-themed joint anniversary party. Later, when Kathryn joins Kyle in speaking out against Faye, Kyle becomes furious with her. Lisa R decides it's time to inform Yolanda of what was said because she still feels bad about bringing up Munchhausen's condition to the other women.
Episode 11 - Please Welcome Erika Jayne!
Yolanda undergoes cryotherapy with Kyle and Lisa V. Erika performs in a homosexual bar in San Diego with the other invited women. Lisa R wants to determine who said what to Yolanda after being accused of discrediting Kyle and Lisa V.
Episode 12 - Hearing Problems
The ladies gather for breakfast at Kathryn and Donnie's house in San Diego. Still, tensions rise when Kyle's sister Kim is mentioned, and Kathryn shares a painful memory from her childhood. Eileen gets an Erika Jayne makeover while Kyle meets with an old friend who can advise her on how to handle her sister. 
Then, as tempers flare, the specter of Munchausen Syndrome hangs over Erika's seductive outdoor pool party.
Episode 13 - Spinning a Web
The women work up a sweat in spin class while raising money for charity. Yolanda accuses Kyle of gossiping. Lisa V is confronted for raising concerns about her children's health. Kathryn pays Erika a visit to her home to win her trust.
Episode 14 - Not Easy to Love
Yolanda hosts a musical visitor at her dinner party who delights her companions. Lisa R irritates Eileen by hiding some true feelings. After learning that Kathryn compromised her confidence in Lisa V, Erika is wary of Kathryn. 
After nearly nine months of silence, Kyle and Kim finally speak.
Episode 15 - Objection, Your Honor
Kathryn gets good news from a hearing test, and Erika throws a dinner party to meet her husband, Tom, and the ladies. Charity work requires the ladies to get their hands dirty. Yolanda receives flak for spending time with Brandi and Kim. 
Eileen is shocked when Lisa Rinna shares her opinions about some women.
Episode 16 - Hearing Is Believing
The ladies go diamond shopping to raise money for Camille's cancer charity. She rallies her pals for a march near and dear to Lisa V. While Lisa R confides in Yolanda about her trust difficulties, Eileen confronts Lisa V about potential machinations. 
Some of the women fly on Erika's private aircraft to New York for Yolanda's Lyme Gala.
Episode 17 - Lymes in the Sand
Kyle's uncertainty regarding Yolanda's sickness is dispelled when she gets a Lyme disease awareness award at a glitzy dinner in New York. Days later, the women fly to Dubai to adapt to a society where they are expected to dress modestly and refrain from cursing. After the ladies had marveled at the city and their incredible opulent hotel rooms.
Lisa R, who did not attend the Lyme gala, joins them for an evening of uncertainty.
After a long day of travel, the ladies finally venture outside to explore Dubai. They go over sand dunes and shop in the neighborhood souk. They have a typical Arabian Nights dinner that includes meat from animals they didn't think were fit for human consumption. 
Some ladies feel abandoned despite Yolanda being in Beverly Hills because of the residual effects of the Munchausen scandal.
Episode 19 - Goodbye, Dubai
The women extend their trip to Dubai and indulge in some shopping therapy at an extravagant mall. Lisa V makes another attempt to apologize to Eileen from the summit of the Burj Khalifa, the tallest building in the entire world. With the help of her glam crew, Erika gives Kathryn a birthday makeover, and the other women enjoy an opulent but stressful supper on a yacht in Dubai port. 
Yolanda goes on a picnic with Kim and Brandi back in Beverly Hills.
Episode 20 - Who Do You Believe?
The women arrive at Kyle's desert property for a party. Tensions develop when Lisa R confronts Kyle's sister, Kim. The women react to Yolanda's divorce news. Yolanda is candid with Erika about her divorce.
Episode 21 - Reunion Part One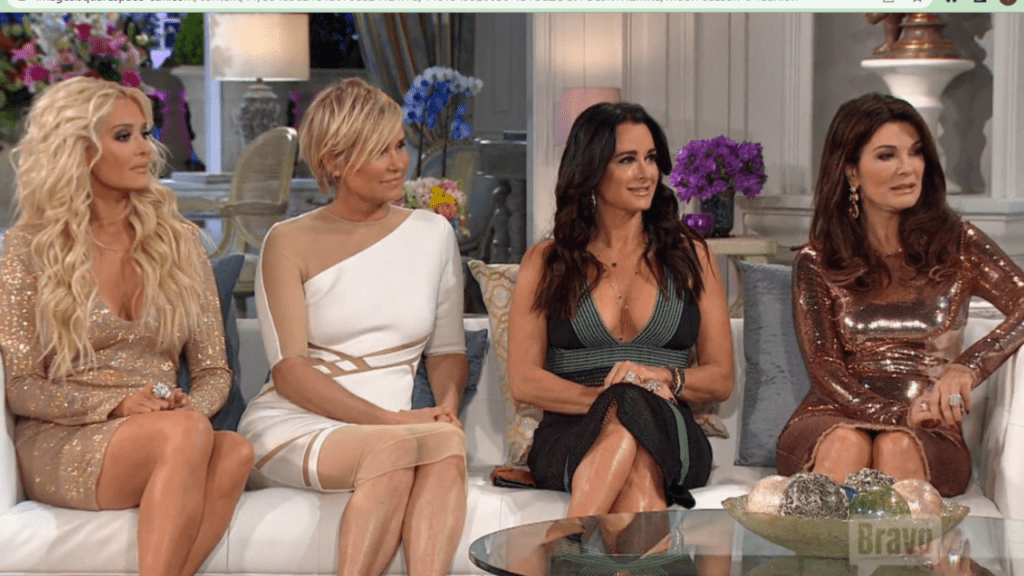 Erika reveals some amusing observations during the reunion. At the same time, Kyle stands up for Faye concerning the O.J. In the O.J. Simpson trial. Yolanda divulges the details of her impending divorce. A discussion regarding Yolanda's health results in a startling moment.
Episode 22 - Reunion Part Two
Yolanda confronts several of her pals during the reunion for criticizing her health problems. Tears are shed, and regrets are spoken. When Kyle's sister Kim Richards visits to discuss her challenging year, which has been widely reported in the media, old scars are exposed. 
Eileen confronts Lisa V about how she doesn't understand her, and Lisa unexpectedly starts crying.
Episode 23 - Reunion Part Three
The women reminisce about the joy they had in Dubai, as well as the crazy interpersonal turmoil that took place there as the reunion comes to an end. While many women complement one another, Lisa R and Lisa V are still at odds. The ladies are additionally taken aback when a viewer from Encino, California-none other than Brandi!-submits a video with her thoughts on the season.
Episode 24 - Secrets Revealed
Erika Jayne's most recent sex tape is made public when the Beverly Hills vault is unsealed, along with the effort that goes into getting ready for a tremendous performance.
The Real Housewives of Beverly Hills Quick Facts
an American reality television series
developed as the sixth series in The Real Housewives franchise
aired on Bravo debut on December 1, 2015, and concluded on May 10, 2016
executive producers are Andrew Hoegl, Lisa Shannon, Barrie Bernstein, Pam Healy, and Andy Cohen
primarily filmed in Beverly Hills, California
consisted of 24 episodes
final season and appearance for Hadid, as well as the final guest appearance for Armstrong
Kim Richards and Brandi Glanville are no longer part of cast members for season six, the information was confirmed shortly after season five