In The Real Housewives of Beverly Hills Season 5, the group includes Eileen Davidson and Lisa Rinna. The drama is increased by the inclusion of two soap opera stars. Although Lisa Vanderpump was back after season 4, she had trouble regaining Kyle Richards's and Brandi Glanville's trust.
Cast of The Real Housewives of Beverly Hills Season 5
Kyle Richards

– is an American actress, socialite, and television personality who started her career as a child actress

Kim Richards – is a famous American actress, socialite, and television host who started out as a child actress

Lisa Vanderpump – a philanthropist, author, television host, restaurant, and actress from England

Yolanda Foster

, now Yolanda Hadid – is an American television personality and former model of Dutch descent

Brandi Glanville

– an American television personality, author, fashion designer, and former model.

Eileen Davidson

– an American actress and a writer

Lisa Rinna

– an established American actress, talk-show host, writer, and a successful model
Episode 1 - Guess Who's Coming to the White Party?
Brandi Glanville is finding it difficult to get over her own hurt. At Kyle Richard's yearly White Party, which also reunites the original Beverly Hills housewives Adrienne Maloof, Camille Grammer, and Taylor Armstrong, the ladies meet face to face.
Episode 2 - Who Stalked J.R.?
Brandi gets helped by Kim Richards and several hot movers to move into her new home. Yolanda Foster catches David off guard with an amazing and revealing meal while Kyle and her family fly to Lake Tahoe in a private plane. To spy on Brandi's ex-boyfriend Jonathan Ruiz (J.R.), Kim and Brandi dress up as disguised spies to celebrate their friendship.
Episode 3 - Pay Attention to Me!
Lisa Rinna's husband arrives just in time with the ideal gift when Lisa Vanderpump hosts a private birthday dinner for her at PUMP. When Kim and her daughter Brooke Brinson go clothing shopping for an exceptional event, they are only thinking ahead. Eileen Davidson, an Emmy-winning soap opera actress, and Lisa Rinna reunite.
Episode 4 - Livin' La Vida Housewife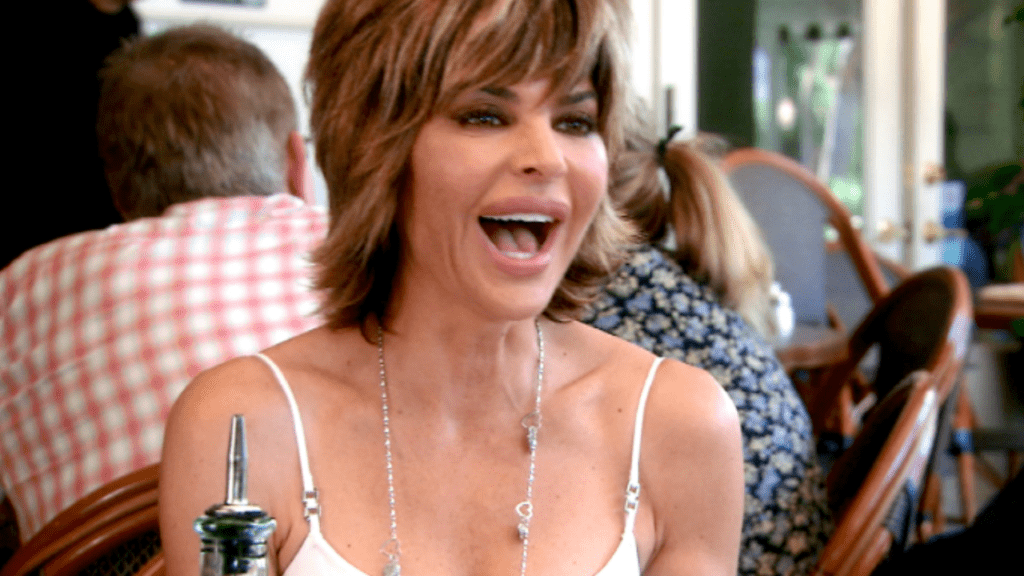 The two Lisas become closer as Vanderpump invites Rinna to see her earn a plaque on the Palm Springs Walk of Stars. Kyle worries that her coughing sister Kim will get sick before leaving for a family trip to Spain. But when Kyle gets to Mallorca and settles into her 100-foot-long luxury yacht, everything is perfect. 
Yolanda travels with Kyle to enjoy the town's attractions. However, the ideal getaway is disrupted when Yolanda receives distressing news regarding her daughter Bella Hadid.
Episode 5 - Star Sighting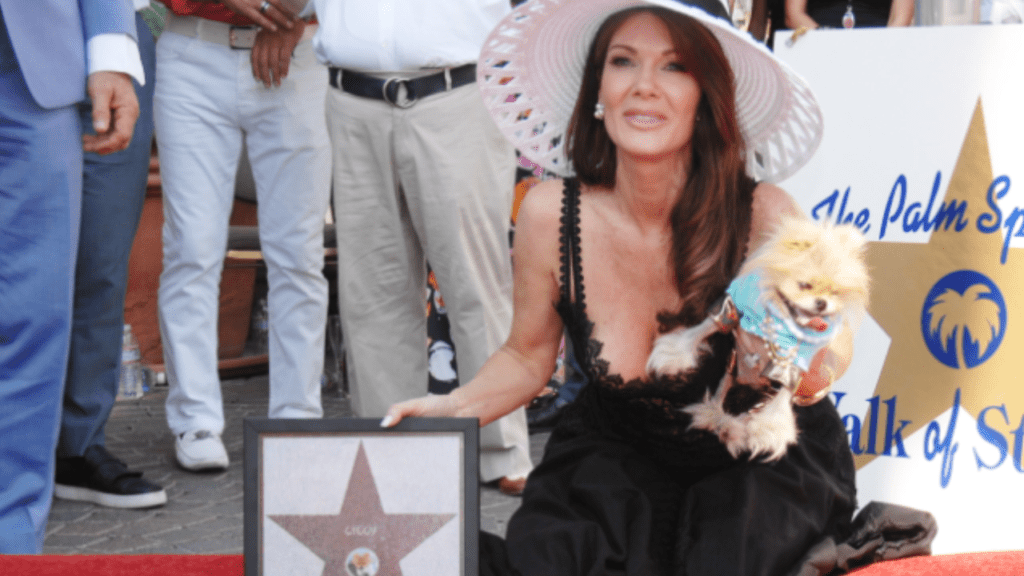 Kyle returns early from Spain to attend Kim's daughter's wedding. Eileen, who had taken a long sabbatical from work, comes back to reprise her role as Ashley Abbott on The Young and the Restless. Lisa Rinna and Lisa Vanderpump earn a star on the Palm Springs Walk of Stars while Yolanda manages the effects of her daughter's DUI at home.
Episode 6 - Medford, 90210
Lisa Rinna visits her ailing parents in Medford, Oregon, where she spends the final time at her childhood home. Eileen meets all the ladies at a casual BBQ that Kyle arranges with a private chef. Brandi attempts to elicit a response from Lisa Vanderpump regarding her housewarming celebration, but Lisa remains unyielding.
Episode 7 - Breaking Branches
Brandi's housewarming party is about to start, and when an unexpected party attendee arrives, everyone is astonished. Eileen experiments with a novel kind of exercise. Lisa Rinna serves as the guest host of Access Hollywood Live. 
Kyle discovers in other places that her daughter still has a lot to learn before going off to college. At a charity event that Lisa Vanderpump is hosting at PUMP, Brandi makes her an unconventional proposal.
Episode 8 - Winning And Dining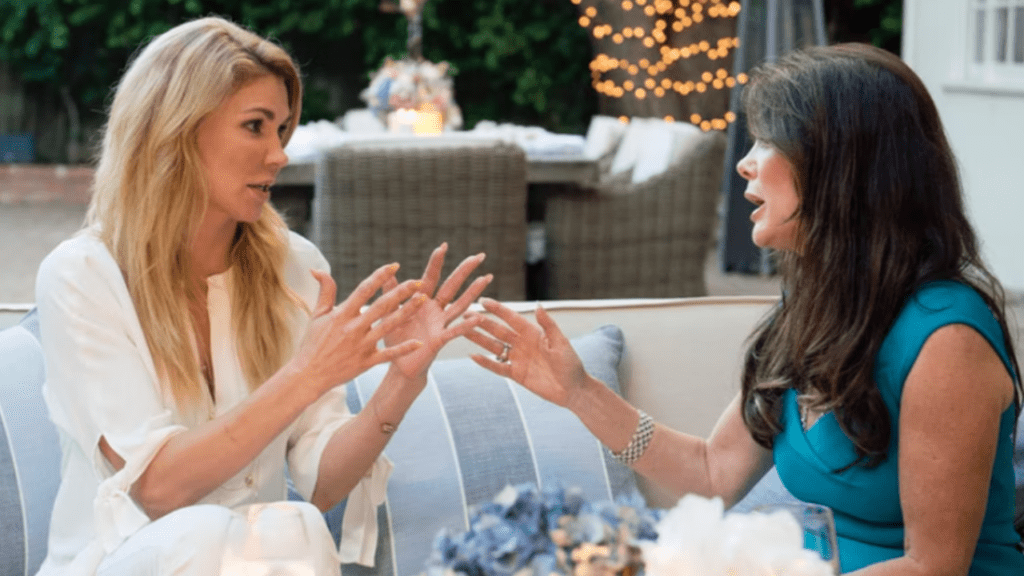 Finally having lunch together, Brandi and Lisa Vanderpump discuss the state of their shaky relationship. Following her recent DUI conviction, Yolanda finds it challenging to trust Bella. Over dinner, Eileen and Brandi exchange stories about their marriages. 
However, the night rapidly turns sour when Brandi learns that Eileen was already married when she met Vince. The women go to a dinner party at Yolanda's house in Malibu, where Eileen and Brandi are displeased with one other.
Episode 9 - Live And Learn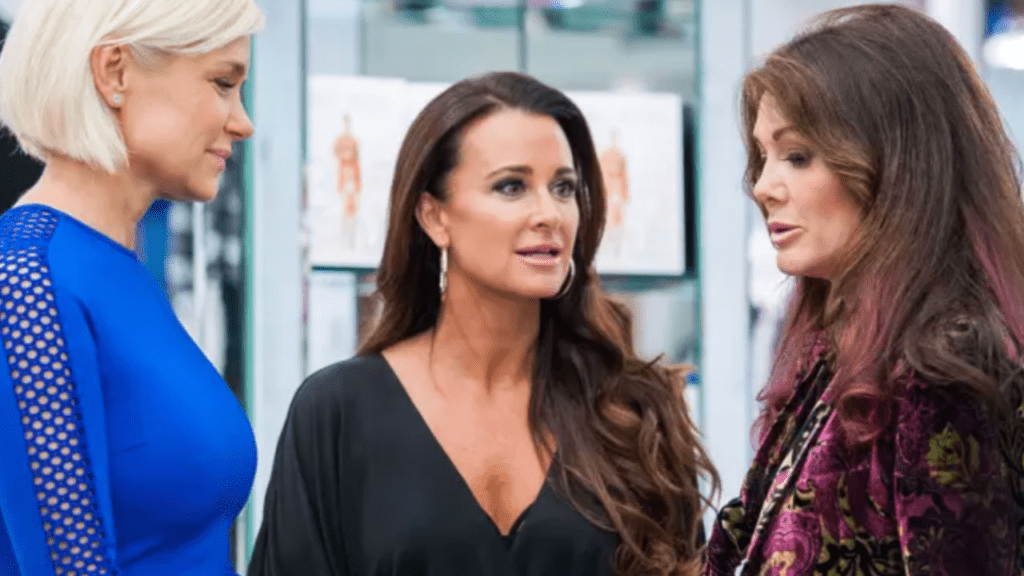 In very different ways, Yolanda and Kyle worry about leaving their daughters in college. Lisa Vanderpump finds that her son Max aspires to advance in society. While Brandi watches her ex-new husband's reality show, Lisa Rinna films a movie with magician Penn Jillette and her husband, Harry Hamlin.
Episode 10 - House Of Cards
The women head to Santa Barbara up the coast to spend the day at the spa, but what starts out as a calm afternoon becomes tense. Eileen invites Kim, Kyle, Lisa Rinna, and Brandi to her Malibu home for a poker night as she opens her home to her new friends. Everyone is on edge due to Kim's erratic behavior, which causes an explosive altercation between RHOBH stars Brandi and Kyle.
Episode 11 - It's Just A Scratch
The turmoil at Eileen's poker night continues when Kyle and Brandi argue angrily about Kim. Still, things quickly turn ugly and become physical while Lisa Vanderpump arrives back from her trip. Kyle learns startling information about her sister Kim at a jewelry party that Lisa Rinna is hosting for the girls.
Episode 12 - Drama Queens
When adoptive son Max decides he wants to have a DNA test to find out his ancestry, Lisa Vanderpump is taken aback. Kim, who has just been discharged from the hospital, is visited by Brandi and Kyle. Brandi unexpectedly turns up at Kyle's homosexual mixer, where insults are thrown, and things turn violent.
The other ladies wonder whether Brandi has any influence over Kim in the wake of the incident at Kyle's gay mixer. The women go to Eileen's movie debut at a suburban shopping center. When her kid receives the genealogy test results, Lisa Vanderpump becomes anxious. 
Lisa Rinna grills Brandi about Kim's recent actions as Eileen gathers the Richards sisters to discuss their issues.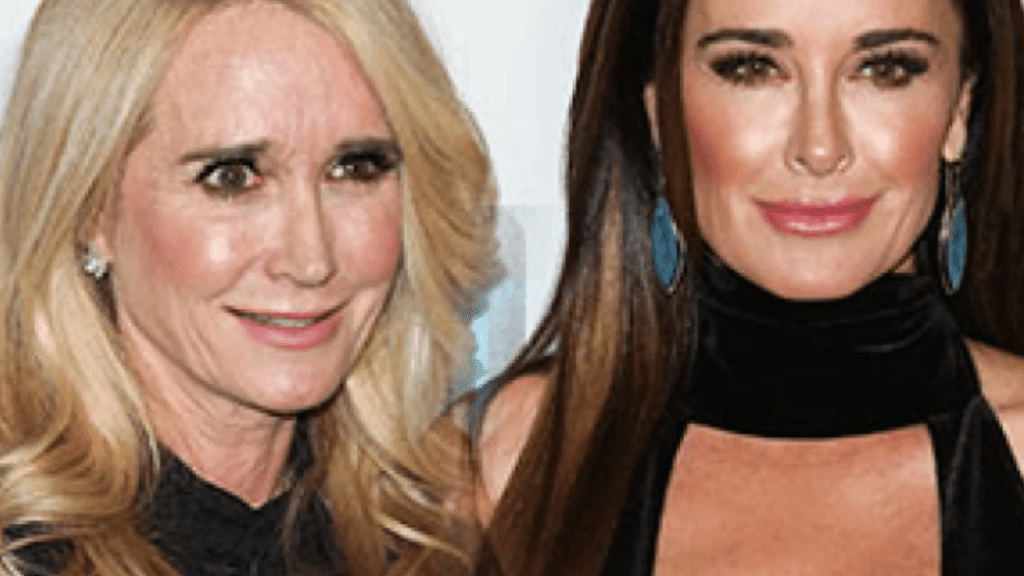 Eileen invites Kim, Kyle, and the two Lisas to a table read of her husband's most recent Hollywood script. Although Kim and Kyle put on the act that everything is well, after the read, tensions rise, leaving everyone wondering what Kim's future holds. Brandi commits to a 21-day alcohol-free cleanse, but she could come to regret her decision after attending Lisa Vanderpump's surprise birthday party.
Episode 15 - Welcome to Amsterdam?
The ladies must put their differences aside and work as a team when Yolanda conducts a scavenger hunt throughout Beverly Hills. Still, the ceasefire is short-lived when the women fly to Amsterdam for a group trip, and the Richards sisters' drama persists.
Episode 16 - Amster-Damn!
The women enjoy the native space cakes in Amsterdam, but the fun is soured when Brandi snaps at Kyle. In Amsterdam, Kim and Lisa Rinna continue to irritate each other, ending in an explosive dinner that forces Kyle to exit the scene.
Episode 17 - Amster-Damn Slap
The girls begin day three in Amsterdam by dividing into two groups to see the city while tensions are still rising. Lisa Rinna is confronted by Eileen over her lack of support in front of Kim. All the outstanding concerns are eventually brought to a head during supper on a riverboat. 
Brandi playfully slaps Lisa as the evening closes, but for Ms. Vanderpump, it's no game.
Episode 18 - Confessions Of A Housewife
Brandi apologized to Lisa Vanderpump for slapping her the night before, but Lisa wouldn't accept it. The women leave Amsterdam after a farewell meal, which Brandi forgoes to go on a date with a 24-year-old. Brandi learns of the condition of her father. 
When Lisa Rinna informs Kyle that Brandi has mentioned Kim requiring an intervention, Kyle is astonished. Later, in Palm Springs, Kyle angrily tells Kim what Brandi, her "best friend," has been whispering about her.
Episode 19 - The Party's Over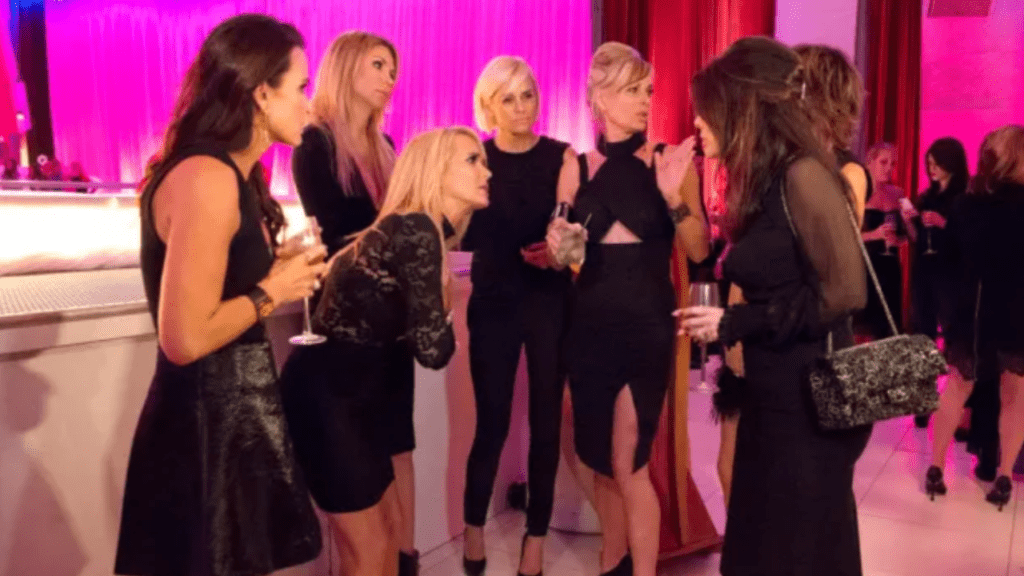 The women go to a flashy, extravagant party that Adrienne Maloof, a longtime friend of the group, is throwing. Brandi is questioned by Lisa Vanderpump regarding slapping her in Amsterdam, but Brandi is resistant to the question. For not telling her sister Brandi is also concerned about Kim's recovery, Lisa Rinna makes Kyle unhappy, and she later apologizes. Kim wants Brandi to respond.
Episode 20 - Reunion Part 1
Yolanda opens the suspenseful three-part reunion by discussing the challenges she encounters when her Lyme disease relapses. Yolanda leaves the sofa early, but she stays long enough to defend her daughter from Brandi's remark that she was an "alcoholic" and to make an effort to calm the group down. 
Kim claims she has more "pride" in the positions she selects than Lisa Rinna. Brandi and Lisa Vanderpump show there is little hope for their former friendship.
Episode 21 - Reunion Part 2
The Beverly Hills housewives joke about their fitness and beauty routines and cry when they chat about their aging and departing children. Brandi discusses her challenging year, while Kim is open about her conflicting emotions about Lisa. Kyle and Carlton decide they will probably never be buddies after exchanging some harsh remarks.
Episode 22 - Reunion Part 3
In the dramatic Beverly Hills reunion's third and final episode, Lisa finds herself in the hot seat as Kyle, Yolanda, and Brandi all express their issues in the hopes of finding a solution. Ken warns a crying Brandi that he might never be able to let her back into his life as the spouses enter the conflict.
Episode 23 - Secrets Revealed
As the Beverly Hills vault is uncovered, stories that have never been revealed are being told. Eileen is getting ready in her hotel room when she questions her desire to win an Emmy. Lisa Rinna's daughter Delilah assists her mother in getting prepared for an upcoming film. 
Portia, Kyle's daughter, decides to pursue her acting career. Outside of Amsterdam, the women enquire into Yolanda's past. Kim confronts Lisa Rinna over threatening texts she received back in Beverly Hills.
The Real Housewives of Beverly Hills Quick Facts
an American reality T.V. show
executive producers are Andrew Hoegl, Barrie Bernstein, Lisa Shannon, Pam Healy, and Andy Cohen
premiered on Bravo on November 18, 2014, and concluded on April 21, 2015
primarily filmed in Beverly Hills, California
consisted of 23 episodes
after season four, Carlton Gebbia and Joyce Giraud de Ohoven were sacked from the show
for both original housewives Kim Richards and Glanville, season 5 marks their final season