The seventh season of The Real Housewives of Beverly Hills is full of laughter, tears, and two new members of the Bravo family: Dorit Kemsley and Eden Sassoon. Other from the rookies, the rest are all familiar faces
Cast of The Real Housewives of Beverly Hills Season 6
Kyle Richards – is an American actress, socialite, and television personality who started her career as a child actress
Lisa Vanderpump – a philanthropist, author, television host, restaurant, and actress from England
Dorit Kemsley – an American television personality fashion designer who specializes in swimwear and Italian resorts
Eileen Davidson – an American actress, television personality, author, and former model
Lisa Rinna – an established American actress, talk-show host, writer, and a successful model

Erika Girardi – an American singer and actress whose debut single "Roller Coaster" placed No.1 on the Billboard Hot Dance Club Play chart

Eden Sassoon – the daughter of actress, Beverly Adams and beauty mogul, Vidal Sassoon
Episode 1 - "Stronger Than Ever"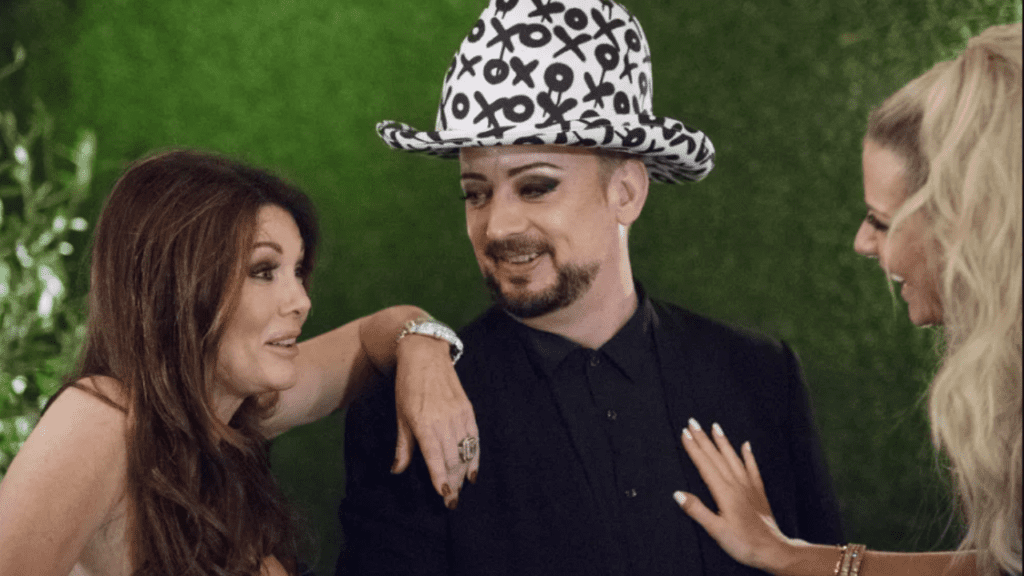 Boy George, a regular home guest of Lisa Vanderpump's pal Dorit, is introduced to the gang. Erika has a lavish birthday celebration and a few surprises for turning 45. 
Episode 2 - "The Buddha Bentley Birthday"
Dorit's spectacular birthday celebration offers a few planned and unforeseen surprises as Erika auditions dancers for her new music video "Xxpensive." Lisa Vanderpump demonstrates to Lisa Rinna and Eileen Davidson where they should stand during the gathering. 
Episode 3 - "Going Commando"
While on a trip with their girls, Kyle and Lisa Rinna run together in New York City. In Beverly Hills, Lisa Vanderpump gives Ken a $25,000 watch as a birthday gift while Eileen Davidson is still reeling from her mother's death. Later, while having drinks with the group, comments are made about Erika's short dress due to quick glances. 
While Lisa Rinna rules the fashion industry with a 24-hour marathon of clothing sales, Dorit Kemsley wonders whether Erika's wardrobe mishap was deliberate. With Eileen, Erika discusses a potential acting career. The women worry they won't be able to dodge a challenge when Dorit uses a hazardous strategy to face Erika. 
Episode 5 - "Amnesia Appetizers"
Lisa Rinna and Erika Jayne meet Eden Sassoon, the daughter of legendary hairstylist Vidal Sassoon. Then, Lisa Vanderpump and Kyle Richards discuss female rejuvenation with a plastic surgeon. Dorit Kemsley and her husband PK criticize Lisa Rinna and Eileen Davidson's grief choices while hosting a dinner party.
At a luncheon at Camille Grammer's house, tensions erupted when Dorit was confronted and could not recall anything. 
Episode 6 - "Compromising Positions"
Despite throwing unsuccessful parties in the past, Kyle arranges a game night that results in awkward situations and lots of laughter. Dorit and Eileen argue angrily while Lisa Rinna and Kim reunite, reigniting their enmity. 
Episode 7 - "It's Expensive to Be Me"
Lisa R. and Eileen attend Erika's music video shoot. For Erika's performance, Kyle and Erika Girardi travel to Mykonos. 
Episode 8 - "Boys, Blades, and Bag of Pills"
Eden questions Kim Richards' sobriety as Lisa Rinna shares the recipe for her favorite smoothie. While Dorit surprises the women by booking Boy George to sing at her husband's birthday celebration, Erika Jayne gives a performance in Greece. 
Episode 9 - "Harry's Meat and Gatsby's Fete"
Erika's reading performance on The Young and the Restless is flawless, and Eileen is overjoyed. Even though Lisa Rinna plans a BBQ, Harry does the bulk of the labor. Kyle expects Lisa Vanderpump to attend her Great Gatsby party, but Eden is the one who stirs up trouble there. 
Episode 10 - "Hostile Hacienda"
Eden visits Lisa Vanderpump's house to let her know what Lisa Rinna said regarding Kim's sobriety as the women prepare for their trip. The ladies in Mexico debate Lisa Rinna's remarks while she is in New York City watching her daughter walk in Fashion Week. 
Episode 11 - "Backed Into a Corner"
At Mauricio's party in Mexico, things get heated as Kyle presses Lisa Rinna for details about what she said about her sister, Kim. Ericka counsels Lisa Rinna to be honest with Kyle, and the vacation to Mexico comes to a memorable close with a chaotic boat ride. 
Episode 12 - "Feeding a Need"
Eden is challenged by Lisa Rinna regarding the "near death" claims. As a result of Lisa Vanderpump purchasing her son a condo, the fictional program based on Kyle's youth becomes even more of a reality. Lisa Rinna receives a prize from her favorite charity, but Dorit is growing more concerned about Rinna's odd behavior. 
Episode 13 - "Cake Therapy"
As Erika practices for her next soap opera part, she shows off her acting prowess. Ken and Lisa Vanderpump stop by their brand-new puppy shelter. Lisa Rinna makes an unexpected disclosure to Kim at Kyle's cake tasting for singer Carnie Wilson. 
Episode 14 - "Sweet Georgia"
At a party that Kyle throws, Lisa Vanderpump's invitations to Hong Kong spiral out of control. Dorit tries to warm up Erika during the lunchtime gathering of the ladies. Erika takes a flight back to Georgia to visit her mother and reestablish ties with her family. 
Episode 15 - "Hong Kong Fireworks"
The women travel to Hong Kong, where Lisa Vanderpump keeps up her crusade against animal abuse. Kyle learns of Erika's trip to see her mother. Later, tensions between Dorit, Lisa Rinna, and Erika flare up on a historic junk boat. 
Episode 16 - "Big Buddha Brawl"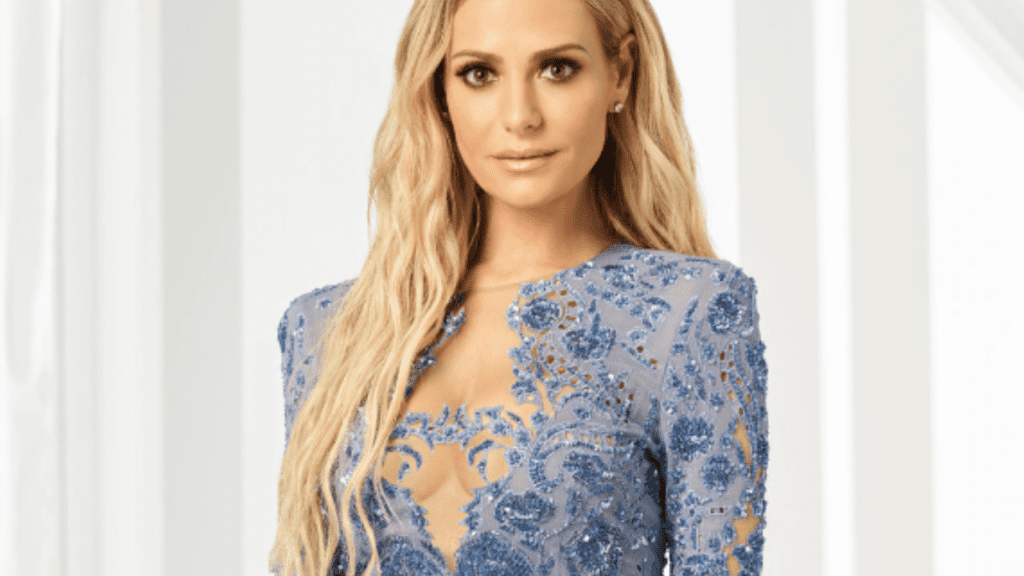 The relationship between Dorit and Erika is still fraught with conflict. While Lisa Vanderpump and Kyle look on in disbelief, Lisa Rinna and Eileen choose a side. Will seeing the second-largest Buddha in the world help the crazy, or will it just be a break?
The answer to that query is revealed at an even more exquisite meal. 
Episode 17 - "From Dogs to Diamonds"
Lisa Rinna stands by the allegations she made about Dorit. When the women go to the SPCA to view the dogs that Lisa Vanderpump has assisted in rescuing, their hearts are thrilled. Before everyone goes to Villa Rosa for a stunning celebration, Erika shoots her scenes for The Young & the Restless. 
Episode 18 - "Diamonds Under Pressure"
At Lisa Vanderpump's Diamonds and Rosé party, Lisa Rinna and Erika's conflicts with Dorit are resolved. When Dorit's attempts to defend herself are met with resistance, her husband PK steps into the fight. The women are shocked when Lisa Rinna is the target of an incredible diatribe from Eden. 
Episode 19 - "Reunion, Part 1"
Erika responds to the criticism that she is cold, and Dorit argues that she is a good parent. When Dorit's husband, PK, joins Lisa Vanderpump, Lisa Rinna, and Eileen to talk about their sentiments, the situation becomes more tense.
Episode 20 - "Reunion, Part 2"
As Erika, Eileen, and Lisa Rinna resist PK's attempts to defend himself, the drama escalates further. The women giggle at the outrageous ways they greet each other while exchanging information about their various professions. When Eden and Kim Richards join the ladies, though, things change.
Simmering problems quickly reach a head, and one of the women finds it unable to handle it all. 
Episode 21 - "Reunion, Part 3"
The women are forced to consider the relationships they have developed over the years as the reunion ends. Unexpectedly moved to tears when talking about her son and her fight to safeguard pets is Lisa Vanderpump. Kim Richards and Lisa Rinna make an effort to come to an understanding, but Kyle chooses to join the argument.
The Real Housewives of Beverly Hills Quick Facts
an American reality television series
developed as the sixth series in The Real Housewives franchise
aired on Bravo from December 6, 2016 to April 25, 2017
primarily filmed in Beverly Hills, California
consists of 21 episodes.
executive producers are Andrew Hoegl, Barrie Bernstein, Lisa Shannon, Pam Healy and Andy Cohen
In June 2016, Yolanda Hadid announced that she had decided to leave the series after season six because of health issues