In Better Things Season 5, Max moves into the apartment that Frances Farmer previously occupied. Phil uses the internet to re-connect with old friends from England while Sam and her brother Marion are doing family history research. 
Everyone seems to be keeping something from Sam since she cares so much and tends to react aggressively, including close pals Rich and Sunny. This is because no one wants to freak her off and set her off. Adlon's character at first appeared to be at times irrationally unselfish. The show occasionally overemphasizes her warmth and openness.
They are now tempered by the highly relatable imperfections that make her a human. Because she has a horrible attitude toward money, she begs Marion to teach her about it.
Cast of Better Things Season 5
Pamela Adlon as Sam Fox, a successful actress in Los Angeles raising her three daughters by herself
Mikey Madison as Max Fox, Sam's eldest child, is chaotic and irate but ultimately good.
Hannah Alligood as Frankie Fox, Sam's middle child and rebellious one
Olivia Edward as Duke Fox, Sam's adorable and benevolent youngest daughter
Celia Imrie as Phyllis "Phil" Darby, Sam's British mother, is about to experience some medical and mental issues
Episode 1 - F*ck Anatoly's Mom
Frankie Adlon (Hannah Alligood) brings up a dinner that Sam Fox (Pamela Adlon) had forgotten about. They head out right away to celebrate a friend getting accepted to Harvard. After dinner, when the cocktails start flowing, they eventually get the child's inebriated mother in the car to drive home.
When they return home, Rich (Diedrich Bader) is drunk to the hilt. A brief blackout occurs, but Sam's brand-new, powerful generator quickly restores power. When Sam unintentionally topples the statue at the top of the steps, she is content in her job as a fierce provider for her family.
As it lands on the earth below, it shatters into fragments. Her eyes widen. She is speechless and in a state of shock. Before exiting the building through the door, she blows on her fingers.
Episode 2 - Rip Taylor's Cell Phone
Sam finds playing in a historical drama both a change of pace and agony. Being instructed to wear girdles and large gowns doesn't do Sam much good if any good at all. Instead, it makes her uncomfortable; at this point in her life, she isn't prepared to be painful for a job.
Particularly if it doesn't seem to be very fun. However, she wants to abandon the project after learning that she might land a position doing some directing. She requests that her agency cut her from the movie as a result and complies.
With her kids and Jason (Jeremy K. William), she had intended to celebrate this occasion. Also, the end of a television program together. Still, Max (Mikey Madison) withdrew, and Frankie and Jason began dating, leaving Sam on her own.
But perhaps Sam's next move isn't only to refuse things she doesn't want. It's also to give up expecting her kids to be there for her in times of need. Especially if it isn't a significant problem.
Episode 3 - Oh, I'm Not Gonna Tell Her
Xander (Matthew Glave) just returned from a week-long stay with Duke (Olivia Edward), and she seems to have enjoyed herself. Because of this, you can see some hostility among the girls because, like Max, Frankie has been let down by Xander enough to not view him favorably. So all it takes for them to start yelling at one another is learning that some older guy is talking to their little sister.
Additionally, despite Frankie's sense that something is off, Max is being cagey. However, Xander chooses to prepare meals for the girls in Sam's kitchen. Once more, luring them with how great of a parent he could be-but isn't-in a way that can be relied upon isn't helping.
It gets worse when Max informs Sam and Rich runs into Xander, who insults him in passing. The kind that Xander takes on the chin, but that highlights the fact that he must depart after tidying up. It's a good thing, too, because Sam doesn't want to play nice with Xander when she gets home following an extremely fascinating day.
It's difficult to dislike him, though, because he left her a plate of his delectable cooking and cleaned the kitchen like it was his job. That is until Duke confesses that he placed an eerie skull at the top of the stairs, one so infused with evil energy that Sam wants Rich to get rid of it.
Sam and Frankie go out together to visit Sam's father and take a graveyard tour of famous people, which is a sign that their relationship has improved. Since Frankie has changed their pronouns and identities throughout the past year and revealed during their journey that Jason uses they/them, Sam asks, "What is Frankie's?" Sam's query is left unanswered due to Frankie's annoyed reaction that they don't particularly like labels. Sam has an incorrect ratio of income to debt.
When Phil (Celia Imrie) is included, she has four dependents and two mortgages, which is unsustainable. In Marion's (Kevin Pollak) opinion, Sam should sell her house, and their mother should move into a condo. Given Sam's preference for taking care of everyone, this is difficult to hear.
She obviously can't, though, for much longer. Nevertheless, Sam thinks her choices are somewhat justified now that Max has relocated back to her house. Yes, Max returns without giving any prior notice or hints, but Sam is that child's parent.
Frankie's older sibling is the one who accidentally says that she identifies as they/them. Sam will enjoy what she has worked for while she can, even though she will eventually have to face the consequences.
Episode 5 - The World Is Mean Right Now
Sam tries to ensure she and her kids go see Phil, even on a Saturday afternoon. Even though she can only access Phil's buddies through ZOOM and isn't particularly tech-savvy with her tablet. Sam cooked a lot, so it begins promising but quickly becomes sour. Everyone soon turns their attention away from Sam's lunch when Phil says she got chicken for everyone to eat.
Still, the real shocker is when Phil pulls out Xander and Sam's wedding album. Frankie and Max are astounded by that, and Sam is immediately uneasy about objecting. Frankie makes a concerted attempt to irritate Sam to the point that she is forced to leave the room. This is not taken lightly, and neither Max nor Frankie care.
As he watched, Duke resolves to lash out at everyone for what transpired. She criticizes everyone for not caring about Sam's feelings, especially Phil, for knowing how Sam feels about Xander. This is while still choosing this particular occasion to bring out a book she knows will cause a stir.
However, the irritation doesn't stop there. When Sam visits later, Phil not only doesn't express regret for what she said and did, but she also seems to believe that Sam would take her along with her when she goes to San Francisco! Sam stops that, and Phil naturally tries to argue with her.
However, Sam responds by going off as Duke did, and as a result, Phil backs off and taps out. While Frankie is eager to fight Sam, Duke apparently got the better of them. As a result, their peace offering is a green smoothie since Frankie wants Sam to survive.
They also provide a sincere apology, which brings about harmony. Sam wants to avoid Frankie so she can obtain coffee instead of the green juice they offered her.
Episode 6 - San Francisco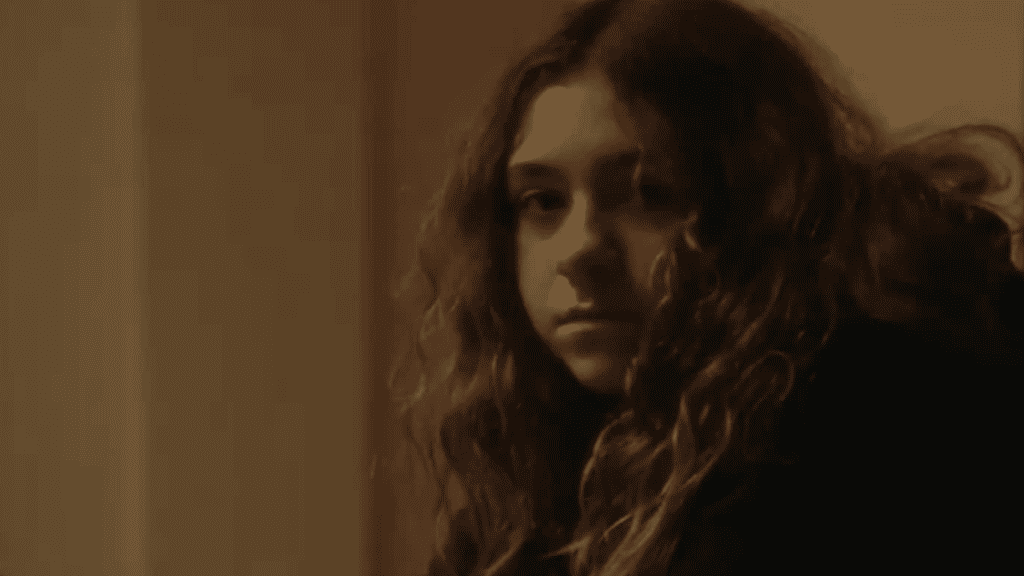 Max keeps an eye on Duke at home while Frankie is away in the unknown, which makes him realize how challenging being a father is. Max periodically hits her breaking point even if Sam could be gone for a few days. Duke doesn't walk the dog, mistreats her friend, conceals that she vapes, and is generally a depressed 13-year-old.
She does get a taste of what Sam goes through and seems even more appreciative of what Sam does daily. Even though she has other things to do, like go to the bank and hang out with Rich, we don't see any evidence of her cooking. Sam frequently checks in on Max during her absence.
Max, perhaps demonstrating how much her emotional intelligence has improved over the years, acts as though everything is fine until Sam's employment ends. Also, she inquires about Sam's gig rather than spending the entire conversation talking about herself. Therefore, it can be seen that a more caring Max may have replaced the very egotistical one.
Unfortunately for Sam, her mother has not changed while Max has. Despite their conversation in the previous episode, Phil is in San Francisco. He appears to hunt Sam down to a bar where she is chatted up for hours about her day without asking how Sam is doing.
Episode 7 - Family Meeting
Since Max's abortion took place around a month ago, neither Rich nor she believes Sam should be kept in the dark any longer. Duke overhears them, making it look like Rich has no choice because the secret is gradually getting out, especially since Max backs down. As a result, Rich subtly but persistently suggests that Max had an abortion.
While Sam avoids intricate details, she emphasizes that Rich is incorrect, the matter is resolved, and Max is OK. Because ultimately, she only needs to hear that. After dealing with Max, who was nothing but a pain in the ass for so long, Sam relishes this positive side as Max comes home after drinking with Paisley, very pleasant and affectionate.
But now that she is growing up and becoming more responsible, she might potentially succeed without Sam. Just get these other two over the hill for the moment.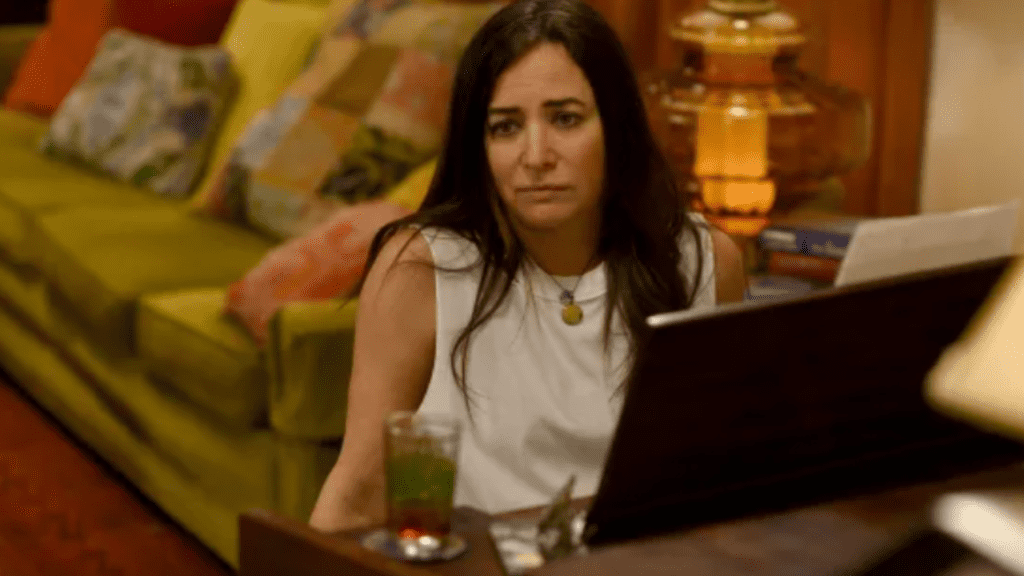 Sam is eagerly anticipating his pilgrimage to England. She arranges for Chaya (Judy Gold) and Tress to babysit the animals, has Duke film her obtaining her dual citizenship, and forces her children to prepare their passports. Despite their anger about something, this task is simple for Max, even for Frankie. Duke makes it appear as though the key is lost or destroyed because it shows the person as a child, but Max gladly disproves that.
Sam organizes a trip to England for the whole family, but there are a few hiccups along the way, and she suffers from worry. Yancey (Casey Wilson) and Cope (Rainbow Sun Francks) arrive at Sam's house.
During dinner, Sam announces that Max and Phil won't be traveling back to LA with the rest of the family. Note that only Sam was aware, which is why everyone was astonished. Duke and Frankie are taken aback but eventually accept it. He initially comes out as enthusiastic but then breaks down. Like Sam, it seems like he has spent much of his life worrying and wondering about his mother.
So Ben's decision to take her off their hands is a move. Since Sam is aware of Marion's condition and that she is leaving at the same time as her mother, Marion is more concerned about him. Sam is forced to acknowledge that her inner circle is dwindling due to Frankie's increasing level of independence and Duke's impending leave of absence.
Her life is centered around the demands of those two. Even the people she has been in relationships with the longest are growing apart.
Episode 10 - We Are Not Alone
Sunny (Alysia Reiner) and Paul have reconciled, and things are going so well that they are remarried. Sam will serve as their pastor. Everyone gathers at the house to commemorate the event.
Marion sobs uncontrollably during the ceremony, whether because his mother isn't there or because he's delighted. The most heartwarming part of the scene, though, maybe when Duke responds to Caroline's (Rosalind Chao) earlier in the week statement that Sam is the family's soul and has the power to unite people. She even makes mention of how much she likes her mother, does not only love her out of duty, and really admires how she lives.
After hearing all of this, Sam feels a little verklempt. Still, she is also so at peace that she needs some time alone to think back on her life, the things she has accomplished, the people she has loved, and those who have loved her.
Better Things Quick Facts
a comedy-drama television show in the United States
created by Pamela Adlon and Louis C.K. for FX

premiered on September 8, 2016

The fifth and final season premiered on February 28, 2022
concluded on April 25, 2022