In the tenth season of The Real Housewives of Beverly Hills, Kyle, with the aid of her sidekick Teddi and her sister Kim, attempted to change the story that centers around Denise and Brandi and finds herself in a fight.
Cast of The Real Housewives of Beverly Hills Season 10
Kyle Richards Umansky

– is an American actress, socialite, and television personality 

Lisa Rinna

– an established American actress, talk-show host, writer, and a successful model

Erika Girardi

– an American singer and actress 

Dorit Kemsley

– an American television personality and a fashion designer who specializes in swimwear and Italian resorts

Teddi Mellencamp Arroyave

– an American actress, television personality, and self-professed "accountability coach" 

Denise Richards

– an American television personality, actress, and former fashion model

Garcelle Beauvais

– is a Haitian-American television personality, actress, former fashion model, and author
Episode 1 - The Crown Isn't So Heavy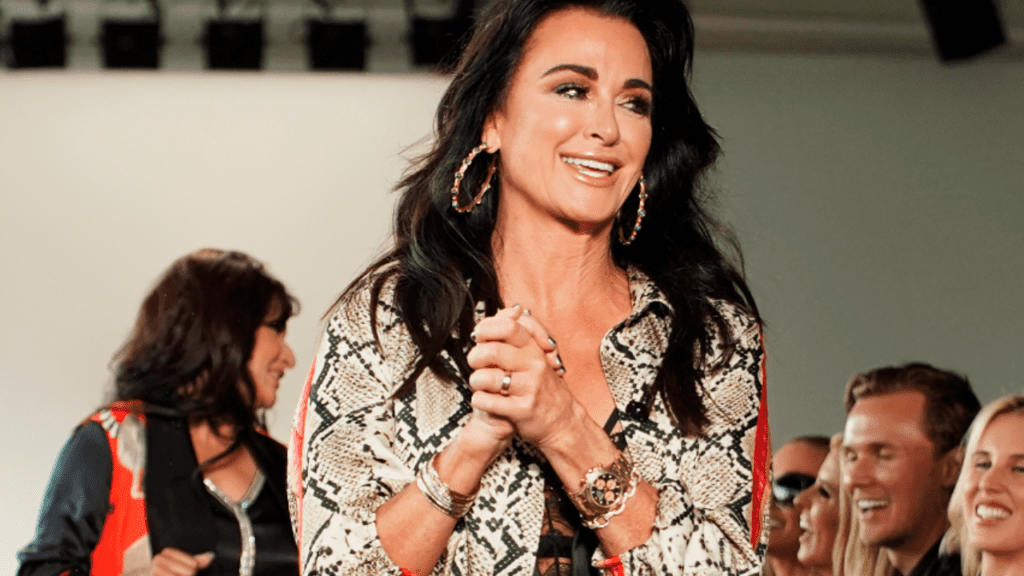 Episode 2 - To Live and Text in Beverly Hills
Dorit and her family relocate to a new residence while resolving their financial problems. They acknowledge that they have encountered issues, but they are working through them as a team. Without her ex-husband, Garcelle is also beginning over. 
Though she wishes she had someone, she is prepared to go on. She also revealed the romance in an email that she shared with her husband's coworkers. Lisa confides in Teddi about her concern for Amelia's ability to manage everything. 
Teddi gives some wise counsel and claims that failure is necessary for success. Kyle is attempting to have her outfit sold in shops. Sutton Stracke, who she consults for guidance, advises her to market it as yacht-wear.
By owning a store, Sutton is also through life changes following her divorce. After the fire, Denise relocates to a new home while resolving legal matters with her ex-husband Charlie Sheen. For the benefit of her girls, she wishes to maintain harmony and goodwill.
Episode 3 - First Impressions, True Confessions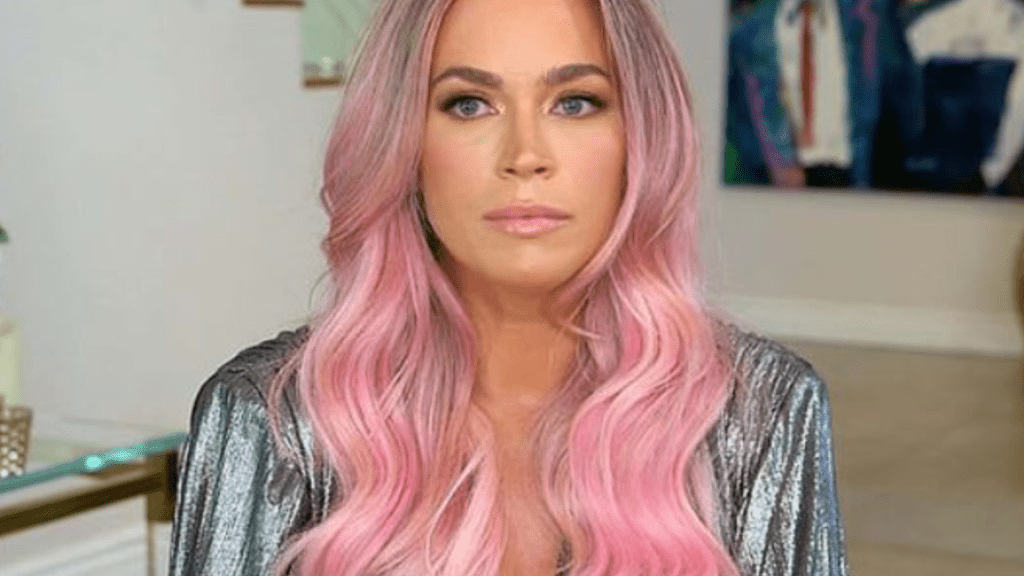 Everyone at a meal is so stylishly dressed that it is on full show. Even Teddi, who is wearing a disco dress in silver lam 70, looks attractive.
In a stunning ensemble, Erika and Lisa enter together. Erika is dressed in balloon sleeves and latex leggings, while Rinna is wearing a striped pantsuit with a bell bottom that is the size of one of Harry Hamlins' pie dishes. It was just sent today by Rachel Zoe! Denise, who just had surgery, is dressed in a champagne and gold cocktail dress, which she wears with apparent ease.
Episode 4 - All's Fair in Glam and War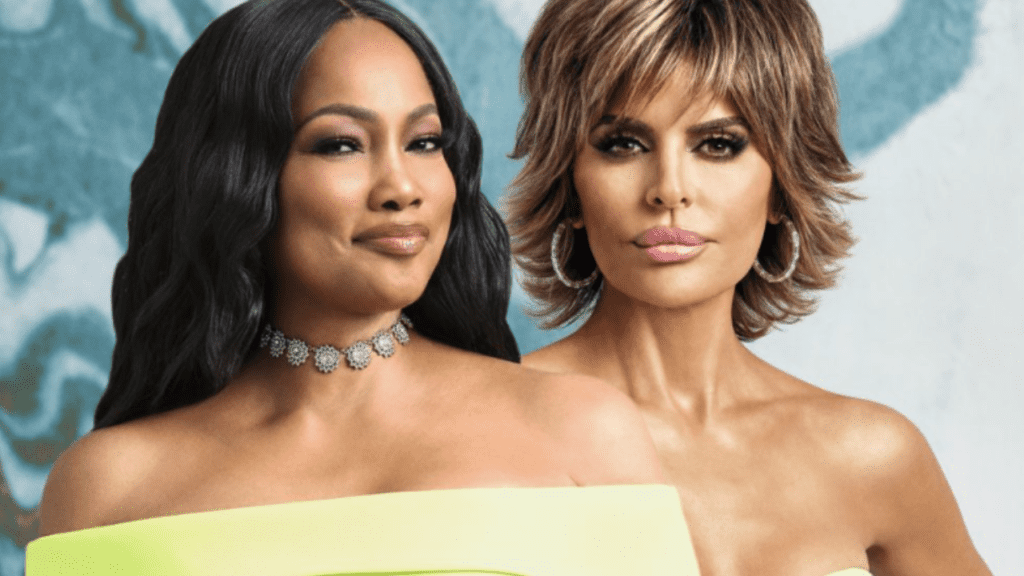 Lisa Rinna and Garcelle decline Teddi's fitness and wellness retreat after an unpleasant invitation. Still, the other women find it to be anything but restful. Kyle and Erika raise concerns about Dorit's all-about-me conduct. Denise is upset when her backyard dinner party turns violent in front of her children. The ladies are surprised when Kyle exhibits irrational emotion.
Episode 5 - Let the Mouse Go!
The women are arguing at Denise's dinner party when Sutton orders them to stop talking. She believes their argument stems from a lack of respect on their part for one another's stress levels and personal lives. Kyle's crying won't stop. 
Real housewife Lisa explained to her that she lied when she stated she supported them all wholeheartedly. Erika and Denise discuss the dinner party while having coffee outside. Denise makes reference to her daughter. 
Sammy overheard a tiny bit. She learned more than only about threesomes. Sammy and Denise had to attempt to work things out. Erika expresses regret over her language. They talk about Kyle's incident. Erika feels like there is a lot of pressure on her. Denise believes that everyone is under pressure.
To the launch they go, the ladies. Sutton is aware that the makeup artist she dislikes is around and that she might lose her cool. Lisa is ecstatic and immensely proud of everything on the inside. 
Episode 6 - Read Between the Signs
Garcelle goes out for a drink with her close friends. They discuss how to get about men, work, and Hollywood. Garcelle talks about how her ex's infidelity caught her off guard. One of Garcells' friends, Will Smith's ex-wife, talks about divorce.
Garcelle acknowledges that they once dated. Someone calls Kyle. Erika has made arrangements for everyone to visit an astrologer. They discuss Denise and demonstrate how heated she became throughout their dinner. Sami will be prepared for her homecoming dance by a stylist who visits Denise. 
Erika gets ready for the Chicago musical. She gets a message from the cast after practice that brings tears to her eyes. Harry enters his house. He has been traveling for work. He looks nice, in Lisa's opinion.
Before the women show up, Erika and her husband Tom enjoy a drink together. Erika and Lisa are aware that they are focusing on the same pink outfit. They begin to shout. They all assemble and converse with Tom.
The journey to Santa Barbara, which is supposed to be soothing, causes Dorit, Erika, Teddi, and Kyle to reopen old wounds. Denise is forced to consider her past provocative conduct after Lisa Rinna turns the tables on her after she feels condemned for being a mother. Garcelle is getting ready to leave town for a job while weighing the benefits and drawbacks of being a working mother.
Episode 8 - Mind Your P's and BBQs
In addition to the barbecue, there was Garcelle's gathering, and things there also did not go well. The LA Mission recognized Garcelle for her efforts on their behalf. She struggled as a child and wanted to assist others when she was able to do so. Garcelle takes pride in her job.
 
The ladies were invited to the occasion by Garcelle. She was proud of what she had done, and she wanted everyone to witness what she was doing and share this moment with her. She hadn't used passive aggression either. Everyone was invited, and she made it clear that she wanted them all there.

They weren't invited, and she didn't express a desire for them to attend. Garcelle refused to participate in those activities. She thought the ladies would enjoy the evening together because she had invited them, but the drama began even before they arrived. Garcelle visited Lisa so they could travel to the location together.

When they mentioned Denise and Denise's issue to Kyle, they were in the car. Behind Kyle's back, Denise had said a lot of derogatory things. Lisa said Denise should address her issues with Kyle directly.
Episode 9 - Until We Leave Again
The other women are perplexed and uneasy after Denise and Aaron Phypers leaves Kyle's cookout quickly. While Lisa and Erika engage in a Beverly Hills-specific "treatment," Kyle accompanies Kim through a sensitive medical procedure. Garcelle relocates to a new residence. At Sutton's trunk show, Erika and Teddi meet with Aaron in an unpleasant situation.
Episode 10 - Black Ties and White Lies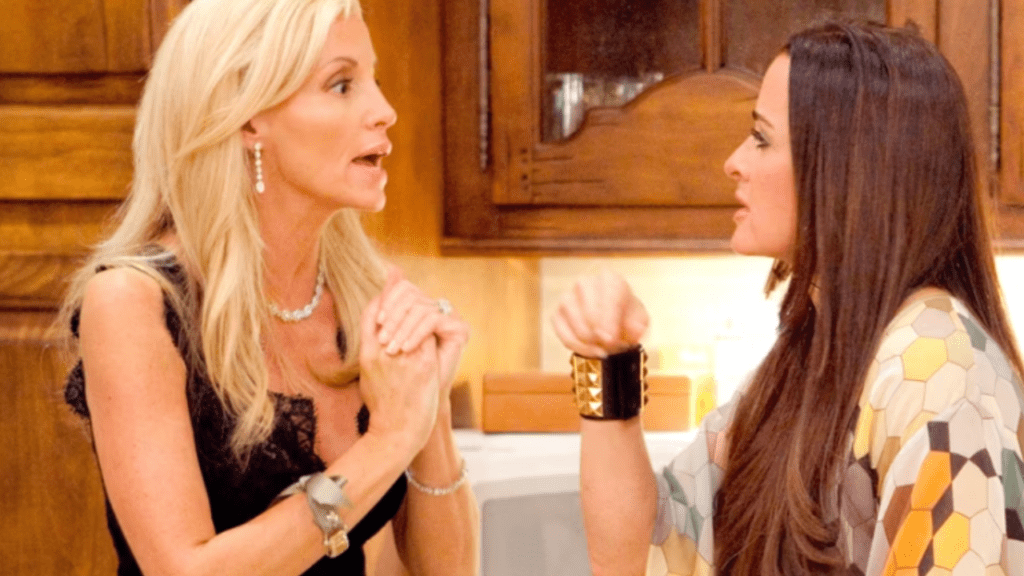 Cast member Kyle was taken aback when Camille Grammer  made eye contact with her. When defending Lisa Vanderpump, Camille previously damaged relationships by referring to the cast as the "Witches of Eastwick," but the problems didn't stop there. Camille vented her frustrations on Twitter.
She said that some cast members were inebriated at the reunion show. She genuinely launched an attack after calling them careless. Kyle believed their friendship was over because Camille had been so harsh and spiteful. 
Even though she had lost hope that she would ever see Camille again, Camille reached out to her. Clarification was what Camille desired. After her previous home burned down, she moved into a new one and wanted to start over with the ladies.
Kyle was contacted by Camille because she needed his assistance in making amends. Kyle was unsure of what to do because it was so strange to see her again, let alone hear what she had to say. She was somewhat perplexed.
Episode 11 - Kiss and Tell All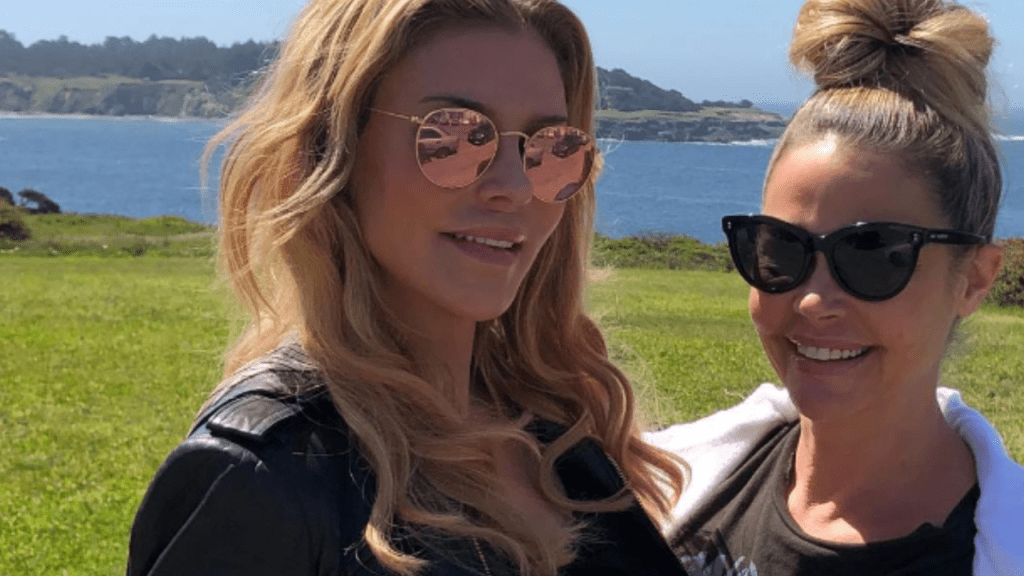 The women are all preparing to travel to Rome. Teddi struggles to zip up her bag. Erika is amusing her puppy right now. To discuss her baby shower, Teddi comes over. Kim, Kyle's sister, arrives to deliver dresses. There's Brandi in the car. Kyle instructs her to find Brandi.
 
They discuss Rome and the argument Denise had with Erika and Teddi. Brandi starts off by mentioning Denise and how she might have information on her. Then she requests water and perhaps some wine. She informs them all that Denise is not who she says she is.

Brandi admits that the love of her life betrayed her. She would never make another person feel the same way she felt by doing something to them. The day after she hooked up with Denise, Denise begged her not to tell Aaron. Kyle and Teddi appear startled.
Episode 12 - Roman Rumors
Teddi tells Lisa what she and Kyle learned about Denise. She shares with Lisa how Brandi revealed that she had a relationship with Denise and how Denise has criticized them all. Lisa is speechless.
At their hotel in Rome, all of the ladies check in. Lisa is led into her bedroom. She is thrilled. The other women adore their rooms as well. Lisa takes a nap in her room while contemplating the Denise problem.

Kyle, Erika, Dorit, Kyle, Teddi, and Lisa leave for supper. They talk about Erika's upcoming Broadway show. To check in, Denise and Garcelle make a call. They intend to meet with everybody in the morning.

The women begin to share tales from when they were teenagers. Kyle shares how Kim walked in on her having sex for the first time. Denise and Garcelle then appear.
 
They start chatting about Thanksgiving and how Garcelle wants to invite her new boyfriend, but her ex always shows up after ordering drinks. Except for Denise, everyone else appears to think this is a poor idea.
Episode 13 - There's No Place Like Rome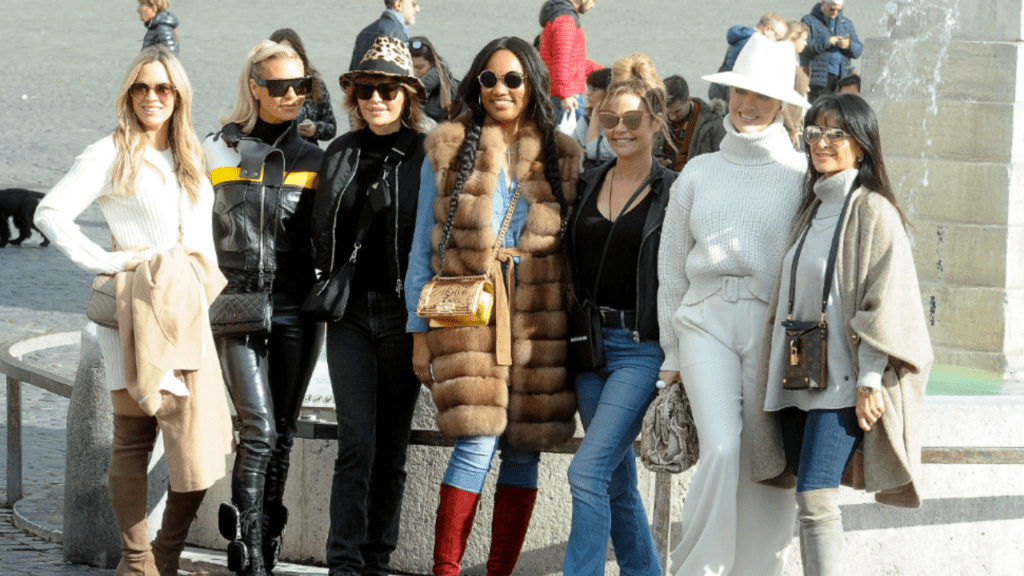 The women continue their vacation in Rome as they consider Brandi's allegations against Denise. Garcelle, Denise, Erika, and Lisa cruise the city in opulent Ferraris as Kyle and Dorit try to resolve their ongoing arguments. When Denise makes an accusation of her own during dinner, the women begin to interrogate one another.
Episode 14 - That's Not Amore
Garcelle is ecstatic that Split Marriage will finally be produced. Dorit wants everyone to get along and put the past behind them, so she attempts to prepare the house for a party. Facetime with Lisa Erika won't attend Dorit's party because she is in New York City to perform on Broadway. 
Denise may be feeling insecure in front of the group, but Garcelle is getting her cosmetics done to reassure her that she has her back. When Lisa arrives for the party, she welcomes PK and smiles sweetly when he gives her non-alcoholic champagne. However, Lisa insists on the alcohol. 
More visitors and Adrienne arrive. Garcelle dials Denise's number from outside her apartment and hears the answering machine. She is traveling in the limo with Michael, her lover. He inquires about her minimal karat weight when she talks about diamonds.
Episode 15 - Sex, Lies, and Text Messages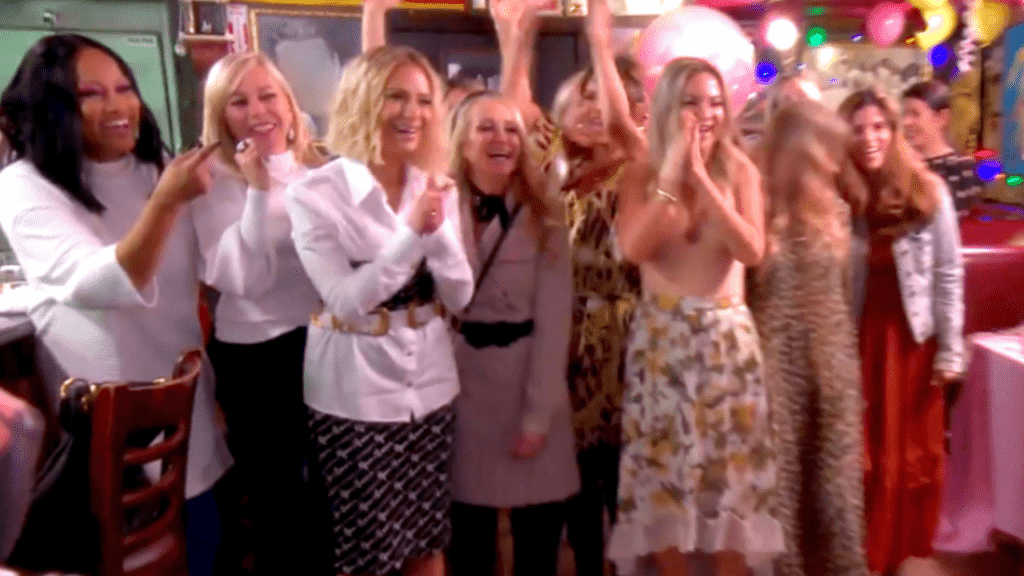 Teddi is surprised by Kyle and Dorit with a baby shower, but Brandi also has some surprises up her sleeve. Denise and Garcelle bemoan how they see Lisa has changed; nevertheless, Lisa has a totally different perspective. Erika departs from LA and flies to Broadway.
Episode 16 - Denise and Desist
Denise cancels arrangements with Garcelle twice a week and doesn't show up at Dorit's housewarming celebration. As the group boards a private aircraft to celebrate Erika's Broadway debut, Lisa and Denise engage in a difficult one-on-one conversation to save their 20-year friendship.
Episode 17 - Reunion Part 1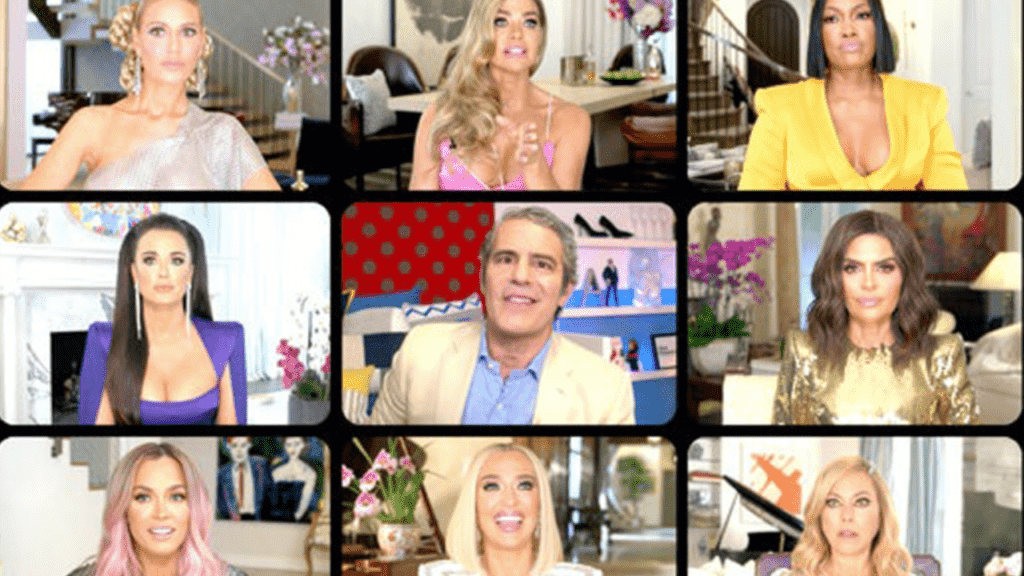 Dorit acknowledges that Kyle often speaks over others, but it is rude to single her out. Kyle apologizes and explains that this occurs when people dispute. Denise claims that she does not usually glaze over during conflicts.

Kyle rejoins the conversation and points out to Garcelle that she attended her charity event, raised her paddle in the amount of $5000, but never made a payment. Outraged, Garcelle responds, "That's not true, and the best mind what she says." Kyle informs Garcelle that she is not sincere and truthful, shocking the other women.

Garcelle declines to go there when Andy inquires about the source of her warning regarding Kyle. How does Garcelle feel about being the first black RHOBH? Andy queries. She claims that being the first at anything is always cool.

She continues by claiming that because furious black women are stereotyped, they wanted her to appear angry. According to Erika, she and Garcelle clicked immediately away since she liked her and was a little more approachable than other ladies.
Episode 18 - Reunion Part 2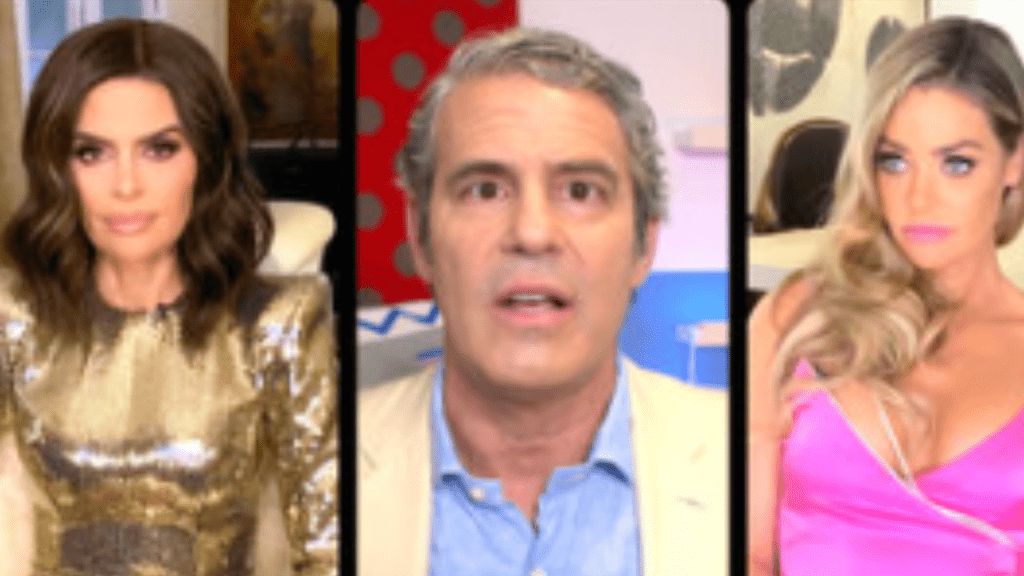 Andy queries Kyle's remarks that Denise is a phony and a ragamuffin. Kyle claims that she nicknamed her a ragamuffin because of how badly her hair is styled. Kyle claims that Denise has since received her apology.

As we reflected on the episode when Amelia was anxious, Lisa was questioned by Garcelle about whether or not sharing pictures of herself in a bikini would be problematic for her kid. As a mother, Lisa claims that you constantly consider those factors. Teddi advises Garcelle not to discuss that with everyone there.
Dorit tries to make sense of Sutton's comment that Lisa's dance was strange, but Lisa maintains that it was strange. Lisa claims that she would never harm her girls in any way, and they are all OK. But she enjoys being the center of attention and pushing the limits.

They discuss Teddi's infant, who needs neurosurgery in two weeks to correct an issue with her head. She is attempting to keep in mind Teddi's statement that children are resilient.
Episode 19 - Reunion Part 3
In the last part of RHOBH reunion, Denise ultimately admits to the women the truth about her friendship with Brandi as the reunion ends. Garcelle, who is on the defensive, is questioned about why she didn't support Erika's Broadway debut.
Erika and the others express their grave worries about Denise's marriage. The women talk about what has to happen within the group if they are to continue being friends.
Episode 20 - Secrets Revealed
In the never-before-seen video, Teddi shops for a new sports car, and Kyle prepares to build a new beach house in Mexico. Camille visits the Museum of Sex in New York City in quest of the ideal gift for Dorit.
The Real Housewives of Beverly Hills Quick Facts
an American

reality TV show

the sixth series in The Real Housewives franchise
aired on Bravo from February 12, 2019, to July 30, 2019
filmed in

Beverly Hills

, California
consists of 20 episodes
executive producers are Andrew Hoegl, Barrie Bernstein, Lisa Shannon, Pam Healy, and

Andy Cohen

midway of Season 9, Lisa Vanderpump left the show