eason 4 of The Real Housewives of Orange County introduces a new cast member, 30-year-old blonde bombshell Gretchen Rossi. She is an obvious danger to the established cast members due to her youth and stunning looks. Even though modern women's lives, which often appear to be perfectly balanced between home, friends, and work, are far from flawless, the pursuit of the good life continues unabated.
Cast of The Real Housewives of Orange County Season 4
Vicki Gunvalson – a famous reality T.V. star and thriving businesswoman in Coto de Caza, California, USA
Jeana Keough – American actress, realtor, and model who has also been on television.
Lauri Peterson – a famous American T.V. host and real estate mogul in Orange County
Tamra Barney Judge – an American television personality, businesswoman, and a real estate agent 
Lynne Curtin – an American television personality and a jewelry entrepreneur
Gretchen Rossi – an American T.V. and radio personality and an entrepreneur
Episode 1 - Are They For Real
Episode 2 - Hold On To Your Daddies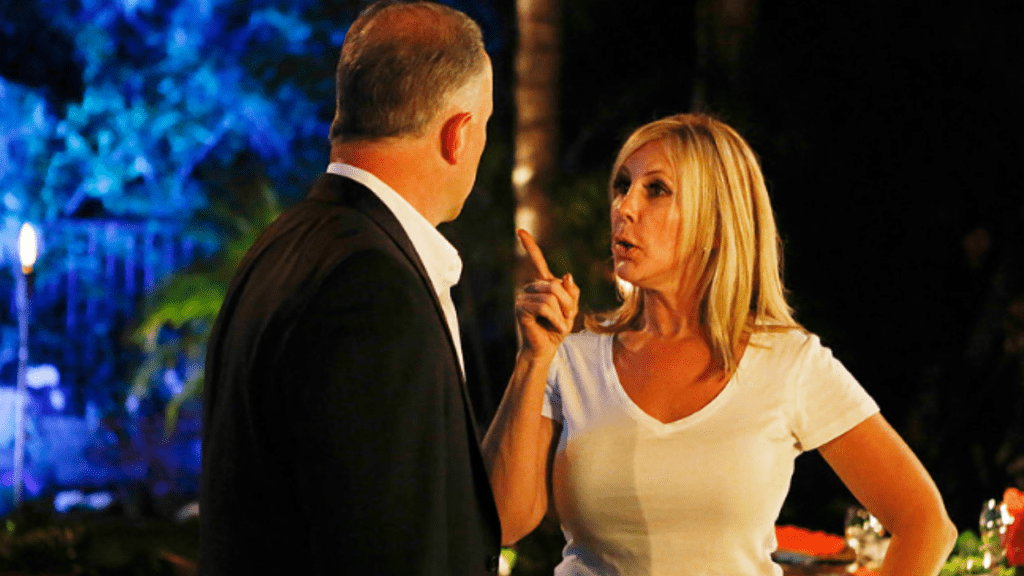 Vicki and her husband Donn argue about their marriage on their scheduled date night. The rest of the women in the group go to a Beverly Hills spa to relax and unwind in peace and quiet while he is away.
Tamra and Simon Barney celebrate their tenth wedding anniversary by taking Vicki and Donn on a weekend trip to Napa Valley. Vicki and Donn have difficulty being civil as Tamra and Simon spend a romantic weekend wine touring, grape stomping, and dining on gourmet cuisine.
Episode 4 - You Just Don't Get It
Gretchen Rossi throws a burlesque party to cheer herself up while her fiance spends the night in the hospital. As Briana complains, Vicki Gunvalson takes her family to tour the million-dollar boat she plans to buy. Vicki, Jeana, and Tamra Judge go out for the night to escape the misery in their lives.
Still, a conversation about marriage and ex-husbands turns the evening heated.
Episode 5 - 120 In The Shade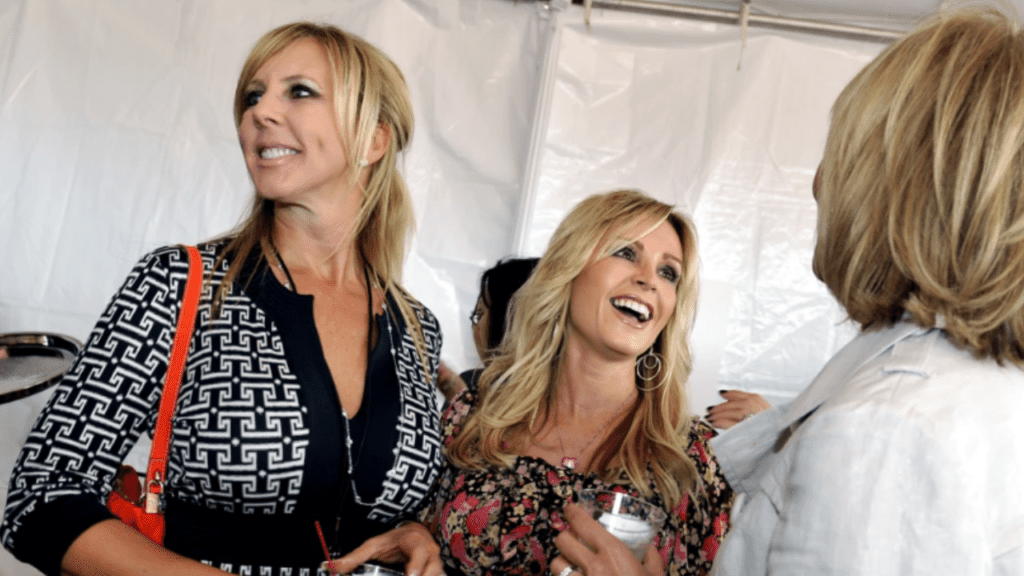 Jeana Keough, Vicki Gunvalson, and Tamra meet on Lake Havasu river to celebrate the Fourth of July, and chaos ensues. In the lead-up to her daughter's 18th birthday celebration, the new housewife finds her tolerance tested as the birthday girl throws a tantrum during a tan spray party at home.
Gretchen has asked Jeff's daughters to fly up from Michigan to take turns staying with him at the hospital. Vicki has overcome her fear of needles to go with Briana to the Red Cross and give blood. Lynne Curtin meets the other women in person at Orange County's hottest new restaurant.
Still, she makes a social faux pas almost immediately after arriving. The evening's plans are derailed when Tamra and Gretchen argue over how Gretchen handled her injured fiancé.
Episode 7 - And They're Off...
Gretchen Rossi will have something to look forward to while Jeff is in the hospital: her 5K diamond-studded engagement ring. Housewives new and old gather for the opening day at Del Mar Racetrack, where newcomer Lynne Curtin is particularly excited to meet her fellow cast members. This causes tension as Vicki and Tamra ignore both Lynne and Gretchen.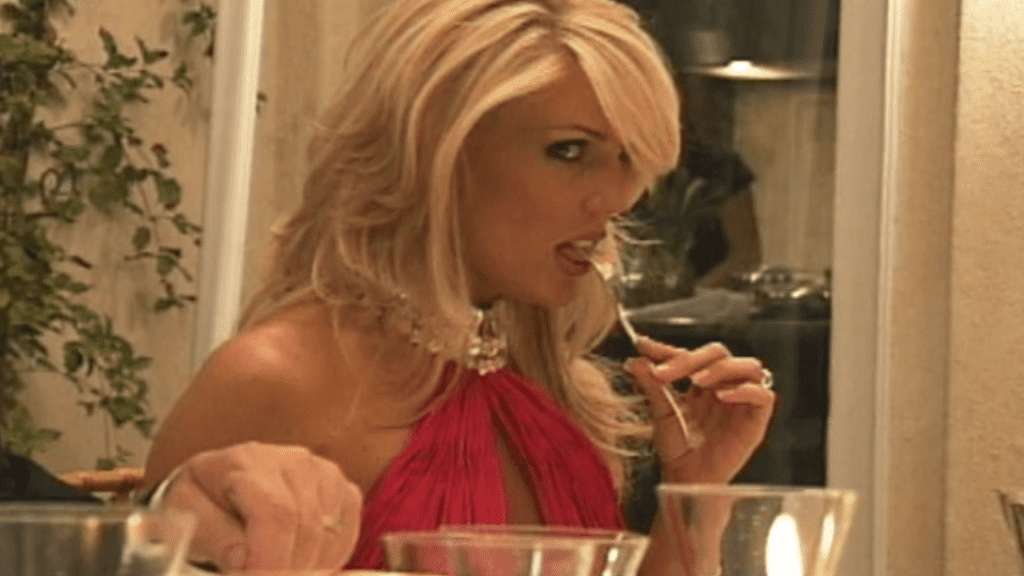 Real housewife Vicki Gunvalson goes to Chicago to see her family and tries to win over her cold mother again. Gretchen Rossi is emotionally exhausted from caring for her ill fiance, Jeff. On Simon's prompting, Tamra Barney enrolls in an etiquette course. He hires a celebrity chef to organize a formal seven-course meal for the other women, complete with a sample of quality tequila.
It all comes crashing down for Gretchen as Tamra and Vicki offer the tequila shots.
Episode 9 - Why Are You Being So Mean To Me?
The last courses of Tamra Judge's seven-course meal are being served. Ryan, Tamra's son, finds an opportunity to make a move on a very drunk Gretchen Rossi, causing the other women to worry about her safety. The girls come to Santa Monica for a stylish shopping day.
At lunch, Lynne and Vicki get into a fight when Gretchen tells the woman about her money woes.
Episode 10 - The Girls Want To Come Out And Play
Jeana Keough and Vicki Gunvalson take a road trip to Chicago to see Vicki's high school pals and Kimberly Bryant, a former housewife. While Jeff is still in the hospital, Gretchen Rossi tries to protect her future financial stability. At a cocktail party her mother, Lynne Curtin, has thrown for the women, Raquel, her rambunctious adolescent daughter, helps herself drink.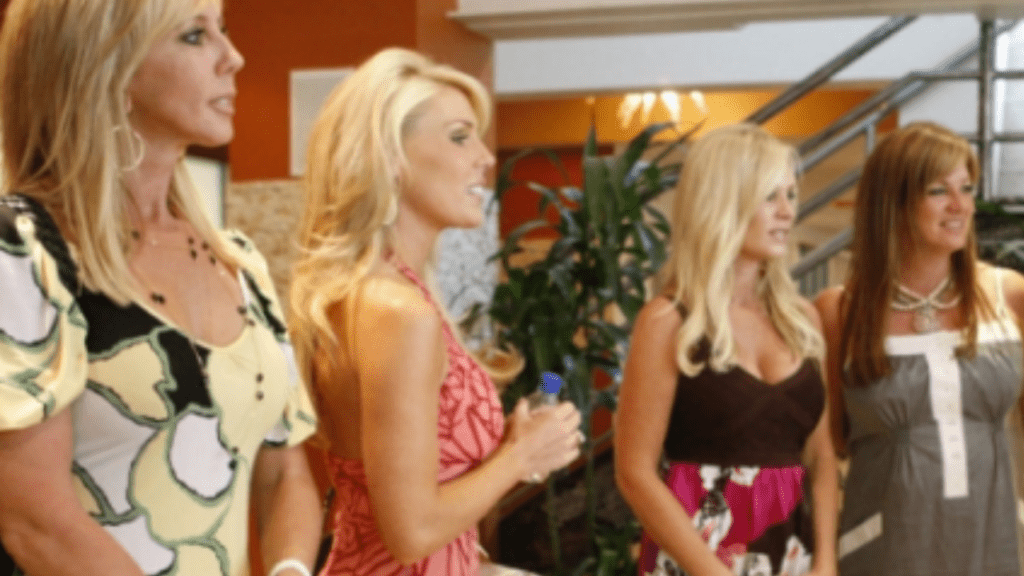 Lynne Curtin wants her mother's advice on becoming a better parent now that her daughter Alexa is 18 and running amok. Vicki Gunvalson makes a shocking decision about the million-dollar yacht she has always wanted. Gretchen Rossi's fiance Jeff finally returns home after spending two months in the hospital receiving chemotherapy.
Later, the housewives burn off some steam with a girls' overnighter in Las Vegas.
Episode 12 - Are We There Yet?
Jeana Keough and her daughter Kara drive to Berkley so that Kara can move into her apartment, but they are strangers among the so-called "bums" and "hippies" there. During a trip to Iowa to see her father, Tamra Barney decides to risk it all. Gretchen Rossi does Dallas by opening up to her estranged father and getting back together with her four closest college friends.
Jeana Keough goes on her first serious date since evicting her ex-husband, Matt. Vicki Gunvalson's daughter, Briana, has a new plan for her life that leaves Vicki startled. All the Housewives, current and former, meet together towards the end of summer.
Episode 14 - Reunion Special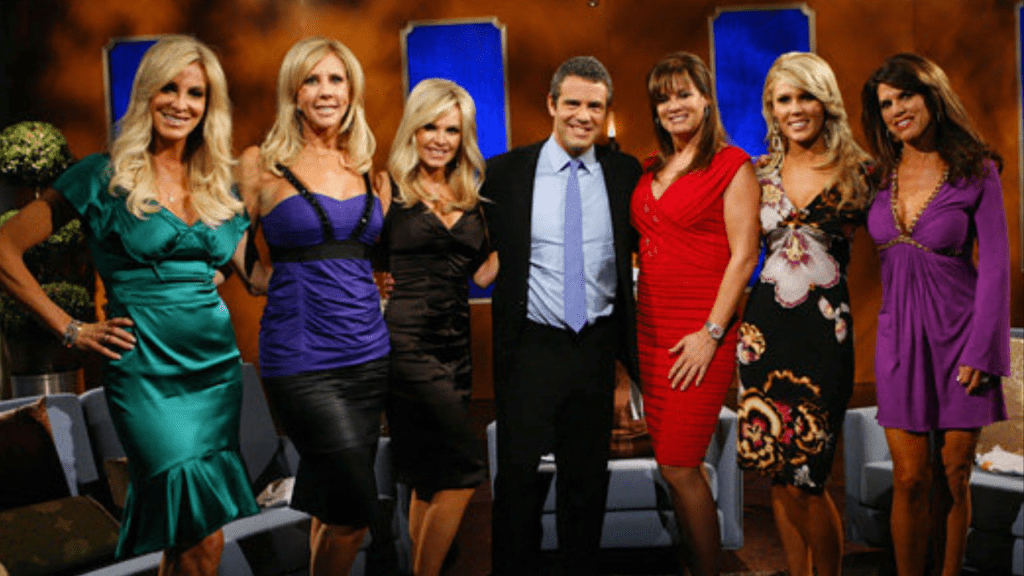 Andy Cohen is a Bravo programming executive and host of the show. She reunites the women of Orange County to hear their side of the story about what happened after the cameras stopped rolling.
The Real Housewives of Orange County Quick Facts
is an American reality TV series
broadcast on Bravo
aired from November 6, 2007, until January 29, 2008
primarily filmed in Orange County, California
Executive producers include Adam Karpel, Douglas Ross, Gregory Stewart, Alex Baskin, Scott Dunlop, Stephanie Boyriven, and Andy Cohen
produced and distributed by Evolution Media
consisted of 14 episodes
Quinn Fry and Tammy Knickerbocker left the show after Season 3