Discord amongst friends is a central theme of Season 4 of Mayans. This is a test between brothers. Damage to relationships is irreparable. The effects of the motorcycle gang's decades-long reign of murder and mayhem were felt by ordinary people.
Almost all of the lightheartedness and absurdity that Sutter regularly sprinkled, whenever things became too serious has been eliminated.
J. D. Pardo as Ezekiel "EZ" Reyes

Clayton Cardenas as Angel Reyes

Sarah Bolger as Emily Galindo (née Thomas)

Michael Irby as Obispo "Bishop" Losa

Carla Baratta as Luisa "Adelita" Espina

Richard Cabral as Johnny "El Coco" Cruz

Raoul Max Trujillo as Che "Taza" Romero

Danny Pino as Miguel Galindo

Edward James Olmos as Felipe Reyes

Emilio Rivera as Marcus Álvarez

Sulem Calderon as Gabriela "Gaby" Castillo

Frankie Loyal as Hank "El Tranq" Loza

Joseph Raymond Lucero as Neron "Creeper" Varga

Vincent "Rocco" Vargas as Gilberto "Gilly" Lopez
Episode 1 - Cleansing of the Temple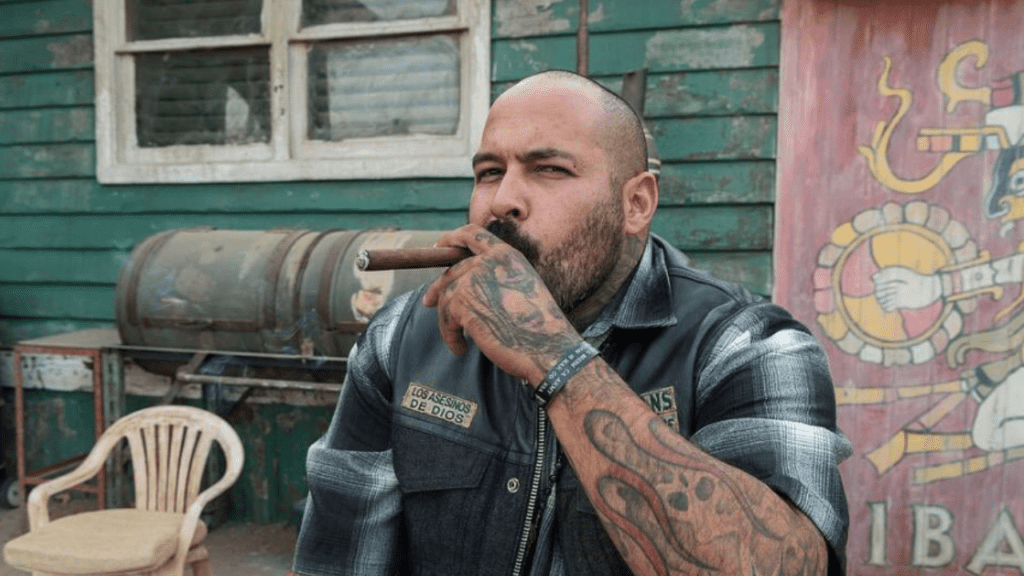 After Gilberto 'Gilly' Lopez (Vincent Vargas) saves Johnny 'Coco' Cruz (Richard Cabral), Mayans MC shifts to show the two of them returning to the clubhouse. After going AWOL for a while, Coco decides he needs to make amends with the club. However, the attacking Mayans start firing when they get there.
Once Gilly understands the situation, the two take the initiative to get the necessary weaponry for the club. Yet, they fall short, and the van is demolished. Because of this, Gilly and Coco are forced to take refuge in the clubhouse.
The club members inside are getting ready to surprise the invading Mayans by turning on the floodlights when they hear the sound of feet on the roof. At first, they take them for their enemies' footprints, but they quickly learn that it's really Gilly and Coco. That diversion lets the invading Mayans get dangerously close to the clubhouse.
The club members of Santo Padre turn on the spotlights and begin firing at the invading Mayans, killing numerous individuals.
Episode 2 - Hymn Among The Ruins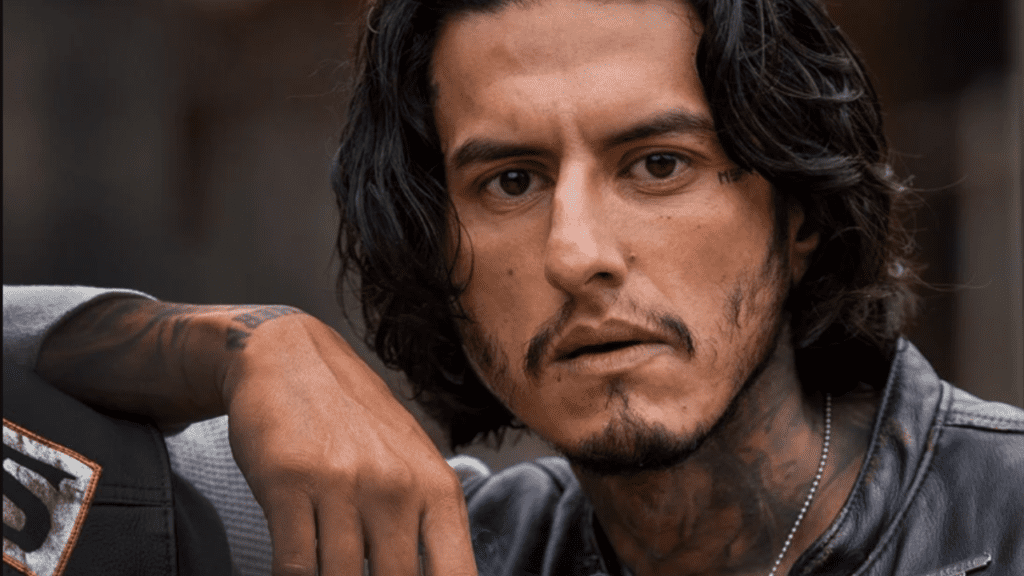 So that they can reestablish good standing with the club, Coco and Gilly are performing menial tasks. They are fixing up the damaged clubhouse, and Coco is giving Gilly orders like a foreman on the job site. Discord amongst friends is a central theme of Season 4 of Mayans.
This is a test between brothers. Damage to relationships is irreparable. The effects of the motorcycle gang's decades-long reign of murder and mayhem were felt by ordinary people.
Almost all of the lightheartedness and absurdity. Sutter has been eliminated and regularly sprinkled into the show whenever things became too severe. Gilly's remaining supply of, you know what, is currently at an all-time low of zero. His punishment for protecting Coco has worn him down.
It appears that Ezekiel "EZ" Reyes (JD Pardo) took Angel Reyes' (Clayton Cardenas) joke recommendation that he buy a dog or goldfish seriously. He walks down the line of kennels at the animal shelter until he finds the ideal dog for adoption. She has become distant and quiet, without explaining why she was abandoned here.
Despite being distant and unresponsive, the dog is said to forgive humans if given a chance.
Episode 3 - Self Portrait in Blue Bathroom
Hank 'Tranq' Loza (Frankie Loyal Hank) is struggling to accept Esteban "Steve" Estrada's (Momo Rodriguez) suicide, a previous potential. With the dead man's bloodstained jacket in his hands, he begins to cry. He sees Steve's mother and sister and talks about what a fine man Steve was and how he appreciated brotherhood.
With tears in his eyes, Tranq offers his condolences to Steve's mother and presents her with her son's jacket before leaving. Nighttime in the desert, the men move silently through the darkness. Even though Randall is out of shape and wants to rest, EZ, Manny (Manny Montana), and Angel are determined to make it across the mountains before sunrise.
Angel wants to flee after hearing gunfire, but Manny says they should stay put until the perpetrator leaves. After agreeing with Manny, EZ decides to find a place to hide out for the time being. Manny and Angel talk about being parents during their break.
He says he didn't mature into a man until he became a dad, and he'd be a complete wreck if he ever had to bury his daughter. Whether or whether Manny is giving away any of his cards by bringing up Marcus Alvarez (Emilio Rivera) prioritizing the club over his family is a mystery to me. According to what Manny has heard, Marcus let a Reaper kill his son when a deal went south.
Marcus lets a Reaper named Happy kill his son.
Episode 4 - A Crow Flew By
Canche (Jimmy Gonzales) calls a club meeting and demands to know who fired the shot. Angel acknowledges it after a pause, but Manny says he killed him in the end. EZ takes the lead, claiming that as the senior officer, it was his decision to make.
Canche maintains composure despite his rage and holds Marcus responsible for EZ's ascendancy. To defend his men, Marcus tells Canche that they don't provide security for pedophiles and assures EZ, Manny, and Angel that they made the right choice. He sounds the gavel to end the meeting, but not before Canche gets the final word.
Jess (Grace Rizzo) drops a beer bottle, and Che 'Taza' Romero (Raoul Max Trujillo) and Tranq are concerned about her. She claims to be well despite her nervousness. Taza tells Tranq that he has lost all familiarity with the club. Tranq responds by speculating that they are being tested. He has doubts that they will survive.
Episode 5 - Death of the Virgin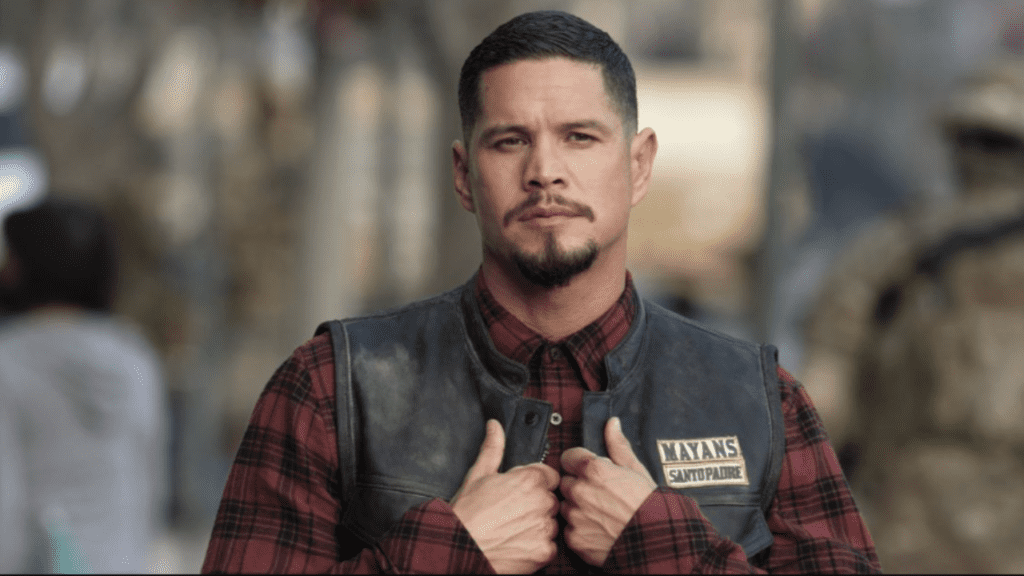 Chaos ensues when the other charters urge that every member of Santo Padre should commit suicide like Steve did. When Tranq and a visitor get too close, EZ steps in to remind them that they are all brothers. When the man he is trying to keep away from Tranq pushes him, EZ immediately goes into fighting mode.
After Marcus enters the area and shoots several shots into the air, the chaos finally subsides. Marcus can't believe they're demolishing his 40 years of work. Maybe you're right, Cardinale," he adds, eyeing Diaz (Alex Fernandez) directly. Perhaps we should just get rid of cancer already.
The "Mayans are good to meet Mr. Mayhem (Dean Gerard Winters)" communication is received. The Vice President of Sons of Anarchy San Bernardino and his other Sons brothers are waiting in a car. The Vice President says what's about to happen is payback for Allesandro Montez's (Jacob Vargas) death.
Episode 6 - When I Die, I Want Your Hands on my Eyes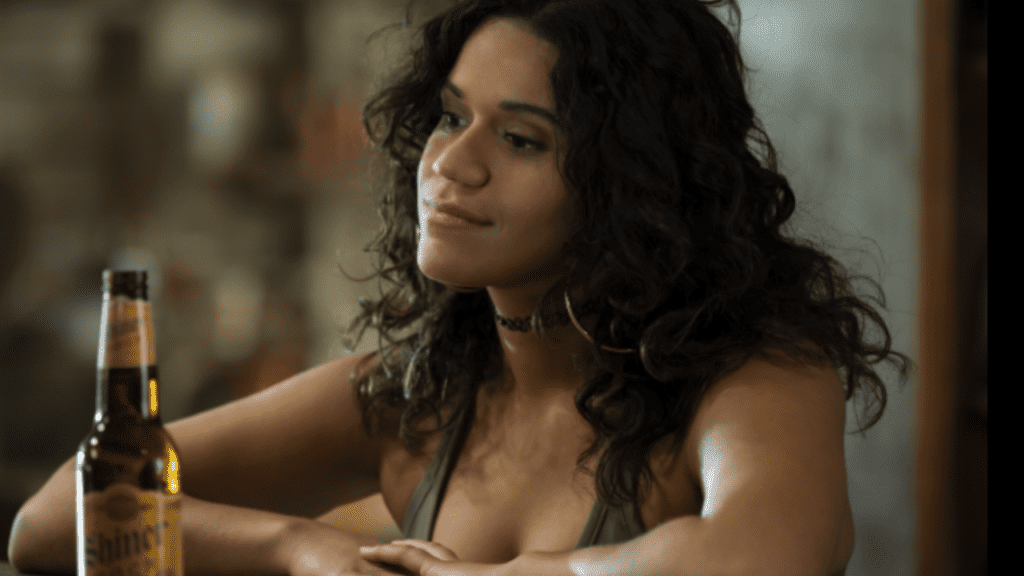 For sending Coco to Oakland, Marcus must bear the responsibility for his death. Even though he assures EZ that blood will be spilled, he hasn't yet decided how much of it will be Mayan blood. And in the meantime, Nails (Justina Adorno) has decided to complete the painting of the nursery.
After she relocates a ladder, she finds a spot of blood in the paint tray. The bleeding seemed to have worsened as she ran into the shower. Nails hobble to the front door, wincing in pain. While reassuring her unborn kid, she looks back and sees a trail of blood droplets.
Lucky for Angel, Felipe Reyes (Edward James Olmos) shows up just as Nails struggles to unlock her car door. Felipe gently assists her to his pickup because he thinks she's about to have her kid.
Episode 7 - Dialogue with the Mirror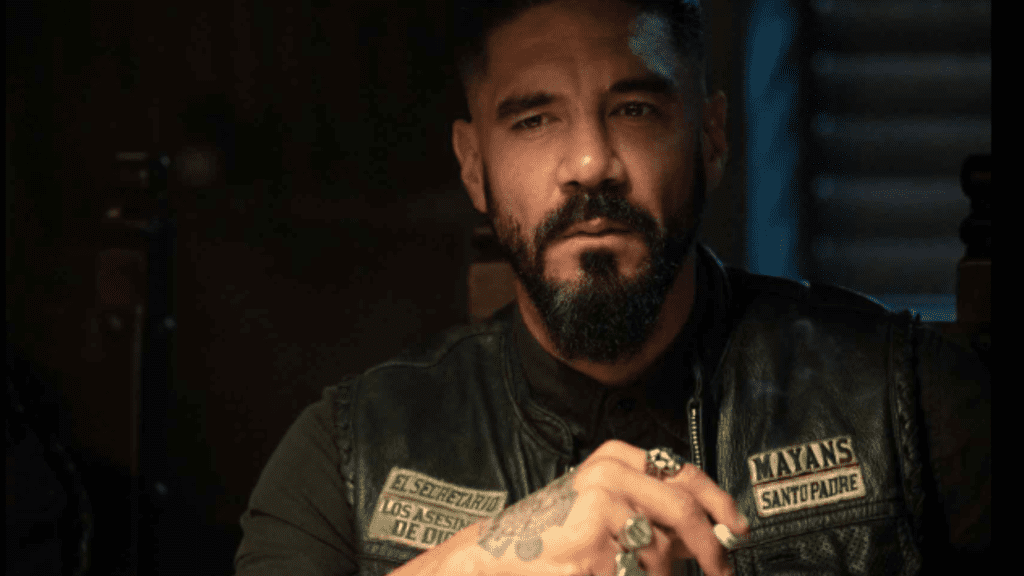 Angel's apparent interest in Felipe's antics was misunderstood by Felipe. Angel isn't interested in Felipe's resiliency; he wants to know what Felipe did to his family to muck it up in the first place. He seeks an explanation from Felipe as to why he and his family are cursed.
Angel finally has enough of his father and throws him out. Later, Angel visits Coco's to check on Leticia 'Letty' Cruz (Emily Tosta), who is now wholly tipsy and delirious. Surprised by his appearance, Letty asks Angel if he's intoxicated.
He insists that the only reason he's there is that he can't get her out of his mind. While Letty is aware that yesterday was a huge mistake that must never be repeated, Angel tries to convince her otherwise. And just as Gilly comes out of another room, Letty assures him that this will never happen again.
Episode 8 - The Righteous Wrath of an Honorable Man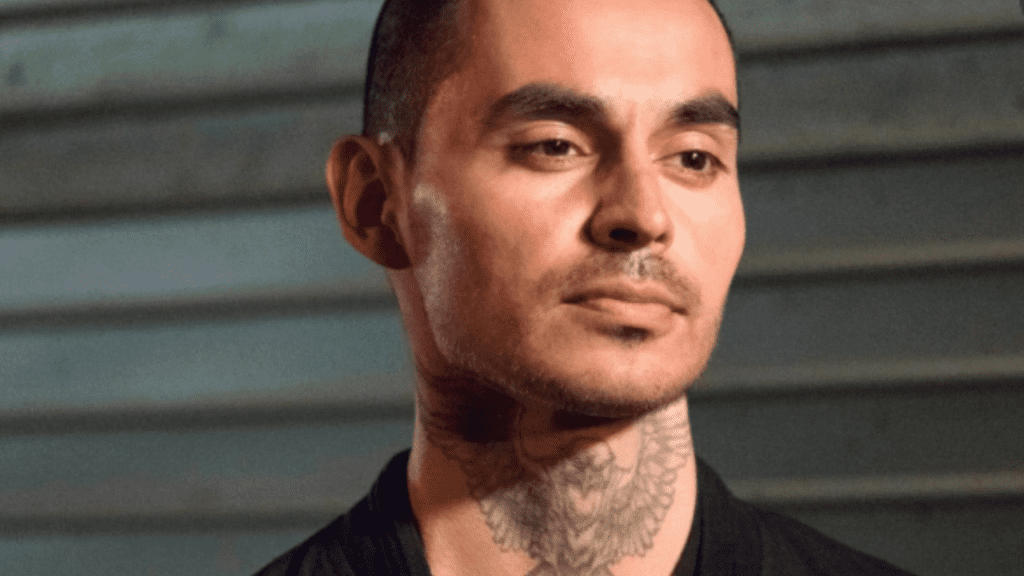 After the Mayans return to Santo Padre, EZ sits next to Manny. Manny says that Canche was a decent man and that he's sorry about what happened with Canche. His loss has hit him hard, and he isn't in the mood to revel in their victory over his Sons.
EZ suggests to Manny that he take over as Vice President of Yuma right before the latter leaves. Manny remains silent. A tear rolls down Adelita's (Carla Baratta) cheek as she listens to her baby cry from the comfort of her bathtub. She gets up when he finally quits and finds Angel caring for their child.
She says she hasn't slept in days and is worried she won't be a good mother because of all the terrible things that have happened to her. Angel thinks that their child is good even though she and her partner are flawed. He cares deeply for her, but he will keep the baby if she ever leaves again.
A report from Mexico states that Ignacio aka El Banquero's (Guillermo Garcia) ailing mother has passed away. The cartel leader drinks away his anguish and then hides in the pool to weep in private. Later that day, he tells his sister Soledad (Selene Luna) that their mother has passed away. Now that their parents are dead, he threatens to shoot her.
Episode 9 - The Calling of Saint Matthew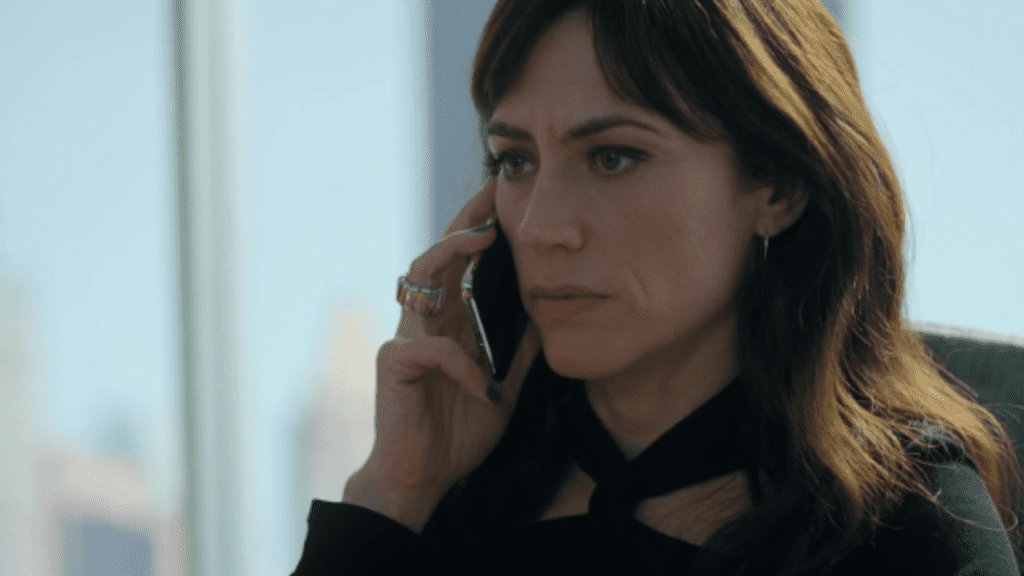 Even though Bishop seems a little out of place at the bowling alley, he and Maggie Siff (Emily Thomas) seem to be having an excellent time on their first date. As a bonus, in God knows how long, he lets out a chuckle for the first time.
Emily Galindo (Sarah Bolger) has checked into a generic motel, where she is smoking and calling Erin repeatedly with no response. In the last half an hour, Erin Thomas (Holland Roden) has ignored her phone and not responded to any texts. When a man is observed creeping around Erin's flat, the cause is made plain.
As gunfire ring out, we hear Erin's terrified scream. When EZ arrives at his trailer, he discovers the door is already open. Here is Felipe, who is responsible for EZ's unfortunate development but refuses to accept responsibility.
If anything, Angel takes after his mother, but Felipe sees himself in EZ. Felipe can't fathom how EZ killed Gaby (Sulem Calderon), and EZ acknowledges he'll resort to monstrosity if necessary to defend the ones he cares about. He insists that his father reveal his true, hidden self when confronted.
EZ puts the gun to his own head while demanding to see Ignacio, who is being held by Felipe. Younger son EZ is disillusioned by his father's forbearance as Felipe removes the gun from his head. Felipe walks away without saying goodbye.
Episode 10 - When the Breakdown Hit at Midnight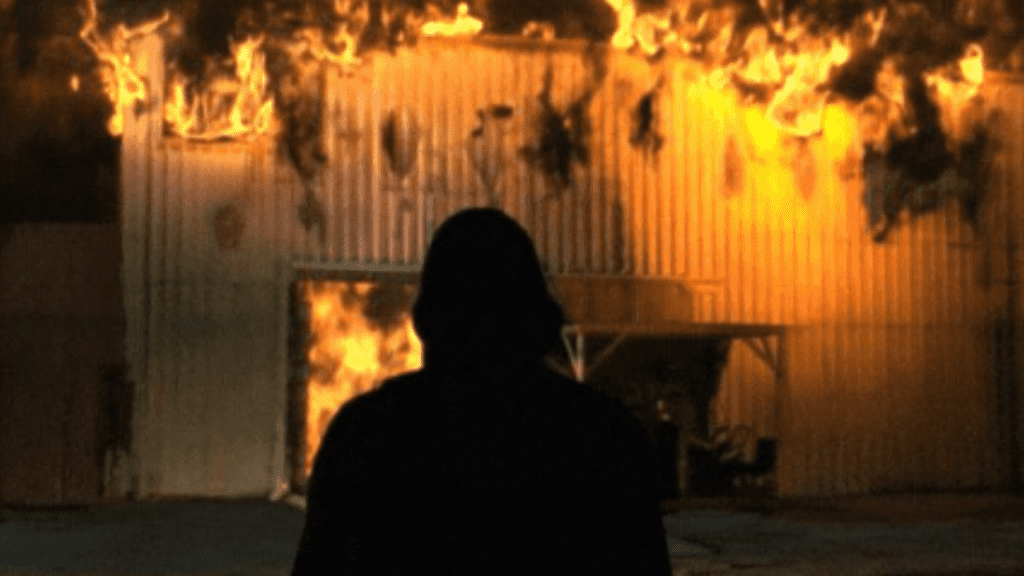 EZ says that when they were kids, they broke their dog's neck because she was in so much anguish after being hit by a car. He did it because he loved her, even though Angel knew he couldn't do it. EZ claims he didn't have time to cry to do something no one else would have.
That's always been his nature, and it's always been part of who he is now. EZ reassures his sibling that he is in it for the long haul and that he loves and needs him. EZ will run over him if he doesn't get out of the road.
When Angel inquires as to whether or not that constitutes a threat, EZ remains silent. He walks over to his brother and rests a hand on his shoulder before turning and leaving. Having finally reached the police station, Neron Vargas aka Creeper (Joseph Lucero) now demands to speak with Kate (Stella Maeve).
As they enter the interrogation room where Creeper is seated, her employer exclaims, "This is massive." Creeper admits he's come to provide information on the Mayans, declines legal representation, and then claims responsibility for the club's slayings. According to him, he has only himself to blame.
He succeeded without the assistance of or even the club's awareness.
At the same time, someone in a hood starts a fire in Soledad's (Selene Luna) warehouse full of heroin. The persona escapes the building and stands on the outside, watching it burn.
an American crime drama TV series 

created by Kurt Sutter and Elgin James

premiered on September 4, 2018, on 

FX

takes place in the same fictional universe as Sons of Anarchy and deals with the Sons' rivals-turned-allies, the Mayans Motorcycle Club

located in a made-up California border town hundreds of kilometers distant