In Season 5 of The Real Housewives of Orange County, five of the six housewives from Season 4 return. Midway through season 4, Lauri Peterson quit, leaving only five spouses. During the third episode, original housewife Jeana Keough decided to leave the show.
According to reports, Keough departed the show because she felt underappreciated. Keough's retirement in season six left just Vicki Gunvalson from the original cast. After Keough left the show, Alexis Bellino was introduced as the new housewife.
Cast of The Real Housewives of Orange County Season 5
Vicki Gunvalson – a famous reality TV star and thriving businesswoman in Coto de Caza, California, USA
Jeana Keough – American actress, realtor, and model who has also been on television.
Tamra Barney Judge – an American television personality, businesswoman, and a real estate agent 
Lynne Curtin – an American television personality and a jewelry entrepreneur
Gretchen Rossi – an American TV and radio personality and an entrepreneur
Alexis Bellino – an American TV personality and a self-made entrepreneur and businessman in the Newport Beach area
Episode 1 - When Times Get Tough, The Tough Go Shopping
For lunch, Tamra Judge and Vicki Gunvalson catch up on each other's lives. Jeana Keough and Vicki broke up because Jeana had asked Vicki for a loan, and Vicki had refused. That was when she found out Vicki had rejected her. The two of them haven't communicated since. Moreover, Tamra discusses the gossip surrounding Gretchen and her naked images posted online.
After Jeff Beitzel died, Gretchen Rossi says she went into a deep depression and let some terrible pictures of herself leak to the media and the Internet. She means that horrible things can occur when someone you care about dies. They divided his ashes in
half, and each of her children and Jeff's now got one half.
Every female in school attends Lynne Curtin's jewelry party. Jeana and Vicki haven't spoken in a while. The hatred is palpable because, according to Jeana, Vicki gave her real estate and property management business to someone else. According to Vicki, Jeana wanted to borrow money.
Episode 2 - Friends, Enemies, and Husbands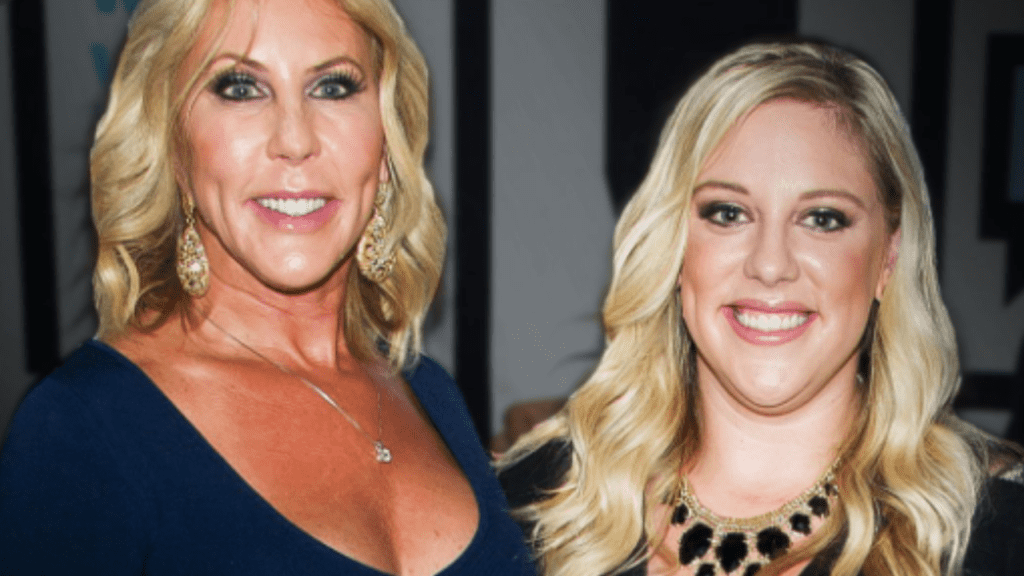 As Vicki is the only one who doesn't seem to be doing too badly, she plans a trip to Italy for her and her daughter, Briana, to celebrate the latter's recent college graduation. Even in the Coliseum, which she despises, Vicki's mother is unimpressed and makes hilarious comments. They have trouble talking to one another and fitting in, but they have a good time.
Alexis Bellino, the newest housewife, is invited to dine with Tamra and Simon with his husband, Jim Bellino. Alexis and Jim have only spent two nights apart in the seven years they've been married. That makes Tamra think of the good times she and Simon had.
Episode 3 - It Ends in Coto de Caza
This wives' tale follows Jeana, who takes a difficult decision. She chooses to leave the housewives and the series in order to focus on her real-estate business, which has been struggling in a down market.
Episode 4 - It's All About Choices
To celebrate Chris' arrival, Vicki hosts a barbecue. A visit from Tamra and Simon. Over six months had passed since Simon last spoke to Ryan (Tamra's son). Unbeknownst to everyone, Ryan grabbed one of the automobiles and drove it away while his license was still suspended. And now Simon won't forgive him unless he apologizes for starting a Facebook fight.
There comes a time in the show when Ryan has lunch with Tamra and tells her he is going to jail for five days for driving on a suspended license. At this point, he isn't even permitted in the house. Tamra wants nothing more than for her son Ryan to succeed in life, and she is ripped apart by the fighting between her husband and him.
Real housewife Alexis revealed that Jim had never changed a diaper on their fourth wedding anniversary. When Jim asks her what she did that day, she says she went for a run but didn't have time to go to the gym; Jim then scolds her for not having enough time to get her hair done, her nails done, and go to the gym.
Episode 5 - Friends, Facelifts, and Florida
Tamra Judge and Simon arrange a sitter for Florida, despite Tamra's preference to travel alone because they have a rule about traveling together. Vicki irritates Simon by overstepping her boundaries by giving them dating advice. Simon believes he and Tamra have an incredible connection, but Tamra does not think so.
Alexis visited her plastic surgeon, who performed her breast augmentation to get Botox. She must have missed the section of the Bible that discusses pride, prudence, hypocrisy, and humility.
Finally, Tamra and Gretchen had lunch in Laguna Beach to resolve their disagreement. Gretchen continues to deny having a relationship with Jay. She refuses to remove her blog, which allegedly contains accusations against Tamra. The friendship between these two does not appear to have a bright future.
Episode 6 - All Girls Weekend
Vicki had a business conference in Fort Lauderdale, so she contacted her gal pals to see if they fancied meeting up for a weekend of girl bonding. All the wives agreed, but some insisted on coming along because their husbands wouldn't let them out of sight.
Tamra brings Gretchen and Lynne, hoping Vicki won't be angry about their presence. She really wants the men to be men and the women to be women. Lynne looks terrific, despite her admission that she is heavily medicated when the girls get together. Because she usually is so energetic, the procedure has rendered her bedridden.
Vicki gets a taste of why she invited her girlfriends but not their husbands when Tamra and Simon get into an argument during the weekend. Vicki claims that her life has changed since the introduction of male companionship and that this should not worry her, but it does.
Gretchen is concerned about Lynn's daughter Alexa because she has mentioned that no one listens to her and that she is depressed. Lynn answers the phone and asks if she can take Alexa shopping. While shopping, Gretchen remarks that she never had somebody to talk to in high school and never listened to.
Alexa opens up a little and claims her sister and mother never listen to her. Lynn and Alexa work out, and Alexa complains about Gretchen ambushing her. Lynn is slightly embarrassed about her mothering abilities. Alexa believes Gretchen is only focusing attention on her and diverting it away from Gretchen.
Vicki and Donn decide to go to Turk's & Caicos for a romantic break to reconnect. Donn cares deeply about it, as evidenced by his frequent tears. They eat conch and drink rum punch while there. Donn eats the conch live, much to Vicki's amusement because it is said to be an aphrodisiac for males.
Episode 8 - Let Bygones Be Bygones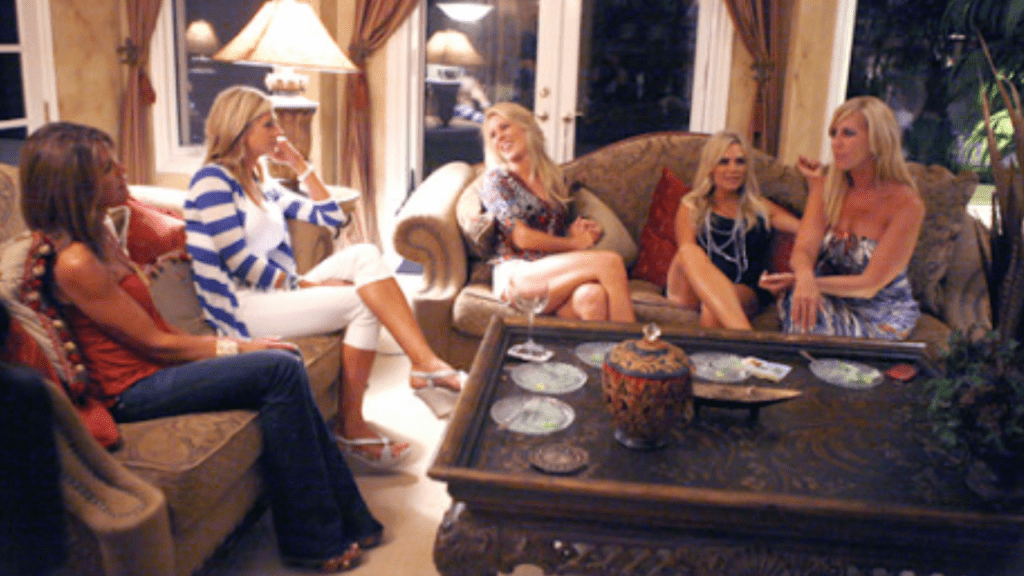 Vicki apologizes about Florida when Tamra calls. Things have shifted, and Tamra is now focused on why she does not want to divorce Simon. She goes to Ryan's house to ask him to apologize to Simon.
Vicki is planning a slumber party to compensate for Florida. The females all arrive. Alexis can't stay since her nanny is out for the night, and if one of the babies poops, they will have to sit in it until she returns.
Vicki has a special guest, psychic Dougall Fraser, whom you may recall from our Exclusive Article. Except for Tamra, no one will stop talking long enough for him to read them. They all consider it a joke and mock him.
Episode 9 - No Boundaries
It's time to check in on Vicki, who claims to have been working hard and proves it by holding a botox/spray tan celebration for her office staff.
Gretchen, Alexis, and their guys go to the races for the day. The only things more extensive than the limo are the caps the ladies are wearing. Gretchen says she's having a lot more fun without Tamra and defends keeping her blog about her up on her website.
When Alexa is called out on her behavior, she tears up and sobs because she wants to do what she wants. She eventually walks out, and no one stops her.
Episode 10 - I Can't Stop
The girls are gathering at Alexis and Jim's house for "Cook Club," where a gourmet chef instructs the ladies how to cook a delicious supper. This is an excellent reason to gather the ladies. Vicki is obviously at work, but Lynne, Gretchen, and Tamra arrive. Lynne then becomes a little drunk on the wine.
Lynne becomes upset when Gretchen criticizes her parenting abilities yet again. Gretchen's valid point is probably correct, but she fails to recognize that you cannot lecture a parent about their child. You will never succeed.
Lynne is deeply upset by Gretchen, and now Alexis and Gretchen are pressuring Lynne to provide advice to her children. Gretchen does not have any children. Alexis has children. Tamra, the only one with grown children besides Lynne, keeps her lips quiet.
Episode 11 - Nothing Is As It Seems
The topic of conversation at dinner is how all of the couples met their wives. Lynne and Frank have a sweet story to tell. Simon and Tamra's is also adorable.
When the topic shifts to Vicki and she is asked about her vacation to Greece, she emphasizes that Donn was not invited. Gretchen questions Vicki about why she always says things like "Donn was not invited," to which Vicki responds that she is joking.
Everyone appears to be a little upset at this point because Gretchen is attempting to launch a makeup brand. As a result, Vicki and Donn decide to leave the housewarming party and take a Limo home. Vicki sobs in the car because she knows she is the "bad person," and it hurts her.
Episode 12 - You Can Dish It, But You Can't Take It
The females in San Francisco dress up and go to Fleur De Lys. Alexis answers a phone call from Jim. Everyone picks what drinks to order. Jim calls again, and Alexis answers.
The girls choose a starter. Jim calls again, and Alexis answers. Vicki requests that she put it on speakerphone, but everyone is annoyed by Alexis' obsessive texting and calls from Jim. Vicki believes they don't trust each other.
Lynne spills the beans to everyone at dinner. Perhaps she should have kept it to herself because everyone is on Team Frank. Alexis spits Gretchen's foie gras in her napkin after taking a taste.
Episode 13 - Let's Bow Our Heads and Pray
Gretchen and Slade Smiley travel to Palm Springs to visit her folks. Gretchen's mother is unsure about Slad, despite her father's friendship with him. Slade and Scott go for a bike ride.
Scott suggests that Slade first win over Gretchen's mother, but later at dinner, Gretchen expresses her reluctance to marry again, to Slade's chagrin. He hoped she was joking and didn't truly mean it.
Tamra and Vicki go hiking, and Vicki confirms that she has been ganged up on. Tamra is caught up in everything and believes Vicki should have known she would support her husband, even though Vicki insists that if Donn is wrong, she will not defend him.
Episode 14 - This Is How We Do It In the OC.
Alexis's mother from the Midwest is in town for plastic surgery. Alexis arranges for her to see Dr. Niccole for a consultation. Alexis and her mother go out to lunch, and Alexis admits to getting Botox, veneers, boobs, and Restylane on her lips. Her mother is 58 and looks great, but Alexis keeps thinking about how plain and simple she is.
Lynne and the girls are still staying at her mother's place. Tamra pays Lynne a visit to discuss her marriage. Lynne confesses that the girls are upset, and she expresses her displeasure with Frank.
Tamra's 42nd birthday party is a luncheon hosted by her friend Ricky, and Tammy Knickerbocker attends. Alexis is unable to attend because her mother is undergoing surgery. No one knows if Vicki will arrive, but Tamra's sentiments are hurt when David, Vicki's aide, steps up with a gift.
Episode 15 - Is That All There Is?
The housewives are getting ready for the season finale party. Vicki, still wounded by the San Francisco trip, pledges to avoid drama. Gretchen and Slade dress in color-coordinated clothes that resemble wedding cake toppers. 
Lynn's daughters arrive at the party clearly inebriated, and Lynn excuses herself by saying that the limo is large and she doesn't know what her girls are up to. On the way to the celebration, Tamra and Simon had a loud dispute in the limo. Tamra is expressing that she wanted a divorce.
As is customary, the show concludes with a recap of each housewife, with the last synopsis revealing that Tamra and Simon are divorcing.
Episode 16 - Reunion Special, Part 1
The reunion, hosted by Bravo's Andy Cohen, reunites the original cast members, including Tamra Barney, Alexis Bellino, Lynne Curtin, Vicki Gunvalson, and Gretchen Rossi.
Episode 17 - Reunion Special, Pt 2
The reunion, hosted by Bravo's Andy Cohen, reunites Tamra Barney, Alexis Bellino, Lynne Curtin, Vicki Gunvalson, and Gretchen Rossi on one stage.
The Real Housewives of Orange County Quick Facts
is an American reality TV show
broadcast on Bravo
aired from November 5, 2009, until March 11, 2010
primarily filmed in Orange County, California
Executive producers include Adam Karpel, Douglas Ross, Gregory Stewart, Alex Baskin, Stephanie Boyriven, Scott Dunlop, and Andy Cohen
produced and distributed by Evolution Media
consisted of 17 episodes