In Ghosts season 1, Samantha and Jay Arondekar, a couple from New York City, think their dreams have come true when they inherit a gorgeous country house from Sophie Woodstone, a distant relative of Sam's.
Instead, they find that the mansion is in disrepair and inhabited by ghosts who died on the grounds and are now trapped there until they can pass on to the afterlife. After suffering a near-death experience, Samantha is able to see and hear ghosts, whereas Jay is unable to.
Rose McIver

as Samantha Arondekar

Utkarsh Ambudkar as Jay Arondekar

Asher Grodman

as Trevor Lefkowitz

Richie Moriarty

as Pete Martino

Sheila Carrasco plays Susan Montero 

Danielle Pinnock

as Alberta Haynes 

Brandon Scott Jones

as Captain Isaac Higgintoot

Rebecca Wisocky

as Hetty Woodstone

Román Zaragoza as Sasappis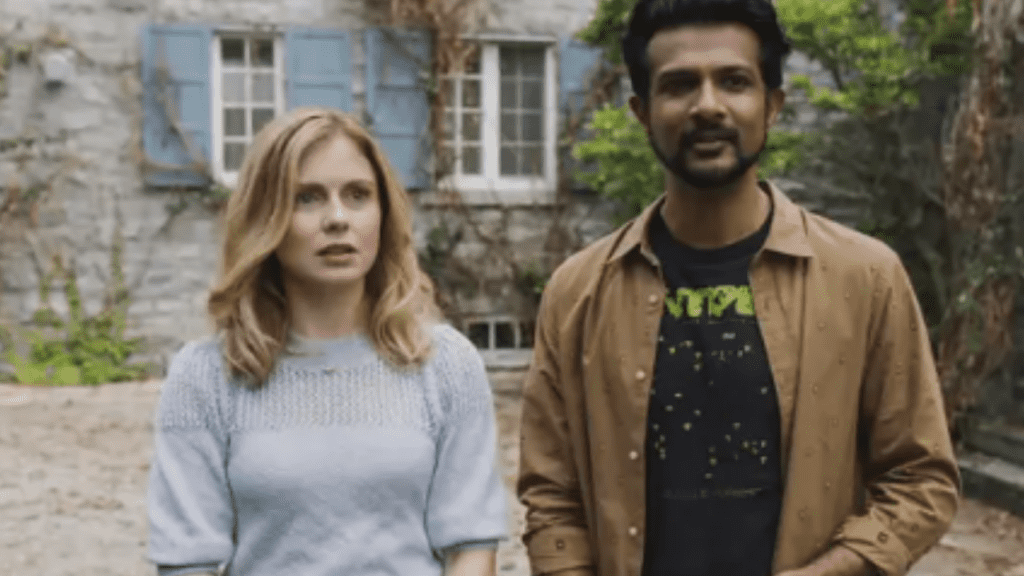 Samantha (Rose McIver) and Jay (Utkarsh Ambudkar) are married and live in a small apartment in New York. They inherit an old mansion haunted by the ghosts of people who have died there over the past thousand years. When the ghosts discover that Samantha and Jay want to open a bed and breakfast, they do everything they can to scare them out of the house.
They are afraid of being constantly disturbed and walked through by people who are alive. But when they failed to scare Samantha, they made her fall down the stairs and almost die by accident. She comes back to life and can see and hear them.
Samantha can now see ghosts, but she tries to ignore them because she thinks they are caused by her injuries and the fact that she was put into a coma. But after seeing more ghosts during a doctor's visit, she accepts that they are accurate and convinces her husband of the same.
Episode 3 - Viking Funeral
When the construction crews start working on the mansion, they find Thorfinn's (Devan Long) bones. This could ruin the renovations, so Samantha and Jay try to get rid of the bones. Samantha and Jay hold a Viking funeral, even though they discover how much Viking skeletons are worth and are tempted to sell Thorfinn's bones to pay for the renovations.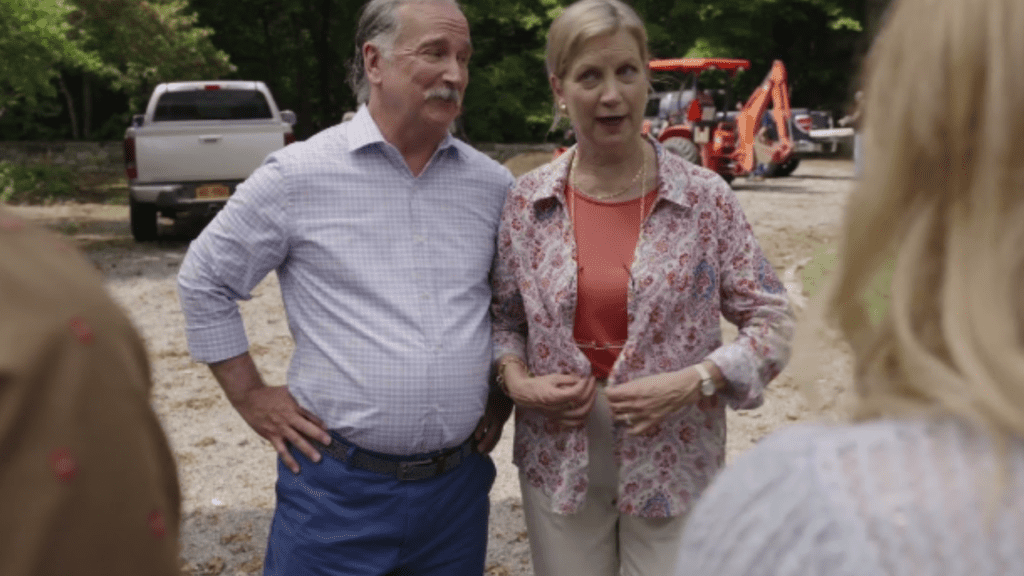 The Farnsbys, an older couple, try to mess up Sam and Jay's renovations when they meet them. Because of this, Sam and Jay would like to have dinner with them, so they invite them to their house. At the dinner party, the ghosts try to sabotage Sam until she points out they need her to maintain a connection to the world of the living.
In the end, with the ghosts' help, Farnsbys promises to support their permit applications for their renovations.
The ghosts can't get into the Halloween spirit because they can't take part and think it's disrespectful to ghosts. The ghosts protect the mansion from trick-or-treaters who might damage it by using Sam's ability to see and hear them.
However, they are distracted by the thought of watching Ghostbusters. Thorfinn, on the other hand, accidentally sets the gazebo in the front yard on fire with his powers. He feels terrible when Sam and Jay blame one of the kids for it.
Sam shows the ghosts how to use the Internet and social media. Trevor (Asher Grodman) finds out that one of his one-night stands in the 1990s gave him a child. When Sam finds Pete's wife Carol (Caroline Aaron) online, she uses his old Trooper's manual as bait to invite her to the mansion at Pete's request.
Pete (Richie Moriarty) learns that his wife and his closest buddy were seeing each other and eventually got married before he passed away. He is furious until Sam reads him a note from his forgiveness manual. Then, Laura (Sheryl Lee), Pete's daughter, tells him that his grandson was named after him to honor him.
Episode 7 - Flower's Article
Sam wants a permanent job at a local magazine, so he writes a human interest story about a "Robin Hood-like" bank robbery that Flower (Sheila Carrasco) did while she was in a "commune." However, Flower won't talk to Sam because she swore to keep the story secret. Since Flower's death, Isaac (Brandon Scott Jones) and Alberta (Danielle Pinnock) have heard much about the robbery.
They decide to find out more about it for Sam. In the meantime, Sam meets Shiki (Crystle Lightning), the ghost of a Lenape woman who had a crush on Sasappis. She and Jay try to get in touch with them from far away.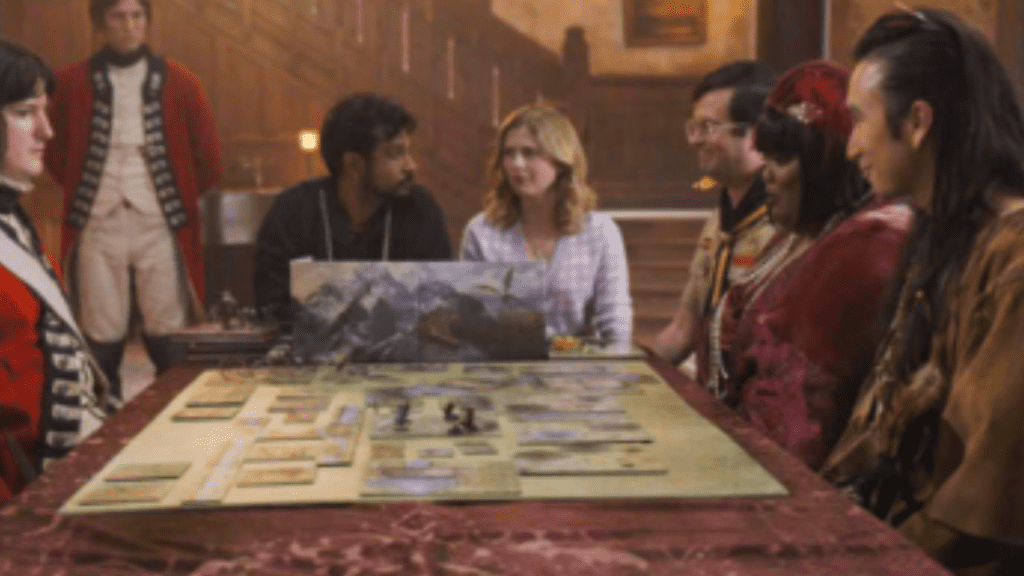 Sam offers to play Dungeons & Dragons with Jay and the ghosts when Jay's D&D group leaves him. Sam also discovers an old shed on the mansion's grounds was a British barracks during the Revolutionary War. Three ghosts of British soldiers now live there. One of them, Nigel, discovers that Isaac accidentally shot and killed him because he secretly liked him.
Episode 9 - Alberta's Fan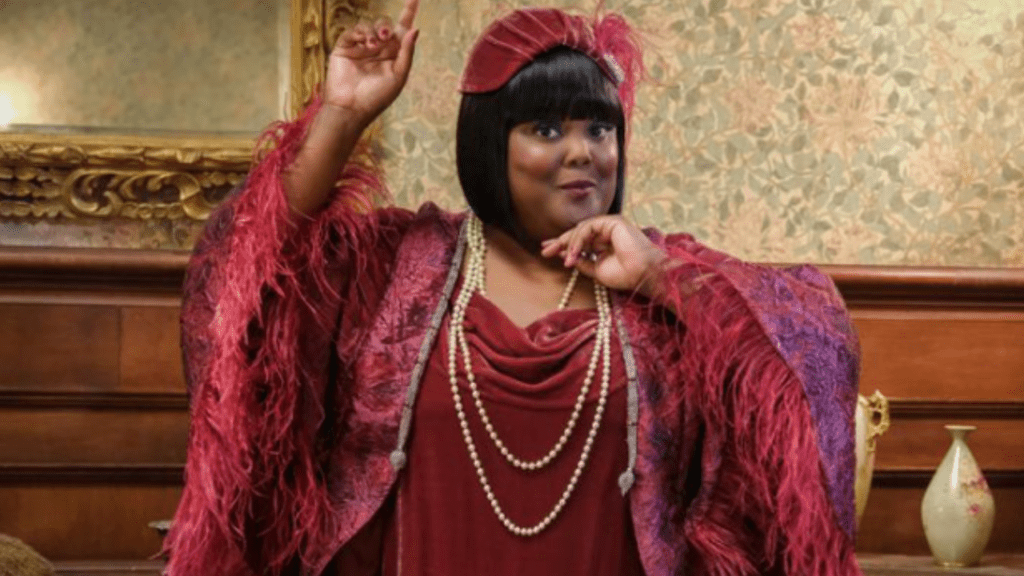 A fan of Alberta (Danielle Pinnock) who can't get enough of her. The fan comes to the mansion to do research for a biography he is writing about her and finds that her briefcase is full of old moonshine. When he drinks it, he almost dies because it was poisoned, which confirms Alberta's suspicions that she was killed.
Thorfinn tries to get back in touch with Hetty by taking walks outside the mansion. He remembers that when she was a child, she could see and hear ghosts, a rare ability in living children.
Jay falls on top of Hetty (Rebecca Wisocky) by accident while trying to fix a light fixture. Hetty takes over Jay's body and controls it on and off. Sam has a hard time keeping this a secret from a wedding planner who comes to the mansion to try Jay's cooking and is hard to impress.
Hetty doesn't want to be exorcised, so she tries to leave the estate in Jay's car but can't leave the mansion grounds.
Sam and Jay go to the restaurant where Sam's mom died to see if her ghost is still there. When they get there, they find her. After a few tense moments with her daughter, Sam's mother tells her she loves and respects her and then goes to the afterlife.
Sam's mother tells her she loves and admires her and then goes to the afterlife. Sasappis says that he heard Pete say that he likes Alberta. When it seems like she doesn't feel the same way, Pete lies and gets Cholera Victim Nancy to pretend to be his girlfriend so they can move upstairs.
Episode 12 - Jay's Sister
After a breakup, Jay's sister Bela (Punam Patel) comes to visit, but she tells him that she's been having great conversations with someone online. When Sam and Jay find out it's Trevor, they are shocked. Trevor says that he made a dating account on their iPad. When Bela finds the report on the iPad, she thinks Jay made it and is very angry about it.
Sam and Jay go to the restaurant where Sam's mother died to see if her spirit is still there. They find her when they get there. After a few tense moments with her daughter, Sam's mother tells her she loves and respects her and then goes to the afterlife.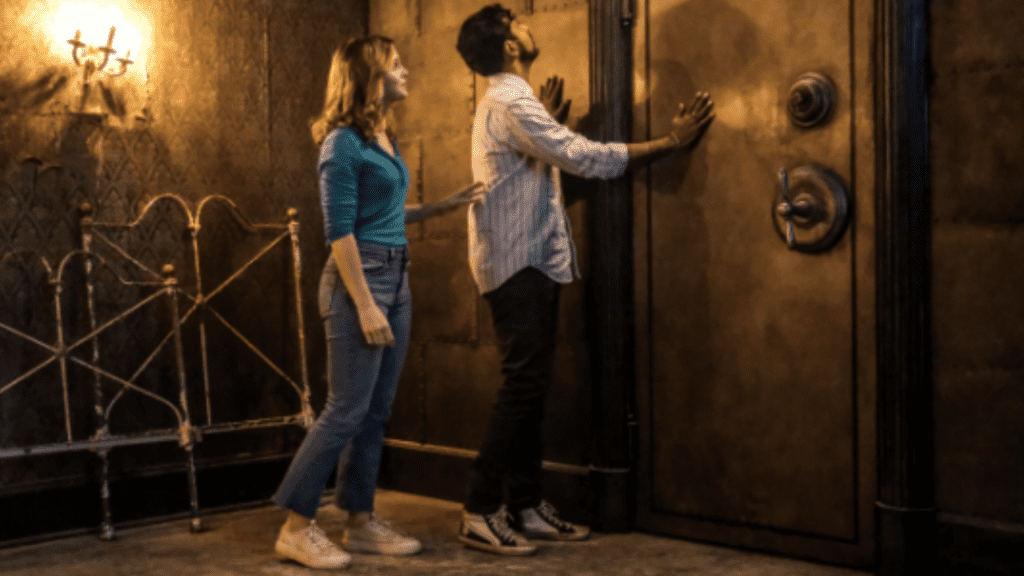 On the day before a big online influencer's wedding, a worker finds a tunnel and vault under the house that holds the ghost and body of Hetty's robber baron husband Elias (Matt Walsh). He is shocked by how modern Hetty has become. Hence, he uses his power to ruin the wedding and force Sam and Jay to go bankrupt and move out of the house.
Elias threatens to be a constant bother, so Hetty tells him to "Go to hell," He is pulled through the floor by scary forces that no one can see. Even though it's not clear if Hetty did this or not, she scares the other ghosts with the threat of this power.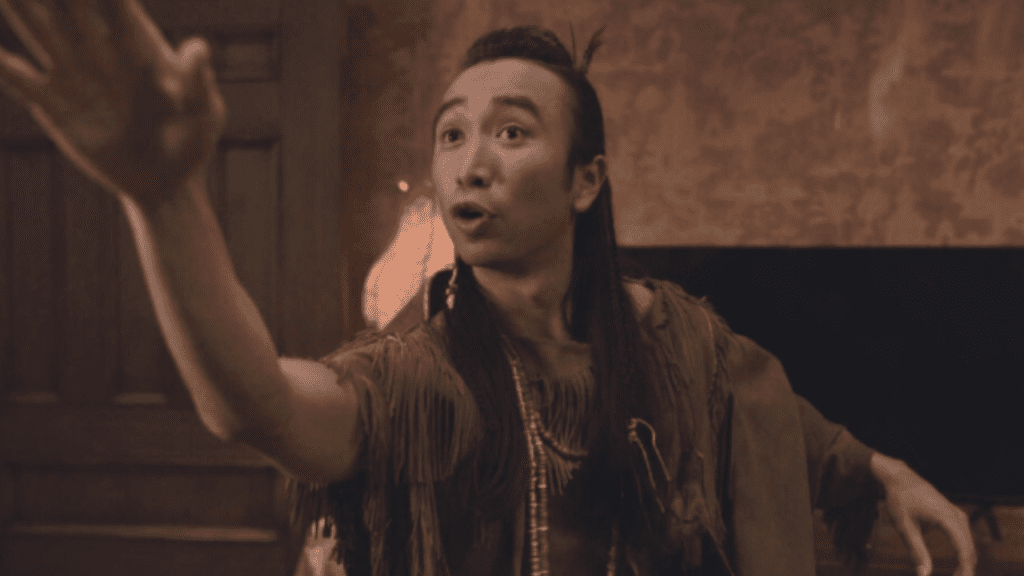 Sassapis (Román Zaragoza) wants to help Sam write something creative for the website of the inn she wants to open. Trevor deletes the site accidentally when he tries to open it to make changes. Sass tells the truth and says his father thought he had a talent for storytelling but was afraid his son would fail at it as he did.
After giving Sam his storyteller's feather as a sign, Sass tells her, Jay, and the other ghosts a moving Lenape legend. Pete feels lonely because no one else wants to watch basketball with him. He finds out that Flower knows a lot about the sport.
Sam and Jay find out Thorfinn has been having night terrors for the past 500 years. This is because pairs of ghosts are starting to sleep together in different bedrooms to make room for future human guests. Jay gets a therapist to come to the mansion, and Sam acts like she has Thor's problems so she can help the therapist understand them.
Sam finds out Thor killed his friend Oskar after his shipmates left him alone. He thinks Oskar was a person until Thor tells him that Oskar was a squirrel that Thor ate to stay alive. Isaac pretends to be interested in Hetty, his bunkmate because he is nervous about his secret feelings for Nigel (John Hartman).
Episode 16 - Trevor's Pants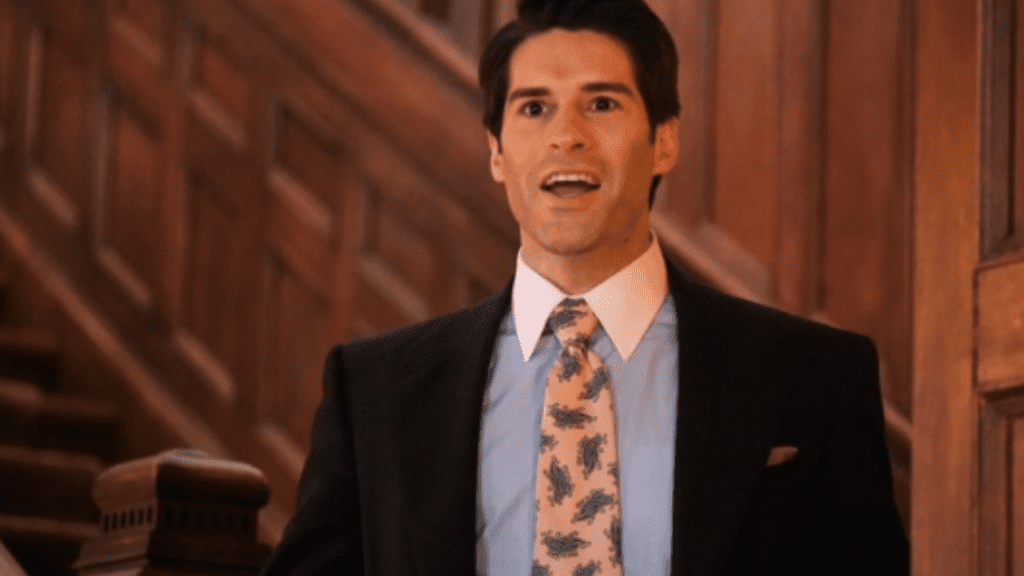 Trevor recognizes Ari, one of his old friends and fellow business executives, as the man who wants to buy the watch found on Elias's (Matt Walsh) dead body. He tells Sam and the other ghosts how he died and lost his pants. Pinkus (Robert Bazzocchi), who used to work with Trevor, was moved up in the company and put in Trevor's group.
Sam helps Trevor get back at Ari by pulling a prank that forces him to do the same dare, which is against the rules. Ari agrees to pay twice as much for the watch as he originally asked. Thorfinn also tells Flower how he feels about her romantically.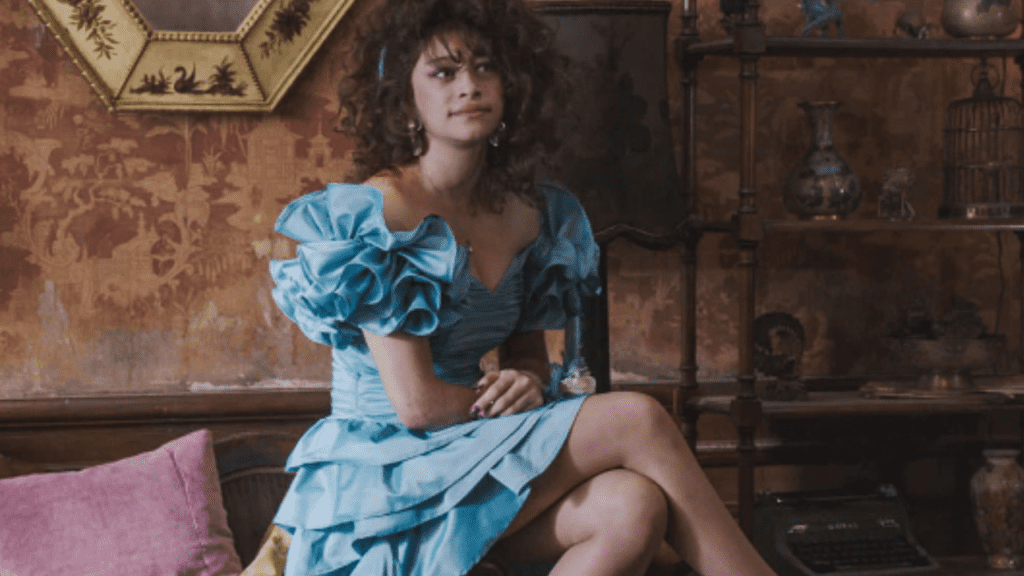 Stephanie's (Nicole Ari Parker) killer used a chainsaw to kill her on her prom night in 1987. She has been sleeping in the attic for a year. She invites the ghosts to a prom for ghosts only one day, she awakens. Alberta discovers that she can talk to Jay and Sam's new Alexa.
Sam tells Jay that some high school classmates tricked her into thinking she had a romantic pen pal in France who wanted to come to her prom. Pete only hears part of the story, but he tells the other ghosts what he heard.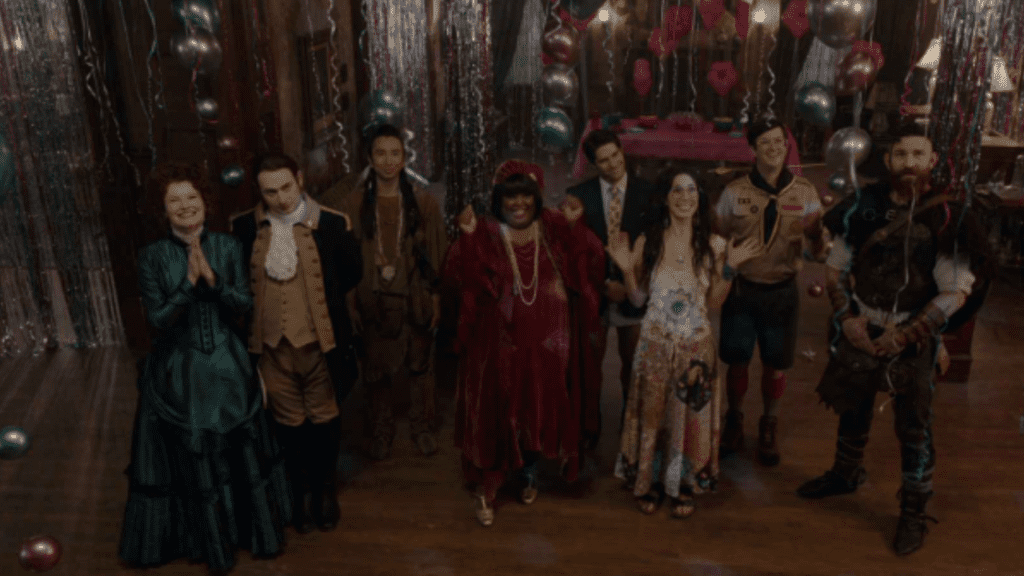 In the season 1 finale, Sam and Jay say no to the Farnsbys' offer to buy their B&B, the Farnsbys open a competing B&B to put Sam and Jay out of business. Thorfinn says he put a Norse curse on the mansion to stop it from becoming a B&B. He says the curse, which may or may not be accurate, is to blame for all the bad things that have happened.
Sam almost breaks the supposed curse by putting cinnamon and sugar in hot water. Still, she decides not to because she doesn't want to take the slight chance of losing her ability. She tells Jay that they should keep trying to get their business going.
Isaac is on his way to tell Nigel that he likes him, but Jenkins, a subordinate, breaks his heart by telling him that Nigel has gone to the afterlife. Later, Nigel confronts Isaac because he thinks Isaac is having an affair with Thorfinn.
The Arondekars win a match against the Farnsbys by forfeit, so they get to keep their business. However, as their first guests arrive, they fall through a weak floor and into the basement.
an American

TV show

adapted from the British series of the same name

created by Mathew Baynton, Simon Farnaby, Martha Howe-Douglas, Jim Howick, Laurence Rickard, and Ben Willbond for 

CBS

debut on October 7, 2021