In the second season of Selling Sunset, Heather's weekend showing goes awry when Amanza Smith, a long-time friend of Jason and Mary and a popular figure at the Oppenheim Group, misses it. This results in tension between the two women, who have a strained relationship as a result. Mary and Chrishell slammed Heather's connection with Christian at her hen party.
Mary admits that Christian had mentioned overlap with Christine's relationships. Heather exposes this to Christine at her bachelorette party.
Cast of Selling Sunset Season 2
Brett and Jason Oppenheim are twin brothers and co-founders of the Oppenheim Group.
Chrishell Stause, actress, a recent addition, actress, and real estate agent, formerly married to actor Justin Hartley
Christine Quinn, real estate agent, Chrishell's rival
Maya Vander is a real estate agent, an Israeli ex-pat who splits her time between Los Angeles and Miami.
Mary Fitzgerald, real estate agent, previously dated Jason
Heather Rae Young, a real estate agent, is an agent, a former Playboy Playmate, and an actress. She is married to Tarek El Moussa, a TV personality.
Davina Potratz, real estate agent, joins the rival agency, Douglas Elliman 
Romain Bonnet, a model, marries Mary in season two's finale
Amanza Smith, an interior designer and a founder of her own business
Episode 1 - Let the Real Estate Games Begin
Boss Jason Oppenheim drives Mary Fitzgerald and Amanza Smith to a new $5.75 million property at Oppenheim. She had worked with the ex-couple for the preceding five years as an interior designer and home stager in his custom Bronco. Amanza met Mary and Jason about two decades ago and has maintained a close relationship with them.
Jason helped Amanza and her children secure an apartment following her divorce. She's all set to step into a new position in the real estate market now that she's obtained her real estate license. During the open house, Mary and Romain Bonnet discuss their plans for a low-key, intimate wedding.
One night, during supper with Christine Quinn and Christian Richard, Davina Potratz and her boyfriend ended up paying $3000 for their meal. Davina and her boyfriend don't usually spend $750 a head on supper. A heart-to-heart between Terrina Chrishell Stause and Heather Rae El Moussa is the day's drama.
When Christine's father died, she sent Chrishell a bouquet of flowers, but she didn't invite anyone else to the reception. Since they're in a reality show together, Chrishell and Christine will have to face each other at some point. It's finally done: Hillside House, the enormous luxury lot.
In addition to a 12-car garage, a home theater, and an indoor spa. This four-story mansion is on the market for $43.9 million.
Episode 2 - Billionaires Have Compounds
A nine-bedroom Beverly Hills mansion sits on nearly an acre of ground and is owned by Davina. For the developer who has bought numerous condominiums from her, she may get the listing for his life-or-death deal: letting her receive the listing. He's looking to earn between $80 million and $100 million for this enormous estate.
The property, on the other hand, isn't worth much. Therefore, the sale will be complex. It's clear to Davina that Brett Oppenheim and Jason will not be willing to pay the asking amount, but since she has her own brokerage license, she says she will accept the listing.
Chrishell and Jason discuss their aspirations to enter the Valley real estate market as players. She explains to Brett and Jason that the $80 million property is for sale. It's evident to her that the pricing is too high, and the product won't sell, so the corporation will lose money on any marketing budget they allocate for the sale.
Everyone is invited to Amanza's Malibu seaside party. While discussing Tarek El Moussa's impending birthday, Heather mentions that she texted his ex-wife to ask how she may celebrate with her. Heather and Tarek's ex are communicating with each other surprising Amanza, a single mother.
She thinks it's beautiful that they are. Amanza calms Heather down by explaining that she's worried for the kids since she knows how difficult the situation is. Even though Amanza compliments Heather on how she's handling things, Heather instead focuses on Amanza critiquing their relationship.
Episode 3 - Sorry, Not Sorry
Due to her reputation as a prankster and troublemaker, Christine sends Davina to check out Christine's engagement party venue to inform her that Romain doesn't want her at the wedding. The fact that Chrishell gets away with mentioning a prenup makes Christine furious.
Jason and Brett toast the company's success, despite the sluggish real estate market, during a group meal.
A $5 million listing for Chrishell, Brett's $17 million listing, and they're all immensely proud of one other. Jason offers his house to Mary, who is still worried about finding a place for her wedding. There is a possibility that Mary could tell Davina about the news, and Chrishell believes that all of the women in the office would support their man if he felt strongly about something.
There isn't a single woman who would choose her office over her husband. Davina, however, isn't just "the office." She's a human being.
Christine's engagement celebration is open to anyone. She initially refers to it as a "casual cocktail party." Still, She later clarifies that it is a "sexual cocktail party" in black and red, so perhaps she was referring to Eyes Wide Shut when she stated that.
Romain is unhappy about marrying his fiancee's ex-ex-boyfriend boyfriend in his house. He becomes engrossed in it, and the Davina situation becomes even more divisive.
Episode 4 - The Red Engagement Party
Chrishell and Christine's relationship appears to be flourishing, as Christine has brought a few clients to Chrishell's new Valley listing. During the engagement reception, they seem to have formed a close friendship. Chrishell is flattered by invitation, but she refuses to attend since she feels it would be dishonest of her.
She's content with taking things slowly. Christine is surprised, but she doesn't appear very concerned. On Sunset Plaza Drive, Mary shows a customer her four-bedroom, five-bathroom. And a 3,116-square-foot, $3.2 million home at the same time that Jason brings over a potential buyer for his own. 
When it comes to selling, Amanza is exhibiting her first solo listing on Stanley Avenue: a $2.5 million house with a possible $75,000 commission. While she initially appears to be a complete novice, she soon settles down and finds her stride, and she does an excellent job displaying the house.
Mary and Chrishell show up to talk about the Heather situation, which surprises Amanza. Maya discusses how her son wakes her up in the night. Heather reveals that she's a stepmom, and it's difficult for her to relate.
When Maya pauses before responding, it's clear she thinks the parallel is absurd. In the meantime, Heather continues to talk about how being a stepmom. It has convinced her that she doesn't want children of her own.
Mary's wedding location has fallen through, so Jason texts Lizzie Manno to see if Mary can wed there. Chrishell delivered red roses before the celebration had started, as promised by Christine's zebra dancers, black and red color scheme, and fire dancers. As a result, Mary can tell Davina what she's always suspected: That she won't be attending her sister's wedding.
Davina tells Mary that Christine had informed her about the news. Mary begins to cry as she narrates the story. Christine's toast interrupts Davina's tense debate, but she's not done: She invites him to sit down and talk about it.
As long as there is opposition, he doesn't budge.
Episode 5 - I'm No Soldier
Brett takes Maya to property already under construction and gives her the listing. All the necessary permits have been obtained. However, the second developer in a row has opted not to take on the project.
Maya can now sell the property to a developer who plans to turn it into a house. When the project is finished, Maya should be able to find a buyer in a year and a half. Jason's customer slashes Mary's offer for the Sunset Plaza mansion.
While she tries to obtain her client a better deal, she eventually gives in and accepts it. Even though this is a lovely gesture, it raises the question of how Romain feels about his fiancee's former and current boss becoming a bridesmaid for his future wife. Because Larsa Pippen, the mother of a Vanderbilt basketball player, wants to buy Chrishell's Laurelwood property because of the basketball court.
In contrast to Chrishell, the former Real Housewives of Miami star doesn't appear to be as taken with the property as Chrishell. Christine, Maya, and Davin get together to discuss the upcoming nuptials. Chrishell sent her flowers instead of attending the party, and Davina was naturally displeased with Mary's handling of the situation.
With some Oppenheim-branded wine, Mary and Chrishell share a girl talk session at work, during which Mary tells Chrishell about her dispute with Christine, and Chrishell asks her whether she wants Christine to attend her wedding.
Episode 6 - The Wait Will Be Worth the Wait
With a potential commission of $65,000, Maya Vander decides to visit Heather's Nichols Canyon Road listing, a four-bedroom, three-bathroom, 2,277-square-foot, $2.2 million home. Having driven from Orange County to attend the screening, Heather talks about her growing friendship with Tarek's daughter Taylor.
The birthday of the latter is just around the corner. When Maya's prospective buyers arrive for a tour, they appear pleased with the property. Her very busy client can only see a house on Saturday, but that's Taylor's birthday party.
Heather understands that she has a dilemma. To get back into Heather's good graces, Amanza will pick up her kid from gymnastics at 2 p.m. in the Valley, despite everyone else requesting a day off. The scheme, of course, goes awry. An hour late, Amanza tells the client Heather could not attend the meeting because she was attending a birthday party.
This is a crucial mistake. Heather isn't happy that Amanza revealed so much personal information to the client. After work, everyone meets up at Jason's house for a "casual dinner," which is "a wonderful setting for everyone to quarrel."
However, Jason explains that Amanza, new to the company, was trying to help Heather out by being late and revealing sensitive information about her client. Jason and Brett attempt to silence Heather while Mary steps in to defend her. Amanza confides in Christine that she feels horrible about being late because of her custody battle.
Christine encourages her to stop feeling guilty because she's doing her best. After all, she's doing the best she can. In the midst of their candor, Amanza and Christin admit that they are sad that Mary has not been there to help them.
Episode 7 - That's Why They Call it Real Estress
Maya receives an offer for the development land, despite Larsa Pippen's formal no. Los Feliz's far-off land of Los Feliz gives yet another opportunity for Christine to humor. As she falls backward down the steep backyard stairs in her gigantic Louboutin shoes.
When Heather finds out, Mary and Chrishell discuss Christine's relationship with another woman at the big open house in the premiere and how she might be the other woman. It only adds fuel to the fire. Heather's remembrance is not only hazy, but she also has no recollection of who said it or how it was uttered.
There are penis straws, balloons, corny sashes, and a really amusing moment when the hotel door refuses to open for Christine and Davina at the bachelorette party. Amanza must leave because of an emergency with her child. The women play a crazy card game where they discuss sex stories, dealbreakers, and inebriated moments.
To celebrate Christine's bachelorette celebration after everyone else has gone out to a bar. They run across Jason, Brett, and Romain, who keep bringing up Heather's comment about the "overlap" between Christine and the woman Christian was dating before their relationship. Chrishell hears the conversation and rushes over to Mary's side to stop the beef before it escalates.
It's Mary's claim that she first mentioned "overlap" because she was unsure about Christine's relationship with her boyfriend. Even Christine realizes it's not the right moment to make a big fuss.
Episode 8 - Karma's Gonna Get You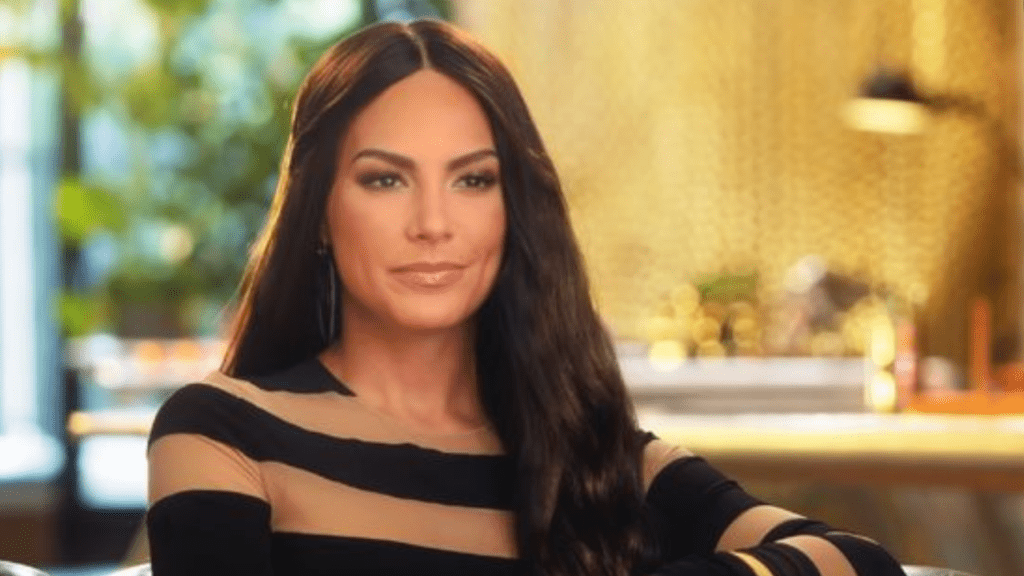 Christine apologizes to Mary when she returns for her final dress fitting. Mary has returned for her final dress fitting. Since they had a disagreement at their listing, they hadn't had any dialogue until she got home.
She apologizes for bringing things up at the wrong moment, being a "complete bitch," and realizing they hadn't actually had a conversation until she got home. After Mary plans a client viewing at the Doheny house on the wedding day. It's now time for her and Romain to tie the knot.
Everyone has traveled far and wide to be there, and the actors and crew have been given front-row seats. Everyone is moved to tears by Mary's beautiful recitation of her vows in French. here were 50 guests at the reception, in addition to the wedding party's 10 members.
During Chrishell's wild night of celebration, Maya, unable to partake in the festivities, laments the loss of her favorite adult beverage, and Heather captures the moment on camera for Tarek. When Chrishell and Justin have a day off from work, they decide to go out for a few beers and then go shopping while intoxicated.  Chrishell tells Amanza what Christine said when Mary left the broker's open the night she only invited people who didn't have a conflict with Mary.
However, Amanza intends to address those criticisms in the future. They're all at a wedding for a reason. Sending out the newlyweds, the guests bid farewell.
Selling Sunset Quick Facts
an American reality TV series 
created for Netflix by Adam DiVello
premiered with eight episodes on May 22, 2020
series revolves around the O Group, a high-end real estate brokerage firm in the Los Angeles area (with offices in West Hollywood and Newport Beach)
also follows a group of agents as they navigate their personal and professional lives