In Season 8 of Real Housewives of Orange County introduces Lydia McLaughlin, a young, sane, and shockingly forthright heiress from the OC, who joins returning cast members of Season 7; Vicki Gunvalson, Tamra Barney, Gretchen Rossi, Alexis Bellino, and Heather Dubrow. 
The series returns for another shocking look at the loves and lives occurring inside one of Southern California's wealthiest communities as its residents continue to recover from the fallout of last season's spectacular clashes.
Cast of The Real Housewives of Orange County Season 8
Vicki Gunvalson – a successful woman and reality T.V. star who lives in Coto de Caza, California, USA
Tamra Barney Judge – a well-known businessman, T.V. host, and real estate agent from the United States
Gretchen Rossi – American radio and T.V. host and businessman
Alexis Bellino – a T.V. host and businessman from Newport Beach, California, who did well on his own.
Heather Dubrow – is an American actress, television personality, and author.
Lydia McLaughlin – granddaughter of Canadian media mogul Geoff Stirling, running a magazine- Nobleman.
Episode 1 - Bullies and Babies
RHOC Tamra Judge leaves her apartment and moves in with Eddie Judge, her fiancé, and business partner. After her daughter Briana gives birth to a son, Vicki Gunvalson is overjoyed to join the ranks of grandmothers everywhere. As a result of Slade Smiley leaving to pursue his own profession, Gretchen Rossi is forced to handle her enterprises on her own.
Housewife Heather Dubrow invites the gals over for a clam bake, but she forgets to include Alexis Bellino on the guest list. After four months since the reunion, Tamra and Vicki finally meet, and the tension between them explodes.
Episode 2 - Evil Eyes and Evil Faces
The clam bake that Heather started keeps continuing, and everyone is talking about Vicki's new look. After a heated argument and an eye-opening dinner, Tamra and Vicki make amends to repair their strained relationship. Heather gets irritated by Terry Dubrow's urge to constantly make light of serious situations.
Alexis and Jim can take a break from all the action by taking a ballroom dance class together. Gretchen, while on vacation, pays a visit to the radio station to show her support for Slade. When Eddie expresses his worry to Vicki, Tamra receives more than she bargained for.
Episode 3 - Making Up Is Hard to Do
Alexis feels flattered that Vicki has invited her over so that she can meet her grandson Troy before anybody else. As a baby shower present, Gretchen and Tamra hit the stores. Despite Tamra's best efforts, Vicki seems intent on destroying the friendship she has with her.
Heather and new housewife, Lydia McLaughlin get together to talk about Heather's house being featured in Lydia's magazine. Still, Heather won't agree to it until she is also featured on the cover.
Episode 4 - It's My Party, and I'll Scream if I Want to
Vicki and Alexis were taken aback when Tamra permitted her to invite Alexis to her brand new gym. In this case, it is not Tamra's friend Alexis Bellino who extends an invitation to Lydia. instead, it is an old acquaintance of theirs. Gretchen and Slade seek to resolve their individual challenges to keep their partnership firm.
When conflict arises at the party, Tamra wonders if she made a mistake in inviting Alexis.
Episode 5 - The Party Is DONE!
When Tamra finally snaps, Alexis is kicked out, and chaos ensues. Vicki is split between two close companions. Lydia finally speaks up when Alexis complains that the women are bullying her.
Soon after, Gretchen flies to the Big Apple to be at Slade's side. For Alexis's sake, Lydia suggests they try to make amends by talking things out. The daughter-in-law of Vicki's provides some details regarding Brooks.
Episode 6 - A Star Is Reborn?
Real housewife Alexis is having a hard time forgiving the women. When Vicki fails to show up to the first wine business event Tamra hosts without her, the evening is thrown into chaos. Lydia is happy for her mom because she has finally kicked her marijuana habit.
Vicki does everything she can to change her family's mind about Brooks. Thinking about her complicated future with Slade causes Gretchen to have an emotional breakdown. Heather is allowed to appear as a guest star on Hot in Cleveland, but the moment is ruined when Terry insists on keeping the focus on himself.
Episode 7 - Whines by Wives
A disagreement between Vicki and Tamra ends their wine tasting adventure. The trampoline park that Alexis and Jim have been working on for so long can now officially open to the public. As a result of Terry admitting that he threatened to divorce Heather during an earlier disagreement, Heather and Terry find themselves in a difficult situation.
Tamra thinks Eddie would rather be on his bike than with her.
Episode 8 - Hot in Orange County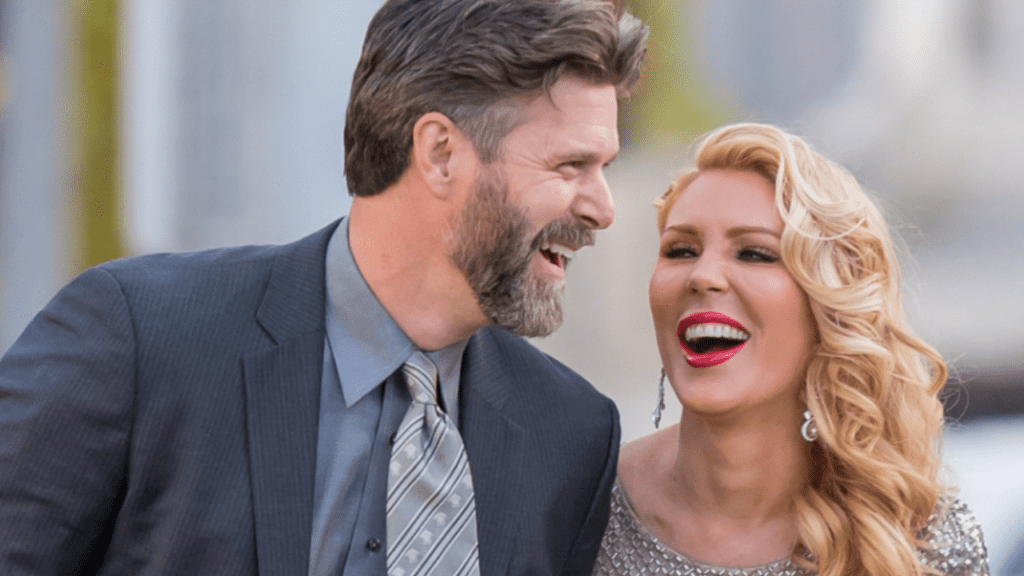 Terry is left at home with the kids while Heather begins her first day of filming a guest appearance on Hot in Cleveland. After being judged disrespectful on Heather's special day, all eyes are on Gretchen and Slade. Alexis has decided to take her acting profession to the next level.
Episode 9 - Speech Therapy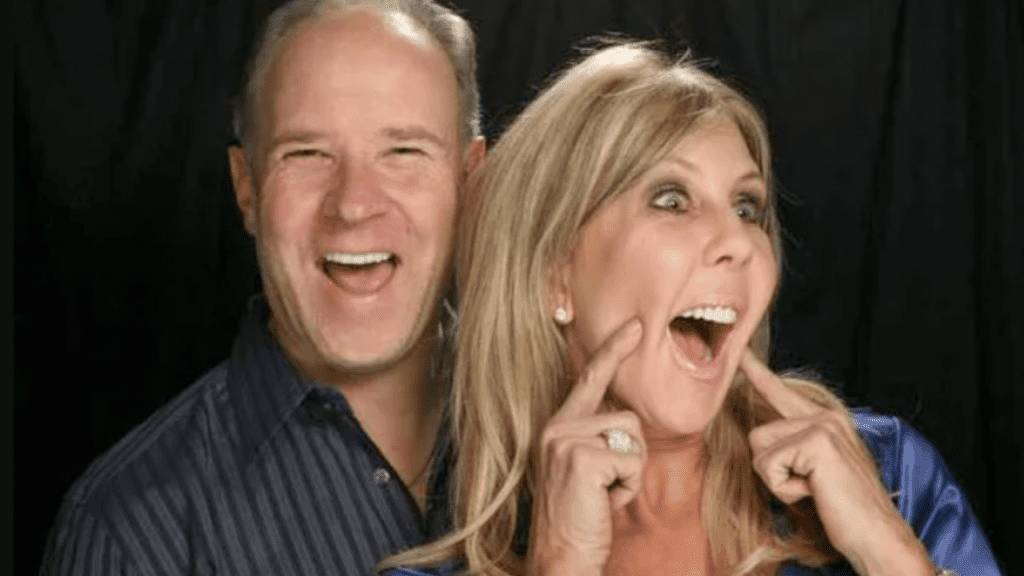 Vicki must choose between spending time with Brooks and babysitting her grandchild. Gretchen sees a specialist in reproductive medicine. For her part, Lydia plays the role of mediator, convincing Alexis to talk to Tamra.
The following day, Tamra gives a speech at the Los Angeles Women's Expo.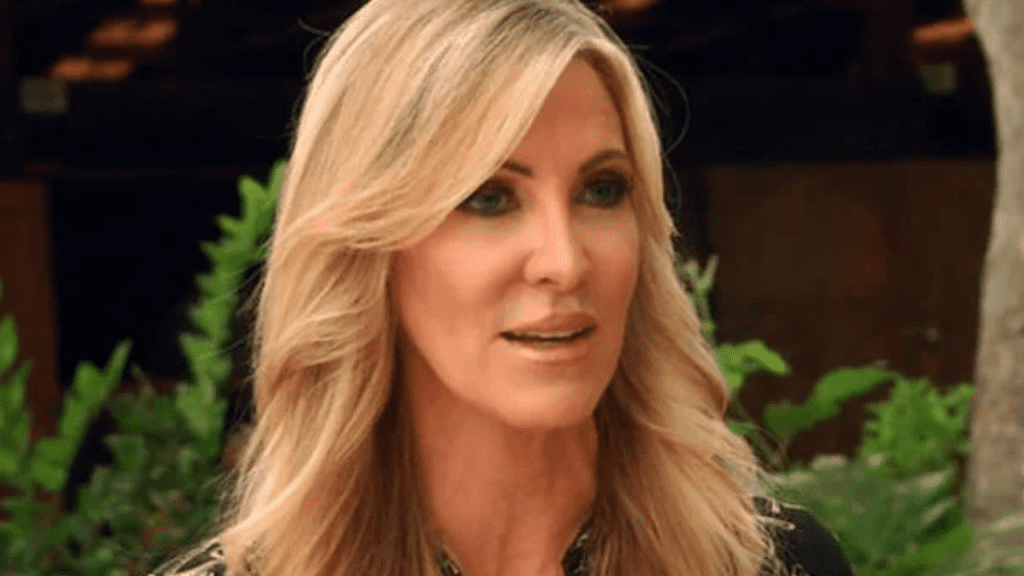 Lydia is finally welcomed into Tamra's home, and it is there that she successfully convinces Tamra to meet with Alexis to work out their differences. Tamra's impending bachelorette vacation to Puerto Vallarta, Mexico, is being planned by Gretchen and Heather. Lauri Peterson, a stay-at-home mother in Orange County, visits Gretchen at her ranch to dish about her sister Vicki's shady history with the law.
Vicki, Lydia, and Tamra fly to Mexico, where they have supper and then leave Gretchen and Heather in the limo while they go sightseeing.
Episode 11 - Dirty Dancing in Mexico
Vicki, Lydia, and Tamra are still in Puerto Vallarta, where they are having a great time at the club as Heather and Gretchen relax in the limo. Gretchen expresses her irritation with Vicki's pranks. Still, the ladies are taken aback by Tamra's revelations about her background when she opens up to Gretchen.
Lydia is apprehensive about the night's planned spicing up by Mexican strippers at the resort. Alexis, now settled in Orange County, makes a request of Jim for a purchase he would instead not make.
Episode 12 - Chicks and Salsa
Heather and Alexis decide to mend their friendship by getting together at a coffee shop. To cope with Ryan's impending deployment, Briana takes emotional precautions. At Lydia's salsa dance party, all the women and their husbands mingle.
Still, when Slade makes some insensitive comments, Lydia snaps. Brooks gives Vicki a bouquet of flowers at the party, sparking speculation about her romantic life. When notified that Alexis will be accompanying Tamra on her wedding dress shopping excursion, Gretchen doubts whether she will actually be there.
Episode 13 - Wedding Dress Stress
Heather will appear in Malibu Country as a guest star. When Tamra looks into the progress of her fitness studio, she discovers that it is taking longer to build than she had anticipated. Now that Tamra has started wedding dress shopping, Lauri wastes no time spilling tea about Vicki.
As time passes, Heather and Tamra start to doubt Gretchen's candor.
Episode 14 - The Cold War
Lydia organizes a trip for the ladies to Whistler, Canada. Alexis hopes their journey will be drama-free, but Gretchen and Heather are bickering about who was cast in the comedy. Tamra learns of the accusations being spread by Lauri about Vicki. After hearing about Lauri's pranks through Tamra, Vicki becomes aware of them.
Episode 15 - Hold Your Tongue
Vicki loses it during dinner on the second leg of the vacation when Lauri continues to gossip. After being accused of lying by her friend Tamra, Gretchen begins to doubt their friendship. On a snowmobile trip, Tamra drinks and spills the beans.
Heather, meantime, leaves her Orange County, California, house and travels to the Malibu Country location to film her scene.
After avoiding confrontation this season, Alexis is forced to face Gretchen. After the girls' vacation to Whistler drama, Lydia withdraws into a Bible study. For some reason, Heather and Terry end up with a fantastic offer on the sale of their house.
Vicki tries to keep things professional when traveling with Brooks for business. Gretchen plots to propose to Slade while Tamra confronts Eddie about picking a wedding date.
Episode 17 - An Immodest Proposal
Heather and Terry want to get their kids excited about the move, but they aren't sharing their enthusiasm. So, they come up with a novel plan. They ask the kids what they want in their new house. While Slade is at work, his co-host surprises him with a performance of a song that Gretchen wrote.
This leads to the second surprise: Gretchen dresses as Marilyn Monroe and meets Slade atop the AT&T skyscraper in Downtown Los Angeles, where she pops the question. The couple throws a party to celebrate their engagement, but none of the housewives are invited. Alexis and Lydia visit Vicki at her newly furnished home, and while there, the three women listen to Radio Slade.
Vicki overhears Slade calling one of the women a "Tupperware Face," a term to which she takes issue. Vicki also plans to throw a Winter Wonderland party during the ladies' stay, with decorations and themes based on their recent trip to Canada. At the party, Tamra meets Vicki's grandson and gives Vicki a gift that proves they're back to being good friends.
Vicki admits that she and Brooks are back together. Vicki makes the news, and then Tamra makes her own announcement about the wedding date she and Eddie have set. While Gretchen and Slade make their way to the party, the group discusses what Slade has said.
Episode 18 - Cold Shoulders
Heather and Gretchen get into an argument as Vicki's party proceeds. So, Alexis is overwhelmed by the harsh remarks the women use at Jim. The latter hasn't seen his coworkers in an entire year.
Briana's husband, Ryan, has an altercation with a visitor. When Gretchen and Tamra get together, they can't help but rehash the drama that unfolded on their trip to Canada. As a result of Slade's comments, Lydia and Vicki decide to confront him.
Episode 19 - Reunion: Part One
When the other women in the home start asking questions about why she keeps stirring the pot, Lydia, the newest housewife, finds herself in the spotlight. After Lauri goes to the reunion to set the record straight about Vicki's infidelity, she and Vicki are no longer friends. While competing for Tamra's friendship, Gretchen and Vicki bring up their history of conflict.
Episode 20 - Reunion: Part Two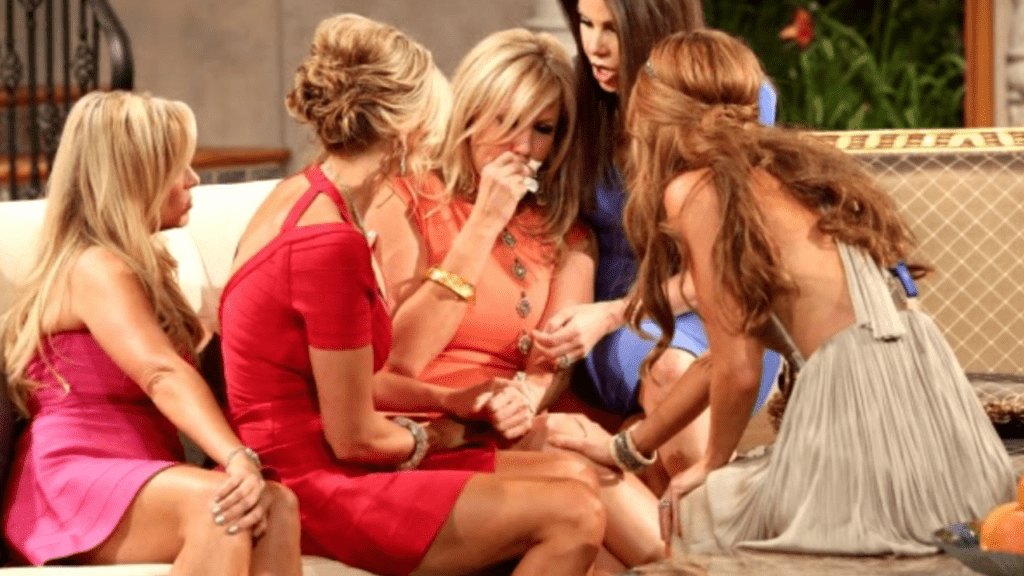 When Gretchen is accused of excluding Alexis from Tamra's wedding dress shopping, she has to explain herself. After the Malibu Country tryouts, Heather confronts Gretchen about their ongoing feud. When the conversation becomes critical about Slade and their engagement, the women in the room bring Gretchen to tears.
Episode 21 - Reunion: Part Three
As the reunion comes to a close, Briana and Brooks are welcomed to the set. A verbal altercation ensues, and Vicki ends up in tears.
Episode 22 - Secrets Revealed
Andy Cohen delves deep into the Bravo archives to bring you all the deleted scenes from this season. Alexis gets ready for her audition, and Lydia opens up about her and Doug, Gretchen, and Vicki trying to win Tamra over.
The Real Housewives of Orange County Quick Facts
an American reality TV series
broadcast on Bravo
aired from April 1, 2013, until September 1, 2013
primarily filmed in Orange County, California
The show's executive producers are Andy Cohen, Adam Karpel, Alex Baskin, Douglas Ross, Gregory Stewart, Scott Dunlop, and Stephanie Boyriven.
consists 22 episodes