The incident shows a guy in the video ranting on Tuesday night on a trip from Philadelphia to Dallas.
A chemical engineer has now been dismissed from his job after making his work location known to the entire flight, which is one of the craziest acts ever done by a person panicking as they were being thrown off a plane.
The video shows a man yelled at passengers and flight attendants throughout the incident on Tuesday night on a trip from Philadelphia to Dallas. He also admitted that he was a little drunk.
A disgusting homophobe gets kicked off his flight from Philadelphia for harassing the person seated beside him. The man has a huge meltdown on the way out bragging about his job at GlaxoSmithKline as a chemical engineer… Probably not for long sir. pic.twitter.com/NVir4Oj4Hn

— 🥀_Imposter_🕸️ (@Imposter_Edits) September 2, 2022
The man says he's racist because he's white and has a black bag, which he describes as "a better bag than most of y'all can buy," shockingly and perhaps sarcastically.
Then, the situation changes when the man starts using homophobic insults. Seconds later in the video, he announced his work as a chemical engineer with the pharmaceutical and biotechnology company GlaxoSmithKline before leaving the aircraft.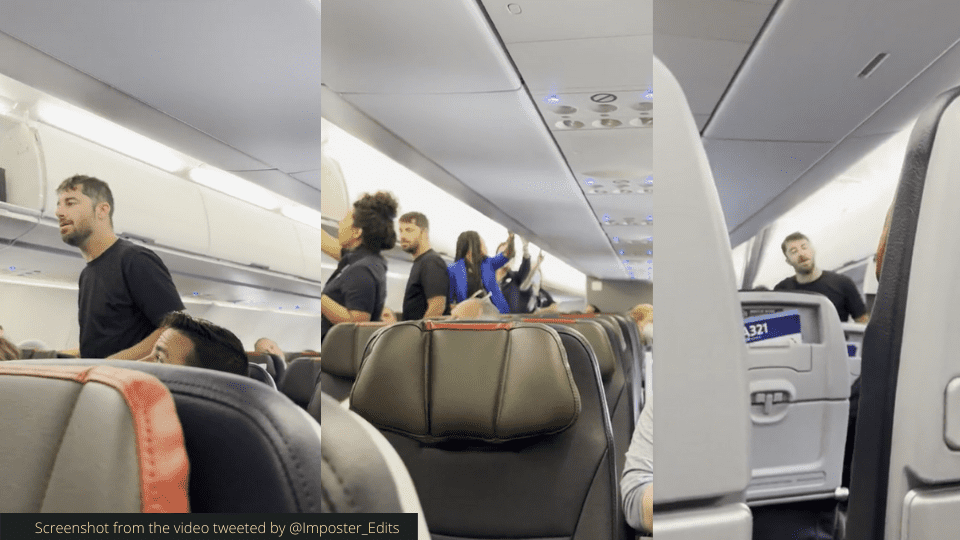 GlaxoSmithKline responded, "We immediately conducted an investigation, and as of Thursday, he is no longer employed at GSK. The person's remarks were reprehensible and does not reflect our company culture."
The GSK employee's name in the video was known as Zachary Easterly. The video was posted on Twitter and currently has more than 1.4 million views and 23.3k likes.
One user commented, "He realizes he fucked up saying where he worked then tried to save it "I'm quitting next week anyway" 😂"
One user shared a joke regarding how the man announced where he was working, saying: "He just submitted his resignation." While another user replied to the comment, "Effective immediately."
Reactions to PLANE FREAK OUT: Chemical Engineer Fired After Drunken & Homophobic Rage On Plane
Let's all get a good look at this classic dbag that clearly needs an intervention and quite possibly a new job after this little charade. https://t.co/koHJHWDd3x

— Lou (@LouiseFrattalo1) September 3, 2022