Are you preparing a mood board for 2022 fall fashion? Well, you can think first of how Hollywood stars interpret the upcoming season based on runway shows.
Here, we've gathered the best celebrity fall 2022 outfits to inspire you today. Let's start!
Gigi Hadid donned a Versace puffer coat on the Met Gala 2022 red carpet
Gigi Hadid is gorgeous in an oversized puffer coat on the Met Gala 2022 red carpet. Showcasing an edgy lady in a red look, she opted for a puffer coat instead of a dress. Even though this isn't an everyday look, getting inspired by this edgy getup is fascinating.
The famous model donned a latex jumpsuit, matching boots, a corset, and high heels to complete the look. Vogue wrote that Gigi Hadid confessed to them that she could barely breathe. Also, she noticed this Versace outfit was the heaviest for her at the Met Gala ever.
Many people find this to look weird. However, style enthusiasts supported her outfit choice for the Met Gala 2022 red carpet. The look is in line with this year's theme, a gilded glamour theme.
This year's Met Gala will accompany the second part of the Costume Institute's exhibition, "In America: An Anthology of Fashion," with the theme "Gilded Glamour and White Tie."
In 2021, Gigi Hadid debuted fiery red locks, and a Jessica Rabbit looks to match the Met Gala 2021 red carpet. She wore her new red hair high up in a retro-inspired ponytail, with her hair cascading down past her shoulders in loose, glossy waves. Besides, her pony was accented with a black-and-crystal Prada brooch at the base of the tail.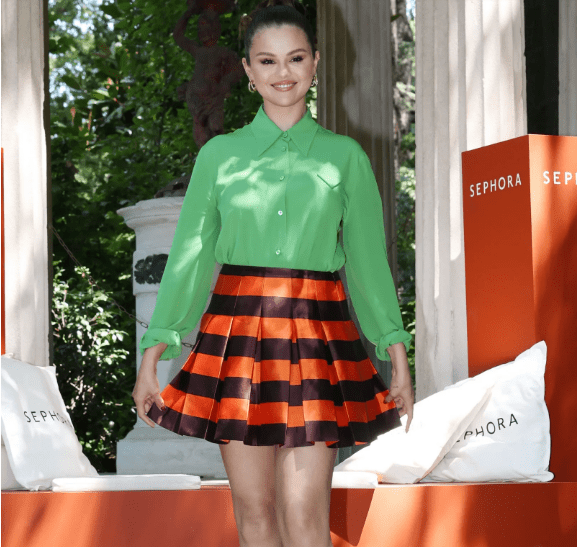 Selena Gomez's Retro Style
Did you notice Selena Gomez's sweet and summery outfits lately? The famous star is busy with her activities, such as promoting the new season of her Hulu series Only Murders in the Building and making in-store appearances for her beauty line Rare Beauty. However, she didn't fail to entertain us with her chic ensembles.
Even though the upcoming fall season has more on the 80's fashion vibe, Selena's pick for 1960s-inspired clothes is welcome. Earlier in July, she emerged in Paris for a Rare Beauty event wearing a gingham Alaïa two-piece, including a crop top, pleated mini skirt, and white pointed pumps.
The stylish celebrity followed it up in Milan with a complete Prada look. It consists of an emerald button-down shirt, striped and pleated mini skirt, and black kitten heels. She even gets bonus points for wearing a Paris-born label in Paris and an Italian brand in Italy—a thoughtful touch.
In London, she recently attended a Rare Beauty launch party wearing a yellow, square-neckline Glemaud mini dress complete with strappy PVC heels and golden hoops. Her beehive updo is also perfect for the look.
Kendall Jenner's Favorite Cropped Puffer Jacket
One of the exciting fall fashion trends this year is a bomber jacket. However, a puffer jacket is also on our fashion radar. Thanks to the influence of our favorite supermodel, Kendall Jenner.
Before talking about her look, let's remember the meaning of a puffer jacket. A puffer or down jacket is a quilted coat that is insulated with either duck or geese feathers.
In addition, air pockets created by the bulk of the feathers allow for warm air retention. Besides, the puffer would begin to serve more than its practical purpose in the 1940s when it was tailored and marketed to the wealthy as an evening layer.
Kendall's caramel-hued puffer jacket is on trend, for sure. Kendall Jenner posted a video on her Instagram feed as she starred in yet another Alo ad campaign. She's been working with the brand for a minute, and their stuff suits her style flawlessly.
By checking the video, you can tell she's a ride-or-die for their clothes. Many people were convinced that the Gold Rush Puffer would be the piece to wear this winter.
In addition, Alo has an entire page on their site dedicated to Kendall's looks. It sells fast, though. So it's up to you how to snag the look. Good luck with that.
Taylor Swift's Crystal Naked Dress at the MTV VMAs
Numerous major fashion magazines showcased Taylor Swift's show-stopping sequin dress for her surprise appearance at the 2022 MTV Video Music Awards on August 28, 2022. She arrived in an embellished naked dress from Oscar de la Renta's resort 2023 collection.
Besides, Taylor's entirely sheer minidress was covered in thousands of draped crystals of varying sizes and shapes. The outfit is also one of the Hollywood fashion trends this 2022 fall season.
PopSugar states, " A strand of crystals wrapped around her arms, almost mimicking off-the-shoulder straps, and another trailed down her back. It was an unexpectedly risqué choice for Swift, who wore a Versace blazer dress and thigh-high boots for her last VMAs appearance in 2019."
The famous fashion publication further wrote, "Swift stuck to the shiny theme while choosing her accessories, including upside-down teardrop-shaped pendant earrings by Lorraine Schwartz, three large rings, and strappy silver heels adorned with crystals. She finished the look with sparkly floating eyeliner, a rhinestone-covered manicure, and her signature red lip."
Megan Fox and Machine Gun Kelly Talk Fashion at Dolce & Gabbana
Another fall 2022 best celebrity outfit is showcased by Megan Fox and Machine Gun Kelly. Earlier this year, a dinner for around 40 people was held in Milan's Martini Bar, and Colson Baker and Domenico Dolce proposed a toast.
According to Vogue, "The toast and the dinner we'd just finished was to celebrate that afternoon's highly-collaborative menswear show at which the fall 2022 menswear collection by Dolce & Gabbana had shared the Teatro Metropole runway with Machine Gun Kelly (Baker's high-caliber stage name)."
Baker's partner, Megan Fox, is also in attendance during the event. They showed off gorgeous unique outfits for the occasion. In an interview, Fox was asked, "Congratulations on your engagement, which has become a huge mega-story. Did you anticipate that?" She replied, looking at Baker, "Are you aware of it? I don't look at social media or anything, so I don't know.
Another follow-up question is: "But it came out on social media, right?" Megan said yes to this.
Then, Baker said, "We released it to control the narrative. As opposed to someone just catching a weird cell phone picture of a ring on our hand and being like, whoa! But yeah, I didn't expect it. I just recorded it on my cell phone. And it wasn't like we had photographers or anything. It was just like me setting my phone against a cup."
Victoria Beckham's All-Black Outfit and Pointed Heels for Jacquemus Fall 2022 Runway Show
Victoria Beckham is a fashion icon we love to talk about these days. Recently, she was photographed heading to France for the Jacquemus Fall 2022 Runway Show. The lovely fashion lover donned an all-black outfit and a pair of pointed heels for the event.
The said outfit is part of the Hollywood fashion trends this 2022 fall season, and she remarkably showed it off in France. At that time, Victoria was supporting Simon Porte Jacquemus. The designer sat in the front row alongside Simone Ashley, Richie Shazam, Jorja Smith, and BurnaBoy.
Victoria Beckham shared a photo of the activity on Instagram. She captioned the sweet photo of the designer duo, "Thank you so much for having me Simon at the beautiful @jacquemus show today." She added, "I felt truly blessed to be part of your special moment x." "Thank you so much for having me, Simon, at the beautiful @jacquemus show today," Beckham captioned the sweet photo of the designer duo. "I felt truly blessed to be part of your special moment x."
Jacquemus' "Le Papier" collection featured a minimalist palette of white, beige, and ivory alongside black, pale blue, and green hints. Inspired by the designer's upcoming wedding, the line included a range of tulle veils, deconstructed suiting, and tailored separates.
In addition, the women's footwear front featured an array of coordinating stiletto sandals with buckled straps and exaggerated round soles, as well as men's chunky suede and leather slip-on loafers.
Interestingly, the event preceded Jacquemus' debut Nike collaboration, which was launched earlier and promptly caused the athletic brand's site to crash from over half a million consumers vying for pieces.
Kim Kardashian Gets Covered In Balenciaga Caution Tape Ahead of Brand's Show
One of the iconic events in the fashion world is Kim Kardashian's edgy outfits. Ahead of the Balenciaga show, Kim was covered in Balenciaga caution tape. The reality star became a muse for creative director Demna, wearing skin-tight catsuits and "pantaboots" for months.
Besides, she wore a full face covering at the 2021 Met Gala. Now, she subjected herself to going "full fashion" again by getting completely covered in Balenciaga-branded yellow caution tape. Remarkable, isn't it? Kim Kardashian always surprises us with her show-stopping looks.
Before gracing the brand's Fall 2022 show during Paris Fashion Week, Kim showed precisely what went into her getting-ready process. It is an attention-grabbing style that keeps everyone praising her.
On her Instagram Stories, she also shared a video wearing a black top and leggings as four people wrapped tape around her heels, legs, and arms. When Kim shared a second snap of her accessory, she showed off the top handle of her bag that also got covered up with caution tape.
The event also paid tribute to those in Ukraine. A T-shirt featuring the Ukrainian flag was placed on each seat.
Then, Demna shared an emotional statement on the brand's Instagram Story. He stated, "The war in Ukraine had triggered the pain of a past trauma I had carried in me since 1993 when the same thing happened in my home country."
He added, "The fear, the desperation, the realization that no one wants you. But I also realized what matters in life, the most important things, like life itself and human love and compassion."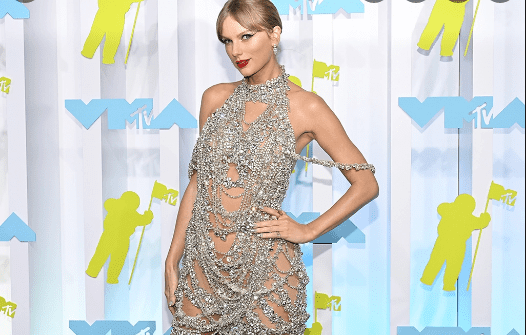 These are the best celebrity 2022 fall outfits to inspire you today. Which one is your favorite? I root for Kim Kardashian's edgy take on fashion, with dark yet beautiful visuals. Let me know in the comments below your pick out of these seven best celebrity fall 2022 outfits. Stay chic!