In the fashion world, Cate Blanchett is one of the most popular stars. The Australian actor and producer never fail to show off her unique and enviable style through the years.
Recently, Cate Blanchett was spotted at the Tár Premiere during the 79th Venice Film Festival. The 53-year-old star turned heads as she sashayed down the red carpet in a glamorous ensemble.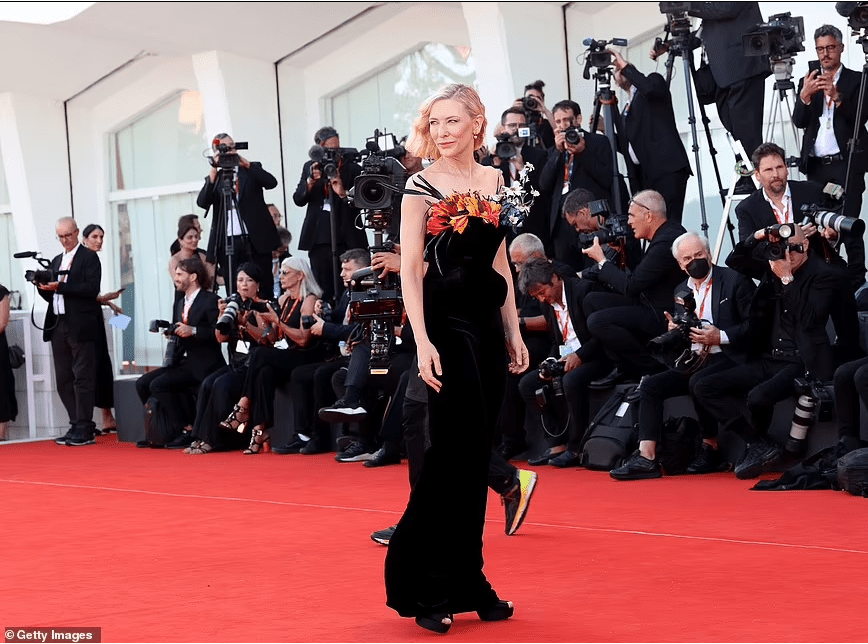 79th Venice Film Festival
The 79th annual Venice International Film Festival will be held from August 31, 2022, to September 10, 2022. It is organized by La Biennale di Venezia and directed by Alberto Barbera. The oldest Festival was founded in 1932, celebrating filmmaking worldwide.
The Festival aims to raise awareness and promote international cinema in all forms of art, entertainment, and industry, in a spirit of freedom and dialogue. Besides, the Festival also organizes retrospectives and tributes to significant figures to contribute to a better understanding of the history of cinema.
The event director, Alberto Barbera, said, "The Venice International Film Festival is a reflection of this difficult moment, affected by all kinds of tension and subject to an ongoing transformation whose telluric dimensions we can sense but whose outcome is not ours to see. Assuming one exists, in an increasingly fluid world". It is truly inspiring.
Barbera added, "Cinema still wants to explore ways of thinking, big themes, big questions, the profound relationships that tie people to one another, the power of feelings and memory, and the ability to push one's gaze beyond the horizon of the present."
With the presence of the biggest stars, the Venice Film Festival is held yearly on the island of the Lido in the Venice Lagoon. Many movie screenings occur in the historic Palazzo del Cinema on the Lungomare Marconi.
This year's lineup would see divisive biopic Blonde, starring Ana De Armas as tragic screen icon Marilyn Monroe, battle it out for the competition's top accolade.
Besides, Brendan Fraser's moving drama The Whale, where he plays an obese professor, will also compete alongside films starring Cate Blanchett, Hugh Jackman, and Colin Farrell.
Cate Blanchett's Early Life
Cate Blanchette was born on May 14, 1969, in Ivanhoe, a suburb in Melbourne. She is 53 years old as of this year, 2022.
She is regarded as one of the finest actresses of her generation. Besides, she is known for her versatile work across independent films, blockbusters, and the stage. Blanchett receives numerous accolades, including two Academy Awards, three British Academy Film Awards, three Screen Actors Guild Awards, and three Golden Globe Awards.
Cate described herself as a "part extrovert, part wallflower" child. During her teenage years, she had a penchant for dressing in traditionally masculine clothing and went through goth and punk phases, at one point shaving her head.
Her Australian mother, June née Gamble, worked as a property developer and teacher. On the other hand, her American father, Robert DeWitt Blanchett Jr., a Texas native, was a United States Navy Chief Petty Officer who later worked as an advertising executive.
Cate Blanchett's Outfit
Cate Blanchett is undoubtedly a style expert, as she appeared at the premiere of the movie "Tár," wearing a black velvet jumpsuit. The chic clothing piece is adorned with elaborate floral trim.
Cate obviously led the glamour at the film's premiere, alongside her fellow Hollywood stars. She looked stunning in her garden-inspired outfit. It has incredible features, too, a bright display of exotic flowers and foliage that highlights her physique.
The famous actress completed her look with a pair of black sandals. She also sported a blush makeup palette with a nude lip and styled her short blonde tresses in loose waves.
What is a Jumpsuit?
According to style insiders, a jumpsuit is a one-piece garment with sleeves and legs, typically without integral coverings for feet, hands, or head. The original jumpsuit is a functional one-piece garment used by parachuters.
Jumpsuits are generally regarded as a garment of convenience, especially for entertainers, as they are more straightforward, lighter, and more flexible to wear. They have become more of a put-on and remove garment than an ensemble outfit.
Tar Film
The movie Tár, stylized as TÁR, is a 2022 psychological drama film written and directed by Todd Field and starring Cate Blanchett. She portrayed a renowned conductor and composer in the international world of classical music named Lydia Tár. In addition, the cast includes Noémie Merlant, Nina Hoss, Sophie Kauer, Julian Glover, Allan Corduner, and Mark Strong.
"Tár" had its world premiere at the 79th Venice International Film Festival on September 1, 2022, and is scheduled to be released in the United States on October 7, 2022, by Focus Features.
It was filmed in Berlin last year. Aside from that, the plot follows Cate Blanchett's character, Lydia Tár, as she rises to become the first-ever female conductor of a German orchestra. Besides, the trailer hints the film, directed by Todd Field, will deal with themes of power and madness.
This is only the third film Field made, his first since 2007's Little Children. Field's movies have been nominated for eight Oscars despite his limited output.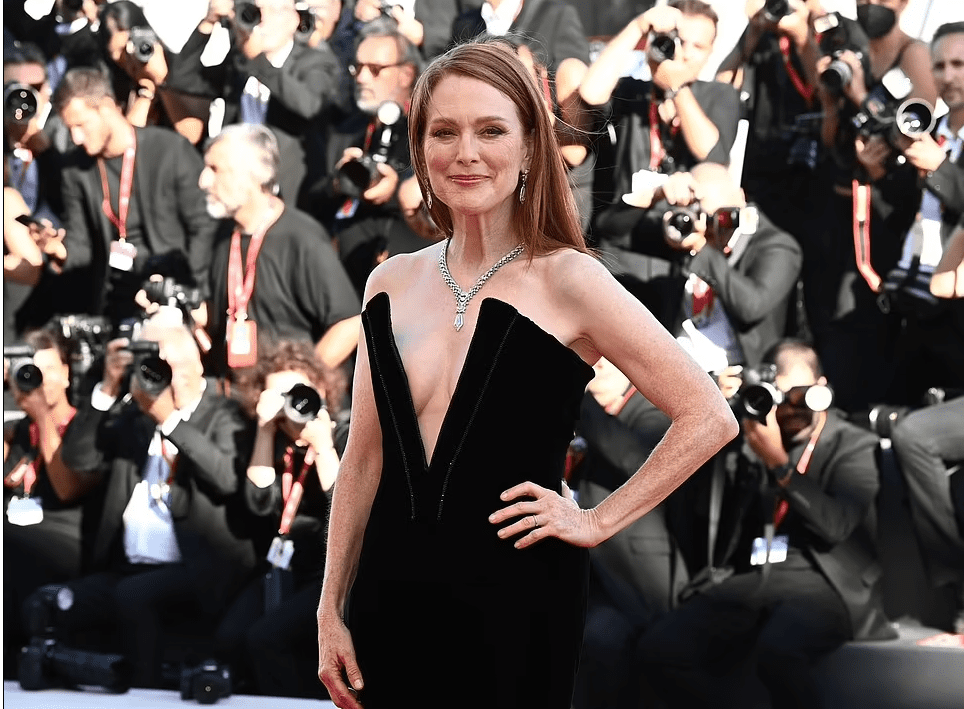 Julianne Moore's Outfit added Glamour to the Event
Meanwhile, there was further Glamour on the red carpet thanks to Julianne Moore. She is the president of this year's jury. Julianne took the plunge in a daring black velvet gown that featured a shallow neckline as she posed for snaps at the glitzy event.
Since Julianne Moore paired her outfit with an embellished silver necklace and equally dazzling silver earrings, she looked confident and elegant. She finished off the look with a pair of chunky fishnet heels.
Georgina Rodriguez's Presence at the Glamorous Event
Georgina Rodriguez is also present at the event. Cate Blanchett and Julianne Moore made the red carpet event more enjoyable. She put on a very leggy display at the star-studded event as she wore a backless black dress with a daring thigh-high split.
The 28-year-old girlfriend of Cristiano Ronaldo elevated her height by wearing a pair of back heels. Then, she accessorized with a gold choker-style necklace and a matching chunky bracelet.
Interestingly, the fashionista sported a flawless bronzed makeup palette with a nude lip while scraping her brunette locks back in a bun.
Do Cate Blanchett"s stylish outfits inspire you for the 79th Venice Film Festival? She wants to stay chic while appearing at the famed film festival. We find it inspiring to copy her style. Besides, we're in awe of the outfits Julianne Moore and Georgina Rodriguez showcased at the events. What do you think about the event?