Heidi Klum is a famous German and American model, television host, producer, and businesswoman. She is one of the most stylish women in Hollywood.
Recently, the 49-year-old celebrity was spotted filming at America's Got Talent Studio in Pasadena. She looked gorgeous in a white outfit for the activity.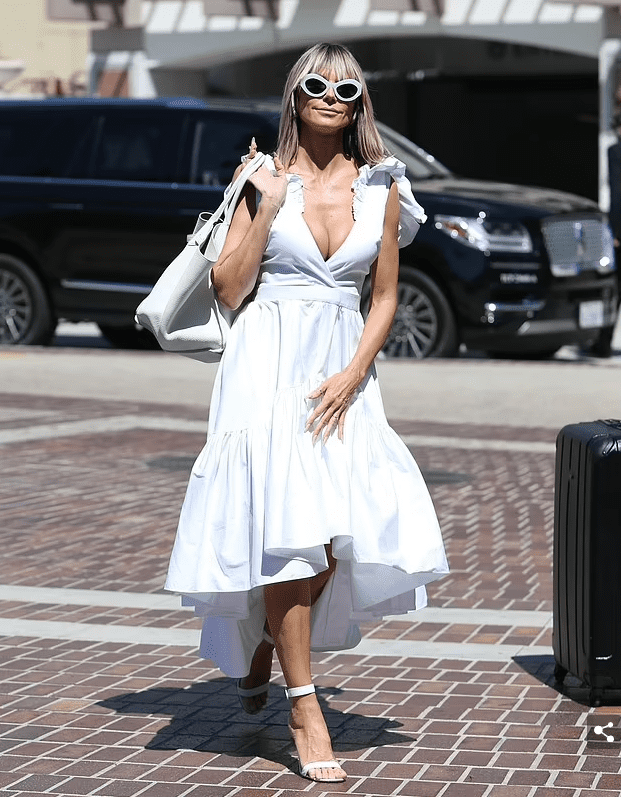 Heidi Klum's Early Life
Heidi Klum was born on June 1, 1973, in Bergisch Gladbach, a city near Cologne, West Germany. She is 49 years old this year, 2022. Heidi is a German and American model, television host, producer, and businesswoman. She appeared on the Sports Illustrated Swimsuit Issue cover in 1998 and was the first German model to become a Victoria's, Secret Angel.
She has completed several jobs after her successful modeling career. Heidi Klum became the host and a judge of Germany's Next Top Model and the reality show Project Runway, which earned her an Emmy nomination in 2008 and a win in 2013 for Outstanding Host for a Reality or Reality-Competition Program that she shared with co-host Tim Gunn. Klum has been nominated for six Emmy Awards.
In May 2011, Forbes magazine estimated Klum's total earnings for that year as US$20 million. She was ranked second on Forbes' list of the "World's Top-Earning Models ."In addition, Forbes noted that since ending her 13-year run as a Victoria's Secret Angel, Klum had become more of a businesswoman than a model. In 2008, she became an American citizen while maintaining her native German citizenship.
America's Got Talent
In March 2013, it was announced that Klum would join America's Got Talent. At that time, she will be replacing Sharon Osbourne as a judge. Heidi judged seasons 8 through 13 and the first season of America's Got Talent: The Champions before her departure was announced in February 2019.
It was announced in February 2020 that she would be back on the panel for the fifteenth season of the main series. At present, Klum still appears on the show as a judge.
America's Got Talent Filming in Pasadena
Heidi Klum also took to her Instagram account to share a quick video with fellow judge Sofía Vergara, the 50-year-old actress. She stated, "Are you guys ready for us? We're sitting in our seats." Heidi sang into the camera while Sofia waved.
Aside from that, she posted a cute Boomerang video with fellow judge Howie Mandel, as they blew kisses to the camera. America's Got Talent's 17th season premiered in May, and, after weeks of auditions, the live shows kicked off in early August.
America's Got Talent, or AGT is a televised American talent show competition and part of the global Got Talent franchise that Simon Cowell created. The program is produced by Fremantle USA, distributed by Syco Entertainment, and broadcasts on the NBC television network.
The television show premiered on June 21, 2006, after plans for a British edition in 2005 were suspended, following a dispute within the British broadcaster ITV. Then, production would resume in 2007, following the first season's success.
In addition, the program attracts various participants from across the United States and abroad who possess some form of talent. The acts range from singing, dancing, comedy, magic, stunts, variety, and other genres.
Besides, each participant or act who auditions attempts to secure a place in the live episodes of a season by impressing a panel of judges. The current line-up consists of Cowell, Howie Mandel, Heidi Klum, and Sofía Vergara.
Each season is mainly run during the network's summer schedule and has featured various hosts throughout the program's history.
Heidi Klum's Outfit
Last Tuesday, Heidi Klum looked ethereal as she arrived at the filming of America's Got Talent in Pasadena. The famous supermodel put her ample cleavage on display in a plunging white dress with frilly sleeves and a tiered bottom.
Heidi teamed her outfit with open-toe ankle strap heels and a matching pair of white shades. To complete her all-white look, she accessorized with a massive white tote bag.
The former Victoria's Secret Angel wore her blonde tresses in a straight style with bangs and shorter front pieces framing her face.
Heidi's bright smile added to the overall look – that is chic and relaxing. While making her way to the studio, she attracted the attention of the people there.
We think the outfit is perfect for Heidi Klum's appearance on the television show. She pulled it off effortlessly with her white bag, sandals, and shades for an all-white look.
Besides, Heidi Klum is photogenic. The clean aura of an all-white ensemble fits her well. We've gathered the details of her look, too. According to fashion insiders, she donned Dolce & Gabbana "Tradizione" sunglasses in white, carried a white tote Celine Bag, and a Gianvito Rossi "Portofino" leather sandals.
Heidi Klum's Thoughts on Hulu docuseries Victoria's Secret: Angels and Demons
Heidi's day out comes after she addressed the recent Hulu docuseries Victoria's Secret: Angels and Demons. The show investigates the bizarre relationship between former Victoria's Secret CEO Leslie Wexner and Jeffrey Epstein.
Besides, it depicts the company as one "plagued by wide-spread misogyny and sexual misconduct." The said notion was shared by Variety online.
Heidi Klum, who served as an Angel for the lingerie brand for years, revealed she turned down an offer to participate in the show. She claimed that she had only had positive experiences working with the company.
The lovely star said on Variety's Just for Variety podcast, "They asked me if I wanted to be part of it.". She added, "And I was like, "If you're looking for a negative story, you're barking up the wrong tree because I had the most wonderful time there."
While Heidi did watch the first episode of the three-part series, she said 'hardly anyone I knew was on that show."She explained further, "I didn't know who all of those people were."
Referring to the show, she also said it was "mind-blowing" hearing about the allegations the series shed light on. Heidi claimed, "Hearing all these stories pop up to me is mind-blowing when they accuse different people of different things, and I'm like, "My gosh, did this happen?" I don't know. So I was always waiting to get more insight, but… it never came. So I never continued watching it."
Do Heidi Klum's stylish outfits inspire you for the filming of America's Got Talent recently? She wants to stay chic while appearing at the famous reality talent search production.