Many people love Emily Ratajkowski's stylish outfits. She is one of the celebrities who never fail to showcase trendy frocks—no wonder she's always on the top of our fashion radar.
If you're fond of reading fashion reports about her, you're in for a treat. We've rounded the top 10 best Instagram outfits of Emily Ratajkowski. Check the following chic IG outfits found at Emily Ratajkowski Closet. Let's start!
1. White Baby Tee and Chocolate Plaid Pants
In August 2022, Emily Ratajkowski showed off her toned abs in a white crop top and plain slacks in New York City. She opted for her hair in braids as she went shopping in the city. She matched her outfit with slim sunglasses, earrings, a gold necklace, and a ring.
While enjoying a retail therapy there, Emily looked gorgeous in her chic street style. Besides, all eyes were on her as the My Body author flashed her tummy in a white short-sleeved crop top paired with edgy plaid chain-detail pants.
Even though there is surprising news that her union with Sebastian Bear-McClard ended in early July after four years of marriage, Emily hasn't skipped a moment and has been busy all summer. The famous model has shared more of her life on social media since she filed for divorce almost two months ago. The star recently posted images of her in a red bikini from her brand Inamorata.
2. Lorette Knitted Ruffled Cardigan and Sylvie Textured Knitted Skirt
On May 19 this year, Emily Ratajkowski donned a Maison Cleo Lorette Knitted Ruffled Cardigan and a Sylvie Textured Knitted Skirt in New York City. She teamed the monochromatic outfit with a pair of tall duck leather boots and sunglasses.
She finished the outfit with a fold-over leather clutch bag and a confident model aura. Emily didn't disappoint with her engaging street style.
3. Chambord Knit' in Yellow with the Leather Cowboy Boots in Black
Are you looking for outfit inspiration lately? If you love yellow and you want a dramatic look, you might be interested in checking Emily Ratajkowki's yellow oversized sweater. She wore the outfit while walking in the streets of New York City. She was spotted wearing a Blanca Chambord Knit in Yellow with Zara Leather Cowboy Boots.
4.  The Cookies Skirt' in Dahlia and New Balance Classic 574 Sneakers in Gray
We think that Emily Ratajkowski looks elegant in all of her outfits. One of her exciting fashion moments is when she was spotted wearing a brown silk top and a floral skirt in New York City earlier last month.
The lovely celebrity teamed the chic outfit with a pair of affordable sneakers. In other words, Emily was spotted in a couple of gray Women's New Balance 574 Walking Shoes that retail for $80. Besides, Emily showed off a sporty but feminine look for the day out in the city.
In addition, Emily Ratajkowski took to the streets of New York City with a friend last Friday for brunch. She topped off her look with gold accessories, a white shoulder bag, and a pair of tortoiseshell sunglasses. Emily also donned a white non-medical mask for her socially distanced meal.
5. Wilcox Button Up in Rust Figure Stripe and Crop Work Pants in Olive
EmilyRatajkowski walks around West Village wearing a Wilcox Button Up in Rust Figure Stripe and Crop Work Pants in Olive. The trendy look is perfect for her daily activity while showcasing her usual stylish self.
6. Drop Shoulder Reversible Blouse in Ivory
On one occasion, EmilyRatajkowski looked stunning in a Drop Shoulder Reversible Blouse in Ivory and a 'Ballerina Wrap Skirt' in Ivory. She teamed up the distinctive look with a pair of trendy shoes and dainty accessories.
The outfit is the same theme as her all-white look in August 2022. She opted for a knit-cotton button-up blouse and matching shorts. In addition, her big brown eyes were slightly outlined beneath perfectly plucked eyebrows. Emily is effortlessly photogenic.
She preferred a messy hairstyle for the look. However, she is irresistible even when she appears a bit unhappy. Before this, she was photographed showcasing her extraordinarily long legs in cowgirl boots and a barely-there one-piece mini dress.
It appears that Emily Ratajkowski is having fun with her wardrobe while sharing on social media. Lately, she has been sharing more sexy selfies. Besides, Ratajkowsi filed for divorce from Bear-McClard almost a month ago, but that has not stopped the mother from shuffling around the Big Apple this summer.
7. Noha Dress in Greetings
When modeling a printed dress, Emily Ratajkowski is one of the best fashion lovers. She was spotted enjoying some Southern California sun after ignoring CDC travel advisories to relocate to Los Angeles amidst the pandemic. This happened in June 2020, when she was in the mood to showcase trendy outfits and chic street styles.
She rocked a fun printed dress that time as she walked the Husky-German Shepherd mix through her neighborhood of TriBeCa. Besides, the 29-year-old put on a leggy display in the sleeveless dress, featuring space-themed greeting cards.
Emily completed the look with black cat-eye sunglasses, a grey polka-dotted face mask, and white sneakers. Then, she showed off her new surfer girl chic blonde look after recently partnering with Kérastase.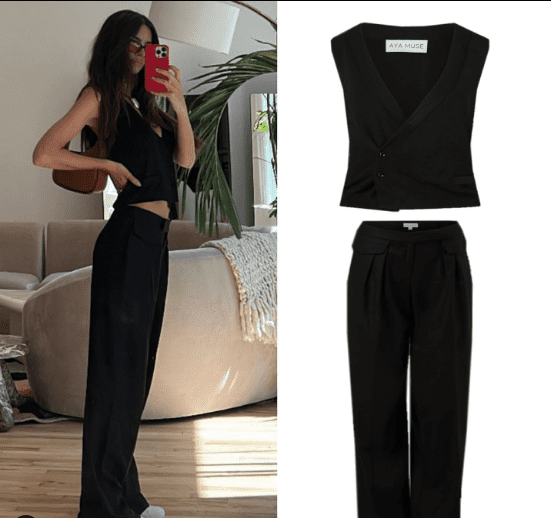 8. Cherry Blossom Top and Cherry Blossom Pants
Emily Ratajkowski previously told British GQ: "You know, [my husband and I] have been a little on the fence. My parents are in California, but as we know, the responsible thing is not to travel right now."
She added: "But eventually we would like to make it out there just because, well, New York is the epicenter, although my bodega is still open. I live in Tribeca, and it is already tranquil."
Emily's lovely dress solved the hot, muggy weather last summer. The Reformation mini dress is a perfect summer dress for her. Besides, the brand has a huge celebrity following, including Ariel Frees, Apple Paltrow, and of course, Emily Ratajowski.
Miss Ratajkowski teamed the mini dress with a pair of Veja trainers or sandals for the ultimate city girl look. As mentioned earlier, the model and famed celebrity recently donned the 'Noha' dress, a printed mini dress with a square neckline and thigh slit. It is perfect for keeping you cool.
Miss Ratajkowski teamed the mini dress with a pair of Veja trainers or sandals for the ultimate city girl look. As mentioned earlier, the model and famed celebrity recently donned the 'Noha' dress, a printed mini dress with a square neckline and thigh slit. It is perfect for keeping you cool.
9. Ginger Dress in Periwinkle Paisley
Well, nobody does it quite like Emily Ratajkoski. Her daily choice of outfits is inspiring, too. Last month, she graced New York streets looking elegant in Miaou's Ginger mini dress. It featured a sweet handkerchief mismatched print, a flippy mini skirt silhouette, and a semi-sheer finish. Besides, the number was another memorable ensemble to add to Emily's unparalleled clothing collection.
She finished her look with a pair of black cowboy boots, white embossed detailing, and some oversized Versace sunglasses. In addition, a statement necklace adorned her neck, and she wore her brunette tresses down loose in an effortless style.
Aside from that, a Miu Miu's 'Wander matelassé mini hobo bag that retails at £1650 was strapped across the model's shoulder. It added a pinch of luxury charm to her bohemian aesthetic.
During their outing, Emily Ratajkowski and a friend, who looked polished in a golden halter neck top and gray jeans, performed a TikTok dance for fans to gush over. The famous model captioned the clip with a heart emoji.
Many fans shared comments on her TikTok entry. One fan replied to the playful post, "Yes, Queen."  Another commented: "I love your fit!" Then, a third gushed: "Goddess." Another fan said: "Love the dress."
"Emily's length here is reminiscent of what we saw wafting down the catwalk at the SS22 Versace show. But instead of elongated, spoke straight strands, she's gone for cool, Woodstock waves and a subtly-skewed center-part."
10. Knitted Green Mini Skirt
We're not done yet, since we will talk about another sultry yet chic outfit showcased by Emily Ratajkoswki. Recently, she showed off her legs in a knit green mini skirt. She walked her dog in New York City at that time.
She put her long stems on display in a green micro-miniskirt as she walked her dog with a friend. Emily kept the look casual by pairing it with classic gray New Balance sneakers.
The 31-year-old supermodel rocked caramel highlighted extensions in her brunette hair, bringing the length of the locks to her waistline. She was photographed in her typical center part with the thick tresses falling over her chest in a refined look.
The famed model wore a netted, long-sleeved crewneck shirt that coordinated with her bottoms. Then, a dark-colored bra was vaguely visible underneath her thin outer layer, which hugged her trim physique.
In addition, she hid her large brown eyes beneath rectangle-shaped shades. The glamorous, chestnut-hued frames complemented her dark hair and tanned complexion nicely.
Ratajkowski clutched an ombre, multicolored dog leash that helped her lead Colombo, a Husky-German Shepherd mix. Then, she rocked a large gold ring on her index finger, drawing attention to her short, natural nails.
According to fashion reporters, Kendall Jenner, Bella Hadid, and Emily Ratajkowski are the queens of channeling the Y2K trend and the same look Emily showcased on New York streets.
It is interesting to note that the "Lotus" skirt is a great pick for summer as you can also style it with a bodysuit or silk cami.
As reported, Emily is rumored to have split from her husband, Sebastian Bear-McClard.  Even though neither half of the couple has commented on their relationship status, Emily has been seen without her wedding ring.
Besides, they were married at a courthouse in 2018 and shared a one-year-old son, Sylvester Apollo Bear. A source told Us Weekly, "Sebastian is trying for a second chance with Emily, but she doesn't want to get back together."
Did you enjoy these stylish outfits of Emily Ratajkowski? She has tons of fashion online that will inspire you to build your wardrobe for school or work. Let us know in the comments your favorite look.