Every fashion lover has a favorite hue, something that genuinely inspires one to dress up even during somber days. Well, we don't always feel excited to wear stylish pieces.
One of the enticing colors to look chic all the time is pink. There are tons of pink shades that give life to any dress or article of clothing.
There is no shortage of inspiration for celebrities, especially regarding street style. Pink is always the key to looking blooming these days. Here are the top 10 celebrities who rock pink outfits.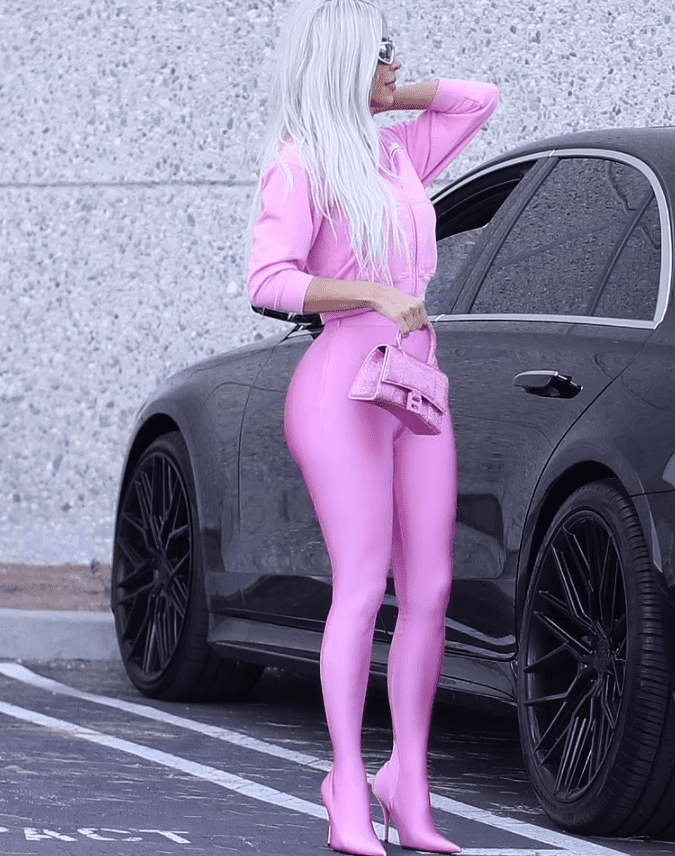 1. Kim Kardashian Light Pink Oufit
Many people like Kim Kardashian's style – it's a reality. The reality TV star is changing the theme of her wardrobe regularly, and we don't care, am I right? Let's take a cue from one of her stylish pink ensembles.
Daily Mail has exclusive coverage of Kim K's gorgeous pink look last May 29 this year. The outfit is over-the-top, but it's truly unique.
As she showed a form-fitting all-pink outfit, Kim looked like a life-size Barbie doll. She was photographed leaving a SKIMS photoshoot in Los Angeles.
The style icon donned an all-pink clothing piece that hugged her enviable physique tightly during the activity. At that time, she is going to Ripley's Believe It Or Not! tourist attraction on Hollywood Boulevard after the SKIMS photoshoot.
The 41-year-old star donned a hot pink Balenciaga zip-up hoodie that matched her overall look. She completed the form-fitting leggings she wore for the activity with a pair of pink high-heeled shoes.
Besides, Kim accessorized the monotone outfit with a light pink purse and a pair of silver-framed sunglasses that added a bit of shine to her look. Her platinum blonde tresses remained free-flowing.
In 2019, Kim Kardashian initially co-founded SKIMS with entrepreneur Jens Grede. They originally named the brand Kimono. In August that year, the two were immediately hit with claims of cultural appropriation, and she gave the company its current name.
Besides, the brand's initial launch netted the company $2 million in profits, and its offerings sold out in a mere ten minutes. Then, the company was later given a valuation of $1.6 billion after just two years of business.
Simply put, Kim's fashion business is a success. Many style lovers view her SKIMS pieces as remarkable.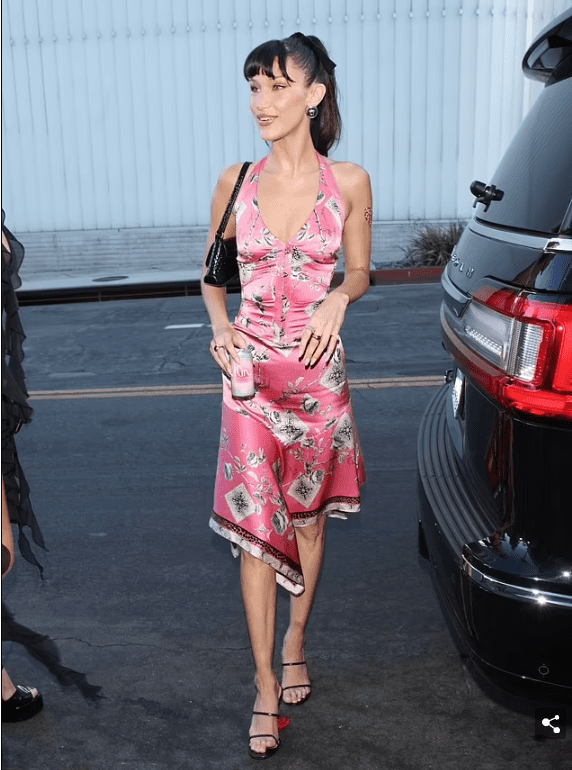 2. Bella Hadid's Feminine-Looking Ensemble
In the world of fashion, Bella Hadid is extra prevalent. She's been modeling chic outfits for so long.
The American model who was voted "Model of the Year" in 2016 is one of the celebrities who rock pink clothing pieces well. Let's talk about her look for the launch party for her non-alcoholic drink Kin in West Hollywood.
Bella didn't disappoint with her form-fitting bustier-style asymmetrical halter pink dress. It showed off her enviable physique and long legs.
During the event, the 25-year-old model was supported by fellow model Lori Harvey and her real estate developer father, Mohamed Hadid. All eyes were on her as she arrived at the launch party for her non-alcoholic drink brand Kin Europhorics in West Hollywood.
Hadid looked gorgeous in pink that she teamed with a pair of strappy black heels and a matching chic shoulder bag. She further accessorized her look with massive silver earrings and tons of rings.
To amplify her look, Bella donned her black tresses into a ponytail and sported thick bangs. For her makeup, she opted for a light pink blush, nude lipstick, and a hint of black highlighter.
Bella Hadid is the brand's co-founder and partner, Jen Batchelor. Besides, Batchelor started Kin Euphorics in 2018, and Hadid came on board in 2019. She launched her mocktail drink 'Kin' at The Fleur Room, a reservations-only cocktail lounge opening in early August in Los Angeles.
Last March 15, 2022, Bella Hadid talked about her support for Palestine, the country where her father, Mohamed Hadid, was born. The supermodel told Rep: "I had so many companies that stopped working with me. I have friends that completely dropped me." Bella isn't afraid to speak out about the topic anymore.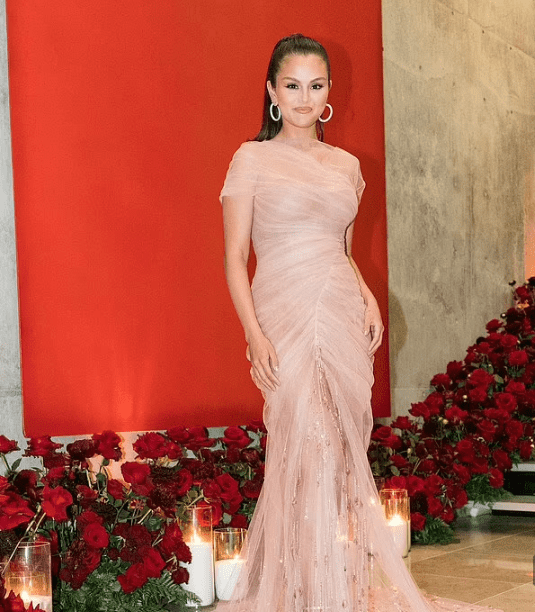 3. Selena Gomez's Light Pink Gown
Selena Gomez is also a stylish celebrity with her incredible sense of style. She looks glamorous in every event she attends, including red carpet fashion displays.
On July 26, 2022, various fashion publications featured her pink outfit for her 30th birthday party. She was spotted partying all night long with her friends.
Gomez revealed her most glamorous look from the high-profile celebration: a sheer pink Versace gown. She shared an Instagram post from Monday about this.
The said dress was decorated with ruched pink tulle that showcased her curves. In addition, the outfit wrapped around her shoulders to create short sleeves, and it had a modest train that she carried draped over her arm as she walked down the staircase. Her pair of silver open-toed heels strapped at her ankles completed the look.
In an accompanying post, the Spring Breakers star shared her immense 'gratitude' for the sometimes-difficult 'lessons' of her 20s, which were sure to inform her next decade.
She stated: "Have had a moment to catch up. Though there are many words to say, I'll leave it at this."
Selena Gomez added, "My twenties were a journey through good, hard, and beautiful moments that I will never forget. Each of them has shaped me into who I am today,' she continued. 'I am someone who is still learning but is more certain about what matters and what she wants. Someone who is grateful for every gift and lesson along the way."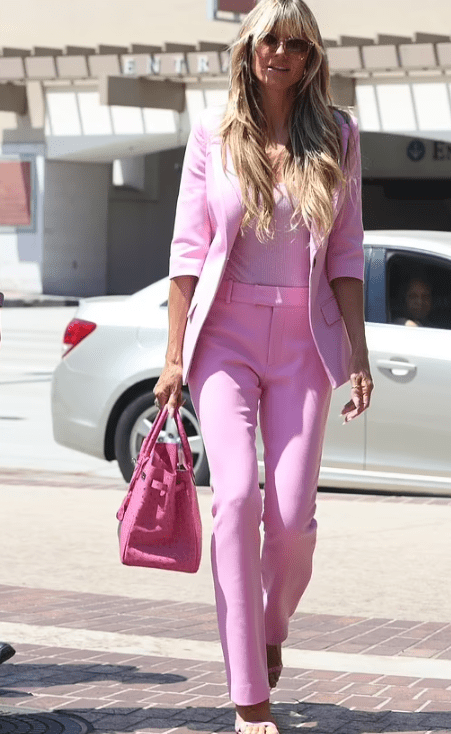 4. Heidi Klum's Pink Corporate Look
Heidi Klum's outfits are exciting topics when it comes to fashion. She always looks glamorous at every event she attends for years.
In August 2022, she was spotted wearing an all-pink outfit. She stands out in the said outfit while going to a taping of America's Got Talent in Pasadena.
Interestingly, she made quite the impression while showcasing an all-pink outfit for the said activity. To match her elegant look, she flashed a broad smile.
The 49-year-old model donned a low-cut t-shirt underneath a single-button jacket with shortened sleeves. She also displayed a set of slim-fitting pants and a pair of pink high-heeled shoes.
Heidi accessorized her look with a sizable purse and a pair of sunglasses that matched the dominant hue of her outfit.
In addition, her voluminous blonde locks cascaded onto her shoulders and contrasted perfectly with the bright tone of her outfit.
Heidi Klum began appearing on America's Got Talent during its eighth season, which aired in 2013. Then, the fashion industry personality served as a replacement for Sharon Osbourne, who had been with the show for six seasons.
Besides, she was not present for the program's 14th run of episodes, and Julianne Hough replaced her. However, she returned for the following season and has remained a judge.
In an interview with Fox News Digital, Klum talked about her work at America's Got Talent. She stated, "'I want to have fun, I want to be entertained, I want to be blown away, but I want to have a good time. I want good vibes from the people."
She added: "Maybe I was harsher before, I don't know. Maybe I've gotten nicer over the years, or maybe they have just gotten much better. Maybe that's why I'm so much nicer because I don't have to be so mean."
5. Sebastian Stan's Pink Red Carpet Look
We think adding Sebastian Stan's all-pink outfit is interesting in this fashion report. But before discussing it, let's examine his early life and career.
Sebastian Stan was born on August 13, 1982. The Romanian-American actor is 40 years old.
He gained recognition for his role as Bucky Barnes / Winter Soldier in the Marvel Cinematic Universe media franchise beginning with the film Captain America: The First Avenger (2011), most recently starring in the Disney+ miniseries The Falcon and the Winter Soldier (2021).
At this year's Met Gala, he looked gorgeous in a bold Valentino outfit. He opted for a head-to-toe in hot pink with an ensemble from Valentino, including a long-sleeved shirt, vest, peacoat, pants, and shoes.
It is an all-pink ensemble that turns heads during the red carpet event at the Metropolitan Museum of Art. As seen in the photo, the only part of his ensemble that wasn't hot pink was his brown-tinted sunglasses during the yearly gathering.
Stan has played Carter Baizen in Gossip Girl for his television presence, Prince Jack Benjamin in Kings, Jefferson in Once Upon a Time, and T.J. Hammond in Political Animals. Stab also earned him a nomination for the Critics' Choice Television Award for Best Supporting Actor in a Movie/Miniseries.
In 2022, he received critical acclaim for playing Tommy Lee in the Hulu miniseries Pam & Tommy earning a Primetime Emmy Award for Outstanding Lead Actor in a Limited Series or Movie nomination.
In February 2022, he talked about his role as Tommy Lee. Lily James and Sebastian Stan are starring in the new miniseries about Pamela Anderson and Tommy Lee. He told This Morning, "It took three or four hours every day. A lot of makeup and shaving and contouring!"
Aside from that, the eight episodes will follow the story of the Baywatch actress and her Mötley Crüe rockstar ex, telling the story of their turbulent marriage from 1995, which led to their eventual divorce in 1998.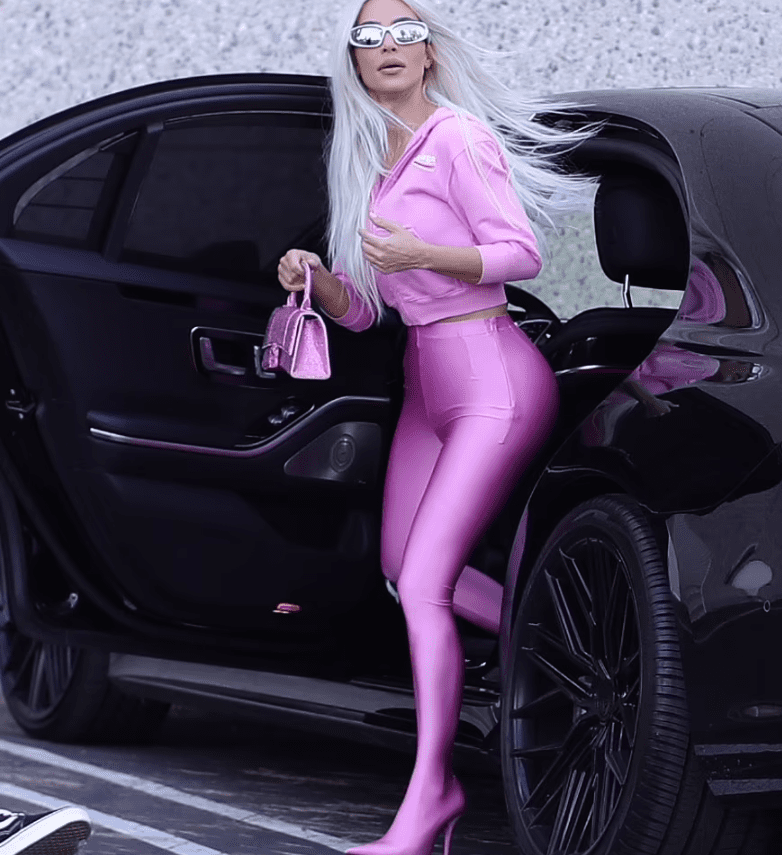 These are the top 5 celebrities who rock pink outfits. Which one is your favorite? Selena Gomez's pink look is elegant, and it's evident that she has attracted attention for her pink look.