Are you fond of wearing yellow outfits? What about accessories in yellow hues? Well, it's an attractive color in the fashion world.
Here, we've rounded up the top five celebrities who rock yellow outfits in 2022 so far. Let's get started!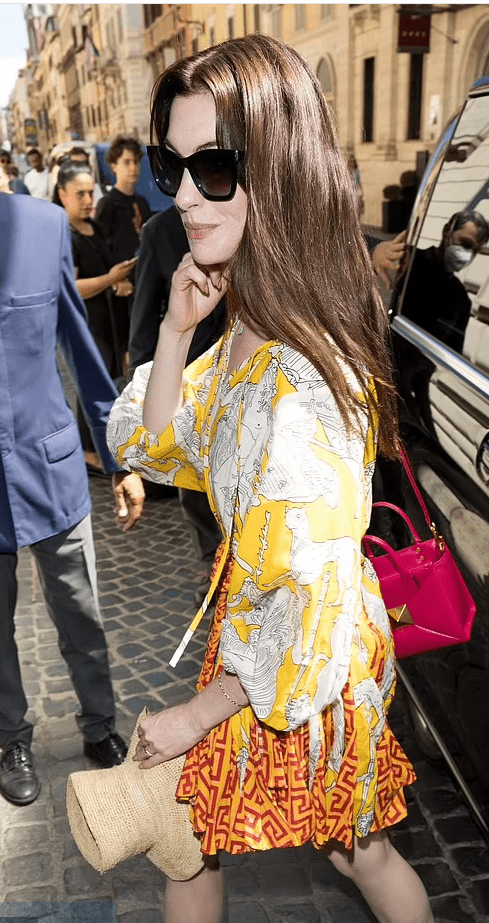 Anne Hathaway's Early Life
Anne Jacqueline Hathaway is an American actress known for her portrayal of Selina Kyle / Catwoman in her highest-grossing film, The Dark Knight Rises. She was born on November 12, 1982. Anne is 39 years old as of this year, 2022.
She also receives various accolades, including an Academy Award, a Golden Globe Award, and a Primetime Emmy Award. Besides, she was among the world's highest-paid actresses in 2015. Her films have grossed over $6.8 billion worldwide, and she appeared on the Forbes Celebrity 100 list in 2009.
Anne Hathaway's Multi-Colored Yellow Outfit
In July 2022, Anne Hathaway dazzled in Europe's summer fashion weeks. She was spotted in Rome ahead of the Valentino couture show. The famed actress looked typically trendy in a summery yellow and orange dress. Besides, she looked in great spirits ahead of the fashion activity.
Anne finished off her look with dark shades and a bright pink bag. Then, she carried a straw hat with her to complete the look. She opted for her long blonde hair to cascade on her shoulders. She also took a white designer bag to arrive in a European city.
Even though Italy's fashion week is usually held in Milan, this Valentino event takes place in Rome for the first time. Hathaway had taken a break from filming the movie "Mother's Instinct" in New Jersey.
Bella Hadid's Early Life
Isabella Khairiah Hadid is Bella Hadid's real name. She was born on October 9, 1996, in the Washington, D.C., area. Hadid was raised in Santa Barbara, California. The American model is 25 years old. In 2016, she was voted "Model of the Year" by industry professionals for Models.com. For over four years, Hadid has made twenty-seven appearances on international Vogue magazine covers.
Hadid began her modeling career at the age of sixteen. She was signed to IMG Models in August 2014 and made her New York Fashion Week debut the following month. In 2017, Hadid broke the record for the most Vogue September covers in one year by appearing in five international editions, such as China, Spain, Brazil, Australia, and Arabia.
Bella Hadid's Yellow Ensemble
We know that Bella Hadid is popular in the fashion world. Many style enthusiasts pick her as an ultimate fashion inspiration. In May 2022, she stood out in a bright yellow coat in New York City. That happened hours before she was set to take on the Met Gala red carpet.
As she went to the event, Bella matched the outfit with yellow-tinted sunglasses and a huge handbag. The supermodel had her bare legs on display as she donned a pair of to-the-knee black high-heeled boots. Bella's hair was tucked back. She opted for pink lipstick to complete the look.
In addition, the model will have a recurring role in the third season of Hulu's critically-acclaimed comedy series that follows Ramy Youssef playing a fictionalized version of himself trying to navigate life as an American Muslim in New Jersey.
According to Hulu, the third season will see Ramy's family "forced to confront having lived a life dedicated to worldly concerns—and in some cases, lies—while Ramy all but abandons his spiritual journey, instead dedicating himself to him and his uncle's diamond business."
Dua Lipa's Early Life
Dua Lipa is an English singer-songwriter. She was born on August 22, 1995, and is 27 years old as of this year, 2022. She possesses a mezzo-soprano vocal range and is known for her signature disco-pop sound.
Besides, Lipa has received numerous accolades, including six Brit Awards, three Grammy Awards, two MTV Europe Music Awards, an MTV Video Music Award, two Billboard Music Awards, an American Music Award, and two Guinness World Records.
After working as a model, she signed with Warner Bros. Records in 2014 and released her eponymous debut album in 2017. The album peaked at number three on the U.K. Albums Chart and yielded eight singles, including "Be the One," "IDGAF," and the U.K. number-one single "New Rules," which also peaked at number six in the U.S.
Dua Lipa's Yellow Concert Outfit
In March 2022, Dua Lipa was busy on the American leg of her Future Nostalgia Tour. During an energetic performance for the show, she was spotted wearing a gorgeous outfit.
Dua donned a skintight yellow catsuit and matching gloves. In great spirits, she took to the stage at The Forum, Inglewood in Los Angeles, to headline the music event. Besides, the singer showed off her figure in the bold outfit she wore with matching long gloves and boots as she belted out many of her hits to the excited audience.
The tour supports her second studio album Future Nostalgia which has been postponed several times due to the COVID-19 pandemic. However, it finally kicked off in Florida in April 2022.
In March 2021, Future Nostalgia won the Best Pop Vocal Album Grammy Award. Its lead single, "Don't Start Now," attained critical success, including Grammy nominations for Record of the Year, Song of the Year, and Best Pop Solo Performance.
Kate Hudson's Early Life
Kate Garry Hudson is Kate Hudson's real name. She was born April 19, 1979, and she is 43 years old as of this year, 2022. The American actress and businesswoman is the recipient of various accolades, including a Golden Globe Award, a Critics' Choice Movie Award and a Satellite Award, as well as nominations for an Academy Award, a BAFTA Award, and two Screen Actors Guild Awards.
Hudson made her film debut in the 1998 drama Desert Blue, which was followed by supporting roles in 200 Cigarettes (1999), Dr. T & the Women, and Gossip (both 2000). Besides, she rose to international prominence with her portrayal of Penny Lane in Cameron Crowe's Almost Famous (2000), for which she won a Golden Globe for Best Supporting Actress and received an Oscar nomination in the same category.
Kate Hudson's Chic Yellow Outfit
In March 2022, Kate Hudson sizzled in the streets of Los Angeles with her fabulous outfit. She looked fit and great in a skintight yellow dress.
The lovely actress and gym fanatic displayed her toned physique in a sleeveless, spring-ready outfit while enjoying a stroll in Los Angeles. Besides, the blonde beauty paired it with chunky white sneakers, giving her ensemble a sporty edge.
The stylish actress went bare-faced under a pair of glamorous black Valentino shades. Aside from that, she skipped jewelry except for a thin, understated necklace. The entrepreneur pulled her tresses back into a low ponytail with a lavender scrunchie.
Before that, Kate Hudson appeared on Instagram to share a cocktail recipe using her vodka brand, King St. Vodka. She looked radiant in a collared mini dress with pleats and bell sleeves as she poured up a lemon drop martini. The mother-of-three rocked her hair in a tousled bob as she showed she knew her way around a bar.
Freida Pinto's Early Life
Freida Selena Pinto is an Indian actress who has appeared mainly in American and British films. She was born on October 18, 1984, and raised in Mumbai, Maharashtra. She is 37 years old as of this year, 2022.
In addition, Freida resolved at a young age to become an actress. She participated in amateur plays as a student at St. Xavier's College, Mumbai. After graduation, she briefly worked as a model and television presenter.
Pinto rose to prominence with her film debut in the drama Slumdog Millionaire (2008), which is a loose adaptation of the novel Q & A (2005) by Indian author Vikas Swarup.
Besides, she was nominated for the BAFTA Award for Best Actress in a Supporting Role, the MTV Movie Award for Best Breakthrough Performance, and the Teen Choice Award for Choice Movie Actress – Drama, and won the Palm Springs International Film Festival Award for Breakthrough Performance for Slumdog Millionaire.
Freida Pinto's Yellow Red Carpet Look
Are you familiar with the movie "Mr. Malcolm's List? Freida Pinto is the lead star of the said film. She attended the New York City premiere of the movie that was held at the DGA Theater.
To attend the event, she donned a yellow dress. Freida looked pretty in a yellow pleated gown with cascading sleeves. The SAG Award winner dazzled in a yellow-pleated Naeem Khan Resort 23 halter gown, featuring cascading tie-on sleeves that stylist Erin Walsh chose. Besides, hairstylist, Joseph Chase coiffed Freida's sleek partial updo for the red carpet festivities.
In addition, make-up artist Daniel Martin brought out Pinto's brows and applied dark brown eyeshadow to her lids while keeping her lip nude.
In the film, as mentioned earlier, Freida Pinto portrays scheming country girl Selina Dalton. He courts the wealthy Mr. Jeremiah Malcolm, played by Sope Dirisu, in the colorblind-casted Regency romance.
Freida defended to the Boston Herald: "Selina is part of Julia [Thistlewaite's revenge] ploy but is unaware of what she's walking into." She added, "Only Mr. Malcolm is so charming and real that she sees through all of the facades that he puts on in society and starts falling in love with him. This will be a problem for Julia because she didn't mean for Selena to fall in love with Mr. Malcolm."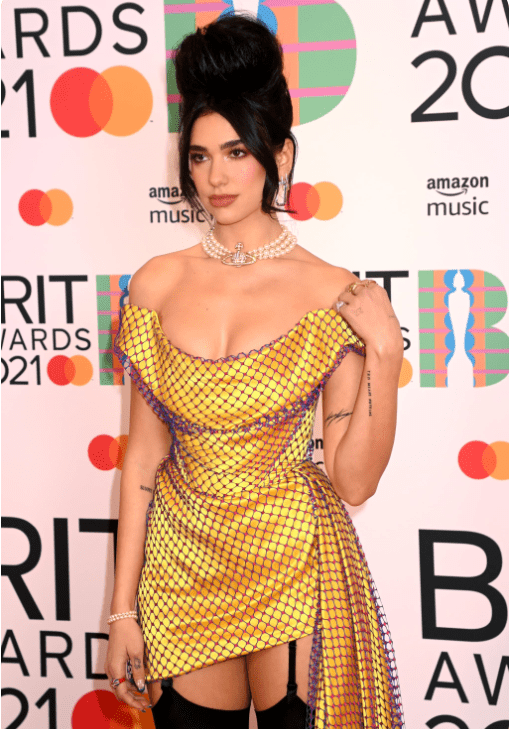 These celebrities stood out from the crowd, wearing yellow outfits. Given the refreshing vibe of these outfits, you'll want to try showcasing your look. What do you think?