There are days when you do not have enough strength to do things. You want to lay on the couch, maybe eat something and then get bored. Don't worry, because we have listed down some heart-pumping action movies that will surely recharge you and, at the same time, relieve you from boredom. 
When we say action movies, we often think of James Bond movies, and most often than not, whenever we feel like watching action movies, we opt for a familiar actor or even title. Watching movies all over again eliminates the excitement and the thrill, and because of that, we have 25 suggestions for the best action movie that you can watch.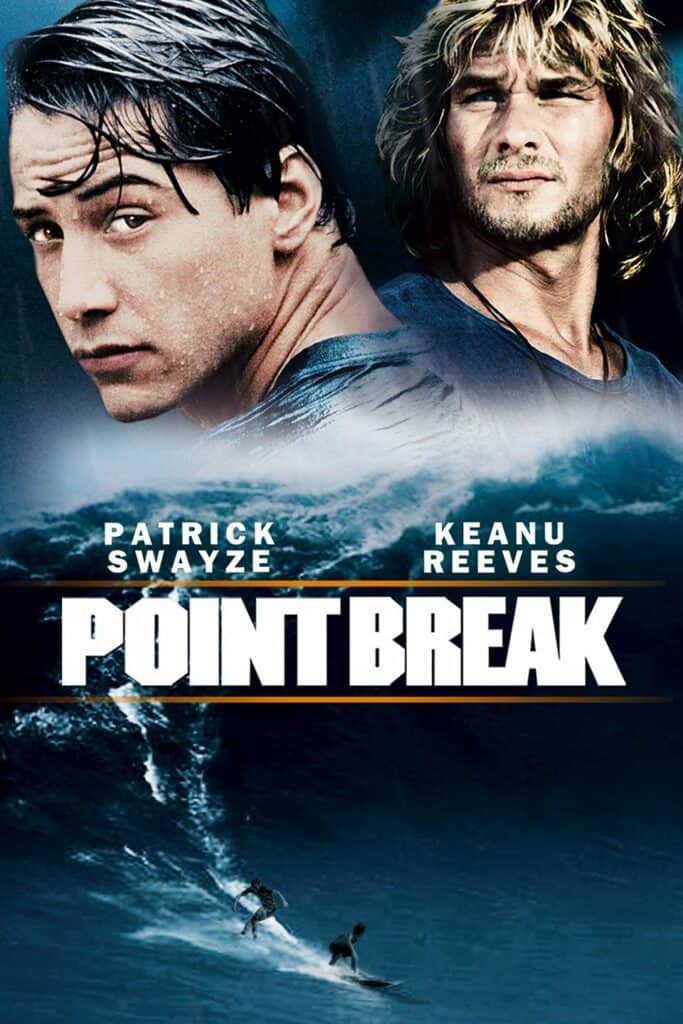 Director: Kathryn Bigelow
Box Office: $83.5 million
Starring:  Patrick Swayze, Keanu Reeves, Gary Busey, Lori Petty
Synopsis:
Johnny Utah, an F.B.I. Special Agent is paired with Angelo Pappas, another Special Agent with extensive expertise and a solid commitment to his mission. The two are given the task of looking into the frequency of robberies committed by an organization known as The Ex-Presidents, who carry out their crimes by posing as former presidents Reagan, Nixon, Carter, and Johnson. To prove his hypothesis that The Ex-Presidents are a group of surfers, Pappas invites Utah to mimic the identity of a surfer.
The issue was that Utah was utterly incapable of surfing. In addition, the two are constantly bothered by the unpleasant and rude Agent Harp. Utah starts to earn the respect of local surfer Bodhi and his group with Tyler's assistance, a skilled female surfer. Bodhi and Utah get close, but their friendship is later restricted when Utah fears that Bodhi and his crew are The Ex-Presidents.
#24 Raiders of the Lost Ark (1981)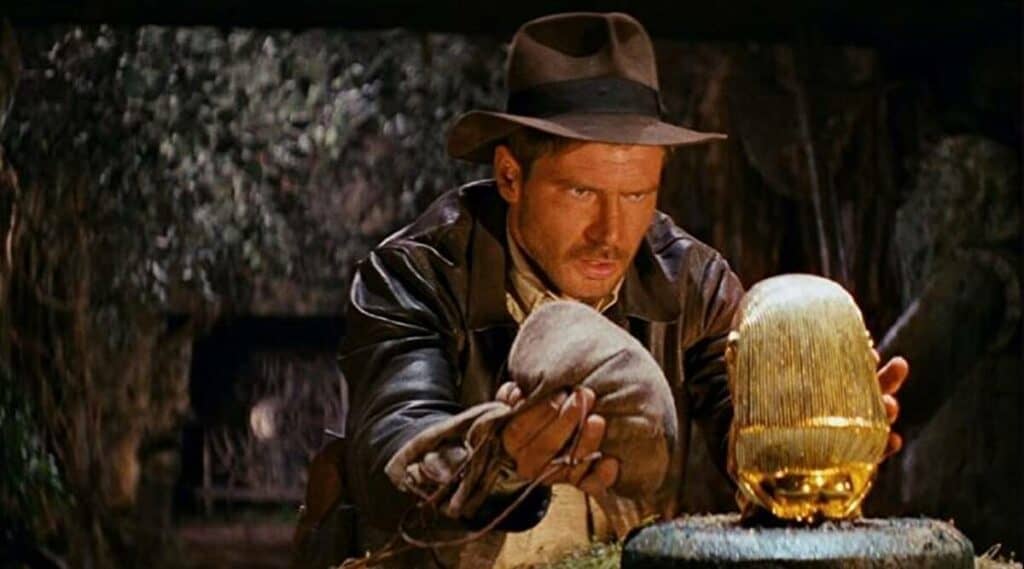 Director: Steven Spielberg
Box Office: $389.9 million
Starring:  Harrison Ford, Karen Allen, Paul Freeman, Ronald Lacey, John Rhys-Davies, Denholm Elliott
Synopsis:
The U.S. government enlists the aid of American archaeologist, university lecturer, and adventurer Indiana Jones because it is rumored that Adolf Hitler's Nazis have discovered the whereabouts of the mythical Ark of the Covenant, the holy object said to contain the Ten Commandments. Indiana journeys to the dangerous slopes of Nepal and mystical Cairo, where he partners up with his ex-girlfriend Marion and his friend Sallah. Both cities are thought to be home to an inexplicable destructive force. However, this is a maddening race against time, and the path to the sought-after artifact passes through Dr. René Belloq, Indy's cunning arch-rival, and Major Toht's ruthless Gestapo force.
#23 The Professional (1994)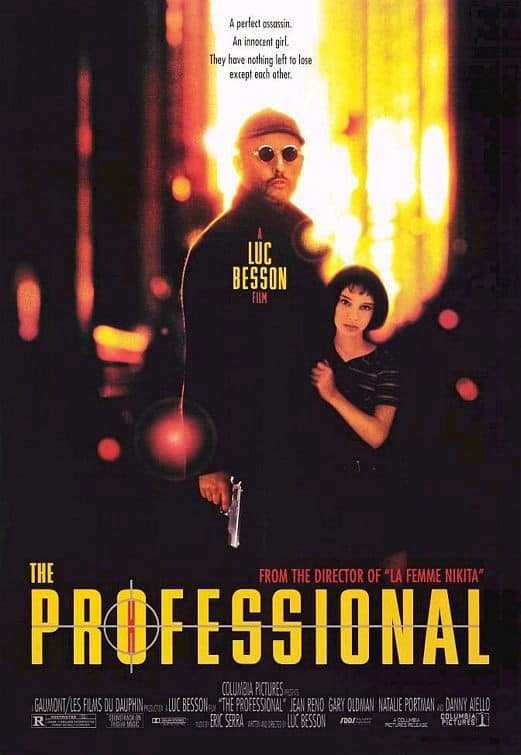 Director: Luc Besson
Box Office: $46.1 million
Starring:  Jean Reno, Gary Oldman, Natalie Portman, Danny Aiello
Synopsis:
12-year-old Mathilda grew up in the ghetto with a father who sold drugs. The streetwise tween's life would soon turn for the worse when her whole family, including her father, stepmother, step-sister, and little brother, gets wiped out by her father's boss, D.E.A. Agent, and drug kingpin Norman Stansfield. Mathilda becomes the sole survivor of the act since she is out shopping. She seeks refuge in her neighbor's apartment, Leon. Leon was an Italian immigrant with a dark past. Mathilda soon finds out about Leon's unusual profession, killing. Her brother's death broke Mathilda, and she vowed to take revenge. Leon helped her attain that by training her to become a professional hitman. 
#22 Demolition Man (1993)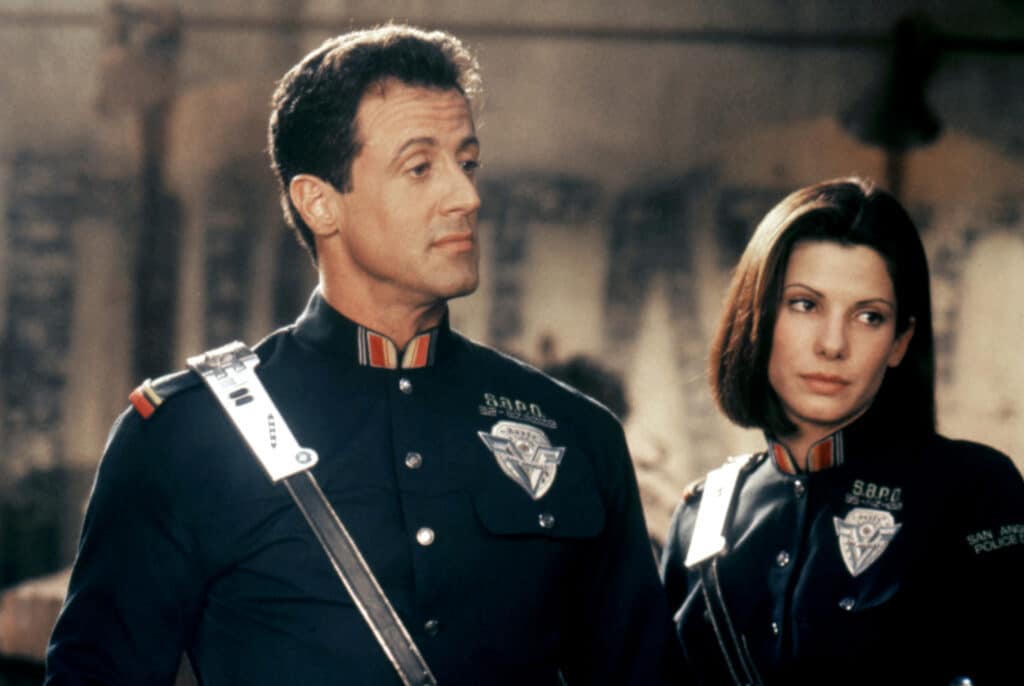 Director: Marco Brambilla
Box Office:  $159.1 million
Starring:  Sylvester Stallone, Wesley Snipes, Sandra Bullock, Nigel Hawthorne
Synopsis:
The year 1996 was a dark period for Los Angeles. Heinous acts of violence and terror governed the streets. No one was safe. Of all the criminals in the area, Simon Phoenix was the worst. However, no force is too strong for L.A. Policeman John Spartan, the only person capable of apprehending the insane criminal. However, in an unexpected turn of events, John Spartan was found guilty of being an accessory to the recent crime done by Phoenix. He served 36 years in prison. 
While serving his sentence, Los Angeles gradually changed into an era of peace and prosperity. Unbeknownst to the local police officers, their worst nightmare would soon be out of prison. Phoenix escapes prison, and the police are unable to stop him. Because they lack sufficient skill to match the famed criminal, they are forced to release Spartan to apprehend him again.
Director: Rawson Marshall Thurber
Box Office: $200 million
Starring: Dwayne Johnson, Ryan Reynolds, Gal Gadot, Ritu Arya, Chris Diamantopoulos
Synopsis:
"The Bishop," as Law Enforcements dub him is the world's most wanted art thief. His heists prompted Interpol to issue a Red Notice, the highest level warrant released only to request law enforcement to hunt down and capture the world's most wanted criminals. John Hartley, one of the F.B.I.'s top agents, is assigned to his case. He is placed alongside the world's greatest art thief, Nolan Booth, to apprehend The Bishop. Soon they find themselves in the constant company as they take on an adventure around the globe and in various places, from inside a secret prison to the jungle.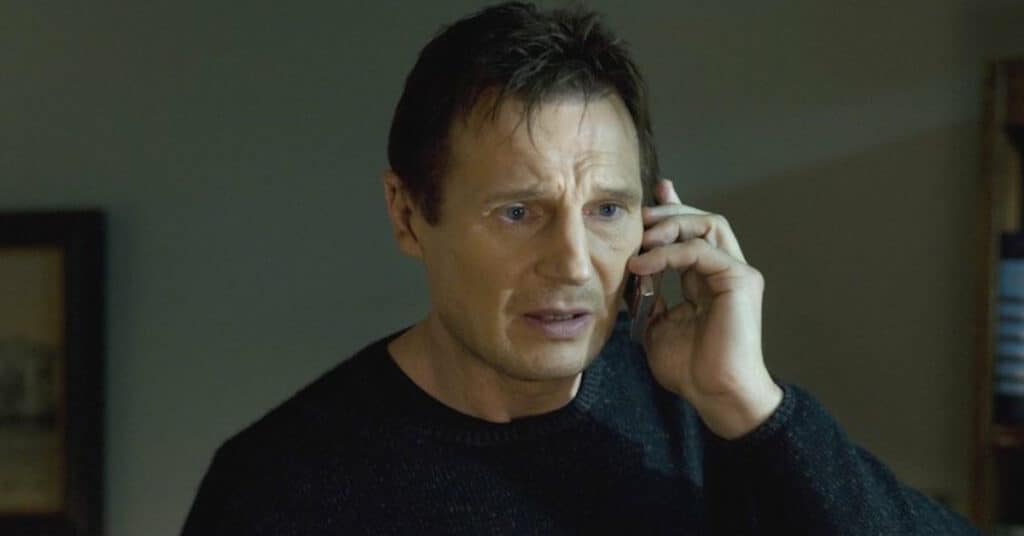 Director: Pierre Morel
Box Office: $226.8 million
Starring:  Liam Neeson, Maggie Grace, Leland Orser, Jon Gries, David Warshofsky, Katie Cassidy, Holly Valance, Famke Janssen, Xander Berkeley
Synopsis:
Bryan Mills, Kim's father, is ecstatic about his seventeen-year-old daughter. Bryan is a retired C.I.A. agent who moved to California to be close to Kim. Lenore, Kim's mother, and Stuart, her affluent stepfather, are her primary caregivers. Kim can persuade her reticent father to go to Paris with her friend Amanda to agree. The girls ride in a taxi together with a total stranger named Peter when they arrive to Paris, and Amanda nonchalantly remarks that they are traveling alone.
A group of human traffickers in Albania abduct the girls using this information. Kim hardly has time to speak with her father on the phone and inform him of something. In a brief conversation with one of the abductors, her father threatens to kill the abductors if they do not release his daughter. Bryan Mills leaves for Paris to look for his daughter and her companion after the kidnapper tells him "good luck." As a former C.I.A. Agent, Mills knew that he had only 96 hours before he'll never find her daughter again.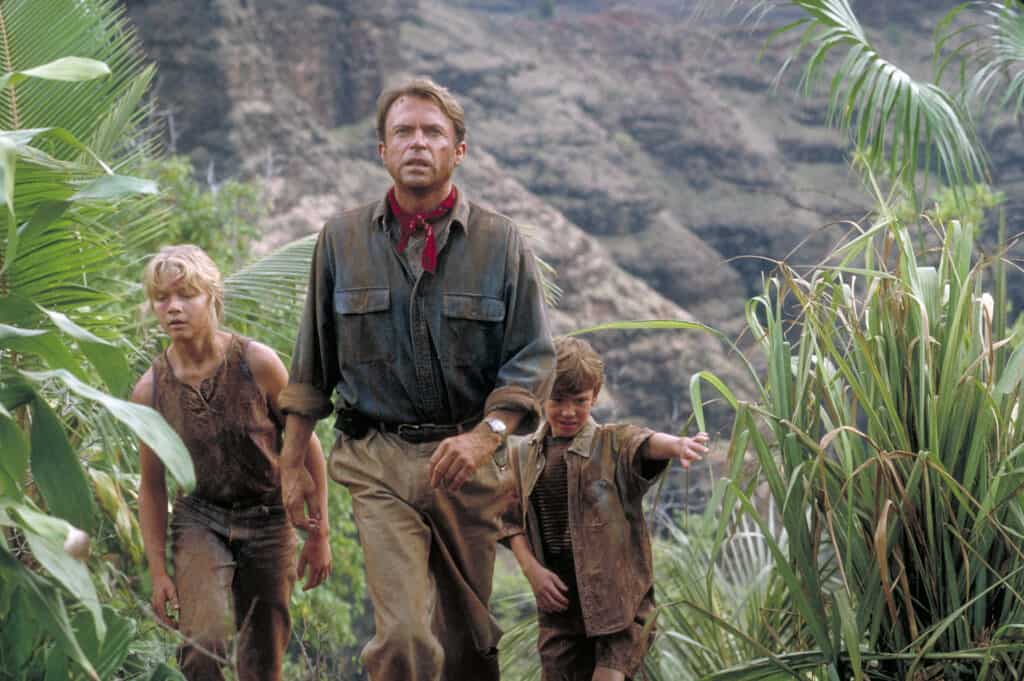 Director: Steven Spielberg
Box Office:  $1.046 billion
Starring: Sam Neill, Laura Dern, Jeff Goldblum, Richard Attenborough, Bob Peck, Martin Ferrero, BD Wong, Samuel L. Jackson, Wayne Knight, Joseph Mazzello, Ariana Richards
Synopsis:
A brand-new dinosaur theme park with genetically altered animals has just been constructed on Isla Nublar. A velociraptor kills one of the workers, causing a tragedy. Paleontologist Dr. Alan Grant and his assistant, Dr. Ellie Sattler, are invited to the park by John Hammond, the park's creator, to check on its security. Donald Gennaro, Hammond's attorney, and Dr. Ian Malcolm, a chaotician, also accompany them. 
They are astounded to learn that Hammond has built living dinosaurs when they arrive on the island. They all had reservations, though, at the same time. Later, Lex and Tim, two of Hammond's grandchildren, accompany the group on a park tour. To tend to a sick triceratops, Sattler interrupts the tour. Dennis Nedry (Wayne Knight), a computer whiz who wants to collect embryos from the park to sell to a covert buyer, quickly turns off the electricity in the park. 
During this procedure, many dinosaurs escape their enclosures, including the dangerous Tyrannosaurus Rex, which attacks the kids and consumes Gennaro during a thunderstorm. Grant and the kids become disoriented in the park after Malcolm suffers an injury. The remainder of the operations team, including Hammond and Sattler, find out that Nedry had the computer system shut down to erase his tracks after being killed in the interim. They attempt to get the park's power back before leaving the island. After rebooting the system, the crew learns that velociraptors are also out and about and are now searching for the visitors.
#18 The Bourne Identity (2002)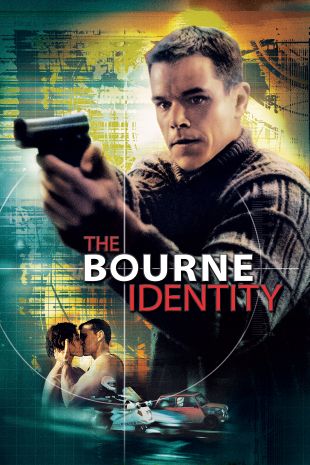 Director: Doug Liman
Box Office: $214 million
Starring: Matt Damon, Clive Owen, Chris Cooper, Brian Cox, Franka Potente, Julia Stiles, Adewale Akinnuoye-Agbaje
Synopsis:
A young man is rescued from the Mediterranean Sea by a fishing boat's crew on a stormy night. A curious fisherman with a scalpel discovers two bullets in the young man's back and a tiny laser device in his hip after initially believing him dead. Using a laser, a Swiss bank account number can be seen. Our soaked hero, however, is still alive and soon finds himself in Zurich. The young man learns his name is Jason Bourne in the bank vault. He also discovers a staggering collection of passports with his image and ample cash. 
In America In the Embassy, Jason Bourne learns that Marie, his travel companion, and love interest, is also a target of a murderous plot. Bourne searches Paris for hints about his identity and past life while Marie stands by his side, carrying a bag of cash and possessing mysterious martial arts abilities. He discovers himself caught up in two CIA-planned assassination operations.
Director: Martin Campbell
Box Office:  $616.5 million
Starring: Daniel Craig, Eva Green, Mads Mikkelsen, Jeffrey Wright, Judi Dench
Synopsis:
James Bond, recently given the 00 status, embarks on his first assignment and encounters Le Chiffre, a mysterious private banker who finances international terrorism. Bond participates in a high-stakes poker game by Le Chiffre with gorgeous Treasury Agent Vesper Lynd and the MI6 agent in Montenegro to recoup a sizable quantity of his lost clients' money in a failed operation that the British spy foiled. Not only will 007 learn who his opponent is being supported by, but also the worst of all truths: never to trust anyone.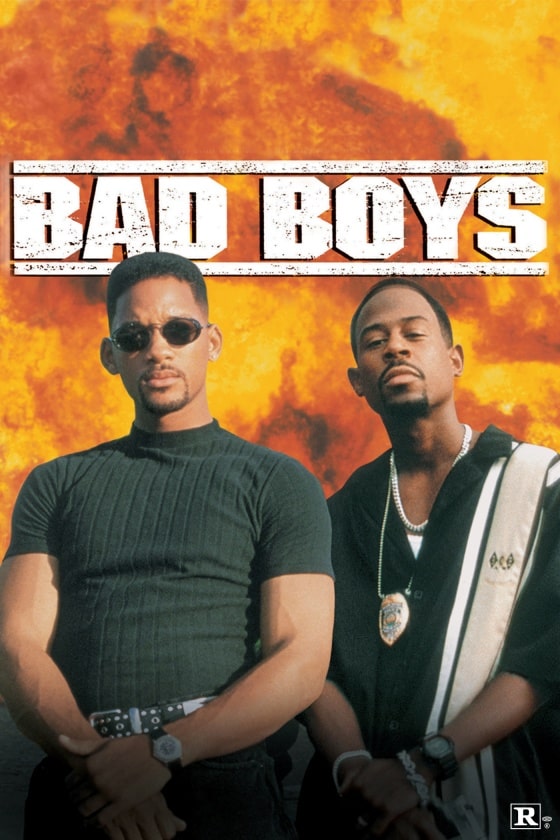 Director: Michael Bay
Box Office:  $141.4 million
Starring: Martin Lawrence, Will Smith, Téa Leoni, Tchéky Karyo, Theresa Randle, Joe Pantoliano
Synopsis:
Marcus Burnett and Mike Lowrey are like two opposing poles. Marcus is a hen-pecked family man, while Mike is a ladies' man. The two are partners in the Miami Police Department and are assigned to a hazardous case. Despite the differences in personalities, the two are forced to exchange identities. The partners were in pursuit of the French kingpin Fouchet when Mike asked for the assistance of the hooker Maxine Logan to keep an eye on the high rollers. Later, a man on drugs calls and wants to spend $2000. 
To accompany her to the home of retired police officer Eddie Dominguez, Maxine asks her closest friend Julie Mott. Julie isn't a hooker, but the guy is so drunk that they'll be out of there with the cash in no time. Fouchet, however, kills Maxine at Dominguez's home. Julie calls the police since she was there when the murder occurred. Julie is only prepared to speak to Mike, though, since she is unaware of Mike's appearance. Marcus must pretend to be Mike since Mike is absent, and Mike must pretend to be Marcus when Mike shows up.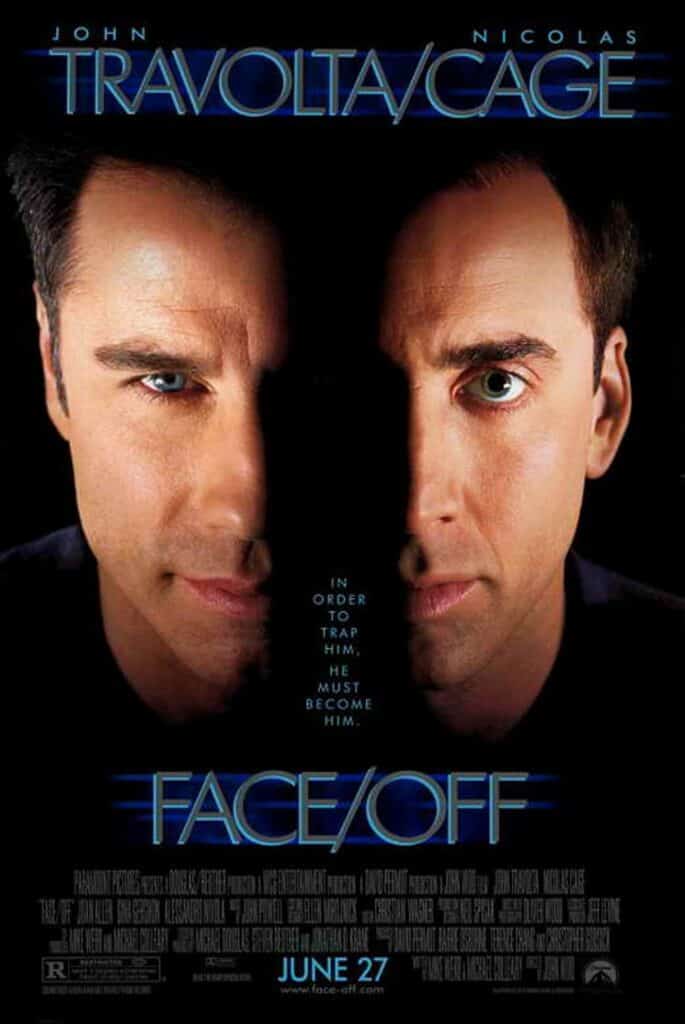 Director: John Woo
Box Office:  $245.7 million
Starring: John Travolta, Nicolas Cage, Joan Allen, Gina Gershon, Alessandro Nivola, Colm Feore
Synopsis:
The toughness of Sean Archer, an F.B.I. agent, is tested after the death of his son, Michael. Archer suspects that his son's death is the work of his arch nemesis, the dangerous criminal Castor Troy. When revenge day came, Archer could corner Troy and knock him out, thus, leading to the catch of the famed criminal. However, there is a significant problem. Castor Troy had planted a bomb that could destroy the entire city of Los Angeles. With Troy held captive, the only person who knew about the bomb's location was Castor's brother Pollux, who refused to talk. With Pollux not talking, they were only given one more option: for Archer to undergo a face transplant using Castor's face. Somehow, Castor can regain consciousness and plots his revenge on Archer.  
#14 Indiana Jones and the Last Crusade (1989)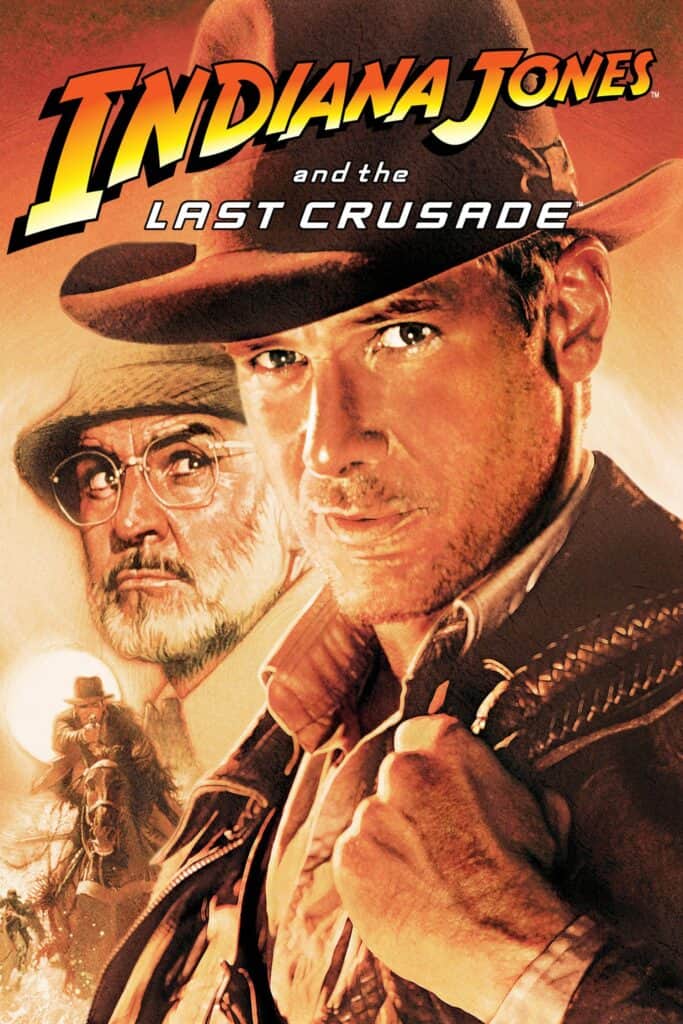 Director: Steven Spielberg
Box Office:  $474.2 million
Starring: Harrison Ford, Denholm Elliott, Alison Doody, John Rhys-Davies, Julian Glover, Sean Connery
Synopsis:
Famous explorer and archaeologist Indiana Jones receives a notebook from his father, Dr. Henry Jones, in Italy that contains clues and a map without names to locate the enigmatic Holy Grail. Indiana Jones and museum curator Marcus Brody travel to Italy in search of Indiana Jone's father after hearing from a private collector, Walter Donovan, that the hunt for the Holy Grail went awry with his father's disappearance. The rescue mission, however, changes into a race to find the Holy Grail before the evil Nazis do. They intend to use it to gain total world dominance—their super-race begins after seeing Dr. Henry Jones in Nazi territory. On the other hand, Indiana Jones finds himself in yet another life-or-death adventure of absolute excitement, with the diary serving as a crucial key and the map without names serving as a guide.
Director: Sam Hargrave
Box Office: $65 million
Starring: Chris Hemsworth, Rudhraksh Jaiswal, Randeep Hooda, Priyanshu Painyuli, Golshifteh Farahani, Pankaj Tripathi, David Harbour
Synopsis:
In a world surrounded by the evil perpetuated by drugs, a boy becomes collateral damage to the war his father has started against his rival. His name is Ovi Mahajan, the son of an incarcerated Indian drug Lord. He was kidnaped by police officers working for his father's rival, the drug Lord Amir Asif. Ovi is held captive in one of the world's impenetrable cities, but he still has hope in the form of mercenary Tyler Rake. In a world full of weapon dealers, expert assassins, and drug traffickers, Rake's task is like a suicide mission. 
#12 Jumanji: Welcome to the Jungle (2017)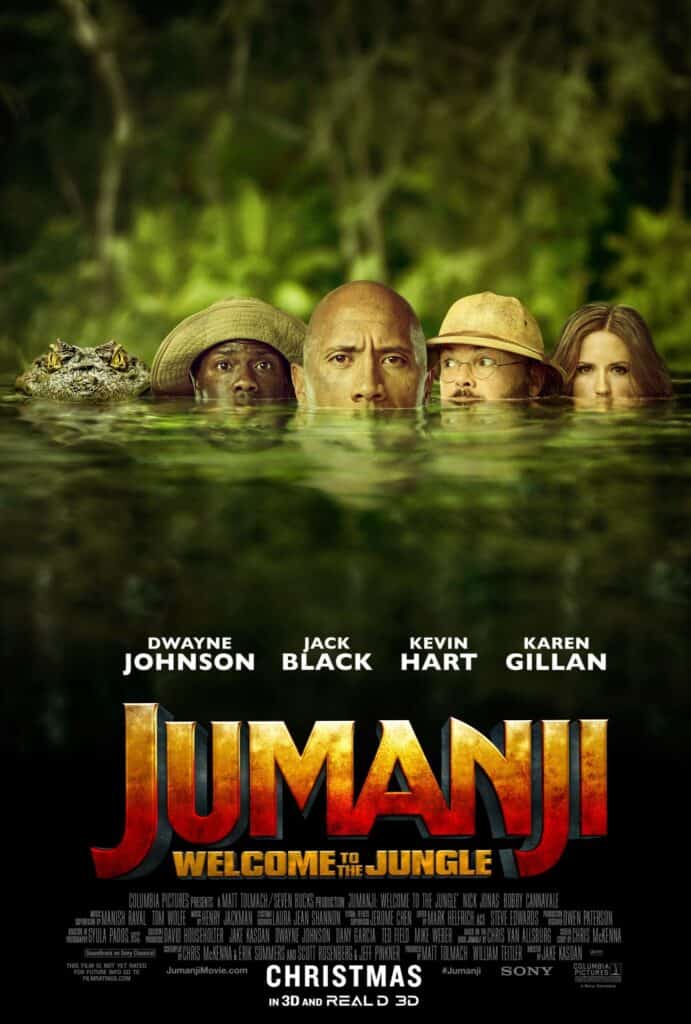 Director: Jake Kasdan
Box Office: $962.5 million
Starring: Dwayne Johnson, Jack Black, Kevin Hart, Karen Gillan, Nick Jonas, Bobby Cannavale
Synopsis:
The infamous Jumanji board game has upgraded itself to conform to the changing times. In Brantford, New Hampshire, in 1996, his father gifted Alex Vreeke a Jumanji board game that he found on the beach. Alex was disinterested in the book and set it aside. However, the board transformed into a video game that caught Alex's attention. He begins playing it, and like the board game, Alex disappears into the video game. After 20 years, Brantford High students Spence Gilpin, Anthony Fridge, Bethany Walker, and Martha Kaply got detention which they had to serve in the school's basement. In the basement, Fridge discovers the discarded video game system that took Alex. Fridge and Spencer decide to play. When Spencer pressed "Start," they disappeared into the game. 
#11 Enter the Dragon (1973)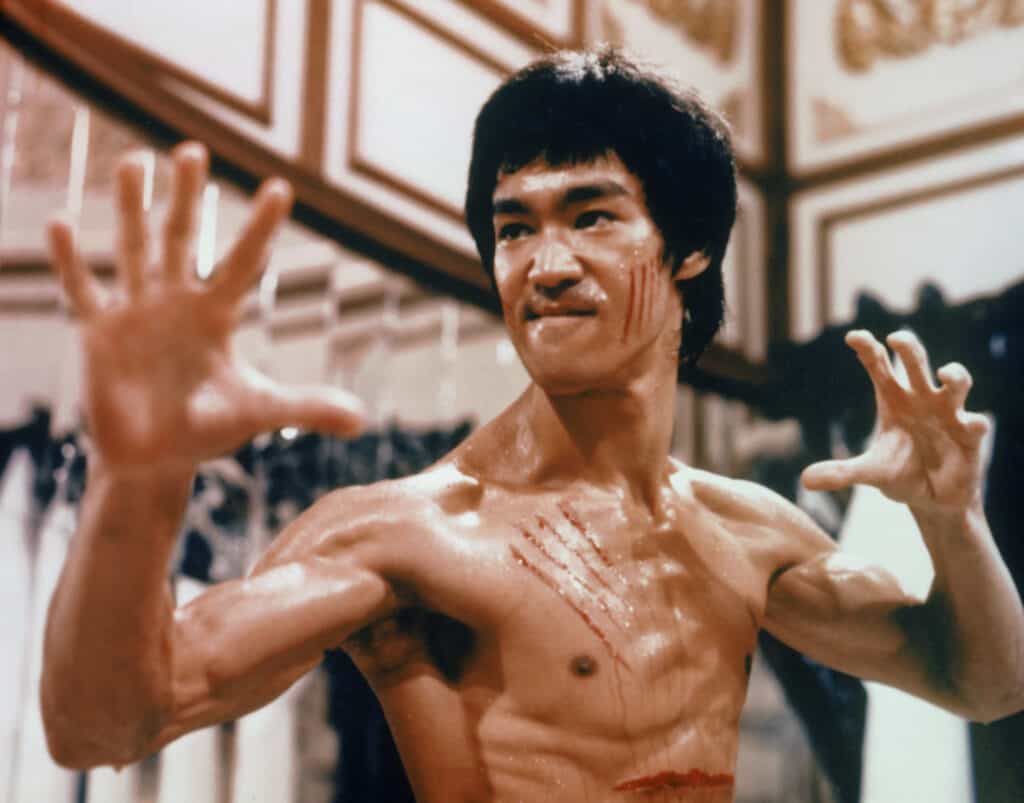 Director: Robert Clouse
Box Office: $400 million
Starring: Bruce Lee, John Saxon, Jim Kelly, Ahna Capri, Bob Wall, Shih Kien, Chuck Norris
Synopsis:
A covert intelligence organization enlists Lee, a martial arts expert, to infiltrate an island owned by the notorious criminal Han. He only makes public appearances at a tournament he throws every three years. Lee, who has also been invited to the competition, and Han both received their martial arts training at the same monastery. When Lee finds out that Han's soldiers killed his sister, he decides to exact his form of vengeance. Americans Roper and Williams, who served in the military together, are among the competitors in the competition. They all quickly understand that Han uses the competition to enlist new allies, and those who reject are put to death.
#10 Escape from New York (1981)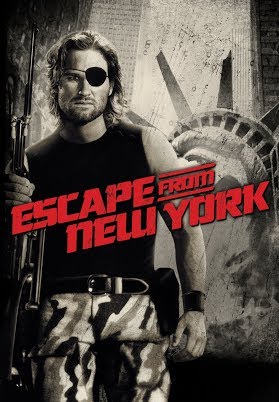 Director: John Carpenter
Box Office: $25.2 million (US)
Starring: Kurt Russell, Lee Van Cleef, Ernest Borgnine, Donald Pleasence, Isaac Hayes, Harry Dean Stanton, Adrienne Barbeau
Synopsis:
It's 1997, the United States converts its formerly magnificent city of New York into a maximum security Manhattan jail where heinous criminals are kept for life due to extremely high crime rates. To prevent or end any attempted escapees, the city's entrance and exit bridges are all mined, a sizable wall is constructed along the shoreline, and a sizable police force army is stationed there. The President is forced to exit Air Force One in an escape pod while traveling to a summit meeting between China and the Soviet Union after a female terrorist takes control of the controls and crashes the aircraft into a building in the city.
Ex-soldier Snake Plissken, a new prisoner, is promised his freedom in exchange for entering the President's room, freeing him, and discovering a recording that contains crucial information for the meeting. Snake accepts, but to ensure he cooperates, a tiny yet potent explosive microcapsule is inserted inside him; it will only detonate if the mission is successful. Snake must venture into the decrepit metropolis, populated by morally repugnant criminals, and be successful in his own life.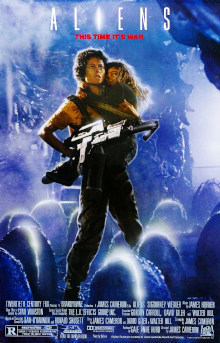 Director: James Cameron
Box Office: $131.1–183.3 million
Starring: Sigourney Weaver, Carrie Henn, Bill Paxton, Paul Reiser, Michael Biehn 
Synopsis:
Lieutenant First Class Ellen Ripley, the only survivor of the gruesome Nostromo slaughter suspended for the previous 57 years, awakens in a salvage ship returning to Earth. Now that she is being held accountable for her conduct discredited, Ripley reluctantly agrees to accompany Carter Burke, a junior executive, along with a tough-as-nails squad of U.S. In exchange for her pilot's license, she sends colonial Marines to Hadley's Hope, the mining and terraforming settlement on LV-426. But thousands of predatory endoparasitoid organisms known as Xenomorphs, like the hostile Stage 3 drone that killed Ellen's companions, stalk the area on the black surface of the far-off exoplanetary satellite. This time, it's war, and Ripley must take her life into her own hands as the calm, acid-spewing space insects kill the fiercely armed soldiers once more.
#8 First Blood: Rambo (1982)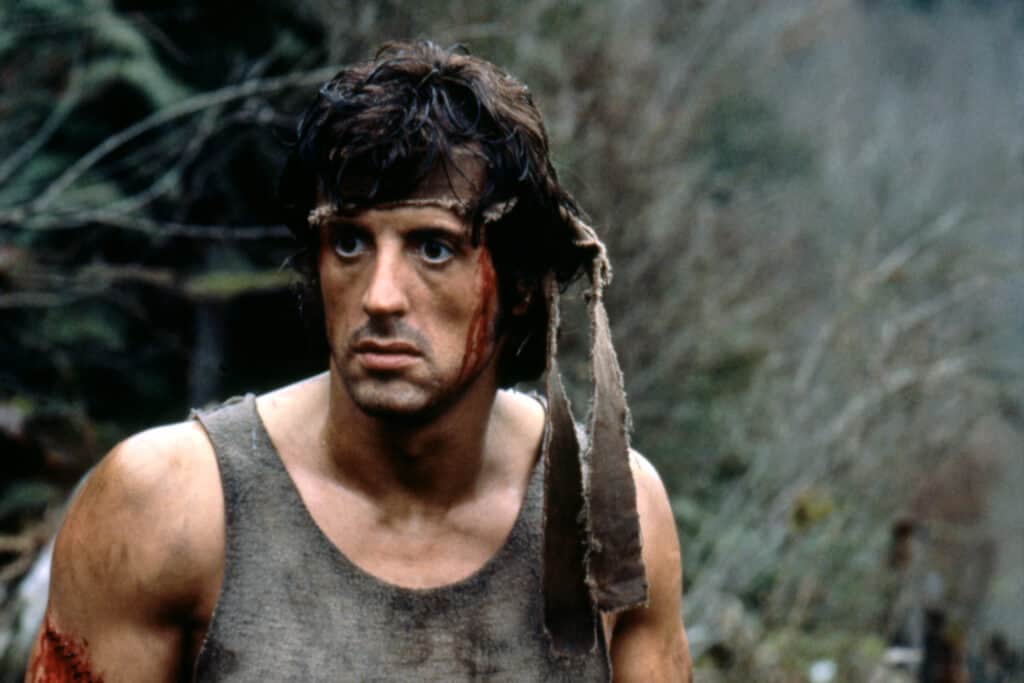 Director: Ted Kotcheff
Box Office: $125.2 million
Starring: Sylvester Stallone, Richard Crenna, Brian Dennehy
Synopsis:
The Vietnam War still bothers John J. Rambo, a former Special Forces member of the U.S. Army who participated in combat operations and received the Congressional Medal of Honor. Rambo was in Hope, Washington, to see a friend when the Sheriff, William Teasel, led him out of town. Teasel doesn't know that Rambo was so enraged by Teasel's remark that Rambo turned violent and was jailed. He breaks out while being cleaned up in the county jail, then tries to flee from the sheriffs who want to kill him by running amok through the forest. Then, Colonel Samuel Trautman, who serves as Rambo's commanding officer, tries to stop the situation before it gets out of control to save the Sheriff's office and Rambo.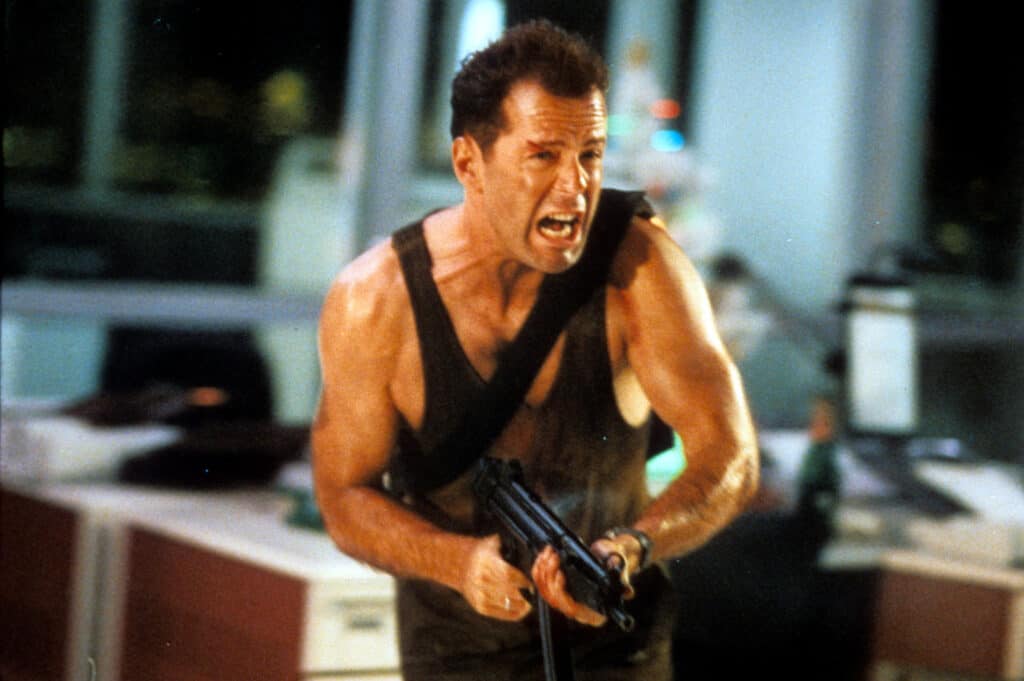 Director: John McTiernan
Box Office: $139.8–141.5 million
Starring: Bruce Willis, Alan Rickman, Alexander Godunov, Bonnie Bedelia
Synopsis:
John McClane, an officer with the NYPD, travels to Los Angeles for Christmas to see his wife Holly, who works for the Nakatomi Corporation. A squad of robbers led by Hans Gruber takes over the Nakatomi headquarters while they are having the Christmas party and hold everyone prisoner, except for John. At the same time, they prepare to carry off a successful robbery. John is compelled to take matters into his own hands because he cannot flee, and there is no prompt police reaction.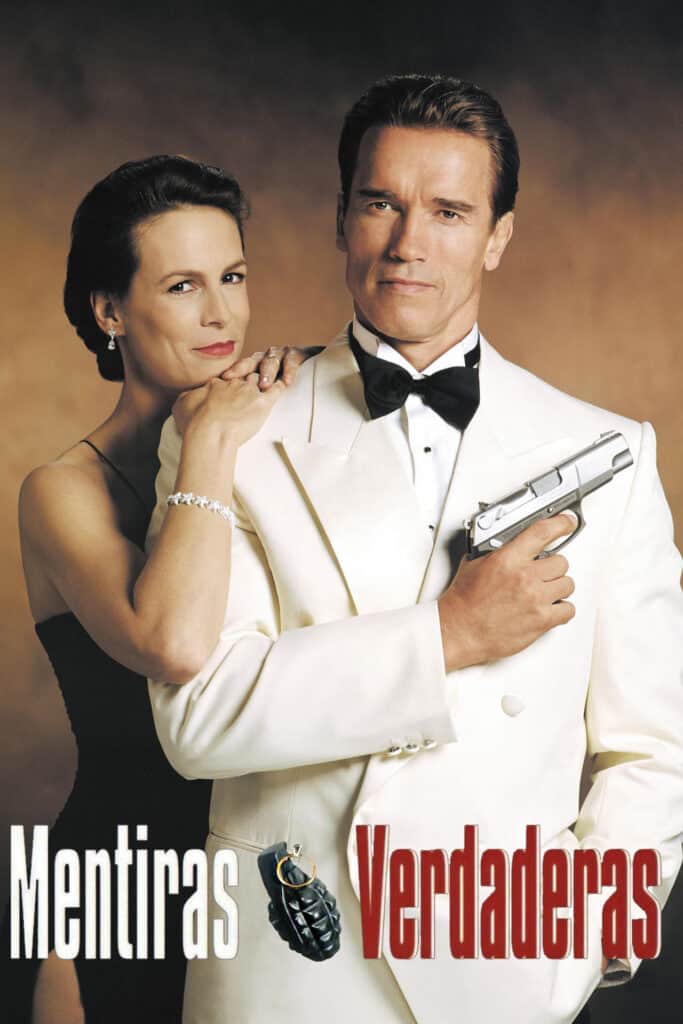 Director: James Cameron
Box Office:  $378.9 million
Starring: Arnold Schwarzenegger, Jamie Lee Curtis, Tom Arnold, Bill Paxton, Art Malik, Tia Carrere
Synopsis:
Harry Tasker, a secret agent, has happily married Helen, a legal secretary, for many years. They reside in the suburbs with their teenage daughter Dana. Helen believes Harry to be a computer salesman and has no reason to suppose he leads a secret life. Following a top-secret operation, Harry discovers proof that Helen is having an affair with Simon. Simon is a used car salesman who entices Helen with the glitter and thrill of his fictitious life while claiming to be a spy.
Albert Gibson, Harry's partner, is forced to use their agency's resources to track down Simon and Helen after they are abducted while wearing disguises and given a fictitious task. Terrorists take Helen and Harry hostage, and the couple becomes entangled with a violent gang with an atomic bomb ready to detonate in Florida.
#6 The Fifth Element (1997)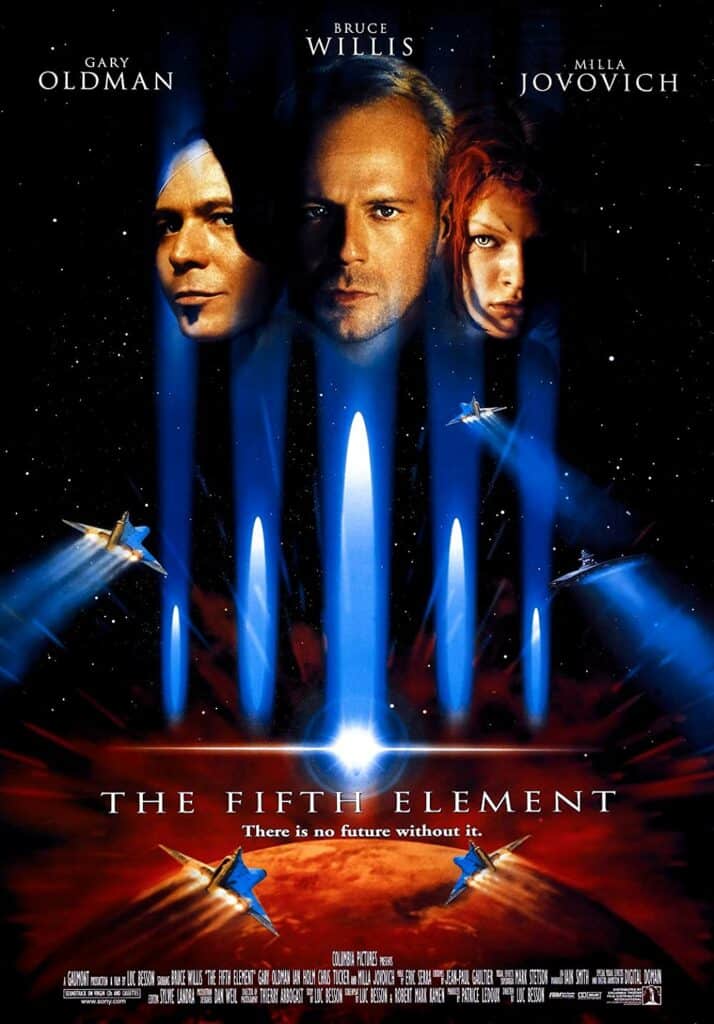 Director: Luc Besson
Box Office: $263.9 million
Starring: Bruce Willis, Gary Oldman, Milla Jovovich, Chris Tucker, Ian Holm
Synopsis:
Two hundred and fifty years later, our life is threatened by Evil. The Fifth Element is the ultimate anti-evil weapon that has existed for a long time and is kept secure on Earth.  A professor in the 1910s discovered it. But the Monascheiwans, a race of beings, arrived on Earth to steal the fifth element and store it in reserve, promising to give it back in time for the following cycle. Many years into the future, the Earth is a drastically different planet. 
People litter, disobey the law and smoke. An ex-elite commando named Korban Dallas is now a cab driver in the megalopolis of New York City. The Monascheiwans are wiped out by a brutal race of beings known as Mangalores as they bring the Fifth Element back to Earth to protect it from the advancing Evil. 
The Fifth Element, known as "Leeloo," which the Monascheiwans recreate from a fragment found in the wreckage of their spacecraft, physically stops by Korban Dallas in his cab to say hello. She is kept out of the hands of the government by Dallas, who also takes her to a priest named Vito Cornelius, who is looking for the Elemental Stones required to power the Fifth Element because he recognizes the Evil that is predicted to appear. He is getting in the way of Zorg, a ruthless businessman already working for Evil.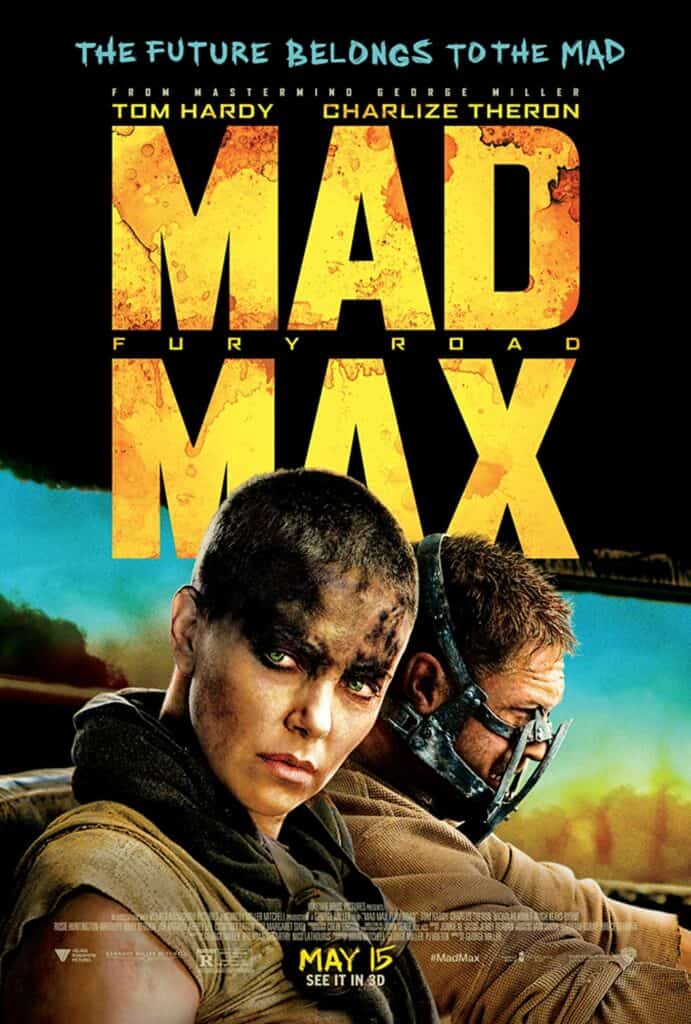 Director: George Miller
Box Office:$375.7 million
Starring: Tom Hardy, Charlize Theron, Nicholas Hoult, Hugh Keays-Byrne, Rosie Huntington-Whiteley, Riley Keough, Zoë Kravitz, Abbey Lee, Courtney Eaton
Synopsis:
This action movie is set in a post-apocalyptic wasteland. The oppressive Immortan Joe holds apocalyptic survivors captive inside the desert fortress, the Citadel, years after civilization has collapsed. Max Rockatansky, a loner and former prisoner, joins forces with the warrior Imperator Furiosa as she leads the despot's five wives in a daring escape. They attempt to evade the brutal warlord and his goons in a deadly high-speed chase through the Wasteland while armored in the enormous, armored truck known as the War Rig.
#4 The Dark Knight Trilogy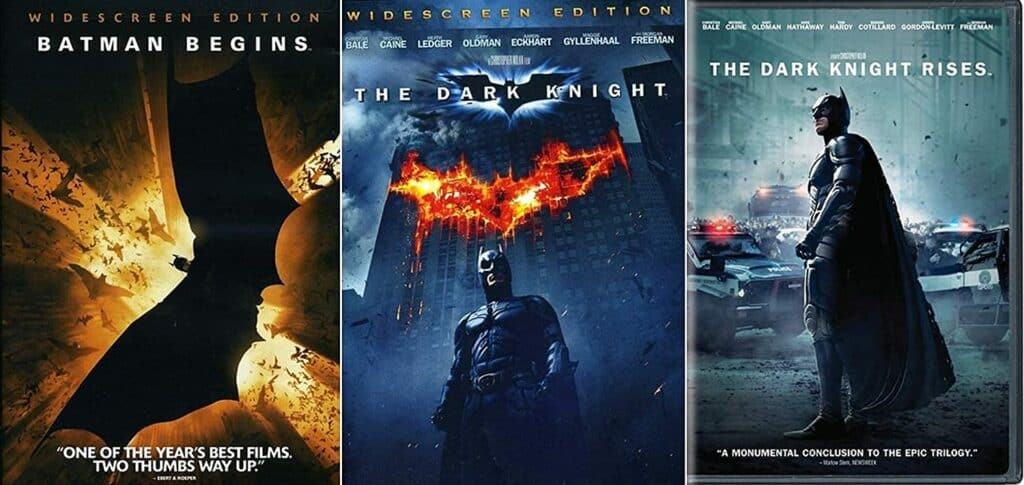 Batman Begins (2005)
Director: Christopher Nolan
Box Office: $373.7 million
Starring: Christian Bale, Michael Caine, Liam Neeson, Katie Holmes, Gary Oldman, Cillian Murphy, Tom Wilkinson, Rutger Hauer, Ken Watanabe, Morgan Freeman
Synopsis:
Bruce Wayne was just a little boy when he witnessed his parents being murdered by a psychotic criminal. As an adult, Bruce explores the globe in search of ways to combat injustice. In central Asia, he resides in the neighborhoods of thieves and criminals. He eventually runs into the enigmatic Ra's Al Guhl and joins his gang, the League of Shadows. He manages to outwit his trainer with the help of his training. 
Finally, Bruce Wayne runs across Alfred Pennyworth, the man who looks after his land and heads back to Gotham. He takes over as Wayne Enterprises' new leader there. He dons a new persona as Batman with the assistance of Lucius Fox, the chief executive officer of Wayne Enterprises Applied Sciences. A dangerous new side to the city is revealed, and a new kind of criminal is created as Batman battles the criminals and organized crime underworld of Gotham.
The Dark Knight (2008)
Director: Christopher Nolan
Box Office:$1.006 billion
Starring: Christian Bale, Michael Caine, Heath Ledger, Gary Oldman, Aaron Eckhart, Maggie Gyllenhaal, Morgan Freeman
Synopsis:
The plot begins a year after Batman Begins. Batman, Lieutenant James Gordon, and District Attorney Harvey Dent plot to confront the mob by apprehending Lau, the shady accountant of the mob. Batman kidnaps Lau from his building and is then imprisoned. Lau reveals that nearly all the mob bosses are detained as a result. 
The Joker, a vicious maniac with green hair, entirely yellow teeth, and a tailored purple suit, is consulted by the helpless mob leaders. The Joker attempts to murder Harvey and the Mayor before killing a judge and the police commissioner. The Joker's crimes cause turmoil and chaos among the citizens of Gotham, causing Batman to confront what may appear to be his greatest challenge in fighting injustice and getting closer to the thin line separating the hero from the vigilante.
The Dark Knight Rises (2012)
Director: Christopher Nolan
Box Office:$1.006 billion
Starring: Christian Bale, Michael Caine, Gary Oldman, Anne Hathaway, Tom Hardy, Marion Cotillard, Joseph Gordon Levitt, Morgan Freeman
Synopsis:
Eight years after The Joker was defeated and Batman was blamed for the murders committed by Harvey Dent, Bane, a former member of the League of Shadows, has emerged as a new foe for Gotham. Bruce had turned into a complete hermit, rarely leaving the estate after Wayne Manor had been completely renovated. By obliterating Gotham, Bane intends to carry on Ra's al Ghul's legacy. Batman links up with the elusive jewel thief Selina Kyle, who may also hold the key to stopping Bane because allies are hard to come by.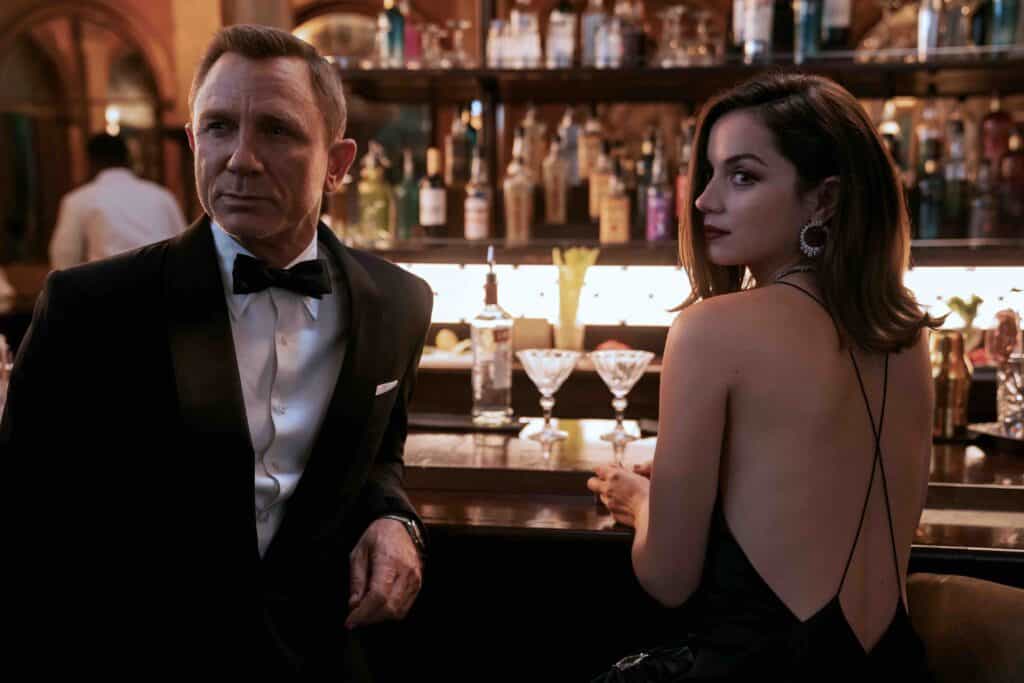 Director: Cary Joji Fukunaga
Box Office: $774.2 million
Starring: Daniel Craig, Rami Malek, Léa Seydoux, Lashana Lynch, Ben Whishaw, Naomie Harris, Jeffrey Wright, Christoph Waltz, Ralph Fiennes
Synopsis:
James Bond finally settles down and has a peaceful life after leaving active duty. However, his tranquility is short-lived when he is contacted by his old friend Felix Leiter regarding a task to assist in the rescue of a scientist who has been abducted. Little does he know that the mission is becoming increasingly risky and that his history is catching up to him. James  Bond soon learns that he must battle a new foe who is mysterious and motivated to remake the world in his likeness.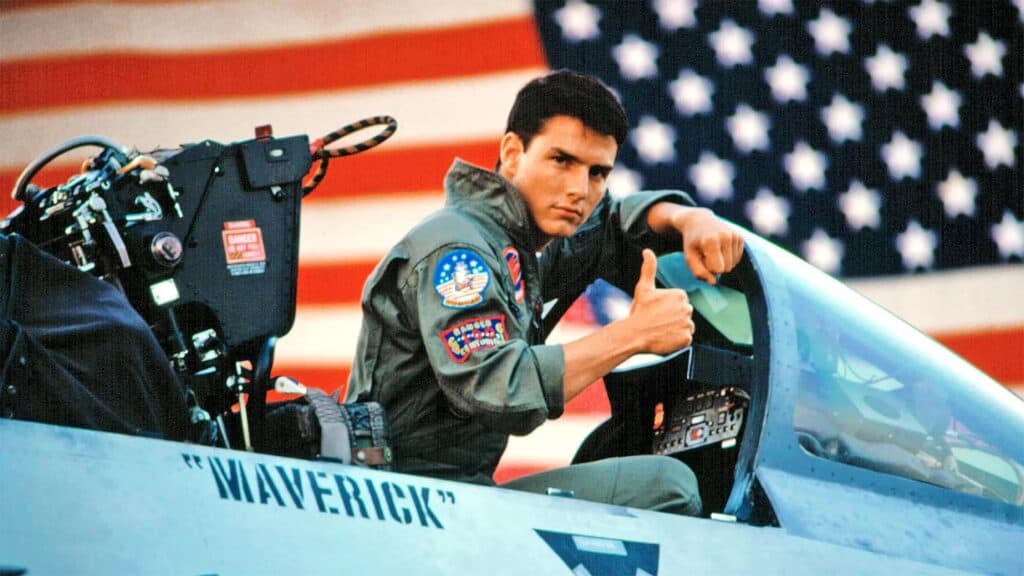 Director: Tony Scott
Box Office: $357.3 million
Starring:  Tom Cruise, Kelly McGillis, Val Kilmer, Anthony Edwards, Tom Skerritt
Synopsis:
American Naval Aviator Lieutenant Pete "Maverick" Mitchell is a master of daredevil stunts in the air force. His wingman freaks out when he comes across two MiGs over the Persian Gulf since he is outflown. However, Maverick convinces him to return to the carrier despite having no fuel.
Maverick advances in the standings and is assigned to the Top Gun Naval Flying School when his wingman turns in his wings. There, he struggles with the attitudes of the other pilots and an ancient tale about his father's death in battle, whereby different people died due to his father's mistake. In his efforts to be the best pilot, Maverick steps on the toes of his colleagues and students.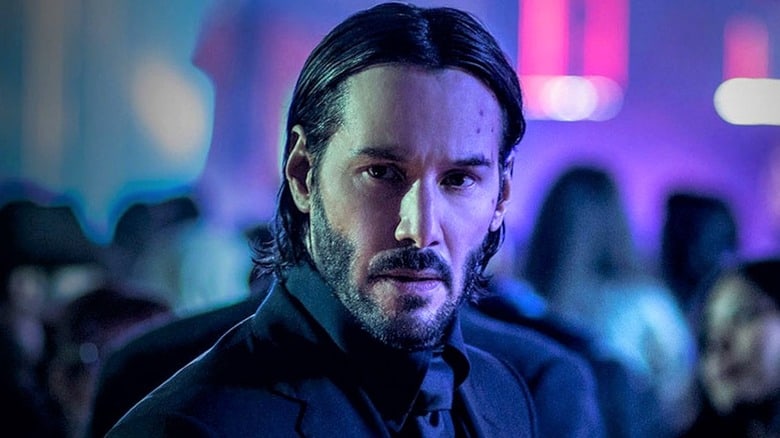 Director: Chad Stahelski
Box Office:  $86 million
Starring:  Keanu Reeves, Michael Nyqvist, Alfie Allen, Adrianne Palicki, Bridget Moynahan, Dean Winters, Ian McShane, John Leguizamo, Willem Dafoe
Synopsis:
John Wick, a skilled former assassin, receives one final gift from his beloved wife—a priceless keepsake to help him find new meaning in life now that she is gone. While still feeling resentful over her untimely death, Russian mob prince Iosef Tarasov and his crew pay him an unwanted visit to steal his beloved 1969 Mustang and his wife's gift. Wick will be forced to reveal his carefully kept identity to recover his priced possession. 
Blinded by rage, John will, as soon as possible, unleash a well-planned torrent of devastation on the cunning kingpin Viggo Tarasov and his family. They are fully aware of his deadly potential. The boogeyman's appetite for vengeance can only be sated by blood.